With the 2021 NFL free agency period in the rear-view mirror, the next big event on the league calendar is the 2021 NFL Draft. I've already compiled my top-50 rookie rankings, but with the draft still more than a month away, there's still work to be done on these prospects.
I've been interested in measuring how dynamic and versatile this year's crop of rookies was at the collegiate level. For starters, I wanted to identify rookie WRs who earned rushing attempts or had dual-eligibility at running back.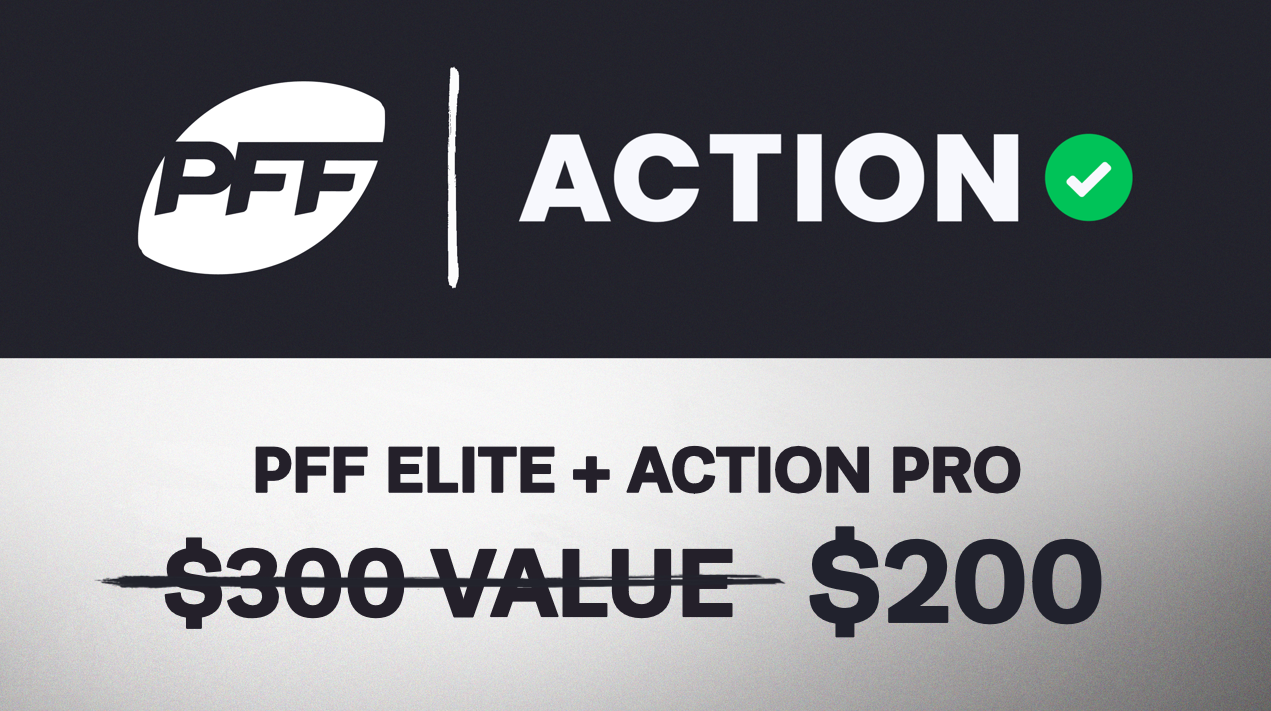 [Subscribe to PFF's ELITE – Annual subscription here now and enter promo code ACTION on checkout to take advantage of the offer.]
Recent prospects who have come out after taking snaps at receiver while also handling rushing attempts include Antonio Gibson, Laviska Shenault Jr., Tony Pollard, Deebo Samuel, Nyheim Hines and Lynn Bowden Jr. Even notable downfield threat and new G-Man Kenny Golladay did so in college. 
I also want to find players who were utilized as kick and punt returners, because that usage also displays playmaking ability in the open field. Some of the most successful receivers to enter the league in recent memory flashed as returners in college. Players like Brandon Aiyuk, CeeDee Lamb, Diontae Johnson and Antonio Brown all showcased their playmaking skills on special teams, and that helped them find success at the next level. 
Finding the RB/WRs with more dynamism to their game could be useful as a way to break ties on two closely ranked rookies. 
D'Wayne Eskridge was PFF's third-highest-graded overall returner (90.6) in 2020. The Western Michigan senior had never returned kicks before last season, so his ability to showcase that prowess on special teams was a great boost to his draft stock. 
???? yards to the ???? @allaroundplays

2Q – 6:25 |
WMU – 20
NIU – 17

ESPN | https://t.co/qRBx8xp3oy pic.twitter.com/n9dpeeMB4B

— WMU Football ???? (@WMU_Football) November 28, 2020
Here are some of the recently drafted wide receivers who graded well as returners in college and also commanded significant NFL draft capital: Dante Pettis (86.0, 2017), Lynn Bowden Jr. (88.2, 2018), Diontae Johnson (86.1, 2018), Deebo Samuel (80.8, 2018) and Brandon Aiyuk (83.3, 2019). 
The fact that there's only one flameout in this group (sorry, Pettis) bodes well for Eskridge if he's drafted on Day 2. Per Grindingthemocks.com, Eskridge is coming off the board as the WR9 with the 73rd pick. 
Everybody knows how impressive Devonta Smith's season was in 2020, but let's not forget that he was a weapon for Alabama on punt returns in place of Jaylen Waddle. 
The 2020 Heisman Trophy winner finished the season as PFF's fifth-highest-graded punt returner (83.5) but was first among 2021 draft-eligible players. His 21.6-yard punt return average led the country. 
Smith's small stature didn't deter the Alabama coaching staff from sending him out to return kicks in the open field, another good sign for his NFL prospects.  
First career punt return TD for DeVonta Smith ????

What can't this guy do?! pic.twitter.com/W0cAYEtJBA

— SportsCenter (@SportsCenter) December 12, 2020
Jaylen Waddle would have likely provided at least a dozen insane punt returns in 2020 if he hadn't gotten hurt. The guy is electric when returning kicks.
Since 2018, Waddle has earned PFF's best punt return grade (92.7) and ranks fifth in punt return average (18.1).
If we remove the injury-riddled 2020 season when he averaged just 6.5 yards per punt return, Waddle's average increases to 18.7. That puts him fourth on the list, ahead of players like Diontae Johnson (18.5) and Jalen Reagor (17.6) but still slightly behind Lynn Bowden (22.1) and Mecole Hardman (20.2). 
The final result aside, this punt return by Jaylen Waddle was a thing of beauty. ????

(Via @CBSSports)pic.twitter.com/45I0lsrhq3

— PFF Draft (@PFF_College) November 15, 2019
His off-the-charts punt return average looks even better when considering that he was able to maintain the efficiency on a whopping 39 returns. No player with a higher average than Waddle had more than 16 punt returns.
The Alabama product's punt return numbers are a production of his 2019 stats — 24.7 yards per return — which is the highest rate in the PFF college era among players with at least 10 punt returns in a season. 
Waddle's dominance on returns didn't stop at just punts, either. In 2019, he returned five kickoffs for 178 yards — a 35.6-yard average that ranked fifth-best that year.
Kadarius Toney is one of the most polarizing wide receivers in the 2021 NFL Draft class. There seems to be a clear divide on his prospects between fantasy analysts and real-life general managers.
Toney's receiving production profile leaves a lot to be desired, but there's clearly a ton of playmaking potential. Players aren't compared to Dante Hall in the PFF Draft Guide without having freaky traits.
Florida tried to get Toney the ball in as many creative ways as possible, using him both as a rusher and as a returner on special teams. Since the start of the 2018 season, Toney leads all college WRs in PFF rushing grade (87.5) and ranks third in total rushing yards (460). 
The former Gator's rushing profile is eerily similar to that of former Memphis wide receiver Antonio Gibson, who earned an 86.7 PFF rushing grade in his final collegiate season in 2019.
Both players are tackle-breaking savants — Gibson's missed tackle rate per touch (43%) ranks No. 1 among college WRs since 2018 with at least 70 touches, but Toney isn't far behind. His missed tackle rate per touch (35%) ranks third among all WRs over that period. 
That's a better rate than either Laviska Shenault Jr. (31%) or CeeDee Lamb (30%). It's also the highest missed tackle rate per touch among all WRs in the 2021 NFL Draft class. 
Toney finished the 2020 season with a career-high 18 special teams returns and finished fifth in PFF grading on punt returns (78.1) among 2021 draft-eligible receivers.
With all the hype surrounding his North Carolina teammates Javonte Williams, Michael Carter and Dyami Brown, Dazz Newsome is flying under the radar despite being a solid prospect in his own right. 
He was my 48th overall player at the beginning of March, but that might need to change. I greatly overlooked the fact that Newsome has been one of college's most dynamic punt returners since 2018.
Newsome is PFF's fifth-highest-graded punt-returner over the past three seasons (91.0).
Dazz Newsome with ALL the elusiveness on this punt return TD for @TarHeelFootball. pic.twitter.com/h3Otwk9fHO

— Stadium (@Stadium) October 21, 2018
His ability to make a man miss doesn't disappear when he gets the ball in his hands on offense, either. Since the start of 2018, Newsome's missed tackle rate per touch (30%) is second only to Toney among the 2021 wide receiver class. 
One thing is certain when it comes to Anthony Schwartz: He. Can. Fly. The Auburn product reportedly ran a 4.26 40-yard dash at his pro day, confirming that, yes, he is indeed fast.
????⏱BLAZING FAST 40 ALERT⏱????@AuburnFootball WR prospect Anthony Schwartz ran a 4.26u! @TheRealF1ash pic.twitter.com/u1WJ1vfW2B

— NFL (@NFL) March 18, 2021
Schwartz's speed isn't anything new, but there's also some rushing upside to his profile. 
Last year's rushing numbers for Schwartz — four carries for -6 yards — are nothing to write home about, but there wasn't much going right for Auburn's offense last season. In the two previous seasons, Schwartz rushed for 329 yards and six touchdowns. 
His track speed background helped him earn a 78.9 PFF rushing grade — fifth among all WRs with at least 25 rushing attempts. Schwartz's rushing numbers draw close comparisons to Shenault, who was praised during last year's pre-draft process for his dual-threat ability as a receiver/rusher.
| | | | | | | |
| --- | --- | --- | --- | --- | --- | --- |
| 2018-19 | PFF rushing grade | Attempts | Rushing yards | Yards per attempt | Missed tackles forced | YAC per attempt |
| Anthony Schwartz | 78.9 | 38 | 329 | 8.7 | 13 | 4.3 |
| Laviska Shenault Jr. | 77.2 | 39 | 258 | 6.6 | 12 | 3.9 |
Rondale Moore's injuries the past two seasons have limited him to just seven games, but we can't forget about how special he was in 2018. In addition to his excellent receiving production, Moore was used in the running game and as a return specialist. 
He rushed 21 times for 213 yards (10.1 yards per carry) and finished fifth in yards after contact per attempt (5.9) among all WRs. 
Moore also finished fourth in total special teams returns (48) and 15th in kick-return yards (662). 
I just can't quit my No. 5-ranked rookie running back, Khalil Herbert. Just when I think about moving another running back in front of him, he gives me another reason to stay put. Like Eskridge, Herbert became a kick returner for the first time in 2020 and was solid.
His 26.9 yards per return average was the third-best in the nation last season among 2021 draft-eligible players. 
Great Kick Return by Khalil Herbert, he stepped out at the 16 yard line. pic.twitter.com/wLX9kIT8J6

— NCAAF Nation (@NCAAFNation247) October 3, 2020
What does an RB returning kicks tell us? Interestingly enough, running backs like Josh Jacobs (89.1, 2018), Darrynton Evans (77.1, 2018), Tony Pollard (94.7, 2017), Rashaad Penny (90.2, 2017), Saquon Barkley (89.9, 2017) and Christian McCaffrey (79.7, 2016) all graded well as returners college. 
Herbert won't be a first-round pick, but his abilities on special teams could make an NFL team more willing to draft him on Day 2 rather than letting him fall to Day 3. The same could be said for Oklahoma State's Chuba Hubbard, who also returned kickoffs early in his college days. 
Demetric Felton went from playing slot receiver in 2019 to running back in UCLA's offense in 2020. The ability to switch positions on the fly is a credit to Felton's versatility, and that will interest NFL teams.
Before he made the full switch, Felton was deployed as a true WR/HB hybrid player in 2019 with 87 rushing attempts and 54 receptions. Washington State's Max Borghi was the only other running back to have at least 87 rushing attempts and catch at least 54 passes that season.