We are almost into April, and NFL draft season is in full swing. PFF.com is going to be stuffed to the gills with content on all of your favorite draft prospects, as our draft guru Mike Renner has been grinding tape throughout the college football season. His work has already produced the second version of PFF's Draft Guide, available to grab with any PFF Edge or Elite subscription.
Compared to Mike, I'm late to the party when it comes to draft evaluation, but I come armed with PFF's database to help me watch tape of these guys, and I thought we could go through that journey together in this article series.
The landing page for the players I've looked at so far is here, focusing mainly on the wide receivers and cornerbacks of the class. For this installment, I'm going to go back to the wide receivers, to one of the biggest risers on PFF's Big Board: Ole Miss receiver Elijah Moore.
Moore has jumped up to No. 20 on the board, making him a clear first-rounder in the eyes of Mike Renner. At that point, I have to take a deeper look. I'm going to start by watching all of his targets. Obviously, this isn't a complete picture of his game, and it will skew toward plays where he is actually open, but it's a good first glance — one that we can expand on later as we learn more about Moore.
Timeline
Here are my thoughts in chronological order as I sifted through Moore's tape. I have labeled each takeaway with +/- (or double plus or minus for significantly good or bad things) and a ~ for neutral.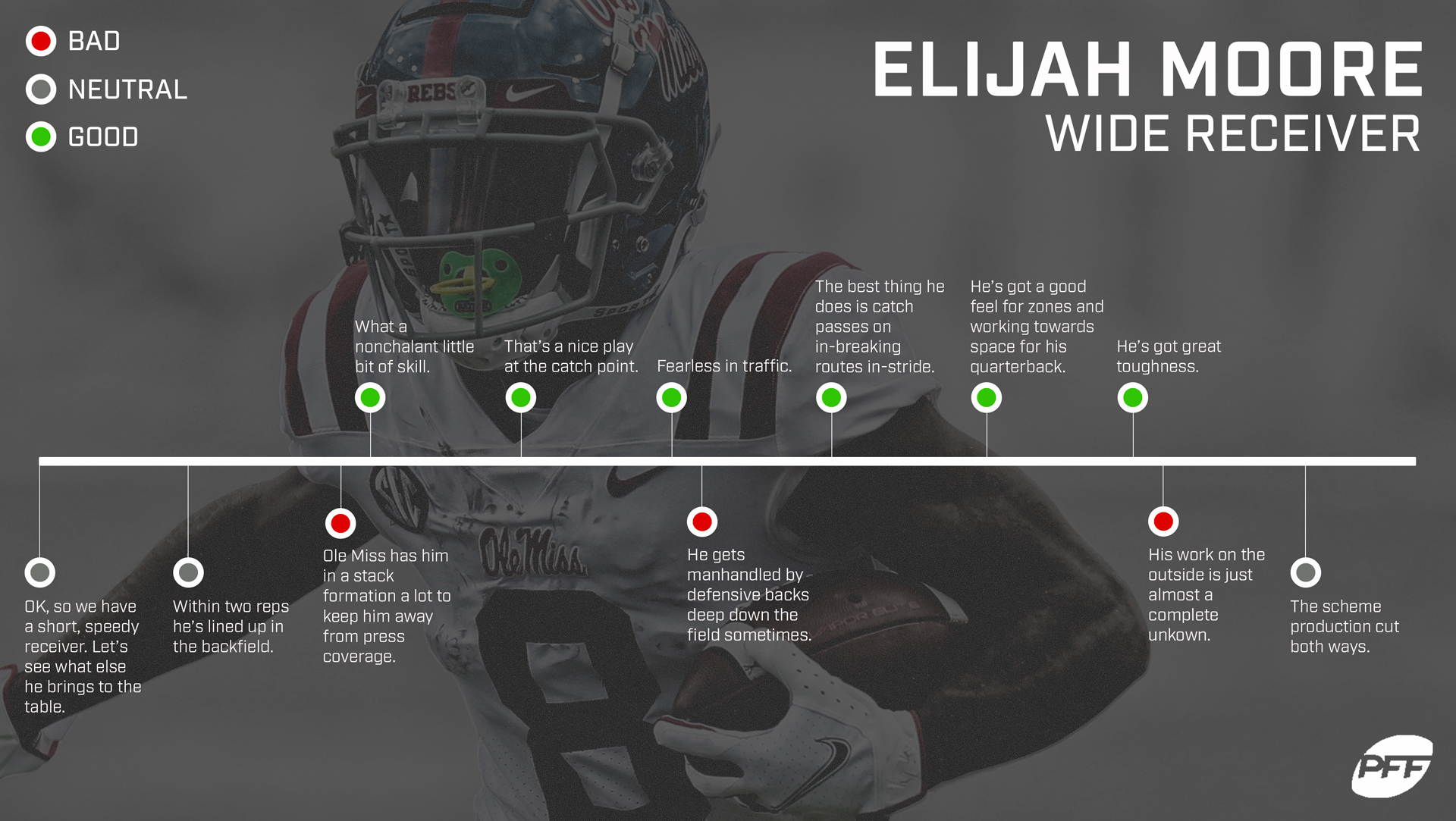 ~ OK, so we have a short, speedy receiver. Let's see what else he brings to the table
Measuring at 5-foot-9 1/2 and weighing 178 pounds at his Pro Day, Moore is obviously undersized, which means he needs to bring something extra to the table to be worthy of the buzz surrounding him right now. At least in terms of measurables, his Pro Day suggests he may be. He ran a 4.35-second 40-yard dash, a 4.00-second short shuttle and an absurd three-cone time of 6.66 seconds. So let's see if that translates to the field.
~ Within two reps, he's lined up in the backfield
I'm a fan of this kind of deployment. OK, they may be manufactured touches, but they're smart, manufactured touches, and you don't do that for a player who won't justify that scheming. Moore lined up in the backfield on only 22 of his 630 snaps in 2020, with another four coming as a Wildcat-style quarterback, but it's at least a statement of intent that this guy needs to have the ball in his hands.
– Ole Miss has Moore in a stack formation a lot to keep him away from press coverage
Does he need it? If you're going to be worth a first-round pick in the draft, you need to be able to play on the outside at the next level, which means experiencing press coverage. If that's an area of struggle to the point his team wants to keep him away from it at the college level, it could be a real concern for his ceiling in the NFL.
+ What a nonchalant little bit of skill
With Moore running a jet sweep, the Ole Miss quarterback throws him a really inaccurate pop pass (I didn't know that was possible). Without breaking stride, Moore just reaches out and down with his left hand and snags the ball out of the air before continuing on like it never happened. The quarterback almost blew up the entire play with poor execution, but Moore rescued it — and you had to look closely to see that it ever even happened. I love seeing players execute incredibly difficult little pieces of skill like that without even registering it.
He does something similar just a few targets later on a flat route that's too far out in front of him. He just snags it with his left hand like it's another day at the office. If nothing else, we can probably conclude he's a natural receiver.
+ That's a nice play at the catch point
The route itself is against off coverage from the slot, but Moore has a defensive back in close attendance and he goes up to high-point the football rather than let his opponent contest it. These are important plays for an undersized player who is relying on speed and quickness for much of his success. The ability and instinct to go and attack the football rather than get into physical contests with bigger, stronger defenders as the ball arrives is important.
+ Fearless in traffic
That's another big plus for a player of Moore's build and deployment. You see him led into some ugly spots quite a bit in this offense. His quarterback is routinely a beat late on the targets that come Moore's way, meaning that there's often a hit or defender waiting at the end of the pass in close enough attendance that I would expect him to be affected by it more than he is. His concentration to make the catch and then deal with that hit or defender is impressive.
– He gets manhandled by defensive backs deep down the field sometimes
That's a couple of occasions now where Moore's speed has taken him past the corner and actually put him in position to stack him and run away, but he's managed to get stuck on contact and pulled back into phase. Technically, that's pass interference by the corner, but it's also the kind of contact that often gets let go (as it has been each time at this level). Moore needs to do a better job of breaking that hold and taking advantage of the position he's created for himself.
+ The best thing he does is catch passes on in-breaking routes in stride
I've rarely seen anyone so assured at just plucking those balls out of the air as he runs away from defenders into space. Moore had just two drops this season, and every time the ball comes his way on those passes, you just have supreme confidence that he's going to snag it and keep on moving. It's such a small thing, but it's impressive how unerring he is on these.
+ Has a good feel for zones and working toward space for his quarterback
Moore adjusts his pace well to settle in space and linger there against zone coverage in the middle of the field. He's also good at maximizing this when his quarterback gets into trouble and often finds the ball coming his way on the scramble drill because he's done a good job of finding space. This is the receiver equivalent of finding work, and Moore does it well.
+ He flashes great toughness
Both at the catch point and with the ball in his hands, Moore has taken some real shots on this tape reel and kept on going. He bounces off hits and, while they may take him down, they don't seem to have any kind of impact or dampen his enthusiasm for the next play. Again, this is an important trait for a guy who is going to be operating in the kind of areas he does, particularly if he is under 180 pounds.
– Moore's work on the outside is just almost a complete unknown
As I work through tape of Moore lined up as an outside receiver, there's just almost nothing here. There are a handful of snaps where he's one on one with a cornerback who isn't playing off coverage, and nothing there suggests he can really excel in those situations at the next level. It reminds me of a year ago when we were trying to answer the same questions about K.J. Hamler. There was virtually no tape evidence, and we were trying to project based on one or two reps that placed him in that situation.
~ The schemed production cuts both ways
On one hand, you don't scheme production for a player on offense unless he has talent and you believe it's a worthwhile process to get the ball into his hands for them make plays. On the other hand, Moore may be a smaller fish in a bigger pond on whatever NFL offense he lands on. He might not get those same opportunities. If you take them out of a guy's tape, what are you left with? That's a question to be asked when it comes to Moore, and I believe the answer is still quite a lot.
The Bottom Line
Elijah Moore is a really interesting player to watch tape of, and I think you are left with the ultimate question of: How high can you take an excellent slot receiver?
I just don't see evidence in Moore's tape that he can thrive on the outside as well as he can in the slot the way a player like Tyreek Hill can at a similar size and speed. Moore doesn't have the tape against press coverage, and he played in an offense that kept him away from that test seemingly as often as possible. Of Moore's 630 snaps last season, 491 came from the slot (77.9%), and the percentage was even higher the two years before. College offenses are prepared to build around a guy with that profile, but I'm not sure NFL ones are to the same degree, so his value will be less at the next level.
That being said, he does everything well. Moore is exceptionally sure-handed, is tough as an overcooked steak and understands how to make himself available to his quarterback at all times. He would make almost every team in the league better from the slot, but I think there are very real questions about how special he is or can become, and therefore what the ceiling is on his value come draft time remains uncertain. He is moving into first-round consideration on a lot of boards, but to me, he needs to have the ability to win on the outside if a team is going to take him there. And while I can't say for sure that he doesn't, there is virtually no evidence to suggest that he does.
I can see why teams would love Moore, but I'd still gamble on the higher potential and upside of Rondale Moore, among others, given the option.