We are just three weeks away from the 2021 NFL Draft, and we've already seen major moves as teams jostle for position at the top of the draft. The recent trade of Sam Darnold to the Carolina Panthers has locked quarterbacks into the top three picks and effectively took Carolina out of the running to trade up to select a QB. 
Still, the Atlanta Falcons' No. 4 pick could still be up for grabs, and we know there will be other surprises up until and during the festivities in Cleveland April 29.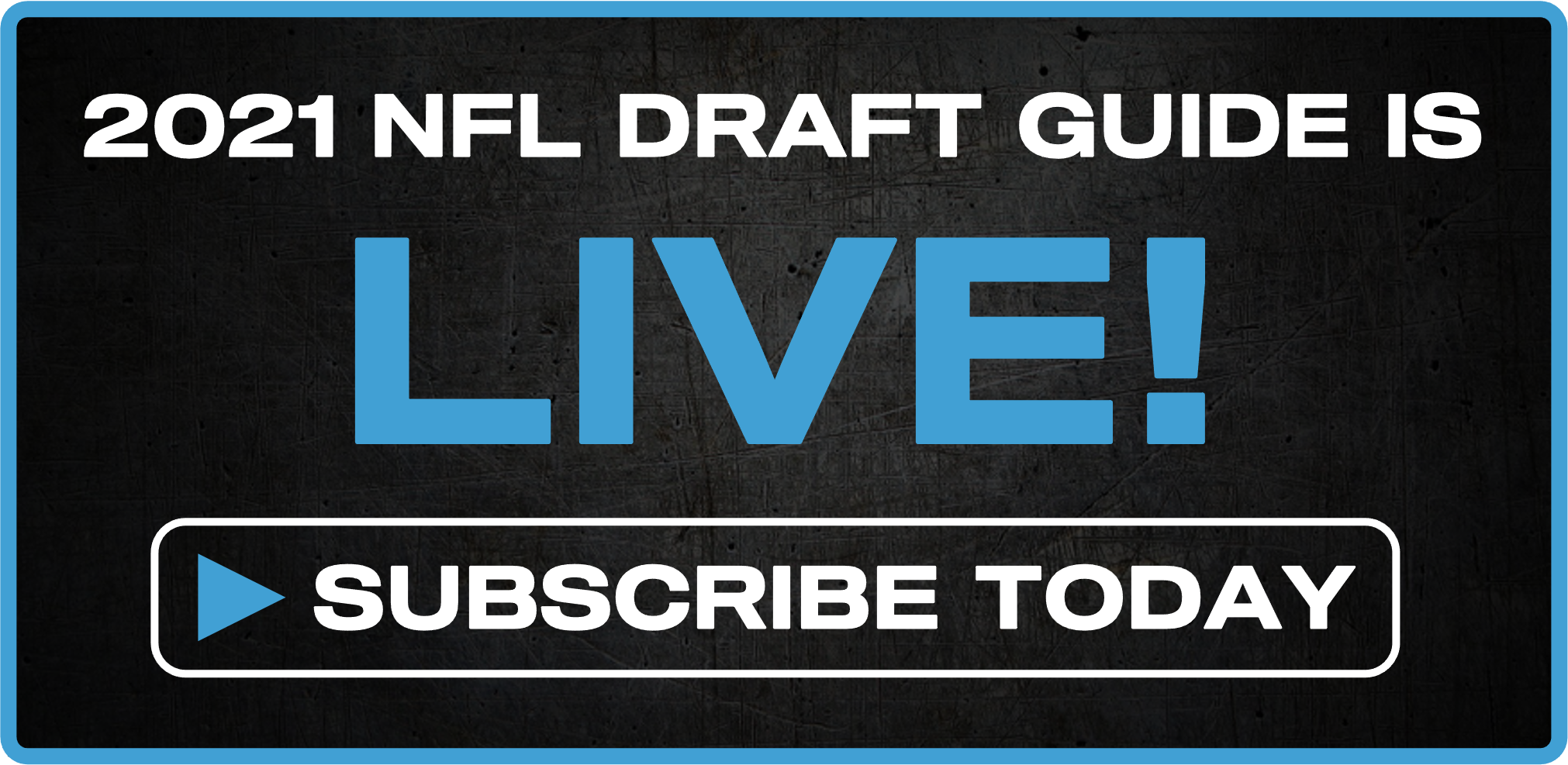 With that in mind, it's time to unveil my first 2021 NFL Mock Draft. This is my prediction of what all 32 NFL teams will do, not necessarily what I would do in their positions. 
Life. Taxes. Trevor Lawrence being drafted by the Jacksonville Jaguars at No. 1 overall. They are all guarantees, and I for one am eager to see Lawrence in action under the Urban Meyer/Darrell Bevell offense. For fantasy football purposes, Lawrence has the chance to be sneaky good. Meyer has a track record of leveraging QBs as rushing threats, and Bevell helped unlocked Matthew Stafford's deep ball over the past two seasons
The New York Jets couldn't be a better fit for Zach Wilson — he's best suited for an offense that leverages an outside-zone scheme. 
PFF's Seth Galina explained how BYU's outside-zone rushing scheme created openings in the passing game off play-action for Wilson. It's one of the main factors that helped fuel the junior's magnificent 2020 season and skyrocket his draft stock to No. 2 overall. 
New Jets offensive coordinator Mike LeFleur stems from Kyle Shanahan's outside-zone coaching tree, making the Wilson-to-New York pairing one we should be excited to watch unfold.  
It won't take long for the 2021 NFL Draft to get interesting. Reports from several of the league's most plugged-in reporters and analysts, like Adam Schefter, Daniel Jeremiah and Dane Brugle, suggest that Mac Jones is going to be the selection here for the San Francisco 49ers.
Although I personally don't agree with the selection — Justin Fields would be the better option — Jones still projects to fit well in the Shanahan offense. He's extremely accurate, a great decision-maker and moves well within the pocket. 
Highest accurate pass % last season:

1. Justin Fields, Ohio State – 72.4%
2. Mac Jones, Alabama – 72.0%
???? FBS AVG – 55% pic.twitter.com/Rr3VoMvXr1

— PFF Draft (@PFF_College) April 6, 2021
Jones' adjusted completion percentage (84.2%) and PFF passing grade (94.8) last season ranked first and second in the nation, respectively. Both were superior to Joe Burrow's numbers from the season prior. 
I understand the tension around Jones as the No. 3 pick, especially considering what the 49ers paid to move up. But few would be questioning the decision if the team honed in on Justin Fields or Trey Lance at No. 3. Quarterback is the move here; we just have to wait and see which one the 49ers have in their sights. 
The Atlanta Falcons have made it known that they are open for business with the No. 4 overall pick; the team needs upgrades across the entire roster. With only three selections inside the top 100, new Falcons general manager Terry Fontenot should be more than happy to accept a haul of picks from the Washington Football Team as they look to lock up their quarterback of the future in Trey Lance.
Washington has been busy this offseason, adding journeyman quarterback Ryan Fitzpatrick to be the presumed starter for the 2021 season. Fitzpatrick's contract is just $10 million for one year — the quarterback position is still very much an area of need for the team. Fitzmagic is the quintessential bridge quarterback for Lance, who could benefit from sitting on the sidelines to start his NFL career. 
Lance's elite arm strength and mobility are exactly what Washington's offense needs to turn them into a legitimate threat in the NFC. In the playoffs last season, Taylor Heinicke provided a glimpse of the high-end potential offense Washington could have with a more mobile and aggressive quarterback under center. 
The Bengals came up just short in the Kenny Golladay sweepstakes, which means they will have to find another way to satisfy their WR need. The idea of reuniting Burrow with his former LSU teammate Ja'Marr Chase is too exciting to pass up. When the two last played together in 2019, Chase led the nation in receiving yards (1,780), touchdowns (20) and receptions on targets 20-plus yards downfield (24). 
In my opinion, the Miami Dolphins traded back up to No. 6 specifically to draft Florida tight end Kyle Pitts. In fact, I wrote an entire article on the topic, pointing out how perfectly he fits their offense with Tua Tagovailoa under center.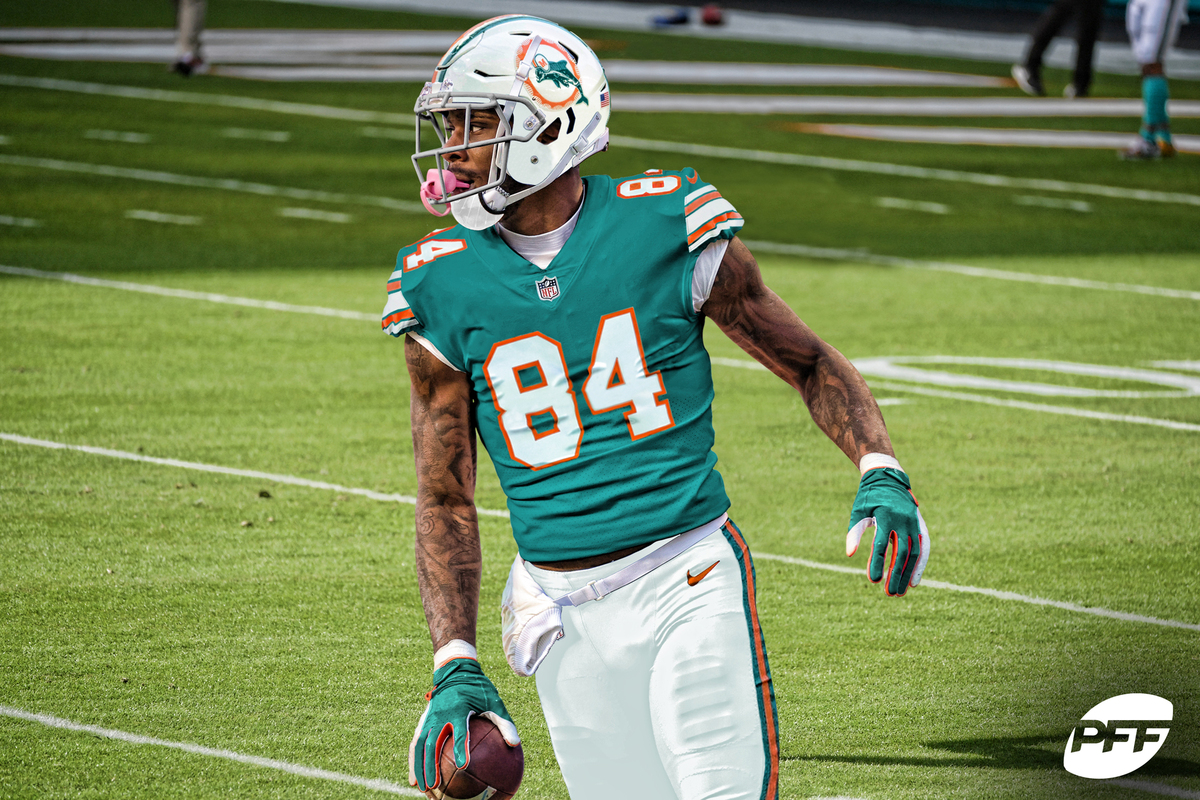 The playmaker from Florida is a "tight end" by positional designation, but make no mistake that he is much more of a wide receiver — and an excellent one at that. Pitts earned a 97.0 PFF receiving grade and averaged 4.91 yards per route run against man coverage.
Tua's receivers created at least one step of separation on just 58% of his pass attempts — fourth-worst in the league in 2020. 
New head coach Dan Campbell and general manager Brad Holmes can't afford to miss on their first pick as members of the organization. Penei Sewell is the can't-miss tackle prospect, and teams like the Lions can't get enough guys like this. At just 19 years old, Sewell had the single highest-graded season we've ever seen from a Power 5 offensive tackle.
This would be a pretty big win for a team that is likely looking ahead to a top-three pick in the 2022 NFL Draft, where the QB of the future will await. 
The New England Patriots built their 20-year dynasty by targeting values in free agency while scoffing at teams that splurged for the marquee names. But the way the Patriots have managed their roster this offseason couldn't be further from tradition. That's why 2021 is the year they do the unorthodox and go after their future franchise quarterback in Justin Fields.
Fields' comp in the 2021 NFL Draft Guide is a smaller Cam Newton. Who better to learn from to start his NFL career then Newton himself? The Patriots' offense is constructed to take full advantage of Fields' athleticism and mobility. It now just becomes a question of when he gets the nod for the starting gig. 
Denver Broncos head coach Vic Fangio needs his Roquan Smith. Between 2020 incumbents Alexander Johnson and Josey Jewell, the linebacker position is where the Broncos could upgrade their defense the most.
Michah Parsons won't make the same impact as a potential franchise quarterback, but Fangio is doing victory laps in his office knowing he selected the draft's best defensive player at No. 9 overall. The Penn State linebacker finished as PFF's highest-graded run defender (94.8) and ranked seventh in pass-rushing productivity percentage (16.1%) among all linebackers in 2019.
His ability to make an impact against the pass and run as an every-down linebacker makes him well worth a top-10 selection. 
Patrick Surtain only allowed 40% of passes to be caught when he was covering wide receivers in 2020. Over the past two seasons, he didn't allow more than 65 yards in a single game despite facing some of the best offenses in the SEC.
He will provide the Cowboys secondary with the dramatic boost it so desperately needs. Last season, Dallas allowed the third-highest passer rating (112.8) to opposing QBs. 
The New York Giants need to figure out whether Daniel Jones can be their long-term franchise quarterback. The only way they can do that is to put him in a position to succeed heading into his third NFL season.
The team has already upgraded his receiving arsenal with the addition of Kenny Golladay, so the next step is to address the offensive line. Last season, Big Blue's offensive line ranked dead last in PFF pass-blocking grade (50.6).
Rashawn Slater can immediately step in and provide a boost that the Giants (and Jones) desperately need up front. In 2019, Slater allowed just five pressures as the Wildcats' left tackle. 
Last season, the Philadelphia Eagles made an epic blunder in the first round by drafting Jalen Reagor over Justin Jefferson. Reagor went on to have a below-average and injury-riddled season, while Jefferson posted arguably the greatest rookie season in the history of the NFL.
General manager Howie Roseman claimed to have made the decision to choose Reagor over Jefferson because the former fit the offense more systematically. Roseman said, "Our job is to fit the vision of the head coach."
If Roseman sticks to his drafting philosophy, then I have no doubt that DeVonta Smith would be their selection at No. 12. New Eagles head coach Nick Sirianni is coming from an offense in Indianapolis that finished second in YAC/reception and sixth in screen-pass play rate.
Smith led all of college football last season in total yards after the catch and screen yards. The Heisman Trophy winner's ability to win on the perimeter will be a blessing for quarterback Jalen Hurts, whose receivers got open at the lowest rate in the league (54%) in 2020. 
Smith's size concerns are sure to keep some teams from taking him in the first round, but I doubt the Eagles shy away from a player that would be the perfect fit. Roseman has the pedigree to be more risky than other GMs; drafting an undersized receiver is par for the course for Philadelphia.
New head coach Brandon Staley is well aware that he needs to continue to improve the offensive line to help protect Justin Hebert, but with the two top tackles off the board, he looks to find his CB1 of the future in Jaycee Horn.
Horn has the ability to man up against any wide receiver, as evidenced by his blanketing of Auburn WR Seth Williams last season.
Jaycee Horn's tape against Auburn is probably his best in 2020 — completely shut down Seth Williams.

▪️ 9 Targets
▪️ 1 Reception
▪️ 44 Yards Allowed
▪️ 2 INTs

(and body-bagged him on this play) pic.twitter.com/dd5kShccQI

— Austin Gayle (@PFF_AustinGayle) April 8, 2021
Horn allowed just eight receptions on 239 coverage snaps (3%) in 2020. Staley surely enjoyed utilizing Jalen Ramsey as the Rams defensive coordinator last year; he gets his own matchup-eraser here. The Chargers' two starting perimeter cornerbacks are currently Michael Davis and Tevaughn Campbell — both former UDFAs. 
The Minnesota Vikings' offense was one the league's top units a season ago. They ranked seventh in overall offensive PFF grade (84.3), fourth in average yards per play (6.2) and sixth in offensive points scored.
The defense, on the other hand, was an extremely different story, earning PFF's sixth-worst grade (53.4) and ranking dead last in pass-rush grade (59.3). The Vikings finished fifth-worst in average yards per play allowed (6.1).
Mike Zimmer famously said before the start of the 2020 season, "I've never had a bad defense." He's going to do whatever it takes to make sure the abysmal performance from the unit last year remains an anomaly. 
Adding Michigan edge Kwity Payne would be the first step in correcting last season's pass-rush woes. His pass-rush win rate (26%) ranked first in the Big Ten and fourth in the Power 5 last season. 
The Carolina Panthers drafted all defensive players in last year's draft, so the time has come to finally take an offensive player under the Matt Rhule regime. The team traded for Darnold and picked up his fifth-year option, but they need to surround him with as many weapons as possible.
The Panthers' offense has a massive hole in the slot after the departure of Curtis Samuel, so they fill the void with a more explosive playmaker in Jaylen Waddle. Waddle is easily the best pure slot receiver in the class, and offensive coordinator Joe Brady loves featuring that position in his offense.  
PFF's Austin Gayle projected Kadarius Toney the Arizona Cardinals in the second round in his two-round 2021 NFL Mock Draft, but I don't think Toney falls outside the top-32 picks.
Arizona desperately needs playmakers behind DeAndre Hopkins to heighten Kyler Murray's ceiling, and Toney does exactly that. His missed-tackle rate per touch (35%) since 2018 ranks No. 1 among the 2021 WR draft class (min. 100 touches), and he would be an immediate upgrade in the slot over a 37-year-old Larry Fitzgerald. 
The Cardinals lead the NFL in catches from the slot but rank 22nd in explosive plays and 31st in yards per reception since 2019. 
The Las Vegas Raiders made an epic mistake last season by deciding to forgo elite tackle prospect Tristan Wirfs in favor of Alabama wide receiver Henry Ruggs III with the 12th overall pick.
The Raiders won't make the same mistake twice; this time around they select Christian Darrisaw to bolster an offensive line that has been entirely revamped from last season. The 6-foot-5, 315-pounder was one of just two offensive linemen in the FBS to earn 90-plus PFF grades as both a run-blocker (94.5) and pass-blocker (90.8) in 2020.
The Dolphins addressed a skill position with the No. 6 overall pick, so their attention turns to finding big bodies up front to protect their franchise quarterback. 
Alijah Vera-Tucker can play both interior and exterior on the offensive line, giving Miami plenty of flexibility in deploying him. On 927 career pass-blocking snaps, AVT has allowed just three QB hits.
The Falcons' biggest needs are on the defensive side of the ball, which makes the trade down to 19 a no-brainer. Quarterbacks, offensive tackles and pass-catchers have dominated the draft thus far, which has pushed some of the best defensive players in the draft into the second half of Round 1. 
The most notable defender left on the board is cornerback Caleb Farley. The Falcons can roll the dice on him with a bevy of future picks to fall back on if his back injury resurfaces.
Injuries are the only reason Farley's draft stock has fallen, as his body of work demonstrates top-10 talent. He earned a 90.5 coverage grade in 2019, allowing a 36% catch rate into his coverage. His passer rating allowed in coverage was 26.8. It's not Revis Island, but it's pretty darn close.
Pairing Farley with 2020 first-rounder AJ Terrell sets up the Falcons to have a much improved secondary in 2021 and beyond. 
The Bears have their fair share of issues on the offensive line, but the problems stem specifically from the right side with Germain Ifedi. The team addressed the issue by bringing in Elijah Wilkinson in free agency, but neither of these guys are world beaters. Both earned a PFF grade below 66.0 last season.
Teven Jenkins is a clear upgrade from the in-house options. He finished last season as PFF's third-highest-graded tackle (92.0) operating solely on the right side. 
The Colts' cumulative edge grade was the seventh-lowest in the league last season. Outside of DeForest Buckner (90.2), no other defensive player posted a PFF pass-rush grade above 70.0.
Indianapolis needs to make some noise by adding pass-rush depth, and that comes in the form of Jaelan Phillips. The Miami edge rusher fits the Colts' defensive scheme and can provide the juice needed to put pressure on the opposing quarterback. He came away from last season with PFF grades of 83.0 or higher as a run-defender and pass-rusher.
Phillips is also a physical specimen, testing in the 80th percentile or better in every workout during Miami's pro day. 
Highest single-season @PFF pass-rush win rates over the past two years among P5 defenders with PA, screens & RPOs removed:

1. Chase Young — 36% (2019)
2. Rashad Weaver — 30% (2020)

T-3. Boogie Basham — 27% (2019)
T-3. Jaelan Phillips — 27% (2020) ????????????

— Austin Gayle (@PFF_AustinGayle) February 17, 2021
If there's anything the Titans know about drafting wide receivers, it's that there are great ones available outside the first round: A.J. Brown was a second-round pick in 2019 and now sits No. 1 atop my dynasty fantasy football rankings. 
So even though there is a glaring need for pass-catchers in Tennessee — they have the second-highest percentage of vacated targets from 2020 —the Titans are likely to take advantage of the depth at the WR position in the draft.
Instead of drafting a receiver, they take another stab at the tackle position with Samuel Cosmi out of Texas. Last season, Tennessee drafted Isaiah Wilson in the first round but ended up releasing him less than a year later due to off-the-field issues.
Cosmi can slide into the Titans' starting lineup at right tackle. He finished last season as PFF's third-highest-graded pass-blocker among 2021 draft eligible tackles.

Sam Cosmi's Pro Day numbers are (expectedly) insane.

He's also one of the most productive pass-blocking OTs tackles in the class.

Leaders in pressure % allowed with play-action, screens and RPOs removed:

???? 2018: Dalton Risner
???? 2019: Tristan Wirfs
???? 2020: Sam Cosmi

— Austin Gayle (@PFF_AustinGayle) March 12, 2021
With Zach Wilson entrenched as the team's QB, the Jets organization can shift its focus to loading up on talent. New head coach Robert Saleh needs to add pieces to his cornerback room so he won't be forced to start the likes of Blessuan Austin anytime soon. 
Greg Newsome fits perfectly with Saleh's zone-heavy defenses, considering he spent the majority of his time at Northwestern (76%) playing zone. Newsome forced an incompletion on 26% of his targets last season — a mark that ranks third-best in this cornerback class. 
The Steelers have a dire need on the offensive line, but there's just too much talent available on the draft board to reach on a less-than-ideal tackle or guard. 
Mike Tomlin and Kevin Colbert both attended Georgia's pro day when Azeez Ojulari turned heads by jumping 127 inches in the broad jump (94th percentile) and running 4.60 (88th percentile) in the 40-yard dash. His speed-rush moves off the edge give offensive linemen nightmares. 
Pittsburgh lost one of its marquee pass-rushers in Bud Dupree to free agency, along with some other key defenders, so the logical move is to find his one-for-one replacement with Ojulari.
Ojulari is the highest-graded pass-rusher in the 2021 NFL Draft (91.7). Just imagine his potential ceiling knowing he'll get to work with T.J. Watt every day. 
I originally projected the Jacksonville Jaguars to select a defensive tackle here, but they have major issues in the defensive secondary. Trevon Moehrig provides stability and upside at a position that they aren't likely to get from incumbent safeties Rayshawn Jenkins and Jarrod Wilson. 
The TCU product is the best safety in the class — his 92.8 career coverage grade is No. 1 among 2021 safeties. His ability to cover deep zones and match up with receivers in the slot will make him a featured piece of the Jags' secondary. 
Clevelands' main weakness on defense is at linebacker, which makes drafting Jeremiah Owusu-Koramoah an easy choice for them. JOK's diverse skill set as a box safety, explosive linebacker and slot defensive back allow him to make plays all over the field.
Last season, Browns linebackers played the second-most coverage snaps from the slot (197). Owusu-Koramoah's PFF coverage grade from the slot (84.2) ranked first in 2020. 
Highest slot coverage grade in 2020 (per @PFF_College):

1. Tykee Smith, West Virginia (transfered to Georgia)
2. Jeremiah Owusu-Koramoah, Notre Dame (lol)
3. Cam Johnson, North Texas (transferred to UCLA)

— Anthony Treash (@PFF_Anthony) April 8, 2021
The Ravens were one of the teams courting JuJu Smith-Schuster, suggesting that they aren't finished looking for a slot receiver. The team added Sammy Watkins, but I think he will move back outside. Slot receiver extraordinaire Elijah Moore can take over the slot role in Baltimore and provide Lamar Jackson with additional firepower.
Since 2019, Moore is PFF's second-highest-graded slot receiver (90.0).
The Saints have the most vacated end-zone targets from last year, which could put them in a position to draft a wide receiver with a nose for scoring. LSU's Terrace Marshall Jr. ranks 12th in end-zone targets over the past two seasons, and his PFF receiving grade on those targets ranks fourth-best (93.5).
He and Michael Thomas could form a formidable duo with Marshall lined up out wide. Since the start of 2019, Marshall owns the league's highest passer rating generated (158.3) when targeted from an out-wide alignment.
Jaire Alexander is a shut-down cornerback, but his ability to lock down one side of the field doesn't matter nearly as much if the cornerback opposite him is a liability in coverage. Kevin King re-signed with the Packers to the tune of a one-year deal worth $6 million. That's a tell-tale sign that GB hasn't forgotten King's performance in the NFC championship game when he allowed five catches on seven targets for 66 yards and two touchdown passes.
Needless to say, Green Bay is far from out of the cornerback market, which is why they take Asante Samuel Jr. at No. 29 overall. Since 2018, Samuel ranks seventh in PFF grade (90.0), second in forced incompletions (30) and fifth in passer rating when targeted (81.3) among Power 5 corners. Last year, he earned the best PFF coverage grade (82.8) of his career playing outside cornerback. 
Only the Bengals have allowed a higher explosive run rate than the Buffalo Bills since the start of 2019. Plugging up the interior starts with Alabama defensive tackle Christian Barmore, but make no mistake: This beast of a man is also going to create a ton of interior pass rush for the Bills defense. 
His 91.5 pass-rush grade in 2020 led the country among interior defensive linemen. 
At 6-foot-5 and 252 pounds, Jayson Oweh is an absolute freak, as evidenced by twice landing in the top 10 of Bruce Feldman's Freaks List. The Chiefs will be betting on his juice translating into sacks, which was not the case in college.
Despite posting an 80-plus PFF pass-rushing grade in 2020, Oweh failed to record any sacks. But overall his improved grade over the past three years at Penn State is a sign that better days are ahead.
In the meantime, Oweh can help the Chiefs' spotty run defense. His PFF run-defense grade (89.7) ranked third-best in his class in 2020. 
As reigning Super Bowl champions with few roster holes, the Tampa Bay Buccaneers can do what every team would like and select the best player available. Gregory Rousseau has been falling down NFL draft boards after opting out of the 2020 season, but the Bucs can't resist the upside of what he put on tape in 2019 when finished fourth in the nation in sacks (16). 
Jason Pierre-Paul is also not getting any younger (age 32), so it's best to address the edge position now before the wheels fall off for JPP.