The 2021 NFL Draft running back class may be top-heavy, but there are a lot of intriguing prospects later on with some receiving ability. Just because there won't be the depth on Day 2 as there was in 2020, however, doesn't mean you can't get a specific skill set later on in the draft.
Let's take a look at the superlatives for the running backs this year.
View PFF's 2021 NFL Draft position rankings:
QB | RB | WR | TE | T | iOL | DI | EDGE | LB | CB | S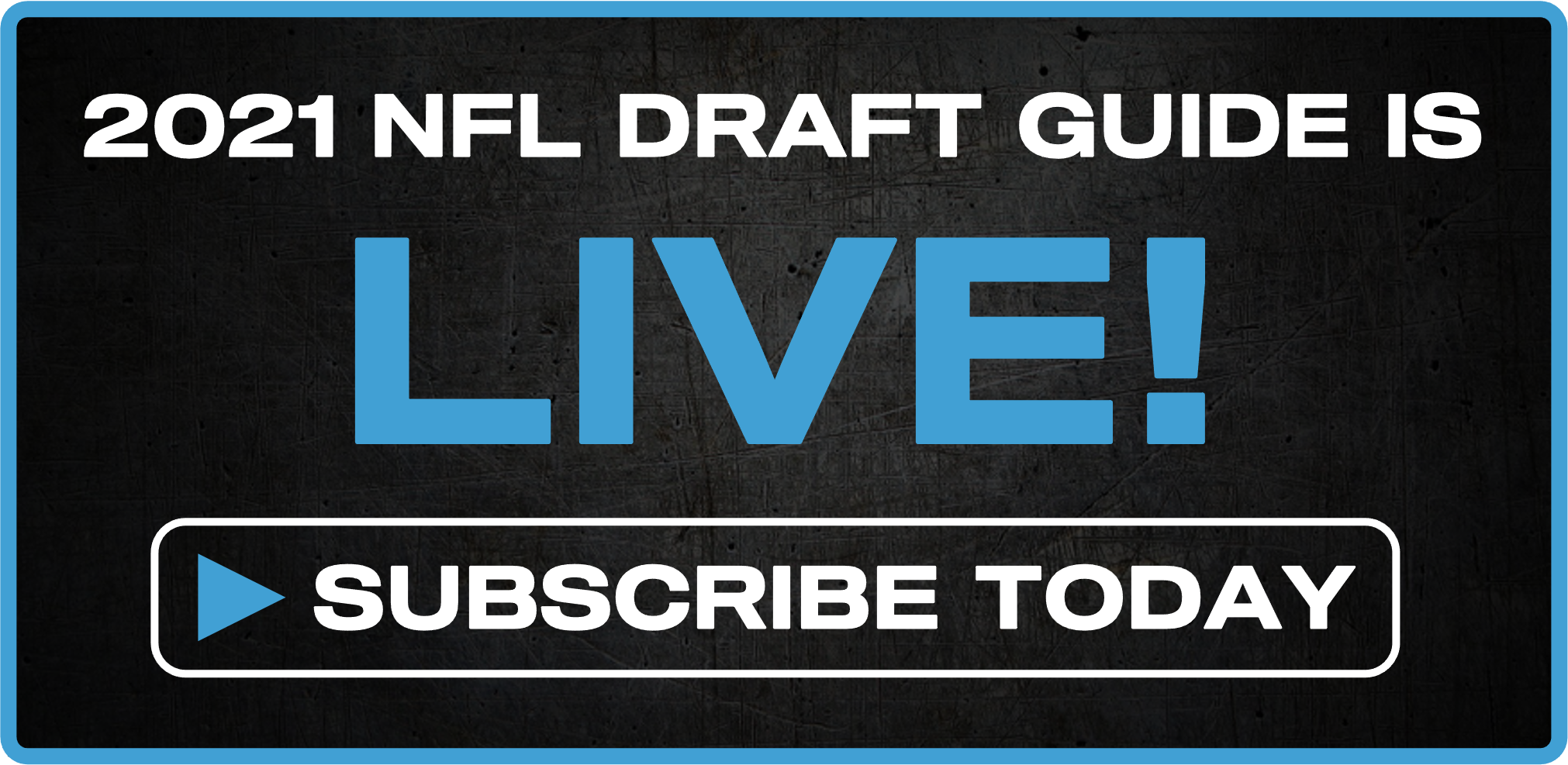 Etienne was bottled up more in 2020 than ever before, but he still averaged more than one 15-plus-yard run per game. For his career, Etienne had 85 such runs — the most of any running back in the draft class. With 4.41-second speed at his Pro Day and a 10-foot-8 broad jump, you can bet on that translating to the next level.
Clemson RB Travis Etienne operates at a different speed. pic.twitter.com/GbIewx9MEV

— Jordan Reid (@Jordan_Reid) May 9, 2019
This one was very evident in PFF's charting. The 20-year-old back was the most difficult back to bring down in college football last year and also had the single best tackle-breaking season in PFF College history. Williams shredded 76 tackles, ranking first in college football last year, on only 157 carries. And he's only getting better.
7. ???? Javonte Williams is a MONSTER.

He and Michael Carter set the FBS record for most rush yards by teammates in UNC's win over Miami.

– Williams: 23 car, 236 yds, 3 TD
-Carter: 24 car, 308 yds, 2 TDpic.twitter.com/dLAibYyv8W

— Kendall Baker (@TheKendallBaker) December 14, 2020
PFF's grading on this is surprisingly not close. Herbert's 93.9 rushing grade on zone concepts the past two seasons is tops in the class, and so is his 8.2 yards per attempt on 157 such carries. Watch how easily he navigates outside zone here out of shotgun — a notoriously more difficult alignment with the running back's angle than from under center.
#VaTech RB Khalil Herbert came into today averaging 12.4 yards per carry and an FBS leading 7.5 yards after contact. Another explosive play on this 52-yard TD.

His third straight 100-yard game, which matches his career total while at Kansas (35 games).pic.twitter.com/SmvEuPi21T

— Jordan Reid (@Jordan_Reid) October 10, 2020
It also helps that he's been a monster to bring down in space, racking up 57 broken tackles on those 157 carries. With Herbert standing at only 5-foot-9, his low center of gravity makes it easy for him to cut and get upfield on dimes. Get this man in a zone scheme, and let him rip it up.
93.8 grade. 65 broken tackles on 131 gap runs the past two years. 8.0 yards per attempt (only Rhamondre Stevenson has been better — 8.3 yards per attempt, although on only 69 carries). To put into context how insane those figures are, Williams broke 21 more tackles on 60 fewer attempts than Alabama's Najee Harris had on gap runs over that span.
Javonte Williams made Miami defenders look like bowling pins pic.twitter.com/66FxhPAzOc

— Connor Rogers (@ConnorJRogers) December 17, 2020
If there was a "most difficult to touch" superlative in this running back draft class, Williams would likely be your winner. He is a lightning rod with the ball in his hands and needs only an inch to make a play.
#Kansas RB Pooka Williams has an insane highlight reel. pic.twitter.com/i6VrYiYwmG

— Marcus Mosher (@Marcus_Mosher) February 14, 2021
At his Pro Day, Williams ran a 4.38-second 40-yard dash but checked in at only 175 pounds and did four bench press reps. He's not going to do all your normal running back things, but he can still be a weapon.
This superlative was hotly contested. Travis Etienne led the way with 37 career goal-to-go scores, with Harris coming in second (35). Harris, however, converted at a higher rate. Some 48.6% of Harris' goal-to-go carries resulted in scores, while the same was true only 44.0% of the time for Etienne. Harris quite obviously has the bruising running style and size to be that guy at the NFL level, as well.
Najee Harris is almost always a guarantee to score near the goal line! Alabama strikes first! #RollTide #BAMAvsTENN pic.twitter.com/eLlZEmBYVP

— CFB Pylon (@TheCFBPylon) October 24, 2020
After not being featured early in his Alabama career, Harris became a weapon in the Crimson Tide passing attack over the past two seasons. He tallied 80 career catches — 43 this past season — and dropped only three targets. Those sure hands will surely be utilized in the NFL.
Najee Harris: UNREAL????

Alabama (-775 Live) is up a score after another Najee TD!

Live Total: 86.5pic.twitter.com/I3YkZClM4a

— PointsBet Sportsbook (@PointsBetUSA) January 12, 2021
This completes the trifecta for Harris, who has more highlight-reel grabs on his tape than almost any running back in recent memory. At 6-foot-2 with 33 3/8-inch arms, Harris has one of the widest catch radii you'll ever see at the position.
Najee Harris is such a freak. This is a RUNNING BACK on this TD catch. pic.twitter.com/uWjNcc1bVb

— Chris Hummer (@chris_hummer) November 9, 2019
Watching the 5-foot-7 Patterson navigate in tight quarters is a thing of beauty. He personifies the symbiotic relationship between runner and offensive line in the way he sets up his blocks.
Sheesh, vicious cut in a phone booth!! Jaret Patterson possesses some of the best footwork in the class!!

— Damian Parson ???? (@DP_NFL) November 20, 2020
It's something you see consistently on his tape, and it helps out tremendously with offensive linemen establishing leverage. The way he presses holes and patiently waits to explode will translate nicely to the next level, even at his size. 
Jaret Patterson's (@__JP26) film is special. From the second you turn it on, he is making play after play. Really good vision and contact balance. He has starter potential at the next level and should be one of the best players once the MAC returns. #NFLDraft #DraftTwitter pic.twitter.com/a5QRdfcxkV

— Jack Borowsky (@Jack_Borowsky) October 4, 2020
Not many NFL running backs can split out wide and get open as easily as Felton showed he could at the Senior Bowl. Felton had the fifth-highest grade of any receiver in attendance in the one-on-ones, and he hasn't even played that position since 2018. If you want a receiving threat in your offense, this is the guy.
WFT rookie star @AntonioGibson14 repped exclusively at RB in Senior Bowl after playing mostly WR at Memphis & his draft stock ???? multiple rounds. This year @UCLAFootball RB Demetric Felton worked at WR and was electric. @demetricfelton7 will be an immediate contributor in NFL.???? pic.twitter.com/VsYIdRDUM1

— Jim Nagy (@JimNagy_SB) February 11, 2021
Best Athletic Testing: Elijah Mitchell, Louisiana
At 5-foot-10 and 201 pounds, Mitchell put up a 4.38-second 40-yard dash, did 17 bench reps, had a 38-inch vertical, a 10-foot-8 broad jump, a 4.19-second shuttle and a 6.94-second three-cone. Mitchell's bench press was his only Pro Day drill that was below the 70th percentile historically at the running back position. That's quite the athletic display for a player who has the tape to match. He earned rushing grades over 80.0 in all three seasons as a starter and averaged 4.14 yards after contact per attempt for his career. When a small-school player tests that well athletically, it makes you feel better about their production translating to the next level.
Q: How many defenders does it take to bring down Elijah Mitchell?

A: Too many ????pic.twitter.com/eM06EZBb4z

— PFF Draft (@PFF_College) December 26, 2020