I recently broke down the top slot receivers in the 2021 NFL draft class, so now we turn our attention to the top rookie outside wide receivers. Identifying which rookie WRs are destined for a life on the perimeter versus the slot is important — a full-time role on the outside can drastically change their fantasy football outlook.
I found a slight negative correlation since 2018 between college players heavily featured in the slot versus out wide when it comes to future fantasy production. I also found that a higher slot snap rate in college typically leads to a higher rate in the NFL. That's not surprising, but the underlying takeaway from the research is that outside receivers — who tend to be more productive for fantasy purposes — tend to play the slot less at the college level.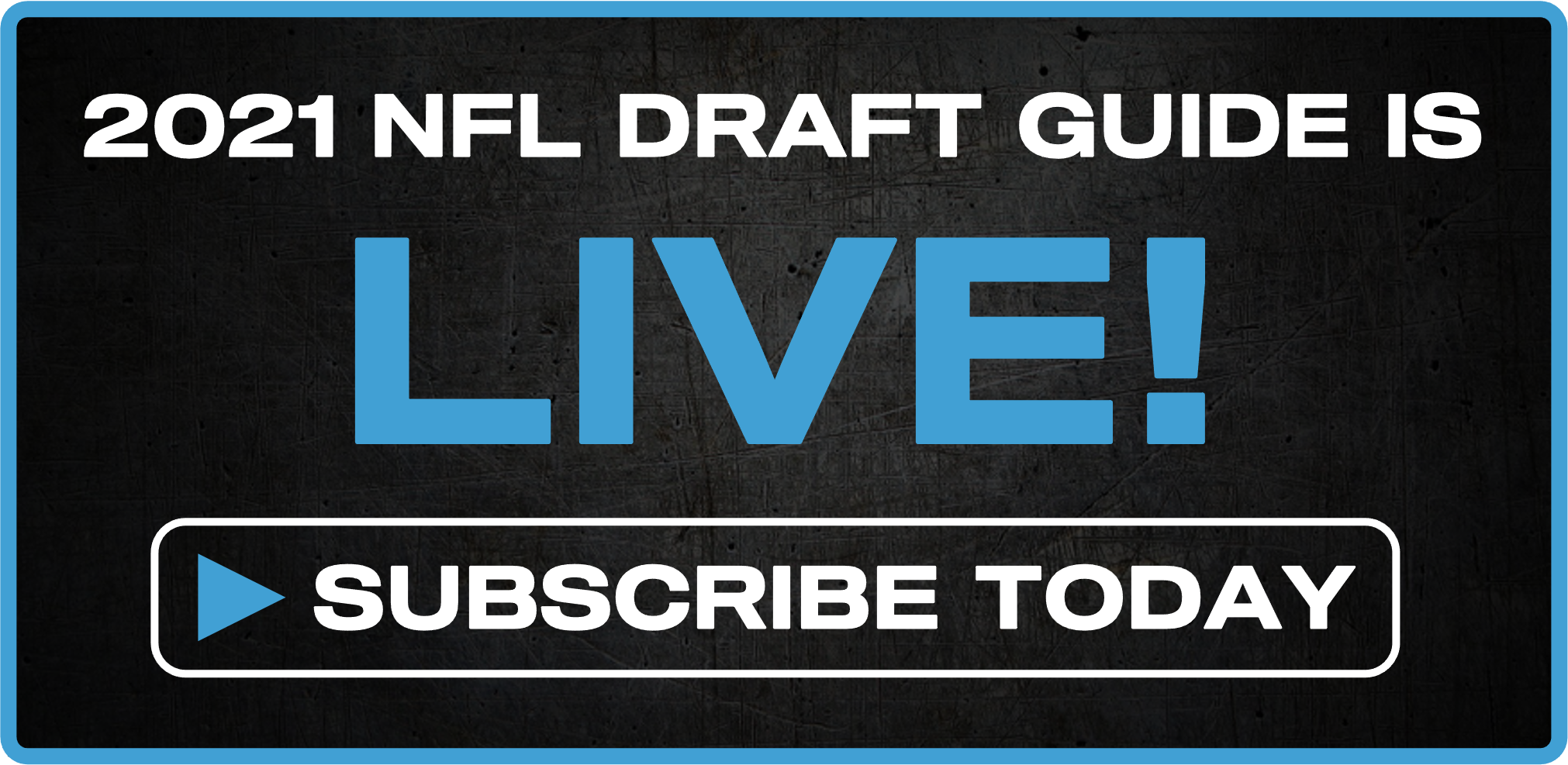 Among last year's top 12 fantasy WRs, only three — Tyreek Hill, Keenan Allen and Tyler Lockett — played more than 50% of their snaps from the slot. 
Selecting a rookie receiver who projects to play more on the outside is a great way to break a tie between two prospects, even though there are some very good slot receivers heading into dynasty rookie drafts this year. 
The following is a breakdown of my top eight outside receivers in the 2021 NFL Draft with some honorable mentions thrown in for good measure. 
Career wide snap share: 80%
DeVonta Smith may not look the part of a boundary receiver at 6-foot-1 and 170 pounds, but his size has hardly impeded his ability to win out wide. Smith is PFF's highest-graded wide receiver since 2019 when operating outside (92.2). His 3.53 yards per route run and 22 receiving touchdowns also lead all WRs. 
Smith's size concerns are often followed by question marks about whether he can win on the outside versus man coverage. I can answer that question with an emphatic yes. When facing man coverage from an outside alignment, Smith is PFF's highest-graded receiver (91.4) and led all players in yards per route run (4.53).
His yards per route run bested NFL rookie sensation Brandon Aiyuk's mark from the year prior (3.45) by more than a full yard. 
Career wide snap share: 85%
Ja'Marr Chase is my No. 1 overall wide receiver in this class — he has the ability to be a true alpha on the perimeter. 
During Chase's magical 2019 campaign, he finished second in catches of 15-plus yards (34), second in receiving touchdowns (14) and sixth in receiving yards (1,222) when lined up out wide. He is PFF's eighth-highest-graded perimeter receiver (85.4) in the class since the start of the 2019 season. 
An eighth-place ranking doesn't sound that impressive for the consensus No. 1 receiver in this year's draft, but additional context amplifies Chase's standing as a threat outside the numbers.
When Chase faced man coverage on the outside, he earned PFF's second-highest grade (88.2) in 2019, trailing only DeVonta Smith. But the LSU product's success was not limited to just the perimeter. 
Interestingly enough, Chase's slot/wide splits showed that his efficiency from the slot outweighed what he did on the outside. For that reason, he doesn't show up No. 1 on the list despite his overall ranking.
Ja'Marr Chase slot/wide splits | 2019
| | | | | | | |
| --- | --- | --- | --- | --- | --- | --- |
| Alignment | PFF receiving grade | Targets | Receptions | Yards | TDs | Yards per route run |
| Slot | 93.3 | 27 | 23 | 558 | 6 | 6.49 |
| Wide | 85.4 | 94 | 61 | 1,222 | 14 | 2.97 |
Part of the discrepancy can be chalked up to the smaller sample size of Chase playing in the slot, but it's a good sign for his NFL future that he might not be strictly bound to lining up near the sidelines.
Career wide snap share: 77%
Minnesota's Rashod Bateman was a monster primarily operating as the team's "X" receiver in 2019. He led the nation in yards per route run (3.6) and was PFF's eighth-highest-graded receiver (89.2) from an out-wide alignment.
Bateman looked like a first-round lock after an impressive sophomore campaign, but his role changed in 2020. With the departure of wide receiver Tyler Johnson, Bateman filled the team's void in the slot. The transition didn't go so smoothly.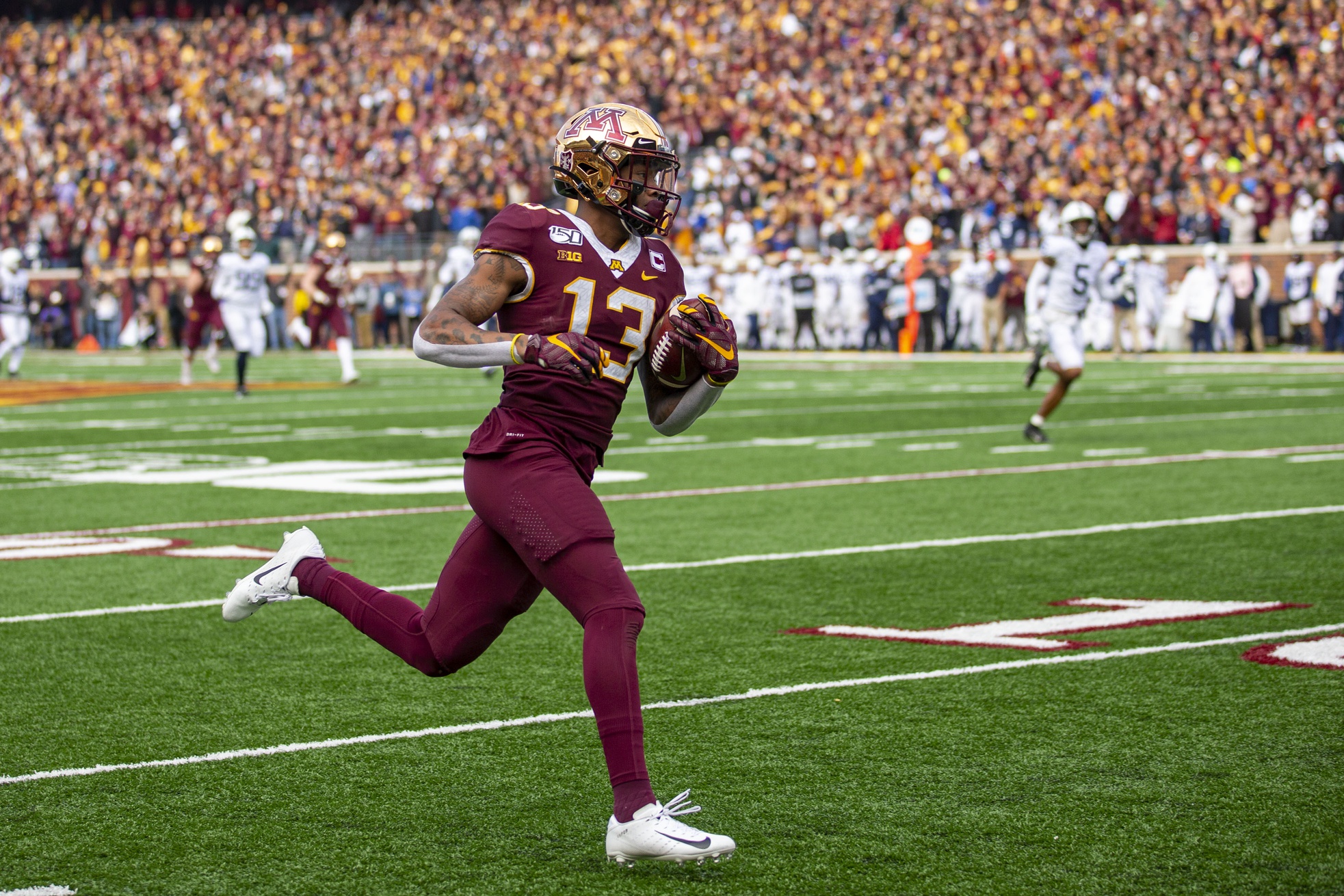 Bateman's 67% snap share from the slot resulted in a PFF receiving grade of 73.1, just 2.89 yards per route run and 263 receiving yards. Meanwhile, on his 33% of snaps lined up outside, Bateman channeled his 2019 form: 83.9 PFF receiving grade, 209 receiving yards and an absurd 4.54 yards per route run, which ranked third-best in 2020. 
With Bateman back to full strength in 2021 (he lost 10 pounds last year due to Covid-19), I believe we will see him back on the outside dominating sooner rather than later. 
Career wide snap share: 88%
Tylan Wallace is PFF's highest-graded wide receiver since 2018 when lined up outside. His 91.0 PFF receiving grade not only leads his class but ranks second among all college WRs since 2017 (his freshman year). 
Highest-graded WRs from an out-wide alignment since 2018 | 2021 draft class
| | |
| --- | --- |
| Player | PFF receiving grade |
| Tylan Wallace | 91.0 |
| DeVonta Smith | 90.9 |
| Tre Walker | 89.7 |
| Damonte Coxie | 89.1 |
| Austin Watkins | 87.5 |
| Ja'Marr Chase | 84.3 |
| Rashod Bateman | 84.0 |
When accounting for receivers lined up on the perimeter since 2019 (min. 100 targets), Wallace's yards per route run ranks fourth (3.27) — not far off DeVonta Smith's mark (3.53).
The Oklahoma State product's ability to win on the outside fueled his extremely productive college career and 32% college dominator rating. His diverse skill set as a contested-catch receiver and end-zone target hog will make it easy for him to find a role in the NFL.
Had it not been for a torn ACL in 2019, he likely would have been an early declare. I anticipate drafting plenty of Wallace during the second round of dynasty rookie drafts this offseason.
Career wide snap share: 53%
No player has a closer slot/wide career snap share than Terrace Marshall Jr. His usage has been nearly 50/50 his entire career, and that means he could be deployed in a multitude of ways at the NFL level.
Marshall's versatility is an appealing trait, but his towering build (6-foot-3, 205 pounds) screams greatness near the sidelines. His splits speak for themselves: 
Terrace Marshall Jr. slot/wide splits since 2019
| | | | | | | |
| --- | --- | --- | --- | --- | --- | --- |
| | PFF receiving grade | Targets | Receptions | Yards | TDs | Yards per route run |
| Slot | 71.1 | 78 | 49 | 643 | 11 | 1.83 |
| Wide | 80.2 | 56 | 45 | 759 | 12 | 2.36 |
Since the start of 2019, Marshall owns the league's highest passer rating generated (158.3) when targeted from an out-wide alignment. 
Career wide snap share: 98%
Lining up outside has been the status quo for North Carolina wide receiver Dyami Brown, who has made a football living making big plays from the perimeter. 
Since the start of 2019, Brown leads all outside receivers in receiving yards (2,086) and catches on 20-plus yard targets (25).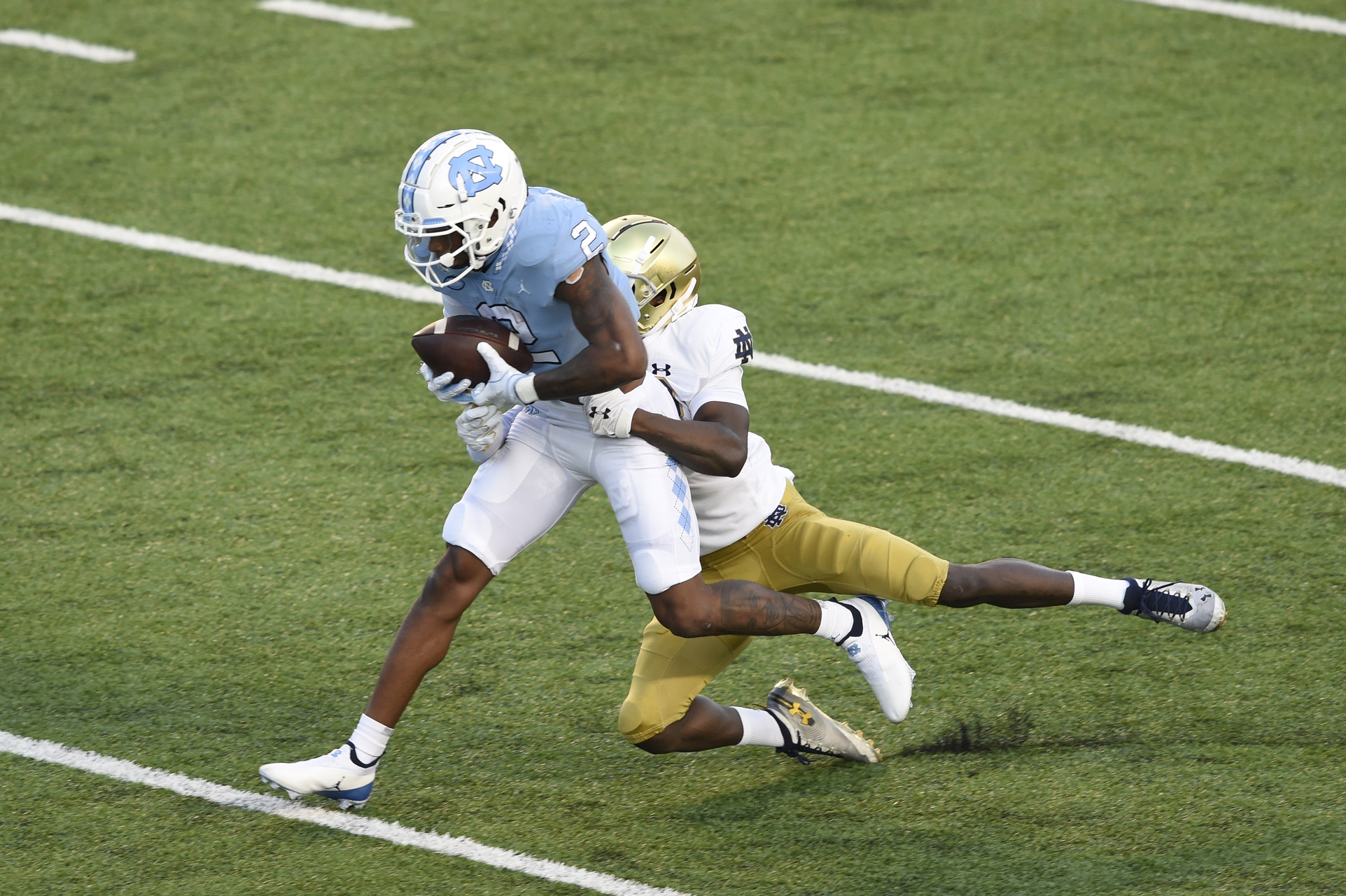 The deep-ball specialist has the exact skill set we want in our rookie receivers. His smooth release off the line of scrimmage is going to help him win on the outside in the NFL. 
During his breakout junior season in 2020, Brown finished seventh in yards per route run (3.15) and 10th in PFF grade (83.2). Specifically on deep-targets, Brown was PFF's second-highest-graded receiver (94.4). 
He's ready-made to take the top off defenses at the next level. Watch out. 
Career wide snap share: 86%
Since the start of the 2018 season, D'Wayne Eskridge leads all of college football in yards per route run (3.36) when aligned out wide. The speedster from Western Michigan is famous for creating chunk plays from the perimeter, which is reflected by his No. 1-ranked yards per reception mark (21.6). 
There's a ton of upside in his profile but also a lot of question marks due to the competition level in the MAC, along with his ball skills and physicality. Not to mention, Eskridge didn't break out until he was 21 years old; he's now already 24. 
Career wide snap share: 97%
Nico Collins was one of my biggest winners after collegiate pro day numbers came out. My biggest knock on him entering the league is his inability to create route separation, but the workout metrics from his pro day offer signs of hope that his year off from football in 2020 paid off.
Collins measured at 6-foot-4 and 215 pounds — plenty of size to play on the outside at the NFL level. From 2018-2019, he finished second in contested-catch rate (63.2%), sixth in passer rating generated (120.8) and fourth in yards per target (18.2) among WRs in his draft class when targeted from an out-wide alignment. 
If Collins' newfound athleticism translates to increased separation in the pros, he has a real shot to make some noise among the rookie class.
HONORABLE MENTION:
Career wide snap share: 94%
Career wide snap share: 83%
Career wide snap share: 66%
Career wide snap share: 55%