(This is Week 7 of the NFL season. Each week, the PFF Fantasy cheat sheet will have all the relevant fantasy football content for the week in one place for you to keep track and review as needed as you prepare for that week in fantasy football.)
I've mentioned this on Twitter from time to time over the years, because I have no original thoughts anymore and just hope my followers don't recognize that I'm repeating myself ad nauseam: Just once, I want the NFL to do a reverse Sunday slate.
Sundays in the NFL follow a distinct pattern (save the occasional 9:30 a.m. London game) — 1 p.m. ET, a bunch of games. 4-4:30 p.m. ET, a few games. 8 p.m., night game. It hits big at the start and then tapers off. At its base, there's no reason to think that isn't the optimal way to schedule games.
On the other hand, to my knowledge they've never tested this. And going from 10 games and a crazy Red Zone Channel to 3-4 games and a relatively sedate few hours is fine, but I want to see it the other way. Just once, for one Sunday in a season, I want to see the NFL go with 3-4 1 p.m. Sunday games and 8-9 late-afternoon ones.
Wouldn't it be fun? Give the West Coast more afternoon action. More tailgating time, for those into such things. Have people getting ready for dinner with 8 games coming down to the wire.
And for fantasy, it would let suspense build. As it stands, in most weeks, you have some 80% of your lineup in action by the 1 p.m. games at least. So you see all the points tally up, then you have a few later games to see if the last 2-3 guys on each roster can have an influence. Imagine the other way. A slow build through 1 p.m., maybe three players on each team playing. And then the late afternoon explosion.
Like I said, I think the NFL is ultimately right with its current setup. But I see no reason for this not to be a one-off. They could even promote it — "Special Reverse Weekend in the NFL!" Do it up fancy.
Just a thought. Now, on to the Week 7 advice.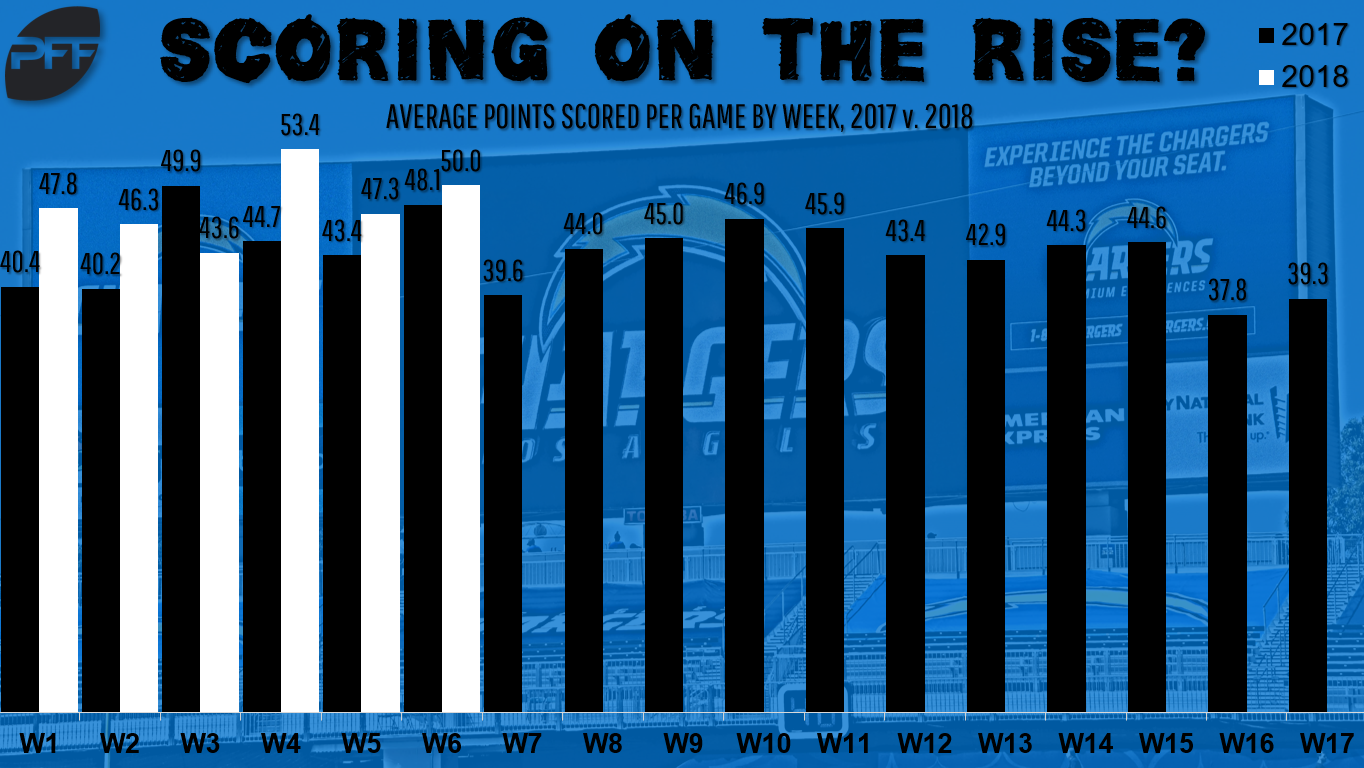 Looking back
Live chats
Written content
Check out our tools as well:
Redraft advice:
DFS advice: