We've made it to Week 7 of the fantasy football season, and the running back landscape is, well, weird. A quick glance of the top-20 or so fantasy scorers in PPR, I count at least nine running backs who clearly weren't drafted to be anyone's fantasy RB2 going into the season.
In other words, that's exactly the reason this column exists. You're not here for reactionary tidbits about the week's hottest waiver claim or massive disappointment, and I'm not here to give you surface-level stats. Digging into PFF's fantasy database, we've been able to beat the crowd on guys like Kerryon Johnson and Marlon Mack, while laying out the red flags in advance for others like Jamaal Williams and Kenyan Drake, to name a few.
Being that we're not focusing merely on the current week, so be sure and check out Scott Barrett's Week 7 starts and sits along with Jeff Ratcliffe's waiver wire advice. Before we dig into five running backs who are trending up and five who are trending down for Week 7, let's take a quick look at how things panned out for the players we discussed last week.
Week 6 recap
5 trending up

Player
Snap%
Touches
PPR Points
Isaiah Crowell

Marlon Mack

40.1

1.8

34.8

62.0

36.9

15

0

13

19

7

7

0

10

5

4

5 trending down

Player
Snap%
Touches
PPR Points
Devonta Freeman
DNP

90.4

67.2

DNP

20.0

–

23

17

–

11

–

29

9

–

9
Notes: Perhaps most encouraging about Mack's performance is that he played only 35% of the snaps in a negative gamescript. … Smallwood out-snapped Corey Clement by a 44-26 margin, although the latter was more productive with his touches. … I talked about Conner's sell-high window with Le'Veon Bell reportedly expected to return after the Steelers' bye, but Bell's continued absence is good news for Conner. … Morris need not be rostered at this point. … Right on cue, Penny was given more carries than Davis in Week 6. Even though I know it's fruitless to guess how Pete Carroll will deploy his backfield in a given week, sometimes I can't help myself. … If D'Onta Foreman is still available in your league, go ahead and do the deed.
Below are five running backs trending up and five trending down in their respective backfield committees. If you are a PFF Elite subscriber, our Handcuff Index chart is a handy reference.
5 trending up
(Week 7 projection: RB32)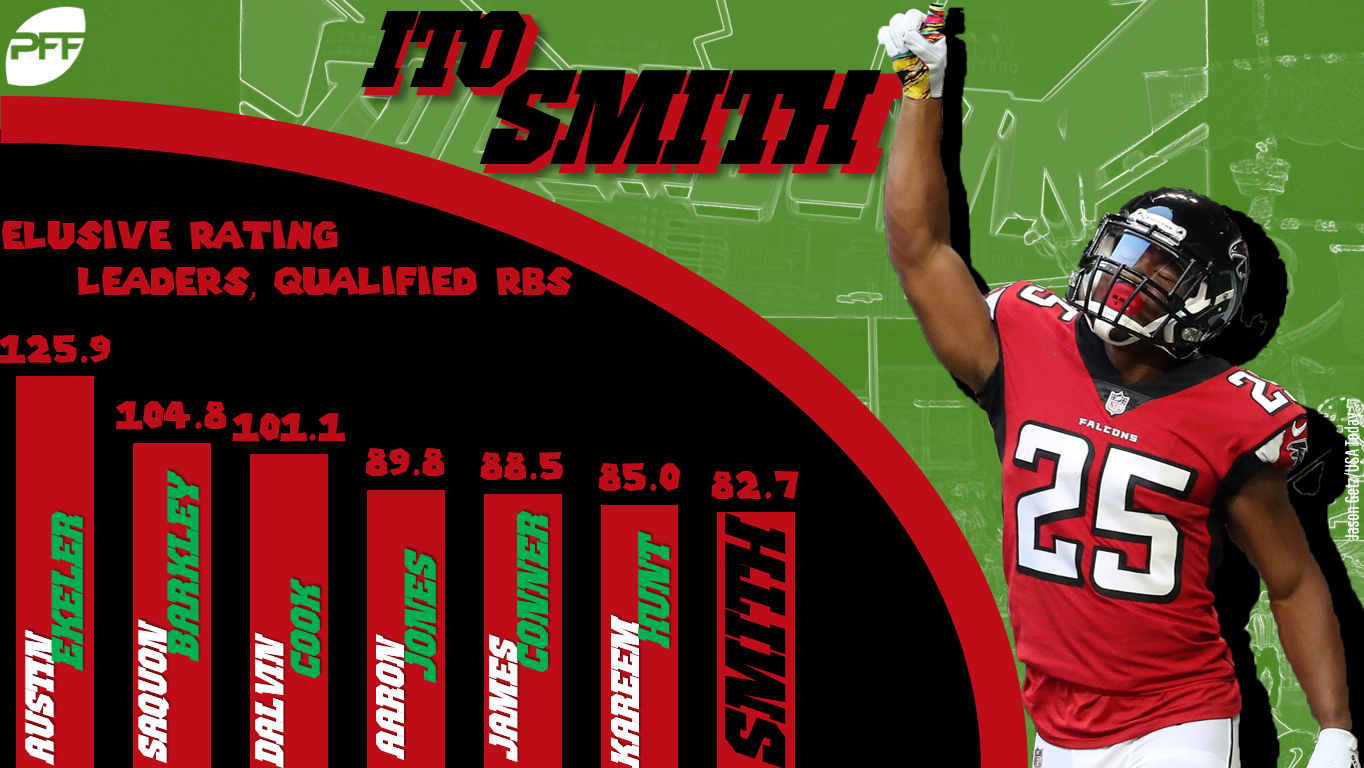 Devonta Freeman was trending down prior to the news of his season-ending injury. Smith was a big reason for that, given his regular usage in recent weeks. His 3.2 YPC average doesn't look appealing on the surface, but all but one of his 102 yards have come after contact. Smith has also forced a missed tackle on 26.2% of his touches, as he ranks seventh out of 54 qualifiers in elusive rating. What's more, Smith has scored a rushing touchdown in three straight games despite only three of his 32 carries coming from inside the 5. The Falcons have gone with a two-man committee, with the rookie out-touching "starter" Tevin Coleman by a 13-11 margin this past week and playing only seven fewer snaps.
(Week 7 projection: RB67)
Given Alfred Morris' track record in past installments of this column, those who just picked up Mostert as anything other than a bye-week fill-in will want to proceed with caution. With Matt Breida banged up and looking iffy at best all last week, Morris was in line for a heavy workload. Only, he never wound up sniffing the field as it was Mostert who wound up playing only four fewer snaps than Breida and getting two fewer touches. Of course, Breida's ankle injury likely had something to do with that, as even Kyle Shanahan said that Mostert's workload isn't permanent. Still, Mostert does owns our fourth-best elusive rating over the last three weeks, and nearly half of his rushing production has come on a couple of long runs.
(Week 7 projection: RB24)
After Barber totaled just 15 carries over his two previous games, there was some buzz that rookie Ronald Jones might emerge from Tampa Bay's bye as the lead back. However, Barber quickly put to bed as he handily out-snapped (41-12) and out-touched (17-4) Jones against Atlanta. In doing so, he posted season-highs in rushing yards (82), targets (4), catches (4) and receiving yards (24) including a five-yard touchdown catch. Barber also slipped seven would-be tacklers on his 13 carries, and he now ranks 11th out of 54 qualifiers in breakaway percentage, with four runs of 15-plus yards.
(Week 7 projection: RB45)
Gore was previously mentioned in this space as a player trending up prior to Week 5, and he's seen his carries and yardage increase each game since then. So, although the cat is already out of the bag (do people really put cats in bags?), Gore is still available in more than 80% of ESPN leagues, and that should not be. While Kenyan Drake has gotten more involved in the passing game of late, Gore has clearly become Miami's preferred ball-carrier. After averaging 3.8 YPC during his three years in Indianapolis, Gore is averaging 4.9 yards on 62 carries in his first year with the Dolphins. He's coming off a season-high 15 carries and 101 rushing yards, out-gaining Drake by 41 yards from scrimmage. And after Drake lost a fumble on the goal line in overtime, Gore may now have dibs on short-yardage work, too.
(Week 7 projection: RB20)
I already cautioned last week not to expect any of the Eagles' RBs to emerge as a workhorse, but that doesn't mean one can't stick as a fantasy RB2, especially in PPR formats. With 10 days to heal up his quad injury, Clement is in line to seize the upper hand of the workload, as he did back in Week 3 when Jay Ajayi was inactive. Clement is tied with Christian McCaffrey at 18th in yards per route run (1.52) among qualified RBs, and you may recall he had 100 yards and a touchdown receiving in the Super Bowl. Clement also punched in the Eagles' only goal-line rushing opportunity against the Giants despite being on a supposed pitch count.
5 trending down
(Week 7 projection: RB17)
There's only so much space here to cover the writing on the wall when it comes to the sustainability of Hyde's massive rushing workload. In line behind Hyde is super-efficient Duke Johnson and dynamic rookie Nick Chubb, who tops all RBs with a ridiculous 1.07 fantasy points per opportunity, albeit In a minuscule sample size. Four of Chubb's 16 runs have gone for 15-plus yards, accounting for 81% of his rushing production.
Meanwhile, Hyde has logged the third-most carries in the league but ranks 33rd (out of 54) in elusive rating and 44th in breakaway percentage. All five of Hyde touchdowns have come from one yard out, as he's also gotten the third-most carries inside the 5 (10). Based on research by our Scott Spratt, a change may not happen until after the Browns' Week 11 bye, which follows a generous stretch of matchups. Still, it might be a good idea to start floating some trade offers before it's too late.
(Week 7 projection: RB13)
We took a look at Tarik Cohen's rise here a few weeks ago, and the tide continues to swing in Cohen's favor. Since Week 2, his snap share has increased steadily (32%, to 41%, to 48%, to 49%), and he played only two fewer snaps than Howard Sunday against Miami. Cohen is sixth among all running backs with 0.63 fantasy points per opportunity, and it's tough to envision an offensive mind like Matt Nagy wanting to put his multi-dimensional toy back in the box. Cohen and Howard each has four runs of 15-plus yards this season, but Howard has done so on 46 more carries. In addition, Howard ranks way back at 58th in fantasy points per opportunity (0.31), between the likes of Devontae Booker and Alfred Blue. Most glaringly, he's seen his snap share wane over the past four games (73%, to 62%, to 54%, to 51%).
(Week 7 projection: RB25)
I recommended selling high on Hines last week, and while he is still the RB14 in PPR for the season, that window is all but closed. Not only did Marlon Mack return to the starting lineup as expected, but half of his 12 carries gained six or more yards, including three runs of 10-plus yards. Only one of Hines' 36 runs this season has gone for 10-plus yards, and he is tied for dead-last in breakaway percentage. What's more, Hines didn't even touch the ball until the third quarter on Sunday with the Colts in catchup mode. We've seen pass-catchers like James White and the 2017 version of Duke Johnson maximize limited touches to remain a weekly PPR option, but Hines simply hasn't shown the efficiency to be viewed in that ilk with Mack squeezing his opportunities.
(Week 7 projection: RB34)
For only the second time in six games, the wheel finally landed on bankrupt for Ekeler. That's not to say that he won't bounce right back, but rather, we need to be realistic with expectations. Ekeler's remarkable efficiency was always going to be near impossible to maintain with single-digit weekly touches. And unlike aforementioned PPR assets like White, Hines and Johnson, Ekeler simply doesn't catch enough passes. He happened to score on both of his end zone targets to date, and he's logged only two carries inside the 5. Yes, Ekeler's average of 0.74 fantasy points per opportunity is tied for second-best among all running backs. Unfortunately, the person he's tied with is teammate Melvin Gordon, who happens to be the massive boulder blocking Ekeler's path to more opportunities.
(Week 7 projection: RB15)
Derrick Henry played only 12 snaps this past Sunday to Lewis' 32, as Henry went on to finish outside the top-40 fantasy RBs for the sixth time in as many games. On most offenses, that would make Lewis an easy plug-and-play for fantasy lineups. But the Titans aren't any offense, they are a completely dysfunctional one. Under the supposed genius of Matt LaFleur, they haven't scored a touchdown in three weeks after managing a mere 106 total yards on Sunday, and they are averaging the third-fewest plays per game. Since Week 2, Lewis ranks outside the top-50 in PPR scoring, behind guys like Jalen Richard, Ty Montgomery, and Kyle Juszczyk. Outside of Corey Davis, there isn't a usable fantasy option on Tennessee's offense right now.