Pro Football Focus is here to break down the fantasy football players who could surprise or disappoint in Week 7 of the 2018 NFL season. This article breaks down sleepers and busts at every position.
To help you understand which players have been making the most of their opportunities from a fantasy perspective — and which teams are giving up the most points — we're here to bring you the goods.
Week 7 fantasy football sleepers
Mayfield draws the Tampa Bay Buccaneers in Week 7, who have given up the most passing touchdowns (16) to opposing quarterbacks so far this season despite already going through their bye.
Trubisky faces the high-scoring New England Patriots and will likely be forced to air it out all game long. The Patriots have given up the ninth-most fantasy points per dropback to opposing quarterbacks this year, while Trubisky ranks tied for fifth in PPDB.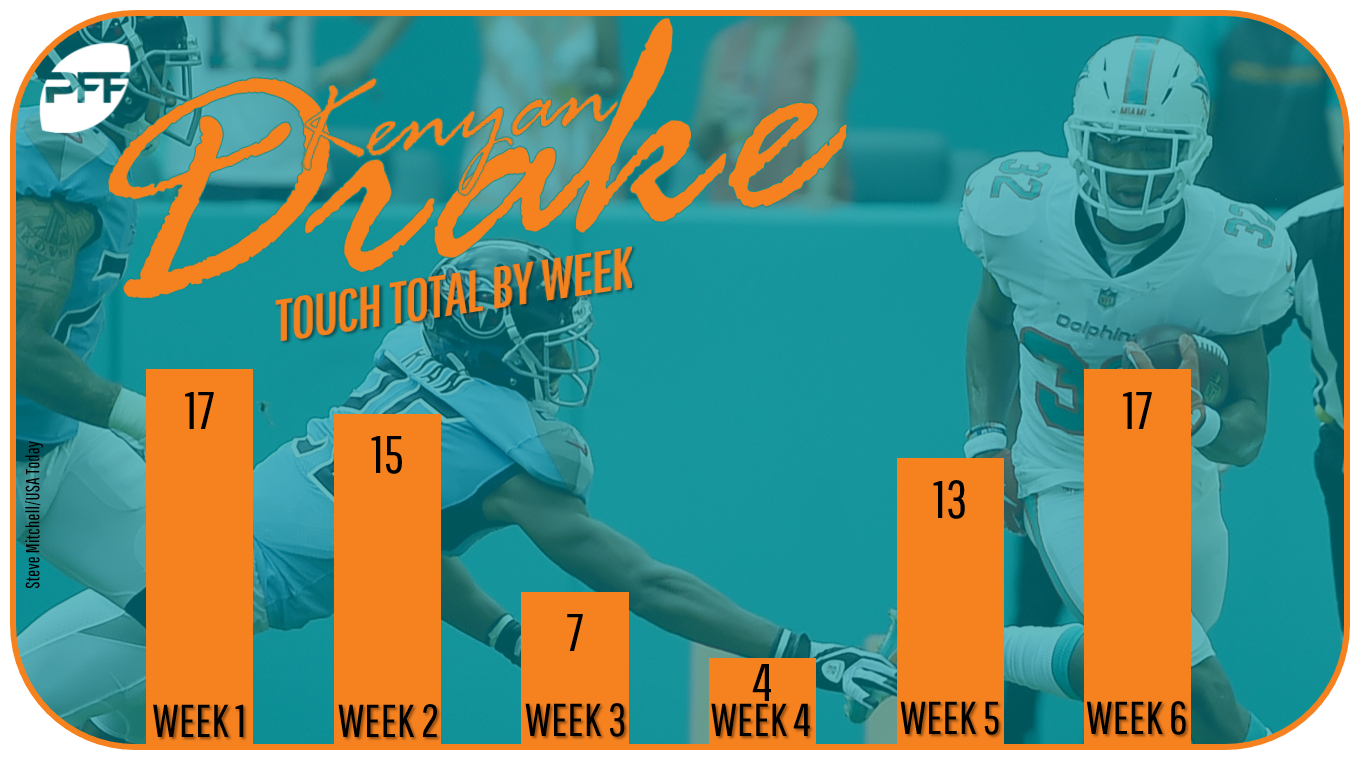 Drake tied his season-high in touches last week (17) and with the Dolphins set to play without Ryan Tannehill again, they could rely on Drake for 16-20 touches again in Week 7 against the Lions, who have given up the fourth-most fantasy points to opposing running backs this year.
Mack was fully back from injury and commanded 55% of Indianapolis' backfield touches last week. Mack is good for 12-15 touches against a Bills defense that ranks in the bottom 10 in terms of fantasy points per touch ceded to opposing backs.
Crabtree broke out in Week 6 with a 6-93-1 (9) line, and he's a good bet to do it again in Week 7 against a Saints defense that has given up the most fantasy points to opposing wideouts this year.
Ratley surprisingly led Browns receivers with six receptions and 82 yards on eight targets last week. Ratley has one of the best individual WR/CB matchups of the week.
Not to go overly Browns here (but totally to go overly Browns), Njoku led the team with 10 targets last week and display his insane athletic ability with a Moss-like touchdown. It helps, too, that the Buccaneers have given up the most fantasy points per target to opposing tight ends.
Uzomah posted a respectable 6-54-0 (7) line last week, and as Cincinnati's primary tight end, for the foreseeable future, he will continue to see safe volume. The Bengals/Chiefs game has a 58-point over/under — easily the highest of the week — which means Uzomah's scoring chances will be enhanced this week in addition to his solid floor.
Week 7 fantasy football busts
Brees has been awesome this year, but there's no getting around the fact his Week 7 tilt against the Ravens is a matchup downgrade. Baltimore has given up up the second-fewest fantasy points to opposing quarterbacks this year, including the fewest fantasy points per dropback. Aside from a Week 2 pantsing at the hands of A.J. Green, the Ravens have given up just two total passing scores in their other five games.
Andrew Luck, QB, Indianapolis Colts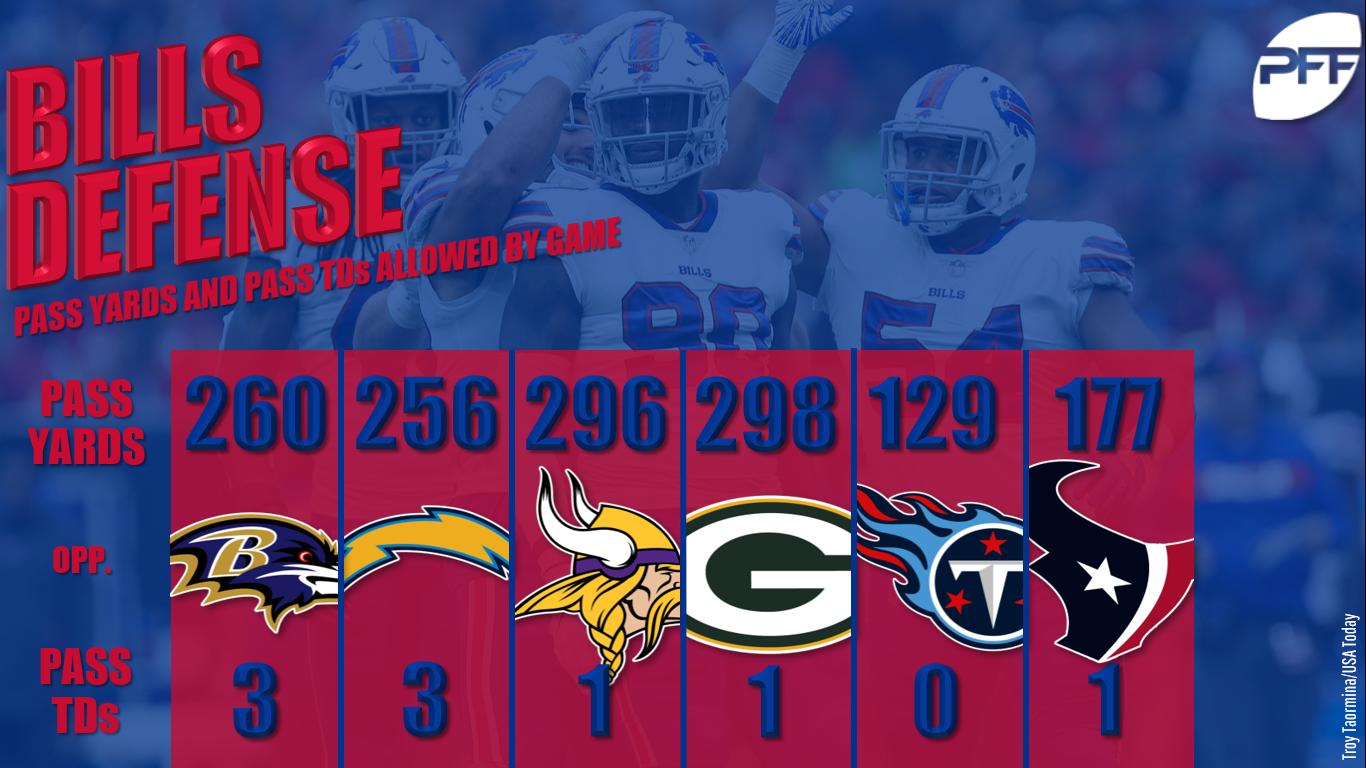 After getting shellacked in Weeks 1 and 2, the Bills defense (Luck's Week 7 opponent) have been tough against opposing quarterbacks, having given up just three passing touchdowns in their past four games. And that includes games against Aaron Rodgers, Kirk Cousins, Deshaun Watson, and Marcus Mariota.
Michel is a weekly starter given his role as New England's goal-line back, but the matchup against the Bears is no joke. They have held four of five opposing backfields to under 60 yards and no running back has scored a rushing touchdown against them this year. The Patriots are favored, but it's on the road and the spread isn't huge (3.5 points).
Mark Ingram, RB, New Orleans Saints
Ingram returned in Week 5 and dominated backfield touches over Alvin Kamara, totaling 18 touches to Kamara's nine. Ingram also scored both touchdowns. It won't be smooth sailing in Week 7 against the Ravens, who have given up the fewest fantasy points per game to opposing backfields. Also, look for Kamara to be more involved, as the game-script won't be so Ingram-friendly.
Hopkins always needs to be in your starting lineup. Just temper expectations this week, as Hopkins will see a healthy dose of Jalen Ramsey this week. The game is in Jacksonville and Deshaun Watson's (supposedly … maybe) broken ribs don't help.
Look for Robinson to be shadowed by New England's Stephon Gilmore this weekend. Gilmore is allowing a 46.9% catch rate against and is on a bit of a hot streak: Over the past three games, Gilmore has held his opponents to fewer than 20 receiving yards.
Olsen returned from injury straight into a solid role in Week 6, accounting for 19% of Carolina's targets. You might have to keep waiting for a big game from him, though, as his Week 7 opponent (Philadelphia) has given up the fourth-fewest fantasy points per target to opposing tight ends.
Kittle posted a sad line of 4-30-0 (5) despite the fact San Francisco dropped 30 points on the Packers Monday night. It could be another down week for the on-again, off-again tight end against the Rams, who have ceded the third-fewest fantasy points per target to the position.
The best matchups
Below is a list showing how each team fares on a per-touch or per-target basis. This list will be updated weekly and can be used to identify strong matchups.
Fantasy Points Per Touch (FP/T), Points Per Target (PPT), and Points Per Dropback (PPDB) Given Up

Team
QB: PPDB
RB: FP/T
WR: PPT
TE: PPT
ARZ
0.42 (5)
0.95 (21)
1.65 (4)
2.08 (25)
ATL
0.61 (29)
1.12 (30)
2.03 (23)
1.95 (19)
BLT
0.32 (1)
0.59 (1)
1.56 (3)
1.64 (12)
BUF
0.40 (4)
0.97 (24)
1.75 (9)
1.53 (5)
CAR
0.47 (15)
0.96 (22)
1.81 (12)
2.16 (28)
CHI
0.47 (13)
0.62 (2)
2.05 (24)
2.02 (23)
CIN
0.49 (18)
0.97 (23)
1.75 (8)
1.83 (16)
CLV
0.38 (2)
0.93 (18)
1.68 (5)
1.62 (9)
DAL
0.46 (12)
0.77 (7)
1.97 (21)
1.67 (14)
DEN
0.47 (14)
1.01 (28)
1.82 (14)
1.98 (20)
DET
0.51 (26)
1.05 (29)
2.00 (22)
2.14 (26)
GB
0.49 (19)
0.85 (10)
2.09 (27)
1.63 (10)
HST
0.48 (16)
0.72 (5)
1.71 (7)
2.27 (30)
IND
0.49 (20)
0.84 (9)
2.05 (25)
1.99 (21)
JAX
0.42 (6)
0.69 (4)
1.56 (2)
1.66 (13)
KC
0.49 (22)
1.21 (32)
1.50 (1)
2.02 (22)
LAC
0.48 (17)
0.87 (14)
2.17 (29)
1.59 (8)
LAR
0.45 (11)
0.86 (13)
2.33 (30)
1.47 (3)
MIA
0.44 (10)
0.98 (26)
1.86 (15)
1.53 (6)
MIN
0.55 (28)
0.77 (6)
1.93 (20)
2.16 (27)
NE
0.50 (24)
0.92 (17)
1.82 (13)
1.93 (18)
NO
0.63 (31)
0.85 (11)
2.45 (32)
1.38 (1)
NYG
0.50 (23)
0.94 (19)
1.93 (19)
1.63 (11)
NYJ
0.43 (9)
0.91 (16)
1.77 (10)
2.08 (24)
OAK
0.62 (30)
0.98 (25)
2.09 (26)
2.32 (31)
PHI
0.42 (7)
0.89 (15)
1.78 (11)
1.50 (4)
PIT
0.53 (27)
0.78 (8)
1.92 (18)
1.86 (17)
SEA
0.39 (3)
0.86 (12)
1.69 (6)
1.70 (15)
SF
0.51 (25)
0.94 (20)
1.91 (17)
2.17 (29)
TB
0.68 (32)
1.16 (31)
2.34 (31)
2.50 (32)
TEN
0.42 (8)
0.64 (3)
1.91 (16)
1.39 (2)
WAS
0.49 (21)
0.99 (27)
2.13 (28)
1.55 (7)