We're back again for Week 7 of the NFL season to identify some sleeper candidates who could find themselves more valuable in fantasy football sooner or later.
On Sunday night, the Patriots and Chiefs showed us what it's supposed to look like when two playoff teams face each other. Now, I'm wondering where exactly those other nine playoff teams will come from to join them and the Rams come January. Comprehensive team evaluations are difficult, but individual player evaluations don't have to be. My rushing and receiving Yards Added metrics compare a skill player's yardage totals on their plays relative to expected totals based on factors like the down and distance, distance from the end zone, quality of run-blocking, and quality of coverage. As such, they are perfect tools to identify which players are efficient and could see a bump in their future workloads because of it. Based on Yards Added, here are five sleepers to consider for your fantasy rosters for Week 7 and beyond.
Mack returned from a month-long absence to put up 93 yards on 13 touches against the Jets on Sunday. The lack of a touchdown or a healthy reception total may bury that performance for most fantasy owners, but you shouldn't overlook it. Mack would be small for an early-down back, but he demonstrated his ability to fight through line traffic with a 25-yard gain on a run where he was contacted at the line of scrimmage. Rookie teammates Jordan Wilkins (-17 RuYards Added) and Nyheim Hines (-13 RuYards Added) haven't demonstrated that power and have underperformed on their carries overall this season. After this nice performance, Mack is back on the plus side of the ledger, where he lived throughout his impressive freshman season in 2017 with 29 RuYards Added.
With where this backfield stands today, I imagine Mack should provide moderate fantasy production similar to what Kerryon Johnson has done in a time share in Detroit. And like with Johnson, I think there is upside for more for Mack. Because of his volume of targets so far this season, Hines seems to have a stranglehold on the passing-down work for the Colts, but he actually hasn't been that effective. He has shown good hands with 0.3 Catches Added, but he has cost the team 15 yards on his catchable targets because of his lack of production after the catch. His 5.3 yards after the catch per reception is the lowest among heavily targeted backs this season.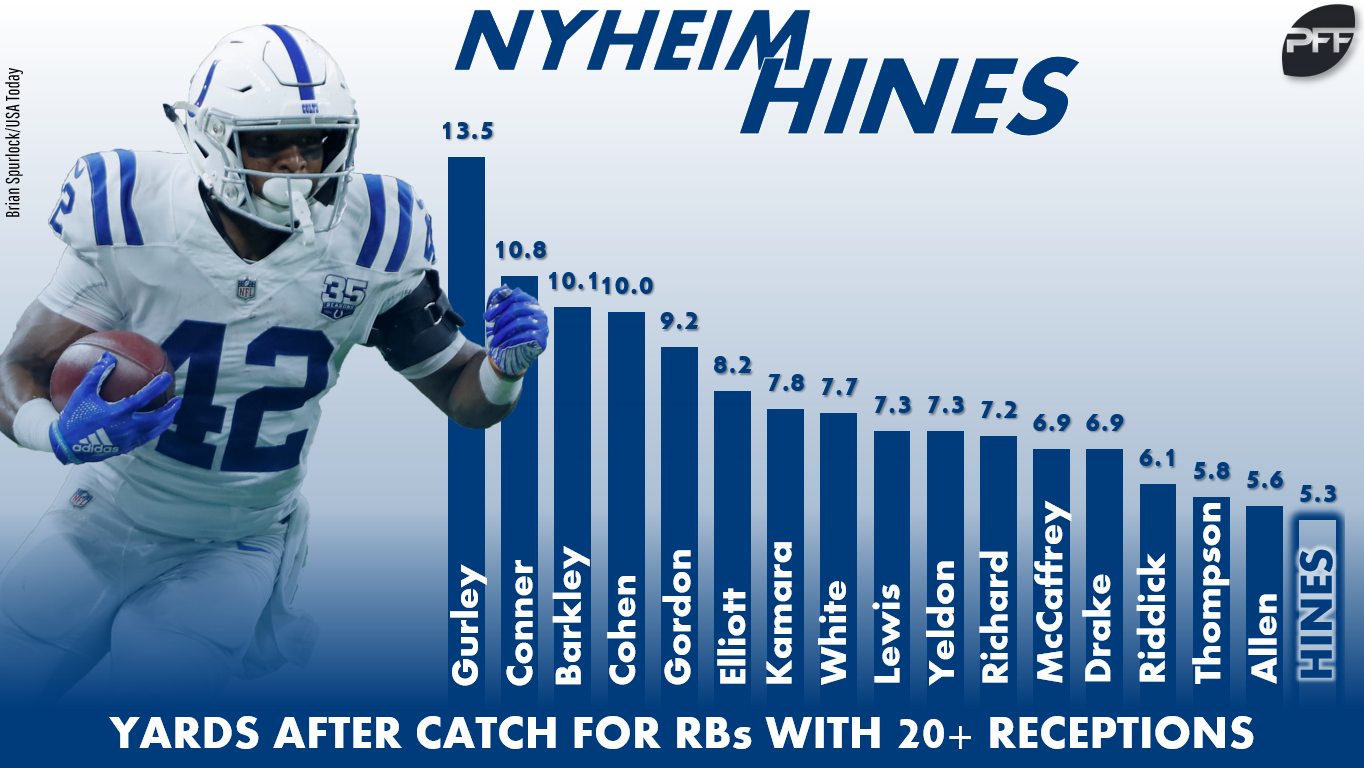 Backs don't have the volume of receptions to fully trust receiving rate numbers over a handful of weeks. Chris Thompson has seen his YAC per reception cut in half from last season, and I expect that is a lot more small-sample luck than it is role or talent change. Still, Mack led all backs with 13.6 YAC per reception last season and added 15 yards as a receiver. He should be in the mix on third downs, a fact that I don't think his current market value takes into account.
Yards After Catch Leaders, RBs, 2017
Player
Recs
YAC / Rec
Marlon Mack
21
13.6
Todd Gurley
64
12.6
Chris Thompson
39
12.3
Joe Mixon
31
11.1
Ezekiel Elliott
26
10.3
Min. 20 receptionss
Foreman is eligible to come off the PUP list this week, but the most recent news I've read on his Achilles recovery is that it may be November before he's ready to play. If you can spare the bench space as the heavy bye weeks approach, I recommend picking him up now. Foreman was similarly effective to Mack as a rookie runner in 2017, adding 21 yards on limited carries despite a not-flashy 4.2 yards per attempt. And Achilles injury aside, Foreman looks the part of a workhorse back at 6-1 and 236 pounds. It's unlikely he'll earn a workhorse volume in his first year back, but he could be the spark the Texans need on early downs. Lamar Miller is younger than you would expect at 27 years old, but his five-year efficiency trends paint the picture of a back who is past his prime.
Lamar Miller's Yards Added Trends
Year
YPC
Yards Added
2014
5.1
+32
2015
4.5
+17
2016
4.0
-58
2017
3.7
-35
2018
3.7
-4
I think it would make sense for the Texans to cut back on Miller's touches and skew them toward third downs to take advantage of his relative strength as a pass-catcher. That might leave 10-12 carries a game for Foreman. If he can recapture his pre-injury form, that will be enough to make him a flex consideration.
Mitchell Trubisky has thrown nine touchdowns in the last two weeks. He might not throw nine more between now and the start of December, but I still think Gabriel has emerged as a medium and deep-league fantasy option. Gabriel has been slightly below-average by Yards Added, but so has the team's top receiver Allen Robinson. Meanwhile, Gabriel has been more heavily involved in the Bears' offense than many expected. He has seen five or more targets every game and has a 21.3% target share overall. That is 33rd in the league, ahead of several of the premiere No. 2 team target fantasy options like Cooper Kupp (20.9%), Demaryius Thomas (19.5%), and Tyler Lockett (18.2%).
As a rookie, Kirk had a steeper hill to climb than Gabriel to become a fantasy-relevant part of the Cardinals offense. However, the target trends suggest he's done just that. After a meager two-target debut, Kirk's target share has shot up to above and around the 20% threshold that Gabriel has turned into fantasy success.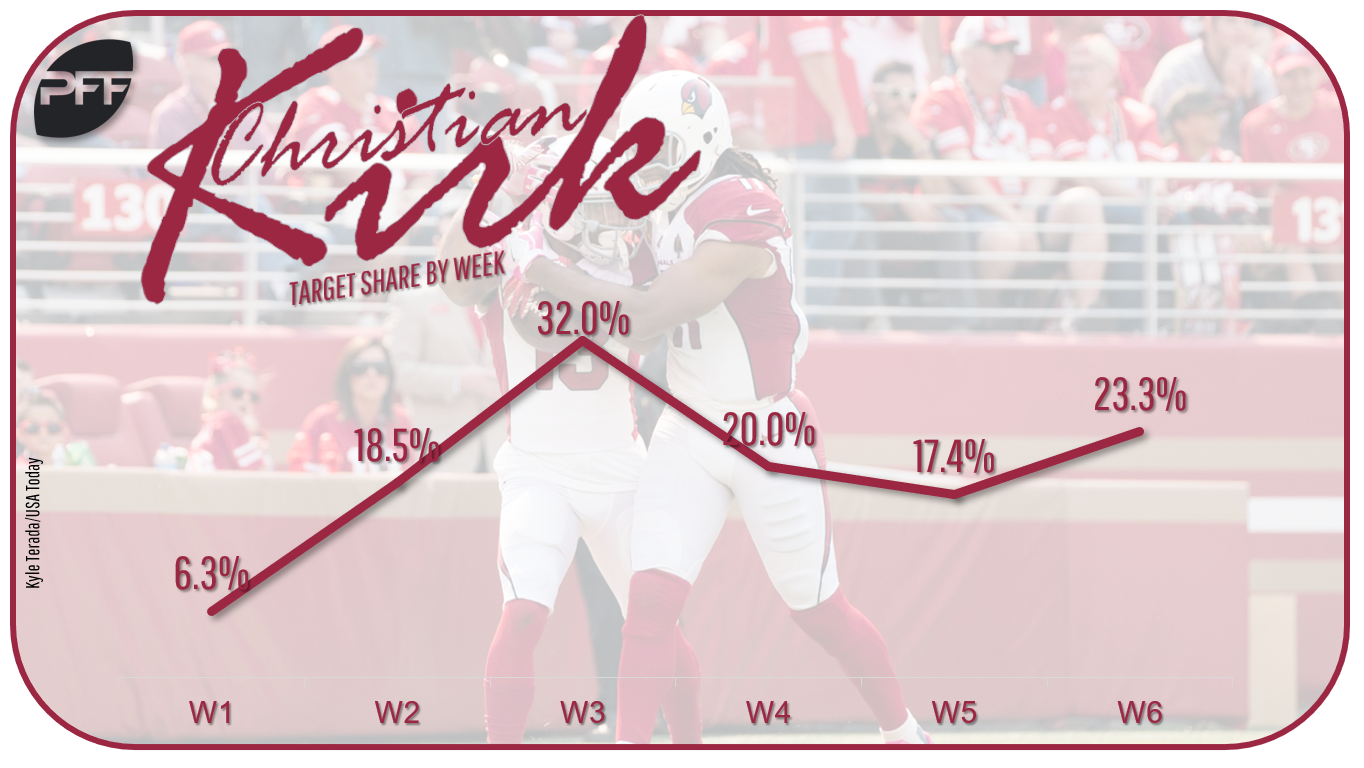 With his apparent chemistry with rookie quarterback Josh Rosen and given Larry Fitzgerald's lingering hamstring concerns, Kirk may have become the team's No. 1 receiving option. He looks capable of carrying that mantle. He, Calvin Ridley, and Saquon Barkley are the only three rookie "receivers" with heavy target volumes and above-average efficiency.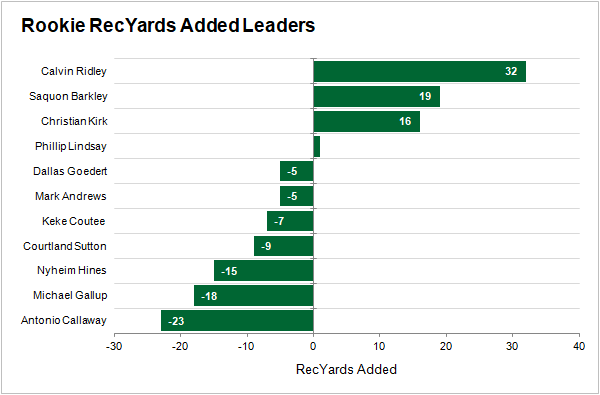 Despite his tight-end size, Olsen has been more of a deep threat than an in-traffic catcher in his tenure with the Panthers. And he flashed that ability against the Redskins on Sunday, in particular on a catch on a ball Cam Newton threw 18 yards in the air. Olsen isn't fully recovered from his re-injured foot and will likely need additional surgery in the offseason. However, he looked like himself in limited opportunities in his first game back. You should feel safe putting Olsen back in your lineups. He seems capable of returning to the top-10 at the position over the rest of the season.