This is our weekly look at fantasy adjustments you should make based on venue and/or weather. Entering Week 7 of the NFL season, knowing which players should see an improvement or decline in their projection can be a key to victory.
This Sunday is the fantasy quarterback apocalypse. Aaron Rodgers, Russell Wilson, and Ben Roethlisberger are all on bye, and many of the top-shelf quarterbacks who are playing will have to contend with difficult road matchups with weather concerns. Hopefully you have Patrick Mahomes or Matt Ryan on your squads. If not, strap in for a wild weekend, and consider playing the venue, weather, and defensive matchups to survive the week and to save money in DFS for other positions. My full list of venue and weather adjustments is available for Elite subscribers, and I'll touch on the most interesting of them here.
Sunday, 1 p.m. ET
The forecast for Chicago at game time is for temperatures between 40 and 50 degrees Fahrenheit and winds 5-10 miles per hour with gusts up to 15. Those aren't exactly extreme conditions, but my research found that even cold-but-not-freezing and moderately windy conditions can hamper teams' passing games. For Tom Brady (-1.1), those weather concerns are exacerbated by the road matchup against a stout Bears defense. They allow fewer pass plays, pass yards per attempt, and pass touchdowns per attempt than a typical team and radically increase interceptions and quarterback fumbles. All told, Brady falls from my No. 7 true-talent fantasy quarterback all the way to 18th. If you are willing to play the matchups, there are readily available alternatives like Jameis Winston (second), Alex Smith (10th), and Andy Dalton (12th).
Those passing obstacles will likely trickle down to all the Patriots receivers. Perhaps Julian Edelman (-0.8) is somewhat immune as a shallow target, but I have him with a bearish rank of PPR wide receiver 44. Josh Gordon (-0.8) displayed a reason for optimism last week with a team-high nine targets — although only six were catchable — but this is probably not the week to put him in your starting lineups. He's barely in my top-50 as my wide receiver No. 49.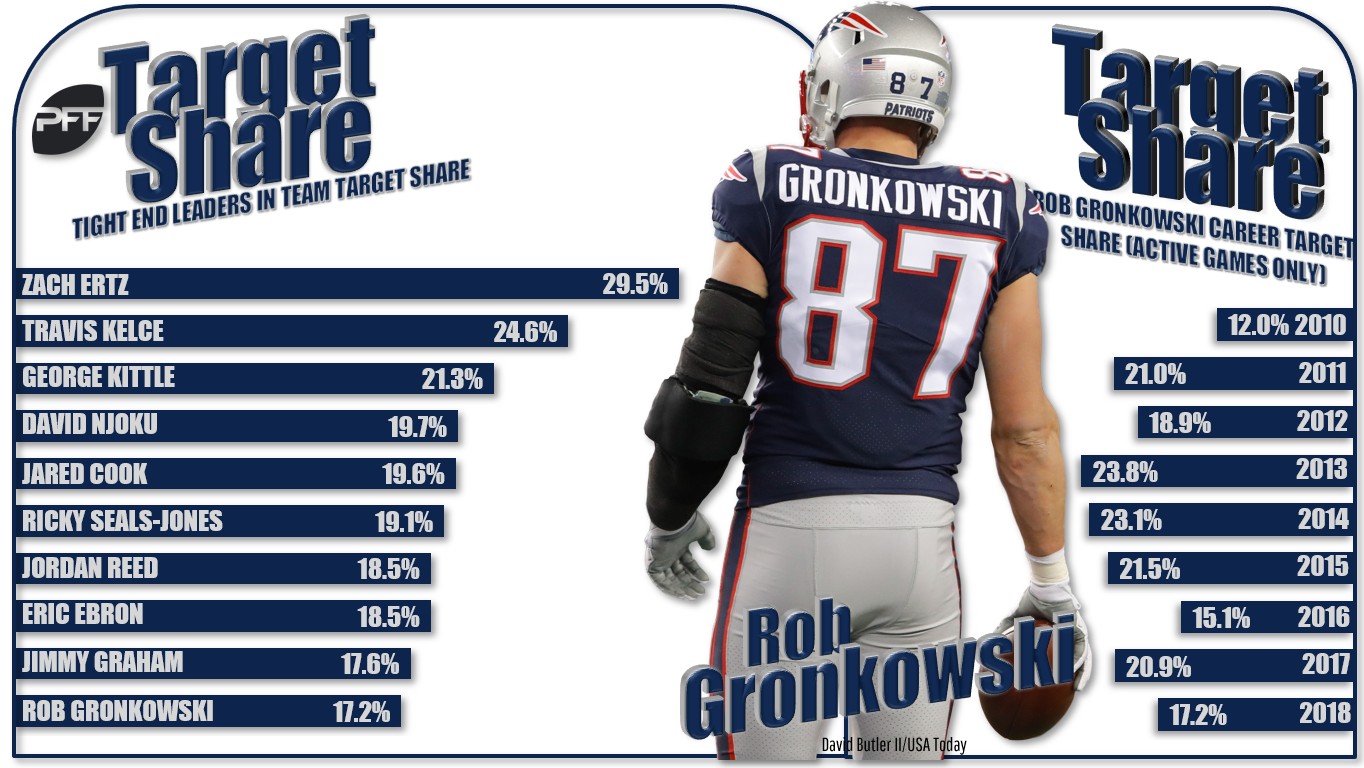 Even losing a few fantasy points because of the venue, weather, and defensive opponent, Rob Gronkowski (-0.8) can't fall too far in the tight end rankings because of the lack of other attractive options at the position. Still, I have him at a season-low rank of my tight end 7. Now that the Patriots have five prominent receivers in the mix — Gronkowski, Edelman, Gordon, Chris Hogan, and James White — it may become difficult for any one of them to stand out. Meanwhile, Gronkowski has fallen well short of the target share standard set by the elite fantasy tight ends like Zach Ertz and Travis Kelce. Low-end TE1 may be his new permanent neighborhood.
The Bears have many fewer household names than the Patriots, but they could have the better fantasy options for the week. In particular, Taylor Gabriel (+0.2) has shot up my rankings thanks to his 22 targets, 238 yards, and 2 touchdowns over the team's last three games. I have him ranked as my PPR wide receiver 23, and that would only improve if teammate Allen Robinson (+0.2) were forced to miss the game with his groin injury.
The Panthers and Eagles game in Philadelphia is also forecast for winds pushing 10 mph. You would figure that to be less of an issue for the run-focused Panthers, but the road game skews plays toward the passing game and the Eagles discourage run attempts by more than 20% compared to an average team. That's stingiest in football. And, interestingly, the Panthers are second-stingiest. It creates an interesting situation where both teams may be forced to pass despite the pass-averse conditions.
My projections expect that to go better for Carson Wentz (+0.6) than for Cam Newton (-1.2). Like Brady, the typical QB1 Newton is a QB2 for me this week at No. 16. Devin Funchess (-0.9) and Greg Olsen (-0.7) have re-entered the fantasy equation over the last few weeks, but they aren't the best options this week. I have them ranked as the No. 37 wide receiver and No. 14 tight end, respectively. I did think Olsen looked physically capable last Sunday, so he's back to being a TE1 in neutral matchups. Christian McCaffrey (+0.4) should be fine as my No. 8 PPR back. His involvement in the passing game makes him immune to bad run matchups.
Sunday, 4:05 p.m. ET
The late-afternoon Saints and Ravens game has the worst wind forecast of the day with sustained speeds north of 10 mph and gusts up to 20. For Joe Flacco (+2.0), that is a loss between half a point and a point and a half — but given his extreme historic home/road splits, he still has the plus matchup. I have him ranked 11th in my quarterback rankings. He would be fifth without the wind and without the Saints matchup; they allow 10% fewer passing touchdowns than a typical team.
In recent weeks, I favored John Brown (+0.7) in fantasy over Michael Crabtree (+0.8). Brown has been the more efficient — or rather less inefficient — receiver by Yards Added, in large part because Crabtree leads the league with a troubling 8 drops. But in Week 6, Crabtree out-targeted Brown nine to three to push his seasonal target advantage to 13 (55 to 42). Brown is a big play waiting to happen with his 22.3-yard average depth of target, but Crabtree has pulled ahead for me with his volume. I have him ranked 28th this week, although both he and Brown (WR No. 32) are flex considerations since they are home. They would be better in still conditions.
In a perfect world, the primary Ravens ball-carrier would be the player to start for Baltimore. But even with his venue and weather bump, Alex Collins (+0.8) lands at just 26th in my running back rankings. Collins has not lived up to his insane 2017 efficiency standard so far this season, and John Harbaugh seems to prefer a fantasy-unfriendly workload split. The recently promoted rookie back Gus Edwards saw 10 carries in his debut last week, and I have him projected for 7.0 touches this week. Between that and the 8.7 reception-skewed touches I project for Javorius Allen, Collins is left with just 15.9 projected touches.
Even with all of Collins' difficulties, Drew Brees (-2.9) is the biggest fantasy loser this week. He has to play outdoors on the road in heavy winds against a Ravens defense that cuts passing touchdowns by 20% and increases interceptions by 10%. He's my No. 22 quarterback for the week, worse than both Newton and Brady. Bench him if you can afford to roster another quarterback with a better matchup.