As we head into Week 7 of the NFL season, byes and injuries and surprise performances have changed the defense/special teams landscape in fantasy football, meaning we need to be on the serious lookout for units worth streaming.
There's an old saying that sums up Week 6, as well as putting together a streaming DST article at times. It goes something like this: "The best laid plans of mice and men often go awry."
Days of research and carefully thought out analysis can be reduced to rubble as soon as the actual NFL action kicks off. I suppose there is solace in the fact nobody could have predicted what would transpire in Miami in Week 6. I purposely did not list the Bears defense as a streaming option as they would be owned (and obviously started) in nearly every league, making them impossible to stream.
Khalil Mack (who did suffer an ankle injury) and company were running roughshod over the league and were the top-scoring fantasy unit in most standard-scoring formats heading into Sunday. Not a single sack, and the Dolphins, led by Brock Osweiler, hung 31 points and 541 total yards on the Bears in their win. The Dolphins DST actually outscored Chicago's in Week 6. Didn't see that coming.
Ah well. That's why we love fantasy football and press onward with some Week 7 streaming DST options. The Packers, Raiders, Seahawks, and Steelers are on a bye this week.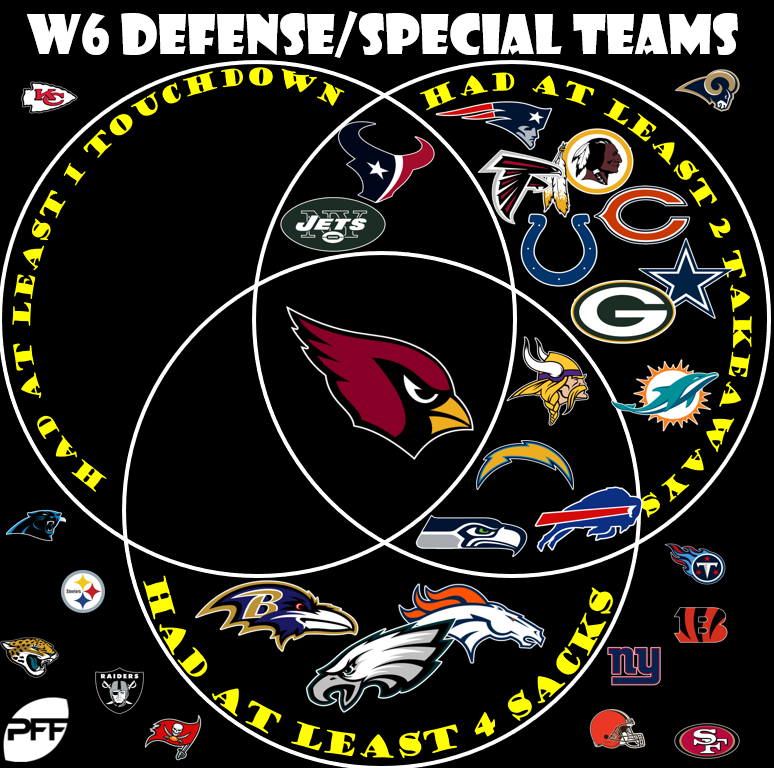 This is the short-and-sweet explanation for a Week 7 streaming option. The Colts will likely face a less-than-100% rookie Josh Allen … or interception-prone (I'm being kind) Nathan Peterman … or possibly 35-year-old, just-signed-last-week Derek Anderson at quarterback this week. Yes, please. Also, there's a chance that Margus Hunt will be able to go after missing Week 6 with a knee issue.
This is my sleeper streaming option for Week 7 as the Falcons have been among the lowest-scoring DST units to date in 2018. It's all about the matchup as Eli Manning and the struggling Giants offense comes to town. Last week, Manning was sacked four times and the offensive line allowed 23 total quarterback pressures. The Falcons have managed just 10 sacks on the season but have put up six interceptions. Look for Vic Beasley and Takkarist McKinley to have bounce-back games, bringing the edge pressure that will force Manning into a turnover or two. It's been reported that defensive tackle Grady Jarrett is on track to play this week, further bolstering the Falcons chances.
Let's follow the rookie quarterback rule as Baker Mayfield has turned the ball over three times in the last two games. In his three starts, Mayfield has a total of seven turnovers and just four touchdown passes. Cleveland has also had problems with pass protection and Mayfield has been sacked five times in each of the past two games. The rookie also suffered an ankle injury in the loss to the Chargers last week and will have problems avoiding Jason Pierre-Paul this week. Let's roll with the Buccaneers and new defensive coordinator Mark Duffner as our boom/bust option for Week 7.
The Cardinals DST has been among the top fantasy units over the last two weeks with eight sacks, seven turnovers, and two defensive touchdowns. Defensive end Chandler Jones has been unstoppable the past two games, putting up 2.5 sacks, a pair of forced fumbles, and a fumble recovery. The secondary has been contributing big plays over the last three games, compiling three interceptions, two fumble recoveries, a sack, and a defensive touchdown. Case Keenum has thrown at least one interception in each of the first six games and been sacked three times in the past three weeks.
This Thursday matchup has the potential for both DST units to put up nice fantasy totals. The Broncos managed to get to Jared Goff five times last week — which isn't an easy thing to do, as the Rams had allowed just six sacks in the first five games. On the flip side, the Cardinals allowed four sacks in their Week 6 loss, which is the highest total against Arizona since Chicago did it in Week 3. This should be another big game for rookie Bradley Chubb (three sacks last week) as he'll likely line up over tackle D.J. Humphries who allowed three hurries and two sacks last week. Oh, and there's also the rookie quarterback rule in effect again, with Josh Rosen at the helm for Arizona.
It's not surprising that with Joey Bosa out the Chargers DST has been a middle-of-the-pack fantasy unit. This is a get-healthy matchup as the Titans come to town — the same Titans offense that just allowed 11 sacks to the Baltimore Ravens last week. Tennessee is struggling to run the ball, averaging just 3.7 yards per carry, and have the 30th-ranked passing offense. Marcus Mariota doesn't appear to be healthy (elbow/hand issues) and is holding onto the ball a bit too long. Melvin Ingram and company will have a field day against an out-of-sync Titans offense this week.
With this unit severely underperforming, there's the chance a fed-up owner has had enough and drops them. Jump on the Jaguars if they hit the waiver wire this week as the matchup is ideal for this DST to be fantasy gold. There are just too many good players on this defense for their slide to continue. The Texans have a banged-up Deshaun Watson under center and have allowed 15 sacks in the past three games while turning the ball over six times. Look for big games from Calais Campbell and Yannick Ngakoue, as this duo combined for eight sacks in the two games between the teams last season. Also keep in mind that the Jaguars had 14 total sacks in those two meetings.