Each week in this space, we'll be taking a look back at Sunday's games to find five of the most important stats for fantasy football owners going forward. With 14 of 15 games from NFL Week 6 in the books, here are the five stats you need to know:
1. Almost all of the stats we mentioned last week are just as relevant today as they were last week.
2. Throughout the history of the NFL, there are only 10 instances of a running back totaling over 400.0 fantasy points in a single season. Currently, there are four running backs on pace to cross that threshold: Todd Gurley (461.3), Alvin Kamara (444.8), Melvin Gordon (421.3), and Saquon Barkley (418.7).
Barkley and Kamara have taken advantage of heavy usage in the passing game. Barkley's 40 receptions and Kamara's 38 (in one fewer game) both rank top-10 by any running back through the first six weeks of the season all-time. As evident by Mark Ingram's usage last week, however, I suspect it's unlikely Kamara continues to produce at such a high rate. Barkley, as well as Gordon, have also benefited from hyper-efficiency. Barkley ranks first (104.8) and Gordon ranks second (100.5) of 38 qualifying running backs in elusive rating. Barkley's productivity is a little more impressive, given the woeful state of the Giants' offense, but Gordon's feels more likely to continue, as the primary red-zone option on the far more potent offense. Gurley, meanwhile, leads all players in expected fantasy points per game and is seeing even better volume than he did last year. It wouldn't shock me if he crossed the 400-fantasy-point threshold this year.
3. On Sunday, the Ravens recorded 11 sacks — one more than their opponents (the Titans) had completions and one shy of the NFL record for sacks in a game.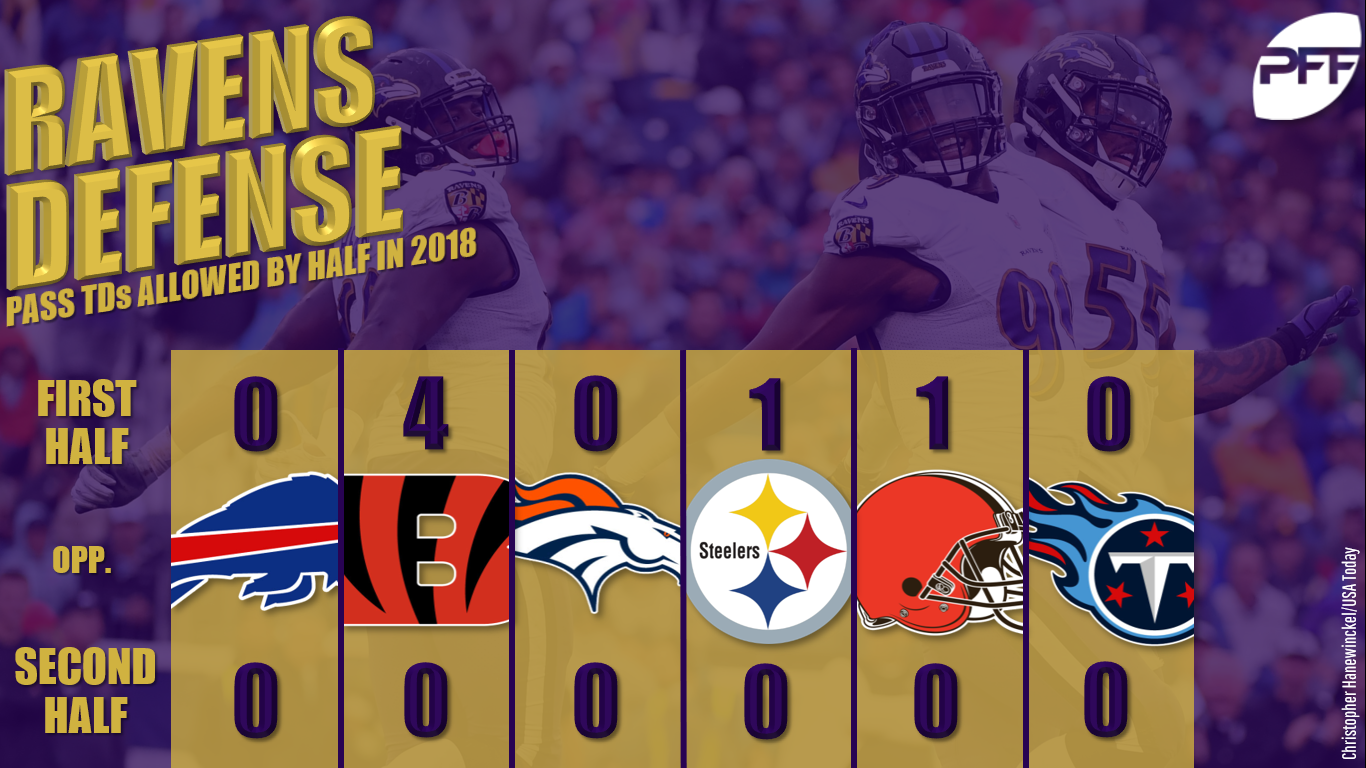 Dallas came into the week averaging only 13.8 points scored per game (third-worst) but dropped 40 points against the Jaguars on Sunday. I know this might smell like an overreaction, but I'm pretty sure the Ravens have just leap-frogged the Jaguars as the top defense in football.
Baltimore's pass rush has been ferocious thus far, ranking first in sacks per dropback (10.5%), while Jacksonville ranks 15th (6.3%). The Ravens have been just as impressive in pass coverage, ranking first in opposing passer rating (73.1), while the Jaguars rank fourth-best (81.3). They've been strong on the ground as well, ranking sixth-best in yards per carry allowed to opposing running backs (3.58). The Jaguars rank seventh (3.65). This Sunday, an unstoppable force meets an immovable object, when the New Orleans Saints (first in points scored per game) travel to Baltimore to take on the Ravens (first in points allowed per game).
4. Julio Jones is on pace for 1,885 yards. This would rank second-most all-time to only Calvin Johnson's famed 2012 season. In spite of this, Jones still has zero touchdowns. Of all 20 instances of a receiver totaling 1,600 or more receiving yards in a single season, the average touchdown total is 11.1.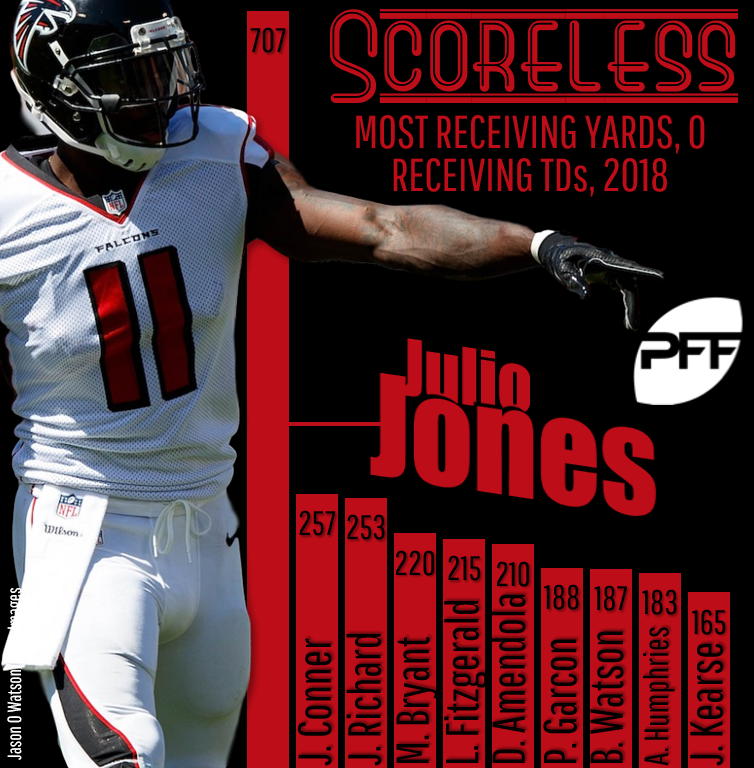 Last season, Jones totaled 10.0 expected touchdowns but only managed to find the end zone only three times. This 7.0-touchdown differential was the worst of any receiver this past decade. Per our deeper study, I concluded this meant he was due for a massive positive regression in 2018. However, there was a flaw in my analysis. When you're especially inefficient at a given task, sometimes that means you're due for a regression, and sometimes it means your coaches or teammates get tired of your inefficiencies and will no longer continue to give you those opportunities.
That appears to be what has happened this season with Jones. In Week 1, Jones saw 18 targets, including three targets inside the 20 and three end-zone targets. Since then, he's seen 47 targets, including zero targets inside the 20 and only one end-zone target. Given his lack of usage near the end zone in recent weeks, I'm no longer viewing him as a high-end WR1 for fantasy.
5. With six weeks in the books, we're now more than one-third of the way through your fantasy season. This seems like a good point to evaluate the most important defensive matchups to know for fantasy.
Pass-catching running backs vs. Atlanta
In each of Dan Quinn's four seasons as head coach, the Falcons have led the league in receptions allowed to opposing running backs. Since Week 1 of last season, they lead all defenses in receiving fantasy points per game allowed to opposing running backs (15.3, 1.4 more than next-closest).
This is good news for Saquon Barkley, who faces them next week and currently leads all running backs in targets, receptions, and receiving yards. (He led all running backs in receiving yards in college in 2017 as well.)
Ground game running backs vs. Denver, Arizona, and Detroit
Denver just became the first defense to have running backs total at least 200 rushing yards against them in back-to-back games. They're giving up the most rushing fantasy points per game (22.1) to opposing running backs, followed by Arizona (21.9). Opposing running backs are averaging 30.5 rushing attempts per game against the Cardinals, which is most in the league and 9.3 more than the league average rate. Detroit, meanwhile, ranks worst in yards per carry allowed (5.98) and just behind Denver in rushing yards allowed per game (142.4).
Denver and Arizona play each other this week, so keep an eye on Phillip Lindsay, Royce Freeman, and David Johnson. Meanwhile, Frank Gore might outscore Kenyan Drake this week against Detroit.
Tight ends vs. Tampa Bay and Pittsburgh
Tampa Bay has surrendered the most (20.3) and Pittsburgh the second-most (18.6) fantasy points per game to opposing tight ends. On a schedule-adjusted-basis they would still rank first and second. For Pittsburgh, this susceptibility has been glaring since losing Ryan Shazier in Week 13 of last year.
This was true on Sunday, when C.J. Uzomah (against the Steelers) hit a new career-high in receptions and came just six yards shy of a new high in yards. Austin Hooper as well, against the Buccaneers, caught nine passes (tying a career high) for 71 yards and a score.
The Steelers are on a bye this week, but David Njoku will have a soft matchup against Tampa Bay. He ranks fourth among tight ends in targets but just ninth in fantasy points.
Slot wide receivers vs. Tampa Bay, New York Jets, Pittsburgh, and Atlanta
This season, the defenses most susceptible to opposing slot wide receivers have been the Buccaneers (28.1), Jets (24.0), Steelers (19.8), and Falcons (18.9). Interestingly, it appears there might be some overlap between teams being weak against tight ends or pass-catching running backs and slot wide receivers – perhaps because those positions tend to operate in the same area of the field.
Tampa Bay makes sense because they lost their starting slot cornerback (Vernon Hargreaves) in Week 1. Atlanta isn't a surprise either, considering they've ranked bottom-five in fantasy points per game to slot wide receivers for three straight seasons.
Jarvis Landry gets the best matchup this week, against Tampa Bay. After him is Adam Thielen against the Jets, and then (with Pittsburgh on bye) Sterling Shepard against the Falcons.
BONUS STAT: Through six games, James Conner is averaging 23.2 fantasy points per game, which is more than Le'Veon Bell has averaged in any season but one (2016).
Conner has been undoubtedly phenomenal all year, but recent reports suggest Bell is going to end his holdout sometime before next week. Despite the better fantasy production, I'm confident this will be Bell's backfield once again. This is your last chance to sell high.