As we head into Week 7, it's time again to look at our top IDP streaming options for fantasy football.
Sure, we're in the thick of byes, but it's about to ramp up even more. Four teams have byes in Week 7 which means roughly 13% of the league's teams/players are out of action. Couple that with the normal spat of injuries and IDP streamers take on even more significance.
But before we get to Week 7, let's look back at Week 6 and a solid week of streamers. Perhaps our most successful streamer (maybe of the entire season) was Ravens linebacker Za'Darius Smith. He led the Baltimore assault on the Titans, notching three of the team's 11 sacks to go along with his five tackles. Our secondary did okay, with Jets safety Marcus Maye recording five sacks while Titans fill-in Kendrick Lewis recorded six. Our lineman didn't do a lot; Bucs end Vinny Curry did record a few tackles to go along with one tackle for loss and a quarterback hit but couldn't convert that into a sack. Meanwhile, our other linemen, Dean Lowry and Jeremiah Attaochu, had two tackles between them.
But now we look ahead to Week 7 and some streaming options below.
Defensive line
Drafted third overall in the 2015 NFL Draft, many didn't think Fowler would be classified as a streamer three years later, but here we are. An injury cost him his entire rookie season, and he's recorded just 12 sacks over the next two years. The 12 is certainly nothing to sneeze at, but I'm sure Jacksonville, like the rest of us, expected more. And unless Fowler takes a huge leap forward, he's not likely to jump veterans Calais Campbell and Yannick Ngakoue, both of whom regularly see more snaps than Fowler.
However, should an injury occur to either one, Fowler is the next man up for snaps, and that's exactly why he makes for a good streamer this week. Campbell had to leave Week 6's game with a rib injury and is now questionable to play this week. He also didn't practice Wednesday. For Fowler, the timing couldn't be better. This week, the Jaguars play Houston, a team that not only has a bottom-six offensive line when it comes to PFF's pass-blocking grades but is also second-worst at giving up sacks, allowing 4.2 per game. Just last week, they gave up seven sacks to Buffalo who, before their game with Houston, was averaging just over two per game.
Even if Campbell ends up playing, Fowler is still a decent streaming option. His 8.3 pass-rush productivity percentage is good for 16th among all pass-rushers and second on the team behind only Ngakoue.
Thanks to an abundance of draft picks in 2018, the Colts were able to inject a bad defense with youth and talent. This included three defensive players in the first five picks (all in the first two rounds) including Turay, who has already seen over 200 snaps in his rookie season. He's parlayed that playing time into three sacks, good for third on the team behind co-leader — and one of those early-round rookies, Darius Leonard — and actually leads all Colts edge rushers with a 7.3 pass-rushing productivity, creating 18 quarterback pressures. He now draws the Bills, who are allowing a cool four sacks per game, good for third-worst in the league, and will be starting veteran Derek Anderson at quarterback, who they signed literally 10 days ago. As for the Bills offensive line, while they grade out as a middle-of-the-pack pass-blocking unit, they've also seen games where they've given up five, six, and seven sacks this season.
Our first repeat streamer of the season, Rochell continues to produce decent IDP numbers while Chargers Pro Bowl end Joey Bosa continues to heal from a foot injury. Rochell, a seventh-round pick from the 2017 NFL Draft, has a sack in each of his last two games and now gets the Titans in Week 7. As mentioned above, the Titans allowed a league-high 11 sacks last week to the Ravens given up to eight different players. Before last week, the Titans offensive line had been fairly successful preventing sacks, giving up only nine before last week's debacle. And they're still ranked 10th in PFF's pass-blocking grades as a unit. However, after only giving up one sack across the first two games, they gave up eight over their next three plus the 11 last week. That trend coincides with Rochell's hot streak that includes those two sacks and five of his 19 quarterback pressures over the last two weeks.
Linebackers
Readers familiar with the series have seen a few examples of using big-play linebackers. By that I mean linebackers who don't man the middle and play 100% of the defensive snaps. Rather, it's those linebackers who are more specialists and are used a fraction of the time but make the most of those limited snaps by making big plays. Alexander is another of those that has consistently made big plays this season and should do so again this week.
Alexander is coming off a big game last week with 1.5 sacks and a pick to go along with his four tackles. On the season, he's only averaging a little more than four tackles but makes up for it with either a sack (he has 2.5 this year) or passes defensed of which he has five including one in every game this season but one. Those sacks and passes defensed, pointwise, are often as many fantasy points as a tackle, if not more.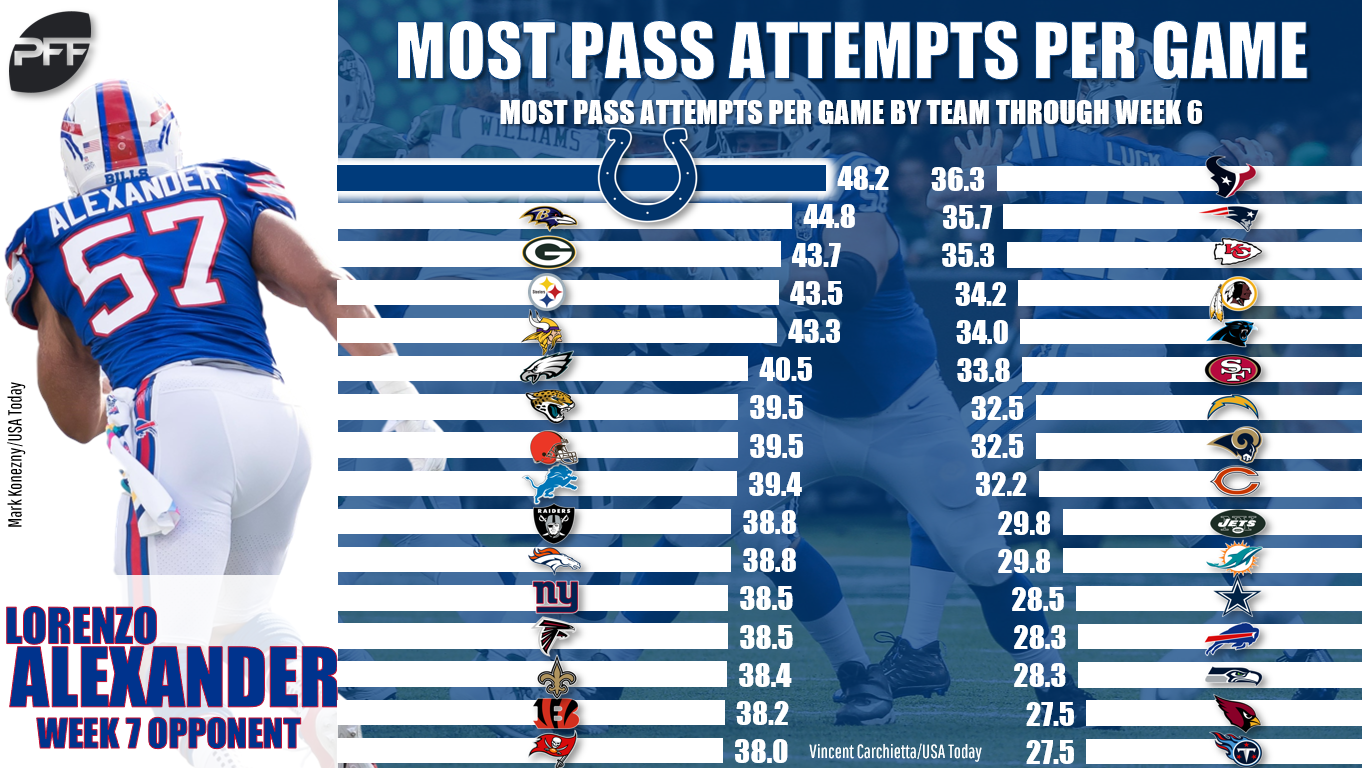 Alexander now gets the Colts, who not only run the third-most plays per game (71) — giving Alexander plenty of tackle opportunities — but they also lead the league in pass attempts at 48 per game. That'll be music to Alexander's ears as he attempts to keep deflecting passes.
Whomever mans the other Saints linebacker position alongside Demario Davis will be in a good position to notch a lot of tackles as their opponents, the Ravens, currently lead the league with 76 plays per game. Klein's been the starter the last three games due to a knee injury to Te'o in Week 2 and, since then, has seen at least 70% of the defensive snaps. But if Te'o is healthy enough, which he seems to be, he'll be the starter but this will be one to watch as the game gets closer. Whomever gets the start are a good bet to see at least eight tackles as the Ravens have surrendered at least eight tackles to two linebackers on the same team in four of their six games this season.
Secondary
After setting a career-high in tackles (82) and passes defensed (13) last season, his first as Bill, expectations were high going in to this season. Yet, Hyde has been one of the most disappointing IDP players, totaling just 18 tackles and one pass defensed so far. All this despite playing in 95% of the defensive snaps in every game this season but two.
However, I think this is the week Hyde breaks out. As mentioned above, the Bills are playing the Colts who not only are third in total plays run but first in passes-per-game which means plenty of tackle chances for Hyde. The Colts are also averaging eight passes defensed against them on the season including 22 over the last two games which is great news for Hyde.
The talent is there, as Hyde is still a top-20 PFF graded safety this year despite the low fantasy numbers. He just needs one game to break out and the Colts represent his best chance yet.