The Fantasy Focus is a weekly column that breaks down everything you need to know to set your fantasy football lineups. Make your start and sit decisions with fantasy facts, injury information, matchups stats, predictions for the week and more.
There's an old saying in fantasy football that goes something like this: "Don't get cute. Start your studs." We usually see this somewhat cliché maxim surface in December when the fantasy playoffs are in full swing, but it's a mantra that really should be put into practice every week when you make your start/sit decisions.
It's easy to overthink your fantasy lineups. Heck, I do it sometimes too. But the key isn't making the exact perfect play every time. That's impossible. Rather, it's to make the play that has the highest percentage chance of being successful. You won't be right every time, but you don't need to be. You just need to be right more often than your wrong, and you'll be a winner over the long haul.
So let's say you own Josh Gordon. His role with the Patriots has increased over the last three weeks, and he ran 95% of the team's pass routes this past week. We also know he has an enormous ceiling. So of course, there's a temptation to find any reason to get him in your lineups. But Gordon does have a tricky matchup on the road against a good Bears secondary, and his role isn't 100% clear on a Patriots offense that has a lot of mouths to feed.
In this case, you wouldn't want to force Gordon in your starting lineups over someone like Corey Davis. Yes, Davis has been frustrating to own this season, but he has some things working in his favor. He's the clear No. 1 in the Titans offense and has dominated the target share all season. While we may not be in love with Davis this week, he's the higher percentage play. That's why he's ranked higher than Gordon in our staff rankings for this week.
Will this play be right every time? No. But if we played this week out 100 times, I'm willing to place my chips on Davis being the better play more often than he isn't. Admittedly, this isn't the sexiest approach to making start/sit decisions. But it's one that will help you avoid getting cute with your lineups and win more often than you lose.
Fantasy facts
Much has been made of Julio Jones' inability to find the end zone, but this narrative may be a bit overblown. He failed to find the end zone again last week, but Jones did see an end-zone target and still leads the Falcons with four end-zone targets on the season. He's also seeing plenty of targets in the red zone. PFF red-zone target location data has charted 16 targets to Jones when he's located inside the 20. Only six players have seen more. Here are the locations of Jones on every one of his red-zone targets this season: 15, EZ, 10, 15, EZ, EZ, 19, 2, 2, 13, 19, 5, 19, 10, 17, EZ. While four end-zone targets is far from the league lead, Jones did also get two very valuable targets when he was on the 2-yard line. Expect positive regression to kick in and for Jones to start converting some of these looks for touchdowns.
James Conner is tied with Todd Gurley for the most goal-line carries over the last three weeks with eight. Conner paced the league in Week 6 with four goal-line carries and is one of just three backs with double-digit goal line carries on the season. If Le'Veon Bell doesn't rejoin the Steelers, there's no reason to think that Conner won't continue to be a high-end RB1. However, if Bell is back, Conner will slide back to the short-end of a committee that will be dominated by Bell.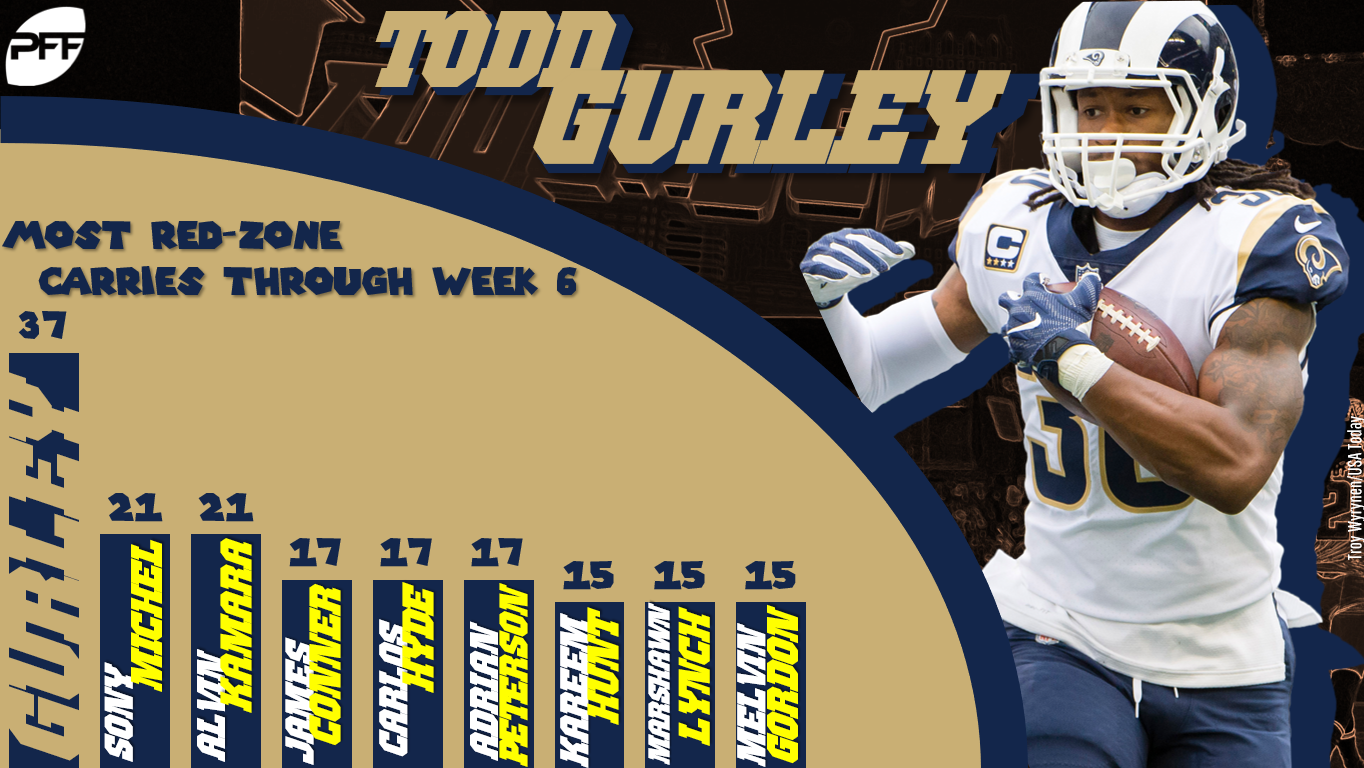 Only four running backs have double-digit red-zone carries over the last three weeks. Sony Michel is one of them, ranking second in that category with 16 red-zone carries and seven carries inside the 5 over the last three games. He's also tied with Alvin Kamara for the second-most red-zone carries on the season with 21. The leader in that category is, of course, Gurley with 37. That isn't a typo.
Touches are the biggest factor in running back fantasy scoring, and no player is touching the ball more frequently than Ezekiel Elliott. He's the only player to see over 50% of his team's touches through the first six weeks of the season. With that sort of volume, Elliott is going to continue to put up strong fantasy numbers regardless of his opponent.
Don't look now, but Russell Wilson is starting to heat up. He led all signal-callers last week with six end-zone throws. More importantly, three of them went to Doug Baldwin. Wilson now has 15 for the season, which is tied for ninth among quarterbacks. Baldwin didn't catch any of his end-zone targets, but still managed to get off the schneid with six catches for 91 yards. Both players are appealing buy-low candidates.
Albert Wilson was one of last week's biggest fantasy performers thanks to two long scores, but fantasy players shouldn't get too carried away. Wilson was clearly the Dolphins' No. 3 receiver, running 61% of the routes. Kenny Stills ran 85% and Danny Amendola ran 93%. Amendola also led the team with 10 targets. At this point, it's best to view Wilson as a boom-or-bust flex option.
The Philadelphia Eagles backfield is shaping up to be a weekly fantasy conundrum. Last week, Wendell Smallwood led the way with 19 touches, but Corey Clement was the better fantasy option thanks to a touchdown. It isn't clear how the Eagles plan to break down touches every week, so we can't expect Smallwood to see the larger share every week. At this point, both players are somewhat volatile flex options.
Only Deshaun Watson has thrown to the end zone more than Andrew Luck this season. Luck has targeted receivers in the end zone 22 times. Luck's touchdown production over the last three weeks is no fluke. He leads all QBs with 13 end-zone throws over that span with seven of those throws converted for scores.
Perhaps one of the most surprising stats of the week comes from the Texans. Ryan Griffin has seen nine end-zone targets this season. That's one more than DeAndre Hopkins. Of course, Griffin has also yet to score on any of those end-zone targets. But take note of his heavy use in the red zone. That information could be beneficial for DFS purposes at some point this season.
PODCAST: Jeff Ratcliffe previews the weekend in fantasy with the latest edition of the PFF Fantasy Football Podcast:
Injuries
The Saints placed Ted Ginn on injured reserve Thursday, which opens the door for rookie Tre'Quan Smith to be a full-time player in New Orleans. So the Saints will move forward with Smith joining Michael Thomas and Cameron Meredith in 3-wide sets. Thomas remains locked in as a front-end WR1, but who is the preferred fantasy option between Smith and Meredith? Well, it depends on what you're looking for. Meredith is the slot, which means his weekly PPR floor is higher than Smith. But as we've seen, Smith's weekly ceiling is significantly higher. Based on his enormous upside, we give the edge to Smith as the preferred option going forward.
We also saw the Falcons send a key player to injured reserve this week, with Devonta Freeman slated to miss at least the next eight weeks with a groin injury. With Freeman out, Atlanta will continue to use a two-man committee of Tevin Coleman and Ito Smith. Coleman is widely owned, but Smith is still available in 55% of leagues. He's a must add, especially after the Falcons gave Smith two more carries than Coleman last week. He's an upside flex option with Coleman slotting in as an RB2 for the rest of the season.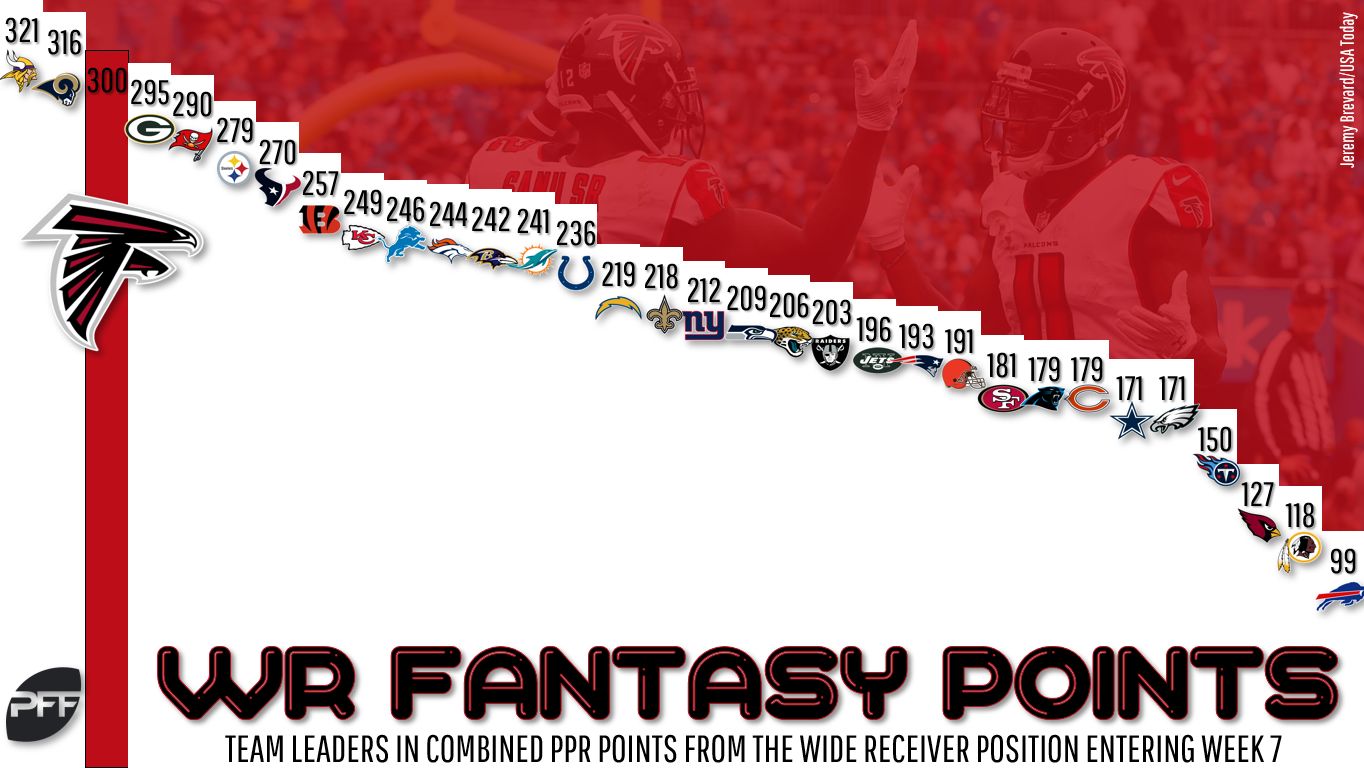 Atlanta is also banged up at wide receiver with both Mohamed Sanu and Calvin Ridley missing practice on Thursday. Sanu is dealing with a hip injury and is very much in danger of missing this week's game against the Giants on Monday night. Have other plans in place if you own him. We aren't as concerned about Ridley, who has a bone bruise. He'll be especially appealing if Sanu doesn't play.
Allen Robinson went from limited on Wednesday to DNP on Thursday. The veteran wideout is battling a groin injury. Midweek downgrades typically aren't a good thing, so keep a close eye on his status. If Robinson plays, he's a WR2 option. Expect an uptick for Taylor Gabriel if Robinson is unable to suit up.
Just when we thought he has some clarity with Dalvin Cook, the Vikings running back appears to have suffered a setback. Cook was full at practice on Wednesday, but then went DNP on Thursday. That's an extremely unusual practice pattern that typically does not indicate a rest day. Cook owners should be preparing for yet another week without him. Latavius Murray will be a front-end RB2 with the potential for heavy volume if Cook sits.
Brock Osweiler was one of the biggest fantasy surprises of the season last week. He also won a select few a whole bunch of money in DFS. With Ryan Tannehill still banged up, Osweiler will be under center again this week. Don't chase last week's fantasy production with Osweiler. He's worth rostering in 2QB leagues, but you can do much better with other streamers in 1QB formats this week.
More injury notes: Adrian Peterson was limited on Thursday with ankle and shoulder injuries. He's on track to play and makes for a fantasy RB2 option this week. … The Texans rested DeAndre Hopkins on Thursday. While he's expected to play this weekend, it's always good to keep an eye on his Friday status. … T.Y. Hilton was limited on Thursday after getting a full practice in on Wednesday. Hilton is expected to return, but midweek downgrades shouldn't be taken lightly. Keep a close eye on his status. … It looks like the Giants will get Evan Engram back this week. The tight end was able to get a full practice in Thursday and will slot back in as a fringe TE1 in fantasy. … The Jets will be without Quincy Enunwa this week and Terrelle Pryor is also looking iffy at best. Pryor has yet to practice this week. Expect Jermaine Kearse to see the biggest uptick in workload with Enunwa and Pryor sidelined. … Isaiah Crowell is also banged up for the Jets and went DNP on Thursday. If he's unable to play, the Jets will be forced to lean on Bilal Powell as an every-down option. … Tight ends are dropping like flies in Jacksonville with Austin Seferian-Jenkins on injured reserve and Niles Paul dealing with a sprained MCL. To make matters worse, next-man-up James O'Shaughnessy missed practice on Thursday with a hip injury.
Wide receiver matchups
It's been a historic start to the season for Adam Thielen, and he should continue to roll this week. With Buster Skrine banged up the Jets are relying on Parry Nickerson in the slot. Over the last two weeks, Nickerson has seen a massive 19 targets thrown into his coverage. Better yet (or worse yet if you're a Jets fan), he's allowed 15 of those targets to be caught for 169 yards and two scores. Thielen is going to go nuts in this matchup.
Julio Jones is likely to see a shadow from Janoris Jenkins this week, but that isn't a bad thing. Jenkins has been heavily targeted this year with 38 balls thrown into his coverage. He's allowing a 71% catch rate with five touchdowns scored in his coverage. Of course, we know we can't guarantee a Jones touchdown, but his chances of finding pay dirt are about as good as they're going to be this season. Either way, expect another high-volume day for Jones.
Fantasy players should also upgrade Jones' teammate Calvin Ridley in this matchup. Ridley will draw primary coverage from Eli Apple, who is allowing over 2.0 yards per route covered and has seen a target on 24% of his coverage snaps. Among this week's starting corners, only Troy Hill has been targeted at a higher rate.
A.J. Green has been one of the most heavily used receivers in the red zone this season with 10 end-zone targets through the first six weeks. He's coming off a down fantasy week, but Green is poised to bounce back with an extremely favorable matchup on tap against the Chiefs. Green will draw primary coverage from Steven Nelson, who is currently tied for second in the league with 46 targets thrown into his coverage this season. Tyler Boyd is also appealing in this contest, especially after his two-touchdown performance in Week 6.
Last week, we saw Cole Beasley absolutely torch the Jaguars secondary. How'd he do it? Beasley took advantage of mismatches out of the slot, scoring on SS Barry Church and LB Telvin Smith. Look for the Texans to do the same thing with Keke Coutee this week. Coutee will see his share of Tyler Patmon out of the slot, but expect him to also run some routes against Church and Smith where his quickness will be a major advantage.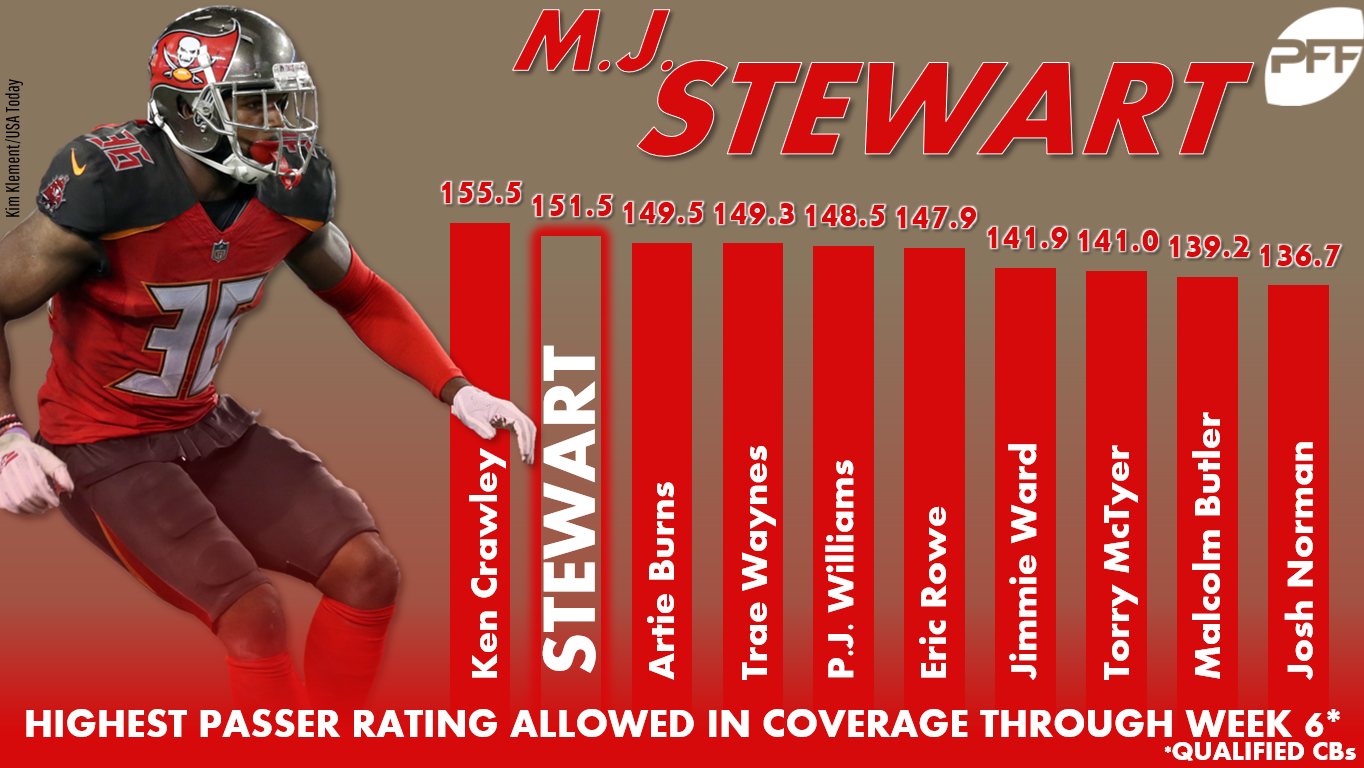 Jarvis Landry has many fantasy owners concerned after posting just two catches for 11 yards in Week 6. But don't even consider benching Landry this week. He draws a plus matchup against a shaky Tampa secondary that has allowed the second-most fantasy points per game to wide receivers this season. Landry projects to see plenty of coverage from M.J. Stewart. The rookie has allowed a whopping 25 catches on 28 targets and five touchdowns in his coverage this season.
While we aren't going overboard with Albert Wilson's Week 6 performance, there is reason to like the Dolphins receiver this week. He'll draw primary coverage from Teez Tabor, who doesn't have enough snaps on the season to qualify in PFF grade rankings. However, if he did, he would be far and away the worst corner in the league. Tabor has covered 53 routes, allowing 4 catches on 6 targets for 65 yards and a score.
Devin Funchess saw two end-zone targets last week, catching one of them in Randy Moss-esque fashion. He's an upgrade this week against the Philly secondary. Ronald Darby leads all corners with a massive 52 targets thrown into his coverage through the first six weeks of the season, and Jalen Mills is second in yards allowed with 424.
You're starting Michael Thomas every week in season-long, no matter what. But he's a strong fade candidate in DFS this week with a tough matchup on tap against the Ravens. Baltimore has three very strong options on the outside in Marlon Humphrey, Brandon Carr, and Jimmy Smith.
Likewise, there's no reason to fade DeAndre Hopkins in season-long leagues. However, he's off the DFS radar with shadow coverage expect to come from Jalen Ramsey. The Jags corner has allowed just 55% of his targets to be caught for a modest 11.7 yards per reception and zero touchdowns this season. Hopkins managed to get in the end zone last week, but he was largely held in check by Tre'Davious White.
The Browns used Denzel Ward as a shadow for the second straight game last week. He covered Keenan Allen on 67% of his routes, with Allen catching 1-of-3 targets for 17 yards against Ward. In other words, Ward did a very good job. This week, we expect Ward to shadow Mike Evans. Like Hopkins and Thomas, you're starting Evans in season-long, no matter what. But we suggest pivoting away from Evans in DFS.
Josh Gordon is now a full-time player in the Patriots offense after running 95% of the pass routes last week. A breakout game is brewing for Gordon, but don't count on it happening this week. Gordon faces a tough Bears secondary and should see plenty of Prince Amukamara. The veteran corner has allowed just 50% of his targets to be caught this season. Consider Gordon a WR3 this week.
It was supposed to be a breakout year for Titans WR Corey Davis, but the big performances have been few and far between so far in 2018. Don't expect things to change for Davis this week, as he'll likely draw a shadow from Casey Hayward. The Chargers corner has been shut down over the last two weeks, holding Amari Cooper to just one catch in Week 5 and Antonio Callaway to two catches last week. Bigger days are ahead for Davis, but he's a downgrade in this matchup.
T.Y. Hilton is on track to get back on the field this week, but there's bad news if you own him. Hilton will likely draw a shadow from Tre'Davious White when he's on the outside. White has done a very good job of containing opposing No. 1 receivers with just 0.2 fantasy points allowed per route covered. However, Hilton does line up in the slot 24% of the time. White has not followed receivers to the slot in shadow situations this season.
Despite the Jets being banged up at wide receiver, it's tough to endorse Robby Anderson this week. Anderson is the most likely candidate to draw shadow coverage from Xavier Rhodes. Minnesota has used Rhodes to shadow in 5-of-6 games this season. While he hasn't been completely "shut-down" this season, Rhodes is allowing just 10.9 yards per reception and hasn't surrendered a touchdown since Week 2.
Matchup stats to know
Entering Week 7, there are just four defenses in the NFL who allow more than 5.0 yards per carry to running backs: Detroit (6.0), Denver (5.9), Kansas City (5.4), and Carolina (5.1). The Broncos have already played, and as we noted about, it's tough to decipher and edge in the Eagles backfield against the Panthers this week. However, Joe Mixon sets up for a big game against the Chiefs Sunday night. And for those bold enough to make the play, Kenyan Drake is an intriguing flex option. He's coming off a heavy workload in Week 6 with 17 touches and has major upside with his big play ability.
Peyton Barber got back into our fantasy good graces last week and is clearly ahead of Ronald Jones in the Bucs backfield. Barber is in play this week with a sneaky matchup on tap against the Browns. Through the first six weeks of the season, Cleveland has surrendered seven rushing touchdowns to running backs, and are one of just six teams to allow more than one score on the ground per game to the position.
Expect another healthy dose of Saquon Barkley Monday night, especially as a receiver. Opposing running backs have caught 53 balls against the Falcons this season, which is by far the highest total in the league. Running backs see an average of 10.2 targets per game against Atlanta in 2018.
Alvin Kamara's fantasy owners shouldn't be concerned by Mark Ingram's usage in Week 5. However, this week's matchup is reason to downgrade both players. The Ravens' run defense has held opposing backfields to the fewest fantasy points per game this season with just one rushing score and zero receiving scores allowed to running backs. Both players are still starters in season-long leagues, but temper your expectations for Kamara and Ingram this week.
On the other side of that matchup, beware if you own Alex Collins. The Saints are currently the only team in the league holding opposing backfields to under 3.0 yards per carry. Collins scored twice last week, but he'll likely need to find the end zone in this one to salvage a good fantasy day. Collins isn't a good bet to have high efficiency on a yards per carry basis.
An unstoppable force will meet an immovable object this week in Chicago. Sony Michel is tied for second in the league in red-zone carries and has scored four times over the last three weeks. But he faces a Bears defense that has yet to allow a rushing score in 2018. The being said, the Bears did allow a 100-yard day to Frank Gore last week.
This week's top tight end streamer is David Njoku. He draws an extremely favorable matchup against a Bucs defense that has surrendered a receiving score to tight ends in each of their last three games and currently allow a league high 97.2 receiving yards per game to the position. His quarterback Baker Mayfield is also in the streamer conversation this week. Tampa is the No. 1 fantasy matchup for quarterbacks with opposing signal-callers averaging 9.3 yards per attempt against the Bucs.
New Orleans is the only other team to allow over 9.0 yards per attempt this season, and that fact puts Joe Flacco in play as a streamer and DFS option. The Saints have held their last two opposing quarterbacks in check but have also surrendered massive days to Matt Ryan and Ryan Fitzpatrick this season.
There's been a lot of fantasy hate directed toward the Giants passing game, but believe it or not, there is reason for optimism here. Eli Manning attempted five end-zone throws last week. While he didn't convert any of them for scores, that number is encouraging for Manning and the Giants. It wouldn't be shocking if Manning starts to convert some of these shots for touchdowns, and that could happen as soon as this week. The Falcons have surrendered at least three touchdowns to each of the last five quarterbacks they've faced.
This is a good week to downgrade Drew Brees. Not only is he playing outside on the road, but he also has to face a darn good Ravens defense that has allowed a league-low 6.0 yards per attempt this season with opposing quarterbacks averaging a lowly one touchdown pass per game against Baltimore.
Likewise, it's a good idea to take Deshaun Watson out of your fantasy lineups this week. Jacksonville is the only defense in the league not allowing more than one touchdown pass per week, with just five surrendered in their first six games.