We're now in Week 7 of the NFL season. To help prepare, here's my weekly look at the top starts and sits for fantasy football players in IDP leagues.
As we head into Week 7, the bye weeks and injuries are beginning to thin the ranks of the IDP landscape at an alarming rate. There are four teams on a bye this week with Green Bay, Oakland, Seattle, and Pittsburgh having the week off.
Injuries to linebackers Joe Schobert and Nick Vigil and safeties Tre Boston and Marcus Maye sent IDP owners racing to the waiver wire. Shameless plug alert! Make sure to read Ross Miles' waiver wire article each Tuesday here at PFF to stay ahead of the curve regarding players to target.
Let's look at some Week 7 IDP start/sit suggestions.
Defensive linemen
Start
Yannick Ngakoue, Jacksonville Jaguars (vs. Houston)
This is a great matchup for the boom-or-bust Ngakoue. The Texans have allowed 25 sacks, the second-highest total through the first six weeks of the season. Ngakoue has at least one sack in each of the past three games and is coming off his best game of the year. Against the Cowboys last week, Ngakoue put up two sacks and four solo tackles to finish with top-10 fantasy totals. Over the last three games the Texans have given up nine sacks to defensive linemen.
Melvin Ingram, Los Angeles Chargers (vs. Tennessee)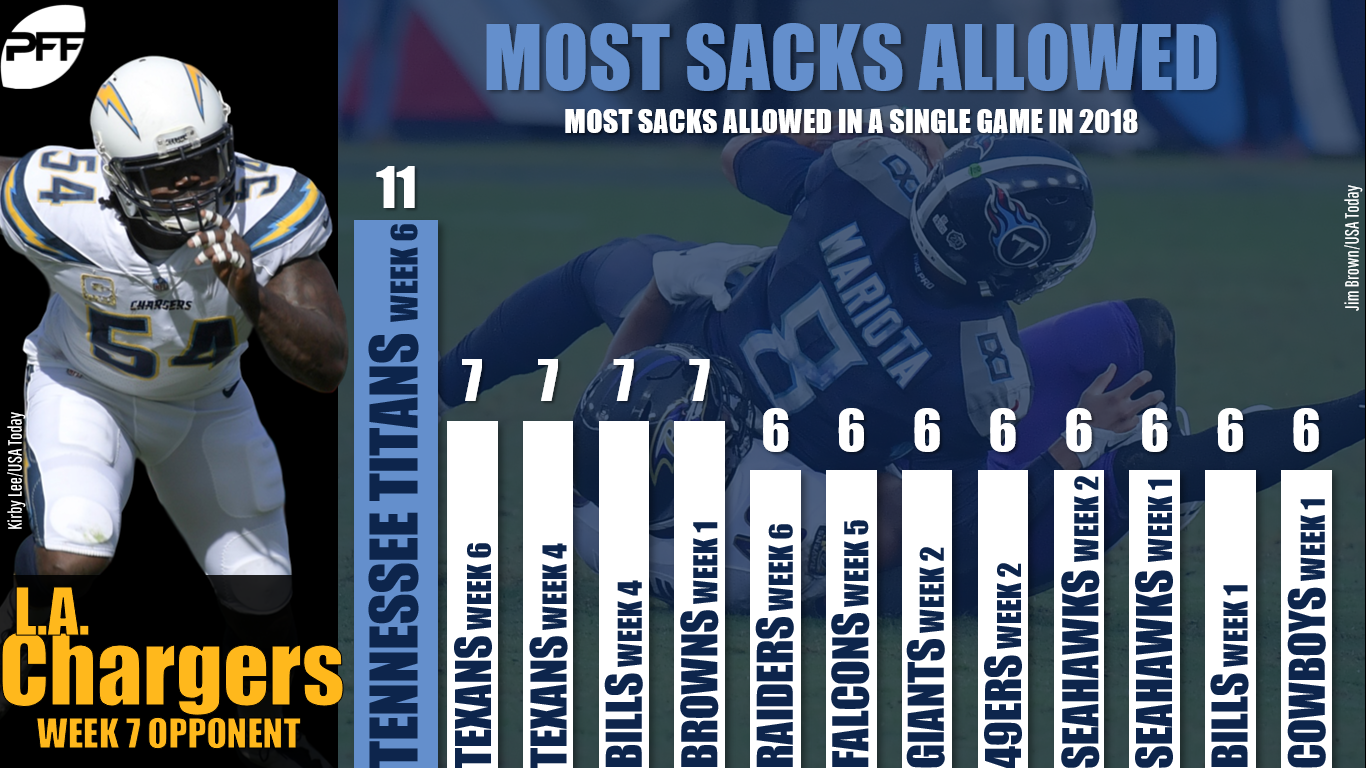 It's been a disappointing first six weeks of the season for Ingram as teammate Joey Bosa continues to sit out with a foot injury. Ingram has just one sack in the past four games and just 2.5 on the season. On the plus side Ingram has been credited with 24 total quarterback pressures and has a great matchup at home in Week 7. The Titans allowed an incredible 11 sacks to the Ravens last week as their offense continues to struggle. Look for Ingram to turn those pressures into sacks this week and finish with DL1 totals.
Sit
Carlos Dunlap, Cincinnati Bengals (@ Kansas City)
The veteran Dunlap saw his three-game sack streak come to an end last week in the Bengals loss to the Steelers. Things will go from bad to worse in Week 7 as the Bengals face one of the stingiest offenses in the league when it comes to allowing points to defensive linemen. The Chiefs have allowed just three sacks and a single forced fumble to the defensive line position through six games. This is too tough of a matchup to roll with Dunlap and there are better options out there.
Brandon Graham, Philadelphia Eagles (vs. Carolina)
One has to wonder if Graham has completely recovered from his offseason ankle surgery. His play on the field would suggest that he has not, as Graham has just a single sack and 18 total tackles. Graham is also part of a defensive line rotation that saw him play just 39 snaps last week while Michael Bennett and Chris Long played 47 each. The Panthers have not allowed a sack to a defensive lineman in the past two games and it's time to bench Graham until further notice.
Linebackers
Start
Anthony Walker, Indianapolis Colts (vs. Buffalo)
The return of Darius Leonard my lead many owners to overlook Walker. That is a mistake. After leaving Week 5 early due to injury, Walker returned to play 60 snaps last week and finished with a modest 4/2/6 stat line. Maintaining a major role in the defense will pay off in this juicy matchup against the Bills. With an iffy quarterback situation, the Bills will lean heavily on the run game. Last week, both Benardrick McKinney and Zach Cunningham posted double-digit tackles against Buffalo, with McKinney adding a sack. There will be plenty of production for both Leonard and Walker this week.
Demario Davis, New Orleans Saints (@ Baltimore)
While Davis has been solid for the Saints manning the middle, he's been a bit of a fantasy disappointment, currently putting up low-end LB2/high-end LB3 totals in most balanced-scoring formats. This is the week Davis can jump start his fantasy production and finish with top-five linebacker totals. Over the past five games, the Ravens have allowed 92 solo and 145 total tackles to the linebacker position. Currently averaging 8.6 total tackles per game, Davis will easily reach double-digit tackles in Week 7.
Sit
Darron Lee, New York Jets (vs. Minnesota)
The second-year linebacker is coming off a top-five scoring performance in the Jets' Week 6 win over the Colts. A closer look reveals that it was the interception Lee put up (his third of the season) that led to his lofty finish. Furthermore, over the past three games it's been Avery Williamson leading the way among Jets linebackers with 23 total tackles along with an interception and forced fumble. Throw in the fact that over the past three games the Vikings are allowing an average of just 18.3 total tackles to linebackers and Lee can safely be benched.
Fred Warner, San Francisco 49ers (vs. LA Rams)
This designation is based on matchup and partly due to Reuben Foster looking like the Reuben Foster of 2017. In the last two games, Warner has only seven total tackles while Foster has put up 12 (both had miserable Week 5 totals in a bad matchup against Arizona). This week's matchup is another negative one for linebackers. In their past three games the Rams have allowed 50 total tackles to linebackers (average of 16.6 per game) and not a single big play.
Denver Broncos linebackers (@ Arizona)
Okay, so this doesn't come off as too harsh, I suppose Von Miller should be started, but in big-play-scoring formats only. Arizona has been a fantasy wasteland for linebackers having allowed just 79 total tackles and four big plays through six games.
Defensive backs
Start
Antoine Bethea, Arizona Cardinals (vs. Denver)
It's a great week to roll with the veteran as Bethea has been a tackling machine of late. In the past three games, Bethea has put up 30 total tackles and has the chance for a big play this week with teammate Tre Boston out due to injury. Denver has been a plus matchup for defensive backs with Case Keenum under center in 2018. Through six games the Broncos have given up 173 total tackles, 2.5 sacks, and 7 interceptions to defensive backs.
Micah Hyde, Buffalo Bills (@ Indianapolis)
A groin injury has hampered Hyde and caused him to miss Week 5. Hyde did return in Week 6 and played all 61 defensive snaps, posting three total tackles. The matchup this week is a positive one for Hyde to have a bounce back game. Hyde tends to garner his fantasy points via the big play and will have plenty of opportunities against the Colts. In the past three games, Indianapolis has given up three interceptions, two forced fumbles, and a fumble recovery to defensive backs.
Sit
Derwin James, Los Angeles Chargers (vs. Tennessee)
A bit of a disturbing switch in the Chargers defense and a spotty matchup are responsible for the rookie James landing a sit designation. Last week, James played a true free safety role while Jahleel Addae assumed the fantasy-friendly strong safety role. James lined up in the box or on the line of scrimmage just 17 times while Addae did so 33 times, racking up nine total tackles. James finished with just four total tackles and has only 10 in the last two games. The Titans are among the top teams in limiting fantasy production to defensive backs as their offense continues to struggle.
Patrick Chung, New England Patriots (@ Chicago)
Outside of a huge game against the aforementioned fantasy-friendly-to-defensive-backs Indianapolis Colts, Chung has had an underwhelming 2018 season. Against the Colts, Chung put up double-digit total tackles (11), half a sack, and an interception. In the other four games he's played, Chung has 12 total tackles and no big plays. A quick look at the Bears offense shows that in the last two games a defensive back hasn't topped five total tackles, including a 4/1/5 stat line by Reshad Jones last week.