This is our bi-weekly check in on the value changes in dynasty fantasy football leagues. As we head into Week 7 of the NFL season, we're halfway through the fantasy season and the trade deadline looms. You have only a few weeks left to make a move either for this season or next so it's time to take the dynasty temperature of several players and see which ones you should buy, sell, and hold.
Last time, we recommended buying Patrick Mahomes even though his value is hampered in one-quarterback leagues. I'd still buy if you can get him for anything less than the cost of the top dynasty quarterback. We also recommended selling Giovani Bernard, which, if you didn't, now means you're stuck with him after he suffered an injury. We recommended holding both Kyle Rudolph and Derrick Henry, which hasn't changed as neither has seen a dramatic value change one way or the other. Our recommendations might be different, though, when it comes to last edition's receivers. Jets receiver Quincy Enunwa has slowed down thanks to an injury and might be more of a hold instead of a sell, while JuJu Smith-Schuster might not be a sell only because his value keeps increasing. I'd hold him to see how much higher it can go.
Quarterbacks
(PFF dynasty rank: 4)
It wasn't long ago Watson was putting up Mahomesian numbers in his rookie season. He started off slow — throwing for only two touchdowns in his first two starts — but had a huge last month where he averaged four passing touchdowns a game while, somehow, never throwing more than 34 times in any of them. A torn ACL cut short his rookie season or we might have seen every rookie passer record fall.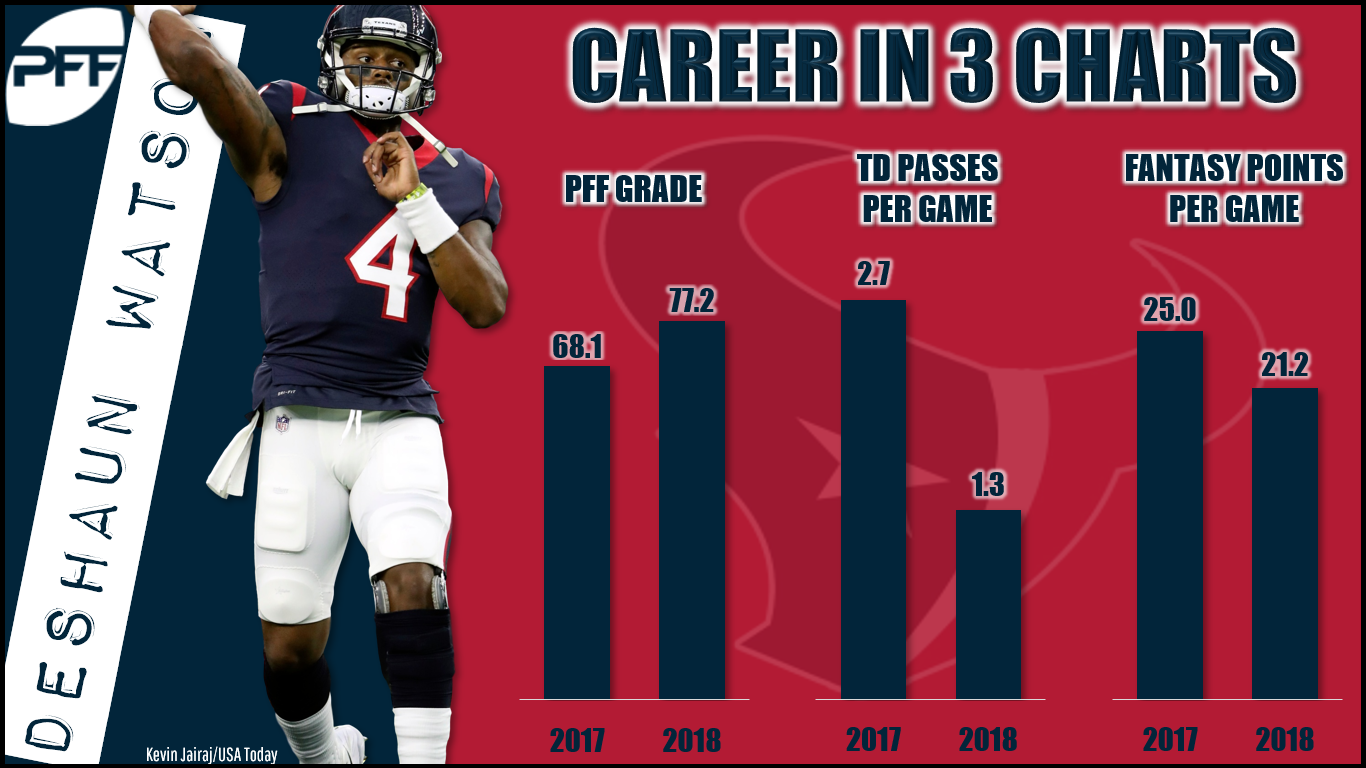 So what's he done for an encore? Well, we have six starts from 2018 to compare to his six in 2017 (plus one game as a backup) and returns are … not as great. His passing yardage is slightly up (1,798 this year compared to 1,699 last year) while his rushing yardage is slightly down (203 this year compared to 269 last year). The real difference is in those passing touchdowns. He had 19 in his seven games last year compared to just nine this year. What's caused this severe regression? His offensive line is still bad (if slightly improved compared to the field — PFF graders ranked them last in 2017 as a unit compared to 27th this year). His running backs have improved slightly, with the highest Texan running back in elusive rating (Lamar Miller) ranking 35th compared to D'Onta Foreman's team-leading 50th rank last year. And DeAndre Hopkins still ranks in the top 10 in PFF's yards per route run, proving to be as efficient as ever. The only thing that's changed has been Watson.
Verdict: Hold. The numbers above are not an indictment of Watson's performance in 2018. Sure, his touchdowns are down but he's still a top-10 fantasy quarterback in his sophomore season. If anything, this proves regression is real, but he's just 23 and is tied to stud receiver Hopkins for the foreseeable future. There's no reason to jump ship now.
Running back
(PFF dynasty rank: 10)
Expectations were always going to be high for Fournette after being drafted fourth overall in the 2017 draft. Continuing a trend started by the Dallas Cowboys in 2016 with Ezekiel Elliott and extended in 2018 by the New York Giants and Saquon Barkley, an elite running back was taken in the top-five of the real draft and promptly put on a pedestal when it comes to dynasty rankings (both Elliott and Barkley are also ranked among PFF's top-10 dynasty running backs). And, for the most part, Fournette delivered and finished as a top-10 fantasy running back last year whether you used standard or PPR scoring.
However, Fournette's value (last year anyway) came from his huge workload. He was just 44th in elusive rating out of 67 qualifying running backs and 46th in yards after contact per attempt. But both were offset by being one of three running backs to see an average of 20 carries per game (Elliott was another one of the three) over his 13-game rookie season. He did miss three games due to various lower-body injuries last year.
But speaking of injuries, Fournette hasn't seen a full game this season due to a hamstring injury. He's on track to return this week but the early results of 2018 are not encouraging. He saw only nine carries in Week 1 followed by 11 in Week 2, rushing for 71 across both games no zero touchdowns.
Verdict: Buy. Now is as good a time as any to pounce on Fournette. His value could be fading in people's mind thanks to the injury but, make no mistake, he's Jacksonville's bell cow and has shown flashes of what made him the fourth overall pick. Thanks to the rookie contract scale, Fournette he has a huge contract for a running back and isn't going anywhere. Nor is head coach Doug Marrone, who figures to stick around after nearly leading Jacksonville to the Super Bowl last year and ensuring the same offensive scheme during his tenure.
(PFF dynasty rank: 51)
It took a series of unfortunate events, but Breida finally sees himself at the top of the 49ers depth chart. Undrafted out of Georgia Southern last year, Breida was a combine-drill freak who beat out other well-pedigreed running backs to see significant snaps toward the end of the season, totaling over 100 carries for nearly 500 yards. Drawing on Kyle Shanahan's last gig, Breida entered this season as the Tevin Coleman to Jerick McKinnon's Devonta Freeman in Shanahan's offense where two running backs were utilized in a high-powered offense. It wouldn't have been a bad spot to be in as Coleman finished as a top-25 fantasy running back. But after a season-ending injury to McKinnon before the season ever started, Breida was bumped up to starter-status, where he's nearly matched his rushing total (465 last year to 430 this year) on 40% fewer carries (105 last year to 63 this year). He's been able to accomplish that by turning in a top-15 yards-after-contact-per-attempt average to along with 6.8 yards per carry, which is tops in the NFL.
Verdict: Sell. As much as I love Breida, I don't know that he can do much better right now. He has yet to see 15 carries this season thanks to the 49ers playing so poorly and will continue to play with C.J. Beathard (or worse) at quarterback. Breida's insane yards per carry is the only reason he's as fantasy relevant as he is. Then there's next year, when the 49ers offense could look completely different with the return from injuries of McKinnon and quarterback Jimmy Garoppolo.
Wide receiver
(PFF dynasty rank: 33)
When the new-look Rams receiving corps debuted last season, Sammy Watkins was the headliner while Cooper Kupp was the upstart rookie. Barely mentioned behind them was the veteran Woods, who signed via free agency. And why would he be? He never totaled more than 700 receiving yards, 65 catches or five touchdowns in his four years in Buffalo. But despite missing a quarter of the season in 2017, Woods set a new career-high with 765 receiving yards and tied his career-high with five touchdowns as a part of the top offense in football. 2018 is shaping up to be an even better year. He's already set a career-high in 100-yard games (3) while averaging 20 more yards per game (87) then he ever has. All this while still fighting Kupp and new big-ticket item, Brandin Cooks for targets.
Verdict: Buy. Woods is just 26 and is the most targeted receiver on the Rams. Take last year, when he averaged 7.1 targets per game compared to Kupp's 6.3. 2018 is trending the same direction with Woods averaging over 8.5 targets per game compared to Kupp's 7.0 and Cooks' 6.5. Couple that with the quarterback/coach combo Woods is tied to and this could be just the beginning for Woods.
(PFF dynasty rank: 30)
There's no doubt that Agholor is one of the better stories in fantasy football in recent years. After finishing outside the top 100 of PFF graded receivers in each of his first two seasons, Agholor bounced back in a big way in 2017 with 62 catches for 768 yards and eight touchdowns and a top-25 fantasy finish. What changed? Along with the progression of quarterback Carson Wentz, Agholor operated out of the slot more too which he was much better at.
He was off to another solid start in 2018 with 32 catches for 303 yards and a touchdown. Of course, the struggling Nick Foles was slogging through the first few weeks of the season until Wentz returned from his torn ACL, which had an effect. But while Wentz has returned from injury, so too has Eagles receiver Alshon Jeffery. And if there's any doubt who the leading receiver is in Philadelphia, consider Jeffery's seen 29 targets in his three games this season while Agholor has seen just 21 in those same three games.
Verdict: Sell. Yes, Agholor is just 25 and part of a good, young offense. But he'll be the third target as long as Jeffery and tight end Zach Ertz are in town. His WR2 fantasy season last year was peak value until either of those players are gone.
Tight end
(PFF dynasty rank: 17)
At long last, Ebron is finally fulfilling the expectations of a top-10 draft pick. And all it took was a change of scenery. Heading in to 2018, the path to fantasy relevance didn't seem nearly as clear. Sure, he signed a decent-sized contract in free agency but he was joining a Colts team that already had Jack Doyle, who finished as a top-six fantasy tight end last year. Fast forward six weeks, and Doyle has barely seen two games' worth of action because of injury, leading Colts receiver T.Y. Hilton has also missed time due to injury, and Ebron is leading the team in targets (52), receiving yards (326) and touchdowns (6).
Verdict: Buy. Currently, Ebron is in the top-seven in tight end targets, receptions, and yards, and leads all tight ends in touchdowns so far. Even when Doyle returns, Ebron's played well enough to be worth more than his current dynasty ranking.