We're back again with a look at trade candidates, fantasy football players you might want to add based on possible production heading into Week 7 of the NFL season.
Week 7 is the first week this season with four teams on bye, and with two of those teams being the prolific Packers and Steelers fantasy squads, most owners in your leagues will have their eyes on the waiver wire. Don't forget about the trade market. Trades are an excellent way to boost your short and long-term chances because other owners often fail to consider the four sources of fantasy market inefficiency:
Future opponent tendencies
Limitations because of injuries or suspensions
Efficiency metrics that suggest likely gains or losses in opportunities
Affectations, or the artificial inflation or deflation of value because of fads.
With those in mind, here are my FLEA market finds for Week 7.
Future opponents
Bortles has been a sneakily effective fantasy option this season thanks in large part to his 188 yards and touchdown on the ground. Over the next month, a fantasy-friendly schedule should help him complement that rushing production with some points in the air. The Jaguars' next two games are at home against the Texans and then in London against the Eagles. That's right, it's the return of Sir Blake Bortles.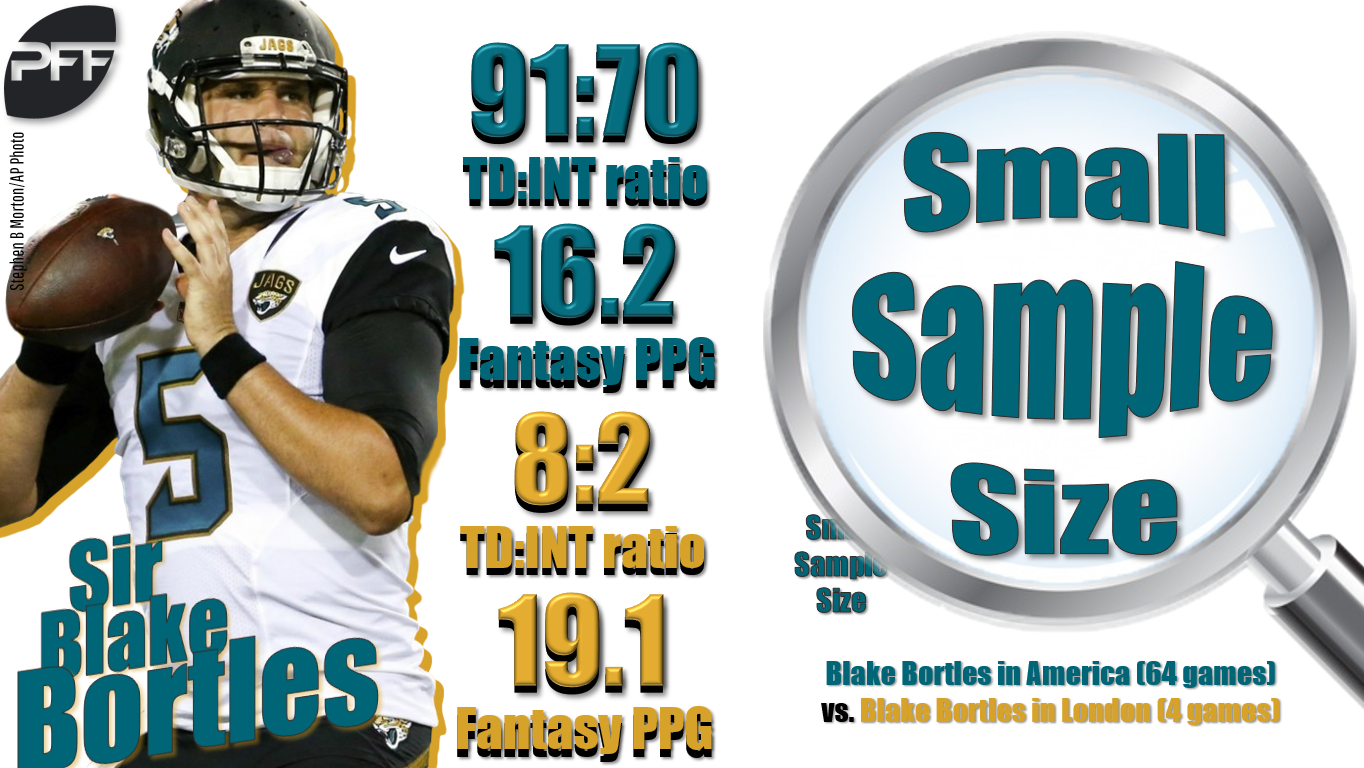 Sadly, Bortles' fantasy splits aren't as marked as his team record splits in the states and across the pond (21-43 in America; 3-1 in London) — and it wouldn't matter if they were because it's only four games — but you can still cheer for the narrative while you make decisions based on his opponents. The Eagles are part of a four-game run of opponents that allow more passing touchdowns per play than a typical team, and they are the only team in that stretch that limit passing yards per play below average. Bortles can be a back-end QB1 in the games he plays between now and Week 11. Just take note of the fact that the Jaguars are on bye in Week 9.
The biggest fantasy implication of the Browns' evolution into a competitive team this season has been improved gamescripts that allow more touches for the team's running backs. Last season, they ran the ball 24.0 times per game, bottom-five in football. This year, that's up to 29.7 times per game, third-most. You can be comfortable deploying Hyde every week with that turnaround, but the next four weeks provide particularly attractive defensive matchups. Starting this week, they face the Buccaneers, Steelers, Chiefs, and Falcons, who overall allow more rushing plays per game and more rushing yards and touchdowns per play than a typical team.
My only reservation is Nick Chubb, who has outperformed Hyde on a per-touch basis this season. I expect him to take over as the Browns' primary ball carrier eventually this season, but my research suggests those transitions tend to happen just after a team's bye week. Fortunately for Hyde owners, that comes after this run of plus matchups.
Limitations
Quincy Enunwa didn't just pace the Jets in targets over the first month. He was tied with Michael Crabtree for the 16th-most targets among all wide receivers in October. Robby Anderson has buoyed his seasonal fantasy value with a couple of long touchdowns in recent weeks, but rookie quarterback Sam Darnold is following a conservative game plan that relies on shallow-depth targets to minimize mistakes. With Enunwa set to miss a minimum of three weeks with a high ankle sprain, Kearse should be the major beneficiary as the team's preeminent healthy short-route target. He already saw 10 targets in Week 6 and should be usable as a flex option for the team's next few games.
My preseason theory that Benjamin would produce in fantasy as the recipient of one of the biggest target shares in football was quickly debunked. He does have a decent total of 30 targets, but he has converted just 10 of those into receptions. He's probably been dropped in your leagues. Well, if you need a deeper-league flyer in Week 7, consider picking him back up. Josh Allen injured his elbow on Sunday and has already been ruled out for this weekend. Sean McDermott may lose the locker room if he turns to Nathan Peterman again after his latest loss-sealing pick-six. That leaves the newly signed former Panther, veteran Derek Anderson, as my best guess to be the team's starter this week. I couldn't blame you if you continued the avoid-Bills-in-fantasy strategy, but Anderson and Benjamin had a better rapport in their time together in Carolina than Cam Newton and Benjamin did. A road start in the dome in Indianapolis is pretty favorable. I could see close to 10 targets for Benjamin this week and a decent chance at a score.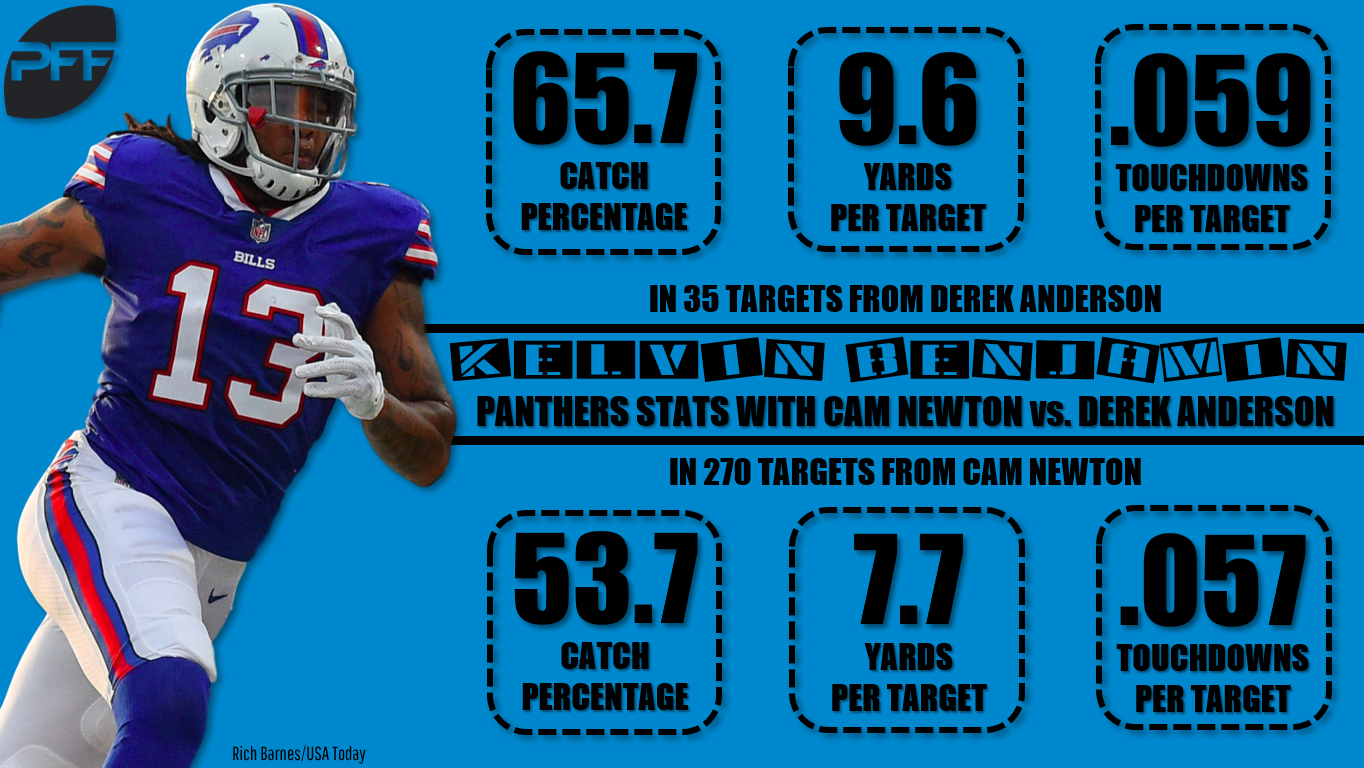 Efficiency trends
Looking at the box score, it appears than the frustrating time share between Johnson and LeGarrette Blount continued in the Lions' most recent game. Both players took 12 of the team's 28 total carries in Week 5. However, Johnson left that game less than a minute into the fourth quarter. When he left, Johnson had outcarried Blount 12 to 7. At the start of the season, a timeshare made sense because of Blount's traditional effectiveness in short-yardage situations. But Johnson is averaging almost a yard after contact per attempt more than Blount this season (2.9 vs. 2.0) on a similar volume of carries. Johnson should be fine coming off the team's bye, and as I mentioned previously, teams tend to make changes to their running back depth charts over their bye weeks. See if you can trade for Johnson now before the breakout.
The Eagles' first game without Jay Ajayi followed the script with Wendell Smallwood seeing more carries (18 to 11) and Clement seeing more targets (3 to 2). That workload distribution reflects those players' relative efficiency numbers over the last two seasons. Smallwood has more RuYards Added (19 to 1) and Clement has more RecYards Added (26 to 5). That said, I think Clement is the one to trade for today. He has improved on his rookie season in adding five yards as a runner this year, which is on pace with Smallwood. He also took the Eagles' lone Week 6 carry within five yards of the end zone and scored. Clement and Smallwood are both 5-10, but Clement is 12 pounds heavier. Six of his 112 career attempts (5.4%) have come within five yards of the end zone, while just four of Smallwood's 167 (2.4%) have. Smallwood will likely continue to pace the backfield in overall attempts, but Clement looks to be the first choice to take the most important carries from a fantasy perspective. Add that to his outlook as a receiver and you have a solid flex option.
Affectations
The Colts' likely had optimism for the 2018 season when it became clear that Luck would be healthy enough to play. But after a string of injuries to their offensive skill-position players and a handful of close losses — including the now-infamous Week 4 loss to Houston after the Colts tried and failed to convert a fourth down on their own side of the field in overtime — the team has fallen to a 1-5 record and is all but eliminated from postseason contention in mid-October. But from a fantasy perspective, that just doesn't matter. It doesn't even matter if Luck has his best receivers to throw to or if he has the arm strength to stretch the field the way he did in his best seasons. He is throwing the ball so much that he has to have fantasy success. Through Week 6, Luck has attempted 288 passes. That's 24 more than any quarterback has attempted over the first six weeks probably ever and definitely within the past 12 years, where I have comprehensive data to check.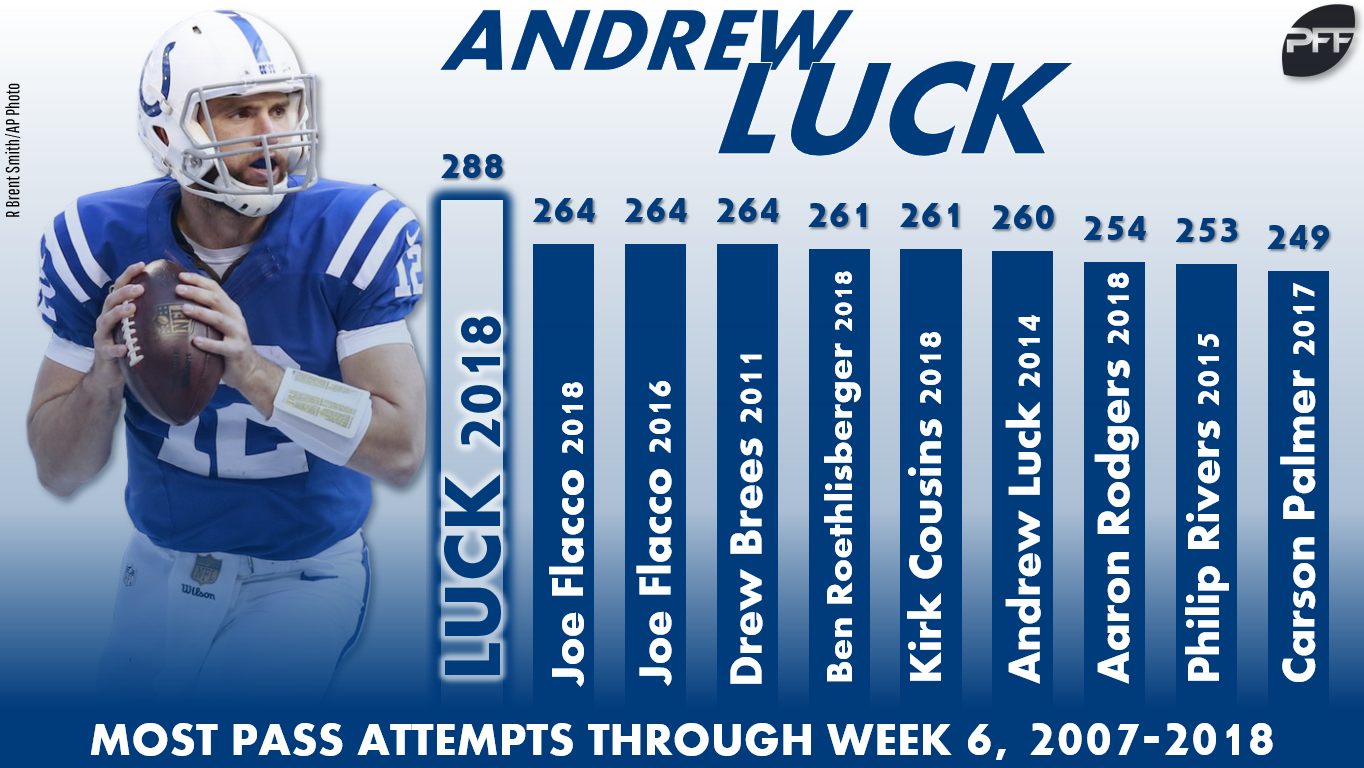 Luck is a pedestrian 23rd in fantasy points per dropback, but he's fifth in total fantasy points and four points out of third. With his volume of passes, I think he's very likely to finish the season in the top-five at the position, and I suspect his market value falls short of that.