Hello, and welcome to the Week 7 Actual Opportunity report. This is our weekly look at the players with the most fantasy potential based on volume, and how effective they've been with it. If you're unfamiliar with Actual Opportunity, you can read the in-depth explanation here.
Essentially, we're using an 11-season sample of play-by-play data to calculate expected fantasy points from a player's seasonal or weekly usage. We look at each target (by distance from the end zone and depth of target) and each carry (by distance from the end zone and down and distance) and add this up to determine how valuable a player's role was for fantasy purposes. We can contrast this with fantasy production to measure efficiency.
In layman's terms, Actual Opportunity is "how many points a player should have scored" given his workload, based on what the average player would have scored. "Expected fantasy points" will be used interchangeably with "Actual Opportunity" throughout this article.
After six weeks of action, here are the top-30 players in expected fantasy points per game: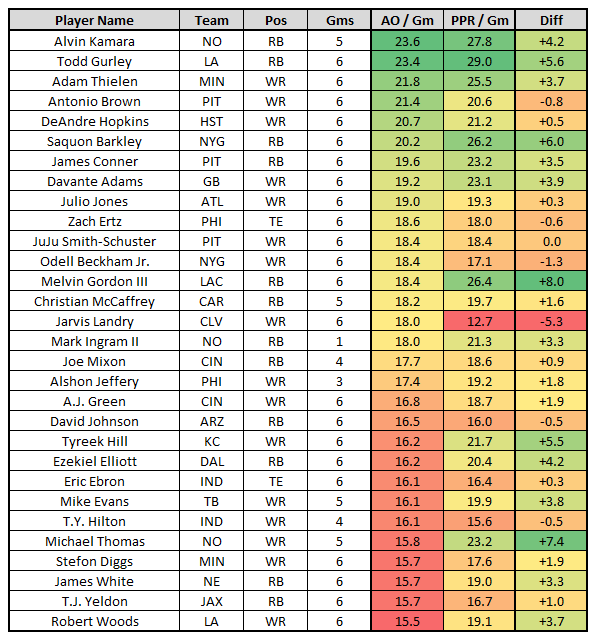 (AO: 8.3, PPR: 15.1)
Locket remains my top "sell-high" candidate. He's hit double-digit fantasy points in every game this year and, among wide receivers, ranks fifth in touchdowns and 18th in fantasy points. However, he also ranks just 59th in targets, 65th in expected touchdowns, and 57th in expected fantasy points. Those numbers are sure to regress. When giving your sales pitch to any potential trading partners, I'd emphasize the former point and not the latter.
Subscribe to PFF Edge to continue reading
Already have a subscription? Sign In