With the dust settled from the 2022 NFL Draft, PFF fantasy football analysts Ian Hartitz, Dwain McFarland and Nathan Jahnke present their top-30 rookie rankings for fantasy football.
We start with the top 25, headlined by New York Jets running back Breece Hall. We also add five honorable mentions, which include Green Bay Packers wide receiver Romeo Doubs and Pittsburgh Steelers quarterback Kenny Pickett.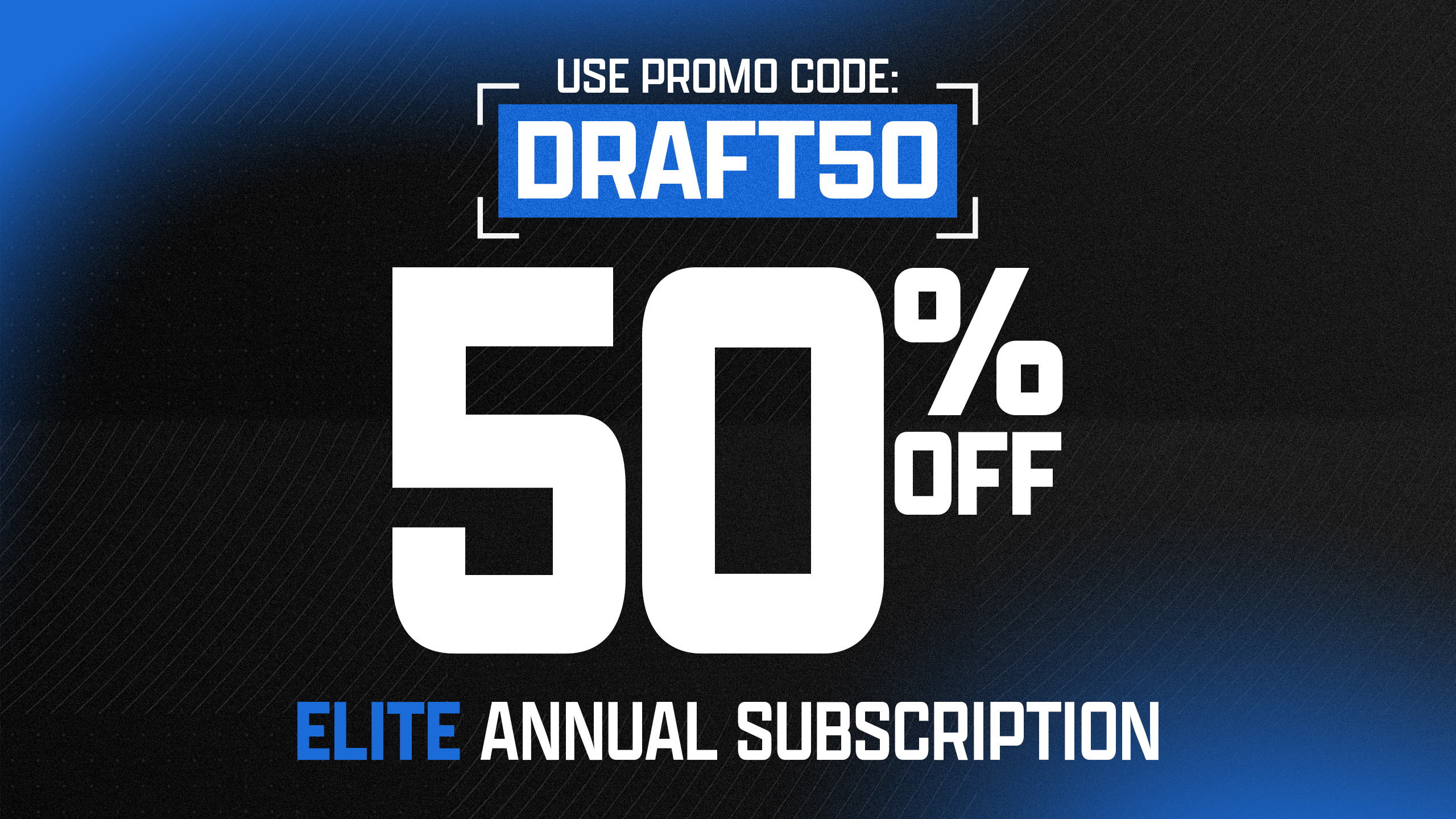 The Top 25
| | | | | | |
| --- | --- | --- | --- | --- | --- |
| Rank | Player | DM Redraft | IH Redraft | NJ Redraft | Consensus |
| 1 | Breece Hall | 1 | 1 | 1 | 1 |
| 2 | Treylon Burks | 2 | 2 | 4 | 2.7 |
| 3 | Drake London | 3 | 3 | 3 | 3 |
| 4 | Garrett Wilson | 5 | 5 | 5 | 5 |
| 5 | James Cook | 7 | 9 | 2 | 6 |
| 6 | Skyy Moore | 4 | 4 | 11 | 6.3 |
| 7 | Kenneth Walker | 6 | 8 | 6 | 6.7 |
| 8 | Chris Olave | 8 | 6 | 7 | 7 |
| 9 | Jameson Williams | 9 | 7 | 9 | 8.3 |
| 10 | Christian Watson | 10 | 10 | 8 | 9.3 |
| 11 | Jahan Dotson | 11 | 11 | 10 | 10.7 |
| 12 | Dameon Pierce | 13 | 12 | 12 | 12.3 |
| 13 | John Metchie III | 16 | 18 | 17 | 17 |
| 14 | Jalen Tolbert | 19 | 13 | 19 | 17 |
| 15 | Rachaad White | 12 | 15 | 23 | 16.7 |
| 16 | George Pickens | 17 | 17 | 14 | 16 |
| 17 | Brian Robinson Jr. | 18 | 16 | 16 | 16.7 |
| 18 | Tyler Allgeier | 15 | 14 | 25 | 18 |
| 19 | Alec Pierce | 20 | 19 | 13 | 17.3 |
| 20 | Wan'Dale Robinson | 14 | 24 | 21 | 19.7 |
| 21 | Isaiah Spiller | 21 | 21 | 18 | 20 |
| 22 | Tyrion Davis-Price | 23 | 22 | 20 | 21.7 |
| 23 | Hassan Haskins | 22 | 25 | 24 | 23.7 |
| 24 | David Bell | 24 | 23 | 33 | 26.7 |
| 25 | Kyren Williams | 25 | 27 | 28 | 26.7 |

The Jets landed the most well-rounded back in the 2022 NFL Draft class in Breece Hall with the third pick of the second round. The former Iowa State back profiles particularly well in the passing game, with 82 receptions over his career — making him the consensus No. 1 selection in most dynasty rookie drafts.
Hall burst out of the gate as a freshman with 1,140 total yards (28%) and continued to pile on more as a sophomore with 1,766 (35%) and 1,743 as a junior (37%). His 129 total yards per game is the best in the class after accounting for Rachaad White's limited sample size (15 games) as a JUCO transfer to Arizona State.
The production profile alone is impressive, but after accounting for Hall's tremendous NFL combine performance (4.39-second 40-yard dash at 217 pounds) and his draft capital, he compares similarly to backs previously taken in the top-10 picks of the NFL draft like Dalvin Cook and Marshawn Lynch.
Hall's 40-yard dash time didn't show up in his explosive-rush rate (10-plus yard attempts), which was average (14%) compared to his collegiate peers. However, his tackles avoided per attempt (27%) was four percentage points above the NCAA average over his career.
The former Cyclone was electric on outside-zone rushes, registering 4.1 yards after contact, 36% tackles avoided and a 21% explosive rush rate. The Jets ran the eighth-most outside zone in the NFL (39%) in the NFL in 2021. He was less impressive on inside-zone and gap concepts.
Michael Carter was borderline elite as a receiver out of the backfield with TPRR (23%) and YPRR (1.48) marks, just below Alvin Kamara territory. However, the early-round draft capital versus the fourth spent on Carter in 2021 means a path to an every-down role is there for the taking.
2022 re-draft rank: Upside RB2
2022 rookie rank: No. 1 RB
---

Fantasy outlook: From a pure production standpoint, Burks owns the class's second-best dominator rating (45%) and boasts a solid 20.5 breakout age. His career yards-per-route run ranks ahead of Garrett Wilson, Jameson Williams, Drake London and Chris Olave. Burks checks the box on as many production and efficiency metrics as anyone in the class.
Refinements will be necessary for Burks to take his game to the next level in the NFL, but his underlying data compares well to previous high-performing fantasy players like Dez Bryant, Demaryius Thomas and Alshon Jeffery. If he can round out his game across a broader route tree he carries tremendous upside but also has a chance to contribute immediately in a scheme that value creates space for playmakers.
Burks gets just what the doctor ordered, going to the Titans where A.J. Brown made a living on in-breaking routes off of play-action allowing him to pile up yards after the catch. Brown ranked No. 1 in the percentage of targets on play-action in 2021 at 43% (minimum 250 routes).
Tennessee isn't a pass-heavy offense, but Ryan Tannehill is capable of supporting a big-play receiver and Robert Woods has never eclipsed 22% targets per route in his career leaving plenty of room for Burks to carve out a significant role in his first season.
2022 re-draft rank: low-end WR3
2022 rookie rank: Top-five WR 
---

Fantasy outlook: London is the perfect wide receiver for today's NFL, but speed is his main weakness. The former Trojan's physical presence helped him become the only FBS receiver to haul in over 15 contested catches and break more than 15 tackles in 2021. London accomplished this feat despite his season being cut short to eight games with a broken ankle.
Our Seth Galina believes he can be the best wide receiver in the class because he is more than just a contested-catch receiver. London was one of the best receivers in the FBS against press coverage last season, gaining 3.37 yards per route run in those situations. That physicality at the line of scrimmage mixed with his route running allows him to gain separation despite his average speed.
He spent 2021 primarily as USC's left outside receiver, but he lined up in the slot in 2020. London's closest NFL comparison is Brandon Marshall — who also spent much of his career outside, but some of his best seasons came in the slot with the Chicago Bears. Some of his other closest comparisons are primarily slot receivers.
London landed with the Falcons, and he instantly becomes the team's best receiving option. He should take the"X" receiver role and help fans move past the Julio Jones memories. Olamide Zaccheaus and free-agent additions Auden Tate and Damiere Byrd will fight for the other starting role as well as snaps from the slot. The rookie's biggest competition for targets will come from second-year tight end Kyle Pitts. Tate is hurt the most by this move, as he is the Falcons receiver who is most similar to London.
2022 re-draft rank: WR4
2022 rookie rank: High-end WR1
---

Fantasy outlook: Drake London might have been the first wide receiver off the board, but Wilson was firmly in that same conversation and still easily carries the sort of high-end draft capital associated with past stud rookies.
Concerns about a lack of polish to Wilson's route-running game ignore the successful end result being obtained: separation. His career average of four yards per route run against single-man coverage is ludicrous.
Garrett Wilson WR1 pic.twitter.com/y1Mtiw8Ogq

— Ian Hartitz (@Ihartitz) April 26, 2022
The only concern with Wilson's Year 1 aspirations is the reality that there aren't exactly a ton of targets up for grabs with the Jets. Overall, 34% of the Jets' 2021 wide receiver targets are available, as Jamison Crowder is the only real loss from the group. This sort of draft capital will certainly give Wilson the leg up over Braxton Berrios in the slot, but just realize Elijah Moore and Corey Davis could potentially lead the way in raw targets in 2022.
And then there's the Zach Wilson problem. Wilson was terrible in just about any metric you want to pull up from 2021, so the Jets (and fantasy managers) need the rising second-year signal-caller to play like the sort of player he was drafted to be – particularly with a high number of mouths to feed in this talented passing attack.
Overall, Wilson profiles as more of a WR4 to start. London deserves the nod in re-draft land due to his heightened chance to seize his offense's No. 1 pass-game role, but Wilson isn't too far behind. Players such as Chase Claypool, Christian Kirk, Brandon Aiyuk, and Tyler Boyd just barely get the nod over Wilson, but don't be surprised if a leap from Wilson coincides with an electric performance from the rookie.
2022 re-draft rank: WR4
2022 rookie rank: High-end WR1
---

Cook is an incredibly agile back who will be hitting several home runs in the Bills offense. Buffalo loves to run several plays in a row without any substitutions while moving players around, and Cook will be able to line up both in the backfield as well as out wide in empty sets to create mismatches for opposing defenses. He averaged over 6 yards per carry each of the last three seasons, and only dropped one of 68 catchable passes in his college career.
Unfortunately for fantasy managers, Cook never accumulated more than 12 carries in a game, and with his wide-receiver like build, he might never be a top-tier fantasy running back unless he puts on some weight.
He joins a Bills team where Devin Singletary finished as a top-10 fantasy back each of the last four weeks. The two backs will likely co-exist in Buffalo, with Singletary likely seeing more carries while Cook sees more targets. In recent seasons, the Bills' backfield has been fluid to allow the best back to see more time, so Cook will have the chance to earn a larger role as the season progresses. The former Georgia back can be drafted as a hopeful flex option, but he has the upside to be more.
Buffalo had added Duke Johnson in free agency to take the receiving back role, but now Johnson might not make the roster. If Buffalo does keep Johnson, then Zack Moss would be in danger of losing his roster spot.
2022 re-draft rank: high-end RB3
2022 rookie rank: Top-3 RB
---

Fantasy outlook: Moore hails from a small school but don't underestimate his NFL readiness. No other receiver in the class posted a higher career YPRR (4.42) on the routes the NFL utilizes the most, as 62% of his routes coming from outside.
The former Bronco eclipsed the 30% dominator threshold slightly later than his peers at the age of 21, but his best dominator season (41%) ranks close to the likes of first-rounders Treylon Burks (45%) and Jahan Dotson (43%).
Moore will immediately challenge for a top-three receiver spot on the pass-happy Chiefs and has an outside shot of leading the team as a rookie. JuJu Smith-Schuster's underlying metrics have been on the decline since his breakout in 2018 (YPRR: 2.08, 1.49, 1.29, 0.88) which showed up as a lack of interest from NFL teams.
Marquez Valdes-Scantling's three-year $30M contract means he will be on the field but he has played with an elite quarterback before (Aaron Rodgers) on a team in need of a No. 2 option and never eclipsed a 1.50 YPRR or 20% TPRR.
This is a fantastic landing spot for a talented player.
2022 re-draft rank: Upside WR5
2022 rookie rank: Mid-range WR1
---

Fantasy outlook: Walker is a runner who can do everything in the run game. His 46 explosive runs, 1,168 yards after contact and 89 avoided tackles on the ground were all the most among Power Five running backs last season. Michigan State gave Walker 262 carries throughout the 2021 season, so volume isn't an issue. He is the kind of back capable of handling 20-plus carries per game over multiple games in a season.
He made 18 career college catches, making his work in the passing game a big red flag. While the 21-year-old can learn to be a better receiver over time, a team won't give him that chance regularly until he can pass protect. Walker allowed either a pressure or was beaten by a defender on over 20% of his pass blocks en route to a lowly 41.3 PFF pass-block grade.
If he can learn to be a better pass-blocker as well as a receiver, he could one day be a first-round fantasy pick. Some of his closest comparisons include Dalvin Cook and Ezekiel Elliott, neither of whom became great receivers but at least became capable. Other players like Ronald Jones, D'Onta Foreman and Rashaad Penny have remained two-down backs throughout their NFL careers.
Walker joins the Seahawks, where he will have direct competition from Penny and potentially Chris Carson. Penny achieved a 90.1 PFF rushing grade over the second half of 2021, leading all s. His strong play to end the season landed him a one-year, $5 million deal, with almost all of the money guaranteed. Carson suffered a potential career-ending neck injury in November.
All three of those backs typically play only on first or second down, so there will still be a role for either Travis Homer or DeeJay Dallas on third downs. This was not the ideal landing spot due to the crowded backfield.
2022 re-draft rank: RB3
2022 rookie rank: High-end RB1
---

Fantasy outlook: Ohio State's all-time leader in receiving touchdowns, Olave put together four productive years during his time in Columbus. It's fair to have some concerns around his ability after the catch given he forced just 10 career missed tackles on 176 receptions, but the Buckeyes also didn't make a habit of forcing him into low-ADOT looks. Overall, Olave posted a 15-plus-yard average target depth in three of his four seasons in Columbus, regularly working as the preferred deep threat for both Justin Fields and C.J. Stroud. Nobody scored more receiving touchdowns on targets thrown at least 20 yards downfield than Olave (19) from 2019-2021.
However, Olave proved plenty capable of winning one-on-one matchups all over the field. He largely dominated on crosses, goes, ins, outs, hitches and slant routes, which just so happen to make up the majority of NFL patterns. His level of route-running expertise provided problems for cornerbacks of all shapes and sizes, so good luck sticking with the 21-year-old talent in man coverage.
Chris Olave not breaking tacklespic.twitter.com/FT2GBNUGve

— Ian Hartitz (@Ihartitz) April 13, 2022
The difference between Olave and his peers in Garrett Wilson, Drake London as well as Jameson Williams: He's the clear-cut established No. 2 wide receiver in this offense. Thomas is simply a more-established option than anyone on the Jets, Falcons, or Lions. There's a reason why Olave is considered the most polished receiver in this class, but fantasy managers better hope the Saints unleash Winston to a higher extent in 2022 than they did in the first half of last season.
Olave profiles as more of an upside WR5 to start. Receivers such as Rashod Bateman, Rondale Moore, and Marquez Valdes-Scantling profile as potentially superior options due to their better situations under center and similar potential to work as the No. 1 or No. 2 option in their passing attack. It's unlikely Olave falls outside the top-10 picks in rookie leagues of most shapes and sizes; just realize the 2021 run-first Saints offense wasn't the sort of unit that fantasy managers should actively look to attack.
2022 re-draft rank: WR5
2022 rookie rank: Low-end WR1
---

Fantasy outlook: The 21-year-old receiver is the best deep threat in the class. He ranked among the top five FBS receivers in touchdowns on deep passes, yards after the catch (YAC) per reception and yards per deep route run. Williams' speed helped him separate from defenders unlike any other receiver in college football last year.
The difference between Williams finding fantasy success compared to being a bust is if he's able to deal with the physicality of NFL cornerbacks and run a complete route tree. Some of his top comparisons are to DeSean Jackson and Will Fuller V. Both players were also known for their speed and had some excellent games, but were unpredictable on a week-by-week basis.
Williams is taller than the average speedy receiver which gives him a chance to be a more complete receiver than Jackson or Fuller, but he likely needs to add more muscle. He caught only four contested targets and had only 11 catches when he wasn't either open or wide open. It's hard to fault him for being able to get open, but even the best NFL receivers don't get open as often as he did in college. How he will handle this transition is unknown.
He lands with the Lions, who traded several draft picks to get him. He joins Amon-Ra St. Brown as the starting wide receivers, along with free-agent addition D.J. Chark and Josh Reynolds.
Williams gives Detroit a deep threat that the team was severely lacking last season. Jared Goff has never been a deep-ball thrower, finishing with a deep ball rate under 10% in each of the last three seasons. 
This means Williams might not have a lot of value in the short term, but he could in the long term once Detroit finds a longer-term solution at quarterback. His skill set compliments St. Brown's well, so they should be able to co-exist in Detroit for several years. This addition hurts the upside of Chark in his first season outside of Jacksonville.
2022 re-draft rank: WR4
2022 rookie rank: High-end WR1
---

Fantasy outlook: Watson emerged as this year's first-team all-combine talent. Standing at 6-foot-4 and weighing in at 208 pounds, Watson turned in a 4.36-second 40-yard dash with elite marks in the vertical jump (38.5) and broad jump (136) to boot.
Here's the problem: Watson's status as this year's seventh wide receiver off the board isn't exactly due to his on-field excellence. Overall, he dropped 16 passes on 120 career catchable targets and posted rather underwhelming single-season career-high marks in receptions (43), yards (801) and touchdowns (7) despite facing inferior competition. Watson did turn in the best PFF grade of his career in 2021 (87.8, 16th among qualified wide receivers), but he's an older prospect who will be 23 on May 12.
The best thing going for Watson is the reality that there are all sorts of open opportunities in this Packers offense. Only the Chiefs have more available targets both overall (55% vs. 42%) and at wide receiver specifically (75% vs. 67%) than Green Bay. It seems more likely than not that Watson replaces PFF-comp Marquez Valdes-Scantling in starting three-receiver sets, although the likes of Allen Lazard and Sammy Watkins could feasibly provide some competition on the outside.
Watson carries plenty of fantasy potential thanks to his elite athletic profile and draft capital. Throw in the presence of Aaron Rodgers under center, and it's fair to say there's a legit ceiling here for 2022. He shouldn't be confused with most of the position's first-round picks, but Watson shapes up as a potential boom-or-bust WR4 who could provide excess value in best-ball formats.
2022 re-draft rank: Boom-or-bust WR5
2022 rookie rank: Top-10 WR
---

Fantasy outlook: Dotson surprisingly went in the first round to Washington. He is the prototypical slot receiver who possesses great ball skills and elusiveness. He put together a solid PFF receiving grade in college at 88.1 and followed that up with a solid 4.43-second 40-yard dash.
What helps Dotson stand out from other slot receivers is his catch radius. He has large hands which helped him achieve a low 2.2% drop rate. He can also help in the screen game where he caught 26 screen passes last season. Unfortunately, his height, weight and arm length all fall under the 25th percentile of wide receivers, which means he might never be a regular outside wide receiver in the NFL. It is very difficult for a receiver who only plays in the slot to be a consistent top-36 wide receiver in the NFL.
He joins Washington, which clearly needed a slot receiver. Adam Humphries filled that role for the team last season, but he hasn't been re-signed in free agency. This move will allow Curtis Samuel to remain on the outside which likely helps his fantasy value. Terry McLaurin remains the clear WR1 on the roster, with his fantasy value remaining the same. Washington's desire to sign him to a long-term contract will be unaffected by this pick. The Commanders spent a third-round pick on Dyami Brown last season, and his dynasty value takes a hit.
2022 re-draft rank: WR6
2022 rookie rank: Low-end WR1
---

Fantasy outlook: Pierce joins a wide-open depth chart in Houston with Marlon Mack and Rex Burkhead as the primary incumbents. Currently, the first back off the board from the Texans is at pick 154 in FFPC best-ball — so there is plenty of room for Pierce to carve out a role.
The former Gator was the No. 3 back on the PFF big board, after leading the FBS in rushing grade (93.5) in 2021. His career 25% tackles avoided per attempt is 2 percentage points above the NCAA average, and he was one of four backs to post a 70.0-plus PFF grade in rushing, receiving and pass blocking in the 2022 class.
The knock on Pierce is his limited usage at the collegiate level. He was never able to take over a significant role at Florida despite his strong underlying efficiency metrics. However, his versatility opens up multiple paths to touches in an inferior backfield. The optimal role would be as the passing-down back with the Texans currently boasting the lowest projected-win total on Draftkings at 4.5. Houston could be forced to pass early and often in 2022.
2022 re-draft rank: RB5
2022 rookie rank: mid-range RB1
---

Fantasy outlook: Metchie fetches solid draft capital landing with the Houston Texans in the second round. There is some speculation the former four-star recruit will operate out of the slot in the NFL, but 71% of his work came outside in college — he can play the Z and the slot positions. Brandin Cooks is the No. 1 option but has never demanded an elite target share, meaning there is room for another option to earn looks from Davis Mills.
Metchie never eclipsed some of the indicators dynasty football lovers covet like the 30% dominator rating, but played with some of the best competition in the nation at Alabama. He posted a sneaky 25% explosive play rate — which is 3% above the NCAA average and will only be 22 as a rookie.
Worst case, Metchie settles in as the slot receiver for a team destined to trail early and often where he can still challenge for the second-most looks on the team. Best case, he finds his way onto the field as an every-down option and kicks inside in three-wide sets with Nico Collins playing outside with Cooks.
2022 re-draft rank: WR6/7
2022 rookie rank: low-end WR1
---

Fantasy outlook: Tolbert is an older prospect who will be 23 years old when the season starts but comes with a weighty production profile, sporting a 31% career dominator – besting every first-round receiver other than Treylon Burks.
Despite his age, he still broke out with a 30% dominator at the age of 20.5, which is in line with Burks and Jahan Dotson. The former Sunbelt player of the year's career 25% explosive target rate (74th percentile) actually scores much higher than supposed speedsters Tyquan Thornton and Velus Jones Jr., who went earlier in the draft.
The Cowboys' depth chart is suddenly thin at wide receiver after the trade of Amari Cooper and departure of Cedrick Wilson in free agency, making Tolbert the odds-on favorite of winning the WR3 role. Dallas isn't afraid to utilize 11 personnel 70 – 80% of the time and no other team has averaged more regulation plays per game over the last two seasons (68.4).
Tolbert could flash with spike weeks in his rookie season and carries contingency value should Michael Gallup start slow while recovering from his late-season ACL injury or should an injury strike elsewhere on the offense.
2022 re-draft rank: WR6
2022 rookie rank: Low-end WR1
---


Fantasy outlook: College football's highest-graded receiving running back and ranked sixth as a pure rusher. White is a sneaky candidate to more than capably handle a three-down workload should the opportunity come his way — and he has the size (6-feet, 214-pounds) and playmaking ability (52 broken tackles, 20 touchdowns on 225 collegiate carries) to make good use of it.
The problem, at least for 2022: Leonard Fournette. Only Derrick Henry, Jonathan Taylor, and Austin Ekeler averaged more PPR points per game than Fournette last season. This wasn't a fluke: Only Henry, Najee Harris and Alvin Kamara had more expected PPR points per game. Fournette might not remind you of Ekeler or Christian McCaffrey in terms of pure receiving ability, but at the end of the day only six running backs averaged at least four receptions per game in 2021:
Ronald Jones is out of the picture, but Giovani Bernard and (to a lesser extent) Ke'Shawn Vaughn could offer some resistance to White carving out an early-season role.
Ultimately, the Buccaneers handed Fournette a three-year, $21 million contract to be their starting running back for at least 2022 and (probably) 2023. While he's not guaranteed to dominate pass-down usage to the same extent in 2022, it seems awfully unlikely White manages to move his way to the top of the depth chart without one or even two injuries. His 2022 ceiling is as a "handcuff with benefits" as opposed to someone expected to give real standalone value.
2022 re-draft rank: RB5
2022 rookie rank: top-five running back
---

Fantasy outlook: The NFL decision-makers and the fantasy community were both torn on Pickens as a prospect but for different reasons. The 21-year-old didn't perform well interviewing on the pre-draft circuit, which soured some NFL front offices.
From a fantasy perspective, the former Bulldog teased the world by crossing the 20% dominator threshold at the age of 18.5 but only played 12 games over the next two due to injuries – including an ACL tear in the spring of 2021 that cost him most of his final season as a junior. The freshman-season flash is intriguing but whether Pickens can take the next step is unknown.
Despite the limited sample, the Georgia star has elements of his game that stand out. He comps similarly to first-rounder Drake London in career YPRR (2.35 versus 2.32) and 20% dominator age (18.5 versus 19.1). Pickens ranks seventh in the class in explosive target rate at 26% (76th percentile) and bested London in single-man coverage YPRR (2.76 versus 2.63) and targets per route vs. single-man coverage (36% versus 29%).
Pickens immediately slots in as the WR3 for the Steelers after losing JuJu Smith-Schuster and James Washington as free agents. However, the Steelers could become less pass-happy with Mitchell Trubisky or Kenny Pickett at quarterback and Diontae Johnson, Chase Claypool and Pat Freiermuth will all challenge for a piece of the pie.
2022 re-draft rank: WR7
2022 rookie rank: low-end WR1
---

Fantasy Outlook: Viewed as an early-down bruiser thanks to his size (6-foot-2, 225-pounds) and physical running style, but he also deserves credit for reeling in 35 of 38 targets in 2021. Robinson did drop at least two passes during each of his final three seasons at Alabama; just realize he might offer a bit more three-down ability than given credit for, particularly if his pass-blocking chops continue to develop.
Of course, Robinson won't be catching many passes in a Washington backfield that features two superior pass-down talents in J.D. McKissic and Antonio Gibson. His third-round draft capital should land Robinson ahead of 2021 undrafted free agent Jaret Patterson as the offense's No. 3 back out of the gate.
There's a very real chance Washington grew frustrated enough with Gibson's six fumbles to now plan on splitting up some of the early-down work between him and Robinson. The problem for the rookie's fantasy stock is that 1.) Gibson will still work as the lead back, and 2.) McKissic will continue to dominate pass-down work. That means that Robinson is multiple injuries away from even having a chance to work across all three downs; he's more of a nuisance to Gibson and McKissic than a real potential fantasy value ahead of 2022 due to volume concerns.
The good news is that Robinson's third-round draft capital could wind up earning him a chance to work as Washington's early-down back once Gibson is a free agent in 2024. Unfortunately, that opportunity doesn't figure to be around much sooner.
2022 re-draft rank: RB5
2022 rookie rank: Mid-to-late RB1
---
Fantasy outlook: Allgeier is one of just four draft-eligible running backs who boasted a 70.0-plus PFF grade in rushing, receiving and pass blocking in 2021. The only problem with him is that he might not be elite enough in any single area to seize a full-time starting job — hence his PFF draft comp with Devontae Booker.
Still, Allgeier is a rare Day 3 back worth paying attention to thanks to his theoretical three-down ability. The Falcons again enter 2022 with Cordarrelle Patterson and Mike Davis atop the depth chart. Former Chiefs Super Bowl hero Damien Williams also joined the squad, but he's 30 years old and only received a one-year deal worth just $1.1 million.
This is about as soft of a running back room as an Allgeier truther could hope for. His back is certainly against the wall ahead of 2022 considering only 2012 Alfred Morris, 2013 Zac Stacy, 2016 Jordan Howard, 2018 Phillip Lindsay and 2020 James Robinson are the only rookies to post top-24 PPR production after not being drafted inside the first three rounds. Still, Allgeier's landing spot is similar to some of those historically elite performers in terms of the relatively soft competition at hand — he's a worthwhile dart in the final rounds of larger re-draft formats thanks to his potential to work across all three downs if/when a starting opportunity comes his way.
Don't freak out in dynasty over a fifth-round pick, but Allgeier could feasibly be the last man standing in this backfield by this time next year should the Falcons decide to part ways with their trio of 30-plus-year-old running backs.
2022 re-draft rank: Borderline RB6
2022 rookie rank: Low-end RB1
---

Fantasy outlook: Pierce is a speedy wide receiver who was consistently a deep threat throughout his college career. He maintained a 16.8 average depth of target, ranking among the highest in the NFL. He's incredibly athletic, ranking over the 90th percentile in both the vertical jump and broad jump.
In addition, 63.6% of his receiving yards came from go routes, slants and posts. He might never be a complete receiver for Indianapolis, but he will have a clear role.
He is joining a Colts team where he can make an immediate impact. The Colts didn't have a receiver among the top-25 in deep receiving yards. Their wide receiver depth was thin last season, and since then they've lost Zach Pascal and haven't re-signed T.Y. Hilton. Currently, his main competition for the outside receiver role opposite Michael Pittman is Ashton Dulin.
Matt Ryan will be Pierce's quarterback at least for one season, which could be a problem for Pierce. Ryan has consistently been anywhere from average to bottom of the league in terms of deep pass rate despite playing with some great wide receivers. His deep targets might not come as often as some fantasy managers would like. If anything Pierce will be able to run deep on most pass plays, opening things up for the rest of the offense.
2022 re-draft rank: WR7
2022 rookie rank: low-end WR1
---

Fantasy outlook: Robinson was the 19th wide receiver on our big board. The undersized wide receiver seems destined to be a slot receiver in the NFL. He has a low catch radius and could be stuck being a gadget player at least early in his career. He ranked third in screen catches last season with 35, leading to 268 screen yards. If he wasn't catching passes behind the line of scrimmage he was going deep, where he had 16 deep catches.
Robinson is 5-foot-8, making him one of the shorter wide receivers in the NFL. Only seven wide receivers were 5-foot-8 or shorter and had at least 150 receiving yards last season. Two of them were on the Bills, playing for now-Giants head coach Brian Daboll.
He seems destined to eventually replace Sterling Shepard as the Giants slot receiver. The 29-year-old agreed to a pay cut earlier this offseason, which all but assures him a roster spot for 2022, but not beyond that. Both Kadarius Toney and Darius Slayton have been mentioned in trade talks, and this increases the odds one of them is traded.
Robinson will likely carve out a role in the Giants offense in his first year, but it might take a year before he becomes a regular player in the offense.
2022 re-draft rank: WR7
2022 rookie rank: low-end WR1
---

Fantasy outlook: Spiller's draft stock took a huge hit after a poor combine performance, including a 4.63 40-yard dash backed up by a lackluster broad jump (114) and vertical (33).
Despite those concerns, there are many positives about the former four-star recruit's profile. First, he will be only 21 when the 2022 NFL season begins, making him the youngest back in the class. Second, he was above NCAA averages in career avoided tackles (24%) and explosive rushes (16%).
And from a production standpoint, Spiller is one of the better prospects in the class. He accounted for 24% of the Texas A&M offense as a freshman and averaged 103 yards per game over his career. Only two other backs in the class accomplished those two feats (Hall and Sincere McCormick).
Austin Ekeler is the entrenched starter for the Chargers and Spiller isn't likely to change that, but he should beat out Joshua Kelley for the backup role. His all-around profile means he could take over a near every-down role should Ekeler go down, making him a great stash option — especially in PPR formats.
2022 re-draft rank: RB6 (upside handcuff)
2022 rookie rank: mid-range RB1
---

Fantasy outlook: The 49ers added the highest-graded pass-blocking running back in the class. Davis-Price became more involved in LSU's offense as each year progressed until he was the clear starter with the team this past season. He has everything you want in a running back athletically, but his production didn't always match. This is an interesting pick for San Francisco, as he ran inside zone, counter and man run plays in college while the 49ers run an above-average amount of outside zone and power. He only has 28 career catches on 385 routes run over three seasons, so he isn't an experienced receiver.
He joins a crowded 49ers backfield led by 2021 sixth-round pick Elijah Mitchell. Jeff Wilson, JaMycal Hasty and 2021 third-round pick Trey Sermon are all backups, and one of them will likely not make the roster after the Davis-Price pick. The backfield is even more complicated considering the emergence of Deebo Samuel as a runner, as well as the versatility of fullback Kyle Juszczyk.
Davis-Price would likely need an injury or two to other backs to see a significant contribution as a rookie. Considering how young the other backs on the roster are, he simply needs to outperform the other players to earn a starting role.
2022 re-draft rank: RB7
2022 rookie rank: Mid-to-low RB1
---
Fantasy outlook: Haskins is the new handcuff to Derrick Henry in Tennessee. The former Wolverine reached a career 91.6 rush grade in his limited time as a runner. He was the only player in FBS or FCS to reach over 100 rushing first downs last season, with a total of 103. He's a tough runner, and the Titans love a tough runner.
He joins a Titans team that mostly had receiving backs as the depth behind Henry. Dontrell Hilliard will be the team's receiving back, so Haskins will likely only play to close out games or if Henry gets injured. D'Onta Foreman succeeded in this role last season, which led Foreman to find a better contract with the Panthers. Haskins should be drafted in deeper leagues where all handcuffs are picked up, but can be left on the waiver wire in leagues with lighter benches.
2022 re-draft rank: RB7
2022 rookie rank: RB2
---

Fantasy outlook: No other receiver in this class posted a more productive profile than the former Boilermaker. His 30%-dominator breakout age of 19.7 is the best in the class. However, there are a few red flags in his profile.
Bell's 40-yard dash time (4.65) isn't a huge concern by itself because it is overvalued in relation to early NFL production for wide receivers. Unfortunately for Bell, the concerns about his explosiveness don't end with the stopwatch. His 19% career explosive play rate (48th percentile) is 2% below the NCAA average and well below most other top prospects in the class.
The Purdue product's draft stock dropped from a projected second-round valuation to the end of the third due to the challenges outlined above. However, he lands on a roster that doesn't have its No. 2 receiver option locked in at this point.
Donovan Peoples-Jones is probably the early favorite to start outside opposite Amari Cooper as the field stretcher and last year's third-round pick Anthony Schwartz will battle for slot reps in an offense that loves to use 12 personnel and is willing to run the rock as much as anyone in the NFL.
We will have to monitor this one closely in camp, but Bell will need to lock down the No. 2 role to have any kind of value in fantasy football for 2022.
2022 re-draft rank: WR6
2022 rookie rank: high-end WR2
---
Fantasy outlook: PFF's "most willing pass-blocker in the class" has the ability to work across all three downs, especially the third one where high-end pass-game ability is most preferred. Of course, size concerns (5-foot-9, 194 pounds) could limit his chances at ever commanding a fantasy-friendly three-down role. But that doesn't mean his target upside couldn't wind up being worth chasing later in fantasy drafts should a scat-back role arise.
However, fifth-round draft capital would indicate Williams is likely more competition for Jake Funk and Xavier Jones as opposed to Cam Akers and Darrell Henderson. Head coach Sean McVay has shown a willingness to feature the likes of Todd Gurley, C.J. Anderson, Sony Michel, Akers and Henderson in true every-down roles over the years, but Williams doesn't profile as the sort of back to join that list.
There's a chance Williams steals third-down and obvious pass-down work from Akers and Henderson, but that sort of job doesn't figure to lend itself to much fantasy upside. Akers has posted snap rates of 63%, 79%, 61%, 66%, 72%, 96%, 53%, 81%, 39% and, most recently, 57% in his last 10 non-limited games as the Rams' featured back. If anything, Williams is more of a concern for Henderson, who worked as the offense's primary receiving back in the Super Bowl.
2022 re-draft rank: Undrafted
2022 rookie rank: Mid RB2
---
HONORABLE MENTIONS
| | | | | | |
| --- | --- | --- | --- | --- | --- |
| Number | Player | DM Redraft | IH Redraft | NJ Redraft | Consensus |
| 26 | Zamir White | 29 | 26 | 26 | 27 |
| 27 | Romeo Doubs | 26 | 20 | 37 | 27.7 |
| 28 | Snoop Conner | 35 | | 22 | 28.5 |
| 29 | Kenny Pickett | 28 | 31 | 27 | 28.7 |
| 30 | Pierre Strong Jr. | 30 | 28 | 29 | 29 |

Fantasy outlook: White was one of the biggest winners of the NFL combine after posting a 4.40-second forty-yard dash at 214 pounds, which created some Day 2 buzz that ultimately didn't materialize. Some of that might have been due to underlying metrics not matching up with his athletic testing. He was average in avoided tackles per attempt (22%) and explosive rush rate (15%) compared to his peers.
The former Bulldog's best career yards per game (59) and best share of team yardage season (23%) are far below the thresholds we look for to forecast success at the NFL level. However, the former five-star recruit shared time with James Cook at Georgia, where we have seen split backfields from NFL-caliber backs before.
We are likely dealing with an early-down grinder who is currently depth chart-challenged, with Josh Jacobs and Kenyan Drake sitting at No. 1 and No. 2. However, the Raiders didn't pick up Jacob's fifth-year option, meaning we could have a starting running back on our hands in 2022. The fourth-round draft capital means the guy they call Zeus will still be at risk of seeing another back leap him on the depth chart in 2023 via free agency or the draft.
2022 re-draft rank: RB6
2022 rookie rank: Low-end RB1
---

Fantasy outlook: Doubs has the physical traits to be an NFL wide receiver, but his college film was inconsistent at times. He went from being a deep threat to a more well-rounded receiver in 2021, but there were a number of games where he wasn't as involved in Nevada's offense. He's not as good at contested catches as one would think given his size, but that is something he can improve on while remaining a deep threat in the NFL.
He is the second wide receiver taken by the Packers in this draft. Doubs can help fill the void left by Marquez Valdes-Scantling — a potential home run hitter. He will likely start fifth on the Packers' depth chart but should be included in a rotation and have every opportunity to earn a starting job if he plays well enough.
2022 re-draft rank: WR8
2022 rookie rank: Low WR2
---
Fantasy outlook: Conner possesses the sort of size (5-foot-10, 222 pounds) a team wants in a three-down back and is just 21 years old. Throw in a 4.59-second 40-yard dash, and it's easy to see why a professional opportunity is being thrown his way. Still, he never handled even 150 touches in a season at Ole Miss, showing limited ability to shake defenders (44.9 elusive rating) or drag them for extra yards (2.48 yards after contact per carry).
A roster spot is far from guaranteed for Conner, particularly if James Robinson (Achilles) and Travis Etienne (foot) are each ready to go by training camp. Ryquell Armstead could also provide some competition for backup duties and special teams work. Ultimately, Conner is multiple injuries away from maybe having a role inside of what figures to again be at least a below-average offense. He's completely off the 2022 re-draft grid and profiles only as a late-round dart in dynasty land.
2022 re-draft rank: Undrafted
2022 rookie rank: Mid-low RB2
---
Fantasy outlook: Pickett constitutes the least rush-heavy quarterback among the draft's top-five talents. This isn't to suggest that Pickett is a statue in the pocket; his fake slide touchdown was truly masterful. Still, Pickett posted a pedestrian 28-40-3 rushing line on non-scrambles while only forcing five total missed all season.
Comps to Tony Romo seem appropriate for Pickett's rushing ability: He's capable of making the defense pay if unaccounted for and should supply plenty of off-script goodness, but expect a pass-first mindset and minimal designed-run usage.
It'd make sense if Pickett is starting under center sooner rather than later with only Mitch Trubisky and Mason Rudolph as competition. Still, success even as a passer is far from guaranteed early, particularly if PFF's reigning 26th-ranked offensive line fails to improve. Pickett's 3.19 average time to throw was egregious last season and needs to improve.
The verdict is out on Pickett as a 2022 real-life quarterback, but he's well off the re-draft fantasy grid despite the solid landing spot. It's fair to rank Pickett outside of the league's top-24 fantasy signal-callers; he's in the conversation with guys like Matt Ryan, Marcus Mariota, and Carson Wentz as nothing more than best-ball QB3s or streamer additions in a good matchup.
2022 re-draft rank: borderline QB2
2022 rookie rank: top-three QB
---

Fantasy outlook: Strong is a change of pace back who fits what the Patriots look for in a running back. He will never be an every-down back for the team but has the chance to break a touchdown run when given an opportunity. His 4.37 40 time was among the very best at running back in the class. Strong will probably never be a receiving back in New England, as he consistently had drop issues throughout his college career.
He joins a crowded Patriots backfield, where he will fall behind Damien Harris and Rhamondre Stevenson on early downs while James White remains the third-down back. Strong potentially could be inactive for several games this season unless there is an injury. Harris is in the last year of his contract, and this pick makes it more likely that Harris reaches free agency and signs elsewhere. The ideal situation for Strong is that Harris gets traded sooner rather than later.
2022 re-draft rank: Don't draft
2022 rookie rank: Low RB1
---