The 2021 fantasy football redraft season may be over, but dynasty season never ends. So, to help prepare fantasy managers for 2022, I'm here to offer the first draft of my 2022 dynasty rankings — my top 250 players for PPR leagues with no superflex.
Click here for more PFF tools:
Rankings & Projections | WR/CB Matchup Chart | NFL & NCAA Betting Dashboards | NFL Player Props Tool | NFL & NCAA Power Rankings
Best Bets Tool
---
Everything on this list can — and will — change between now and September. Some players will soon be changing teams in free agency, and it's only three months until the 2022 NFL Draft shakes up the league's depth charts.
I haven't included the 2022 rookie class in this iteration of the rankings, but if you're keen to get a glimpse of the class' best players, check our 2021 NFL Draft Big Board. All unrestricted free agents are noted instead of their current team, even if they are likely to re-sign.
Last updated: 7:00 a.m., Wednesday, Jan. 19
The league has more than its fair share of dynamic young wide receivers, but it's so hard to find a good young running back who plays a significant role in their offense. Comparatively, there are significantly more wide receivers to get excited about for 2022 and beyond, which is why the running back position headlines these rankings.
Jonathan Taylor will be the unanimous RB1 in dynasty leagues throughout the offseason, though Najee Harris shouldn't be far behind. The Steelers workhorse finished as the RB3 this past season in large part thanks to volume — his 978 offensive snaps were 170 more than any other running back.
Harris played behind one of the worst offensive lines in the NFL in 2021, finishing the year as the only 1,000-yard back to average less than a yard before contact per carry. However, Pittsburgh has the cap space to improve this offseason, and finding help on the offensive line worked wonders for Austin Ekeler this year.
Javone Williams rounds out the top four due to the combination of his age, talent and potential opportunity. The North Carolina product is currently only 21 years of age, and he just led the league in avoided tackles per carry at 0.31. Williams played roughly 50% of offensive snaps for Denver last season but finished as the RB1 for the week when he was elevated into the starting role. Melvin Gordon III is a free agent, and the Broncos' new head coach will likely use Williams much more than 50% of the time.
Ja'Marr Chase is a top-10 dynasty asset no matter who you ask, but Jaylen Waddle and Michael Carter at No. 12 and No. 15 might be a little more controversial.
Waddle was WR12 during his rookie season, which likely would have made more headlines if not for Chase. The Alabama product finished as a top-20 fantasy wide receiver in eight of his last 14 games after a quiet start to the season. The Dolphins have the most cap space of any team this offseason — Miami's offense should improve drastically over the next few months, so hopefully Waddle can have more end-zone opportunities in 2022.
Carter showed his promise in the middle of the season, where he was RB5 from Week 7 to Week 11. He consistently handled double-digit carries and most of the receiving work before a Week 11 ankle injury cost him the following three games.
Carter received the kind of playing time fantasy managers want out of a top-10 fantasy back, but trailing game scripts and the lackluster Jets offense hindered his value. Wholesale improvements this offseason should result in an increased workload in the running game — and more touchdown opportunities — for Carter.
D'Andre Swift is notably lower here than he is in other dynasty rankings. His 58.3 PFF overall grade was the lowest among the five Lions running backs last season. His 2.4 yards after contact per carry and 0.11 avoided tackles per carry ranked second- and third-worst, respectively, among the 30 running backs with 150 or more carries.
Swift dazzled in one game with 33 carries, but outside of that game, he failed to run more than 15 times in a game all season. Craig Reynolds gave us one of the best rushing performances of the Lions' season and remained part of the rotation late in the year, with Swift running the ball just 11 times over his final two games. The former second-round pick plays on a team that loves to run the football but hasn't convinced anyone that he should be the running back to get those carries. There are several backs in free agency or the draft who could become the primary runner in Detroit in 2022.
The former Georgia Bulldog could keep the receiving back role in 2022, but his play as a pass-catcher out of the backfield declined this season. He averaged 0.39 yards per route run over the second half of the season, last among 45 qualifying running backs. Every back ahead of him in these rankings is either just as young but has played better to this point or is a little older and has played much better.
Lamar Jackson comes in at QB1 despite finishing seventh in fantasy points per game among quarterbacks last season at 21.2. The Ravens were the team hardest hit from injury, according to our WAR-Adjusted Injuries Lost data, but they should be much better situated next season.
Baltimore ran the second-most red-zone plays in 2019 and 2020 thanks to their run game and strong defense, and both units were hit particularly hard this season and the team's outputs diminished as a result.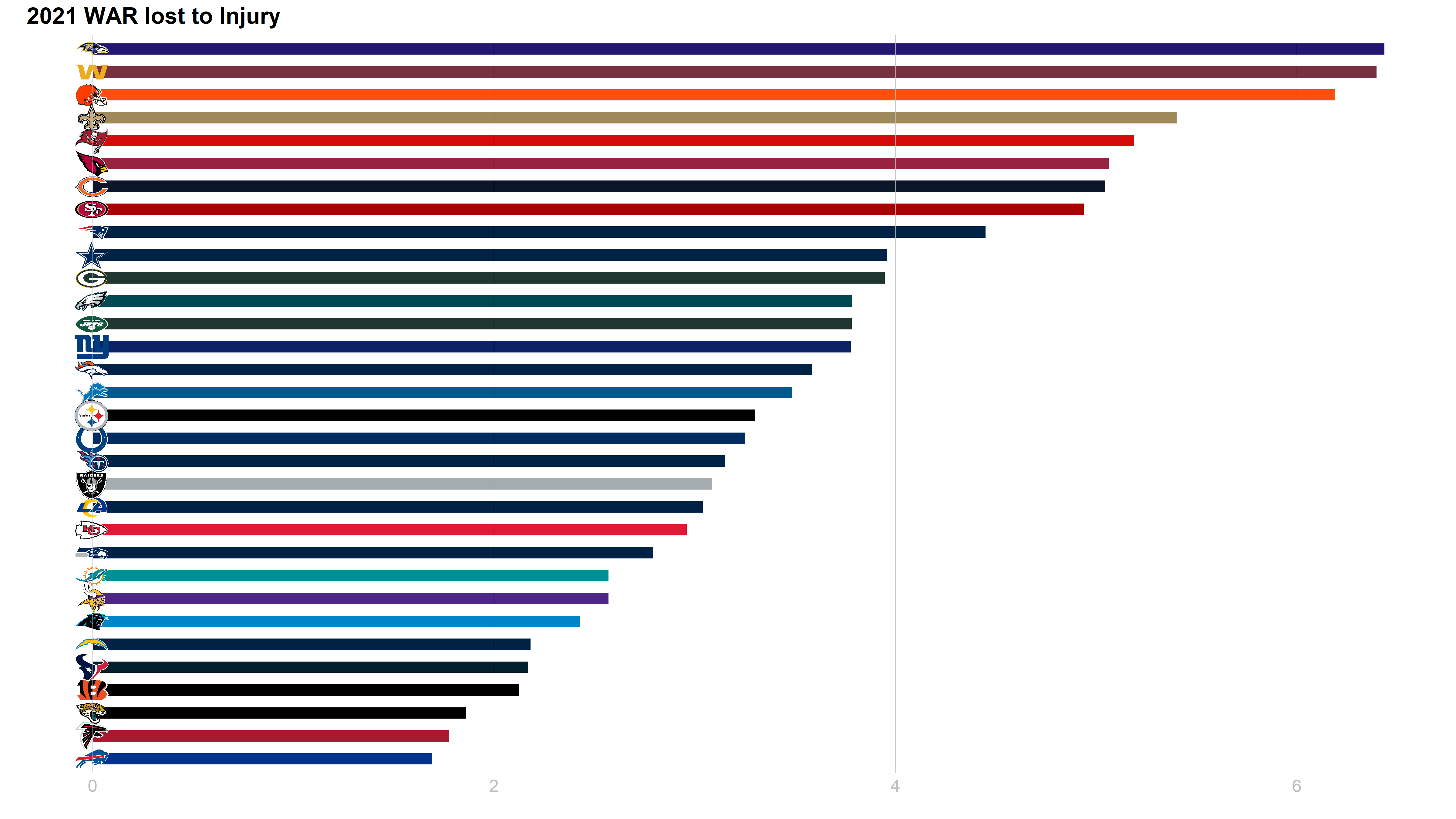 Jackson was one of those players impacted by injury. The 25-year-old got off to a fantastic start to the season but showed up on the Week 6 injury report with an illness, and his play declined from there. His name started to show up more and more on the injury report as the season went on, and then he suffered an ankle injury that cost him the last few weeks.
The Ravens offense was unable to hit the heights of 2019 and 2020, but things should get better with Jackson at 100%. He has three young talented receivers in Mark Andrews, Marquise Brown and Rashod Bateman who can be an elite force in the NFL for the next decade. No other young quarterback has the same combination of rushing ability and young talent at multiple receiver positions.
There are enough good young quarterbacks, running backs and wide receivers in the league that there aren't any older players at those positions anywhere near the top of these lists. Unfortunately, there is not the same luxury at tight end.
Kyle Pitts and Mark Andrews should be the consensus top two tight ends in dynasty. The gap between Travis Kelce and the rest of the league remains too high.
The Chiefs pass-catcher scored over 50 fantasy points more than any other tight end not named Andrews despite missing a game, and there's been a 30-point gap between him and the next best fantasy tight end in each of the previous two seasons.
Still, there is a chance Kelce could fall later this offseason because several other tight ends are facing some level of uncertainty. Four of the top 13 tight ends last season are hitting free agency, while other top tight ends could be welcoming new quarterbacks next year. Having Patrick Mahomes throwing to Kelce adds too much surplus value, even if it's just for a few more seasons compared to other situations with less certainty.

Rondale Moore is the first player on the list with minimal past fantasy production. He finished 2021 as WR64, with one week at WR6 and no other week as a top-20 fantasy wide receiver. He missed a few weeks at the end of the season, but we had another taste in the playoffs of what could be coming next season. His seven targets during wild-card weekend were his third-highest target total of the season.
Christian Kirk and A.J. Green are unrestricted free agents, and it's unlikely both players return given the Cardinals' cap situation. They only have $6 million in effective cap space, according to Over The Cap, and several other important unrestricted free agents, such as both running backs, Zach Ertz and the PFF's fourth-best free agent Chandler Jones. Moore being fourth on the depth chart this season was a luxury, but it's one the Cardinals can't afford next season.
Michael Thomas was one of the biggest high-risk, high-reward draft picks last year — and it ended up being all risk and no reward. Until there is more clarity on his situation, he will likely give fantasy managers headaches once again. He didn't play at all last year and was limited to seven games in 2020. When we last saw Thomas at full strength, he averaged over 100 receiving yards per game and a touchdown every other game. His 2019 fantasy point total would have ranked second in 2021 despite the 16-game schedule. The Saints could desperately use him, or the more likely outcome is he ends up with a new team. This could revitalize his career or make him just another receiver depending on the situation.
Trey Lance comes in at QB7 even though he barely played during the 2021 season. Many expect him to take over the starting role for the 2022 season. He was a top-10 fantasy quarterback in his most recent start. He ran the ball 16 times, top-five among quarterbacks not named Lamar Jackson in the last 40 years. He will have much more talent around him than most rushing quarterbacks and is one of the few quarterbacks with the potential to be the QB1 for several years. There is also a chance he is stuck being a backup for another season if the 49ers go too far in the playoffs with Jimmy Garoppolo.
Gabriel Davis and Josh Palmer are two more wide receivers who haven't fully proven themselves but could see significantly more targets in 2022. Both teams have a starting wide receiver hitting free agency, which could elevate them to the No. 2 receiver on their team. Both are playing with elite starting quarterbacks. Davis put together a WR4 performance late in the 2021 season, while Palmer finished as a top-32 fantasy wide receiver in three of the last five weeks. If everything goes right, they can be consistent fantasy starters for several seasons.