Injuries, or a lack thereof, can make or break an NFL team's season. Just ask the Dallas Cowboys and San Francisco 49ers, who were both favorites to win their respective divisions in 2020 before a slew of injuries decimated their chances of making the playoffs.
Subscribe to
Right now, few public metrics capture the impact that injuries can have on a team's on-field performance. 
That's where WAR-Adjusted Injuries Lost (WAIL) comes into play. WAIL takes each player's projected Wins Above Replacement (WAR) for each game of the season and calculates the WAR lost due to injury based on a player's status on the injury report.
| | |
| --- | --- |
| Injury Status | Percent Chance to Play  |
| IR, Out, Suspended | 0% |
| Doubtful | 1% |
| COVID-19 | 30% |
| Questionable | 73% |
| Probable | 95% |
Football Outsiders has its own injury metric, but WAIL differs by placing a bigger impact on positional importance and how good each player is. For example, quarterback Dak Prescott's projected WAR for his Week 6 game against the Arizona Cardinals was +0.14, but since he suffered his injury the week before, that 0.14 counted toward the Cowboys' total WAIL for the season. Since Prescott is a quarterback, he had the most projected WAR and therefore the most WAIL on the team, but the Cowboys experienced injuries at multiple positions in 2020.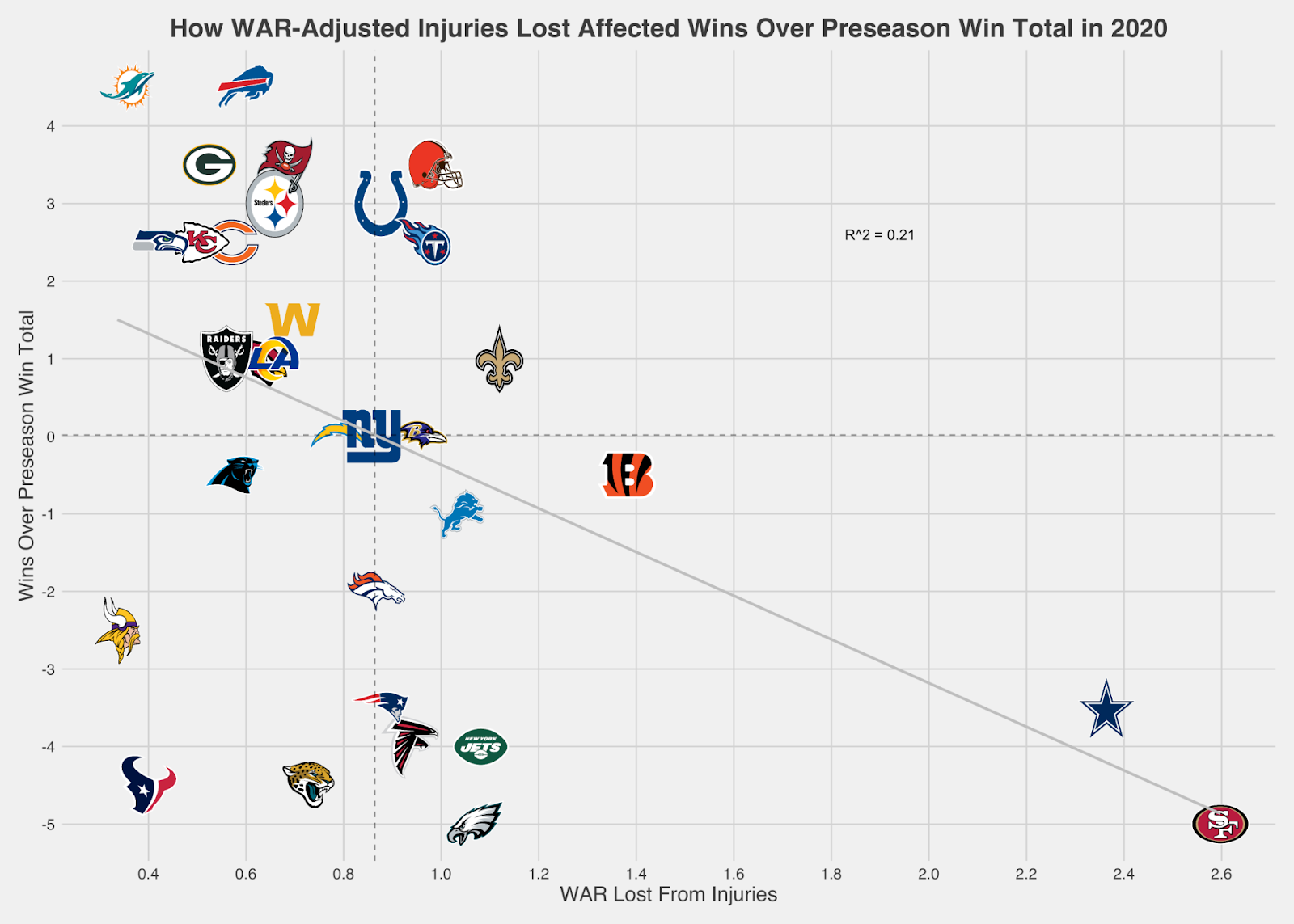 The 49ers also dealt with a multitude of injuries that derailed their hopes of repeating as NFC champions. On the flip side are the Buffalo Bills and Miami Dolphins, who both stayed very healthy in 2020, which helped them overachieve compared to where betting markets projected them to finish in the preseason. Out of 32 NFL teams, only eight were healthier than average and underperformed (bottom left) or vice-versa (top right). 
The good news for the Cowboys and 49ers is that WAIL isn't stable from one year to the next. Most injuries are fluky, especially the ones that force quarterbacks to miss time.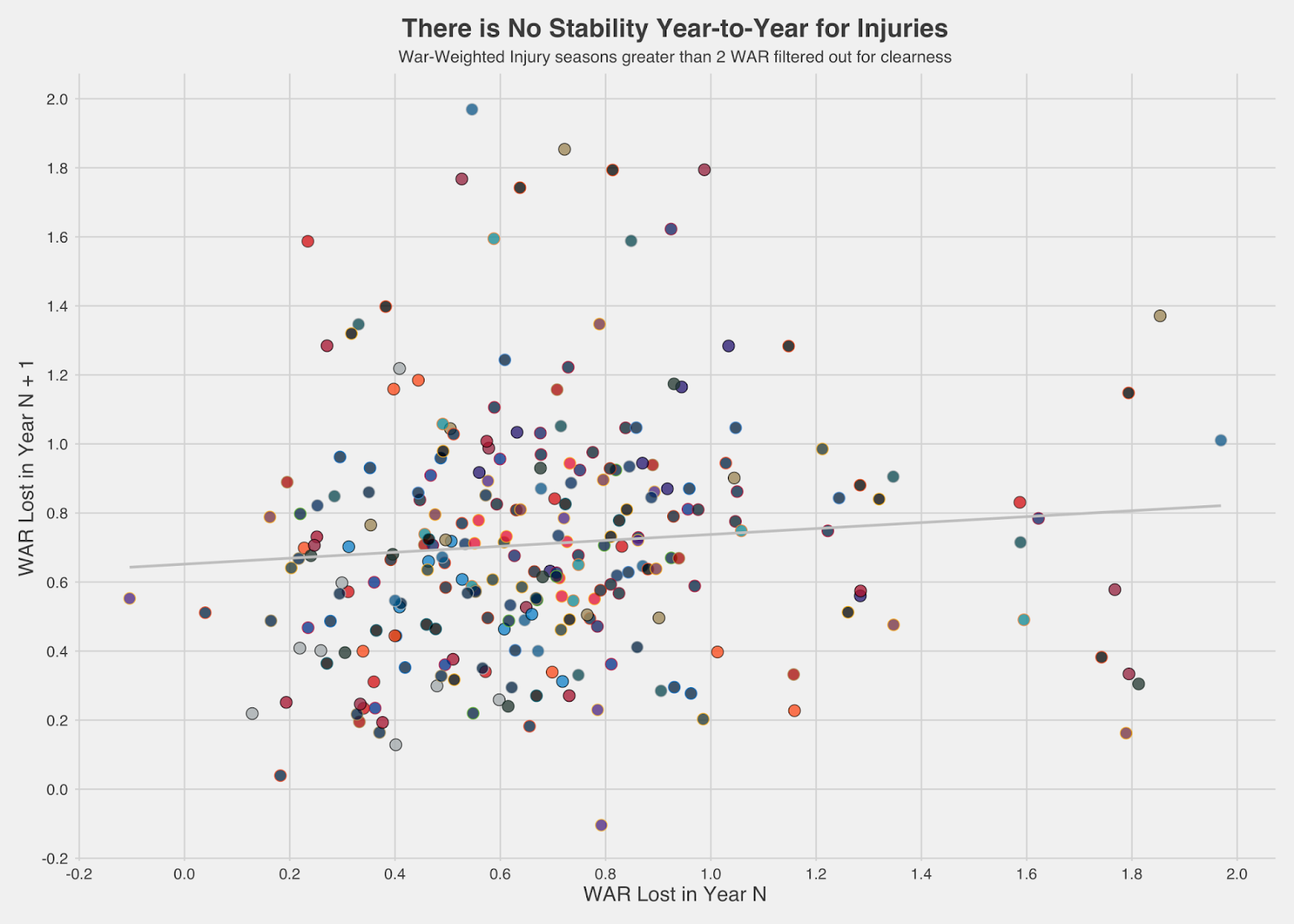 But one thing that is stable from year to year is the amount of WAR lost due to injuries and when the injuries happen over the course of the season.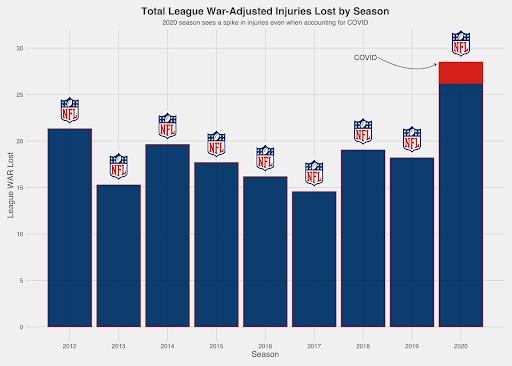 2020 was an outlier year for injuries in the NFL. Even when accounting for games missed due to COVID-19, the 2020 season still had the most WAR lost to injuries dating back to 2012. Between a virtual offseason, no preseason and various COVID-19 protocols, this could have caused players to not fully be in "football shape" when the season played out.
Last year followed a similar trend to prior seasons, with injuries spiking during the middle weeks. Injuries happened at a much higher rate each week this past season than in any campaign back to 2012, which is when our injury database starts: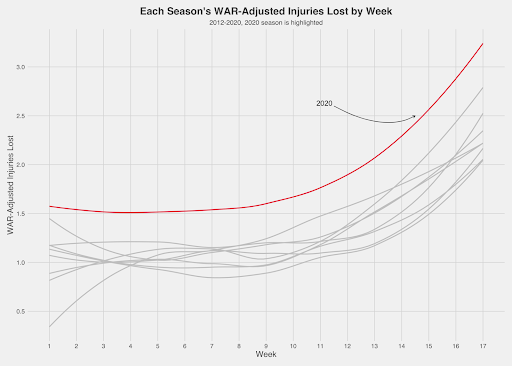 The rise in injuries can be attributed to the 2020 Cowboys and 49ers — the two most injury-stricken teams in our entire dataset.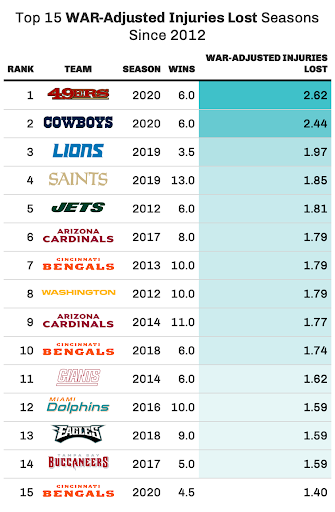 Each of the top four teams on this list featured quarterback injuries, with Dak Prescott and Jimmy Garoppolo going down in 2020, along with Matthew Stafford and Drew Brees going down in 2019 for the Detroit Lions and New Orleans Saints, respectively. The Cincinnati Bengals stand out, appearing three times on the list. No team has been hit harder by injuries in the past decade than Cincinnati: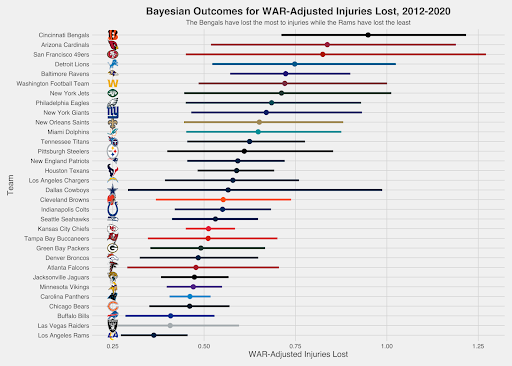 In fact, the Bengals have had their past six first-round draft picks get injured during the season:
</div<
Although Bengals rookies other than quarterback Joe Burrow haven't contributed to a high amount of WAR lost, these injuries might have stunted their development, as none of the first four players developed into long-term NFL starters. On the other side of that, no team has been better at staying healthy than the Los Angeles Rams.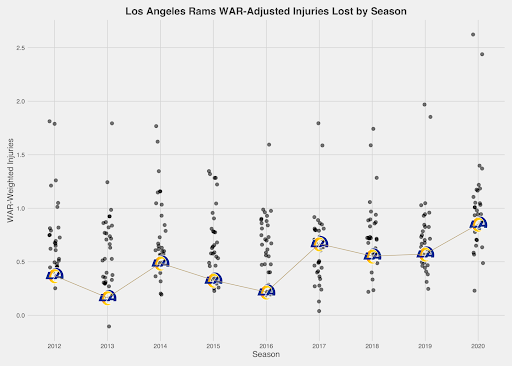 WAR-Adjusted Injuries Lost gives us a framework for seeing which teams are most affected by injuries throughout a season. This metric confirms what was previously thought — that injuries are random — with the interesting findings being how much harder teams were bit by the injury bug in 2020 than any other season and how unlucky the Bengals' have been in this regard since 2012. This metric can be used in the future to better make projections for in-season games. PFF will release the total WAIL for each heading into each week of the 2021 NFL season.