Football is back in swing, so life is good. Obviously, the results of each individual preseason game don't matter in the grand scheme of the season, but fantasy football fans can still learn plenty from the action. Specifically, it's important to grind first-team usage: Who a coach decides to surround their starting quarterback with is infinitely more useful than any early-August depth chart that some random PR intern put together.
Subscribe to
What follows are my key notes after two weeks of preseason action. I've watched every snap from the games, but the majority of the takeaways below are based on first-team snaps and injury notes.

---
Click here for more PFF tools:
Fantasy Draft Kit  | PFF Betting Dashboard | PFF Fantasy Rankings
PFF Fantasy projections | NFL Premium Stats | Win totals tracker
---
1. Rookie quarterback stock watch
The young class of first-round signal-callers continues to largely impress, although Jacksonville Jaguars QB Trevor Lawrence has relatively struggled. While Lawrence has performed just fine in his personal 'competition' for the team's QB1 job, his 61.2 PFF passing grade through two weeks beats only Trey Lance among first-round signal-callers. The starting offense is yet to score a touchdown with Lawrence under center.  It's obviously too early to panic, but it's fair to say the 2021 NFL Draft's No. 1 overall pick has been the least impressive among the highly-ranked members of his class.
The Zach Wilson experience has consisted of more highs than lows thus far. Clearly, the New York Jets found themselves a young man with all sorts of arm talent, as some of the throws Wilson put on tape last week were truly absurd.
Okay Zach Wilson okay pic.twitter.com/prWkZGwZEN

— Ian Hartitz (@Ihartitz) August 23, 2021
Wilson has yet to notch a turnover-worthy play and already looks plenty comfortable in offensive coordinator Mike LaFleur's Shanahan-style attack. Still the engine of one of the single-cheapest passing games in all of fantasy, Wilson deserves preference ahead of fellow late-round signal-callers Sam Darnold, Carson Wentz and Daniel Jones.
The Trey Lance experience consisted of both good and bad during the second week of the preseason, as an erratic start to the game was overcome by a pair of pretty touchdown passes. Lance also demonstrated his dual-threat upside with a rushing score on a two-point attempt, although the conversion was nullified by penalty. Coach Kyle Shanahan wouldn't name a starting quarterback for Week 1 afterward, but it's always made sense for Lance to land this job sooner rather than later given the stark difference in playstyle between himself and Jimmy Garoppolo. Even if it takes longer for Lance to get under center, fantasy investors can safely stream Kirk Cousins during his borderline erotic start to the season until Lance wins the job.
Essentially the only reason why anyone wants Andy Dalton to start the season ahead of Justin Fields is the idea that whoever is under center will be a bit of a sacrificial lamb behind the team's likely shoddy offensive line. This is particularly true against Aaron Donald and company in Week 1. Obviously, the Los Angeles Rams aren't an ideal first opponent, but where does it end? Myles Garrett will be on the field in Week 3. The Tampa Bay Buccaneers (Week 7) sure don't seem like an easy opponent. And after that, the Chicago Bears face the San Francisco 49ers, Pittsburgh Steelers and Baltimore Ravens. Don't overthink this people: Fields should be on the field as soon as possible regardless of the opponent because he's the better option. The sad reality is that the Bears' offensive line doesn't help matters, but if they truly fancy themselves as a contender, Fields should be under center sooner rather than later. Much like Lance, I'm continuing to pair Fields with Cousins in fantasy drafts of all shapes and sizes.
There arguably hasn't been a more impressive rookie quarterback than Mac Jones, who showed off some big-time arm talent during the New England Patriots' prolific preseason Week 2 performance. Through two weeks, Jones has proven plenty capable of winning as a passer from just about any situation:
Overall PFF passing grade: 93 (No. 1 among 45 qualified QBs)
When kept clean: 92.9 (No. 1)
When under pressure: 76.7 (No. 1)
When throwing 20-plus yards downfield: 94.9 (No. 2)
When throwing past sticks: 97.4 (No. 1)
Like Lance and Fields: I expect Jones to win this battle sooner rather than later mainly due to the large difference in playstyle between the rookie and the veteran. Cam Newton's latest covid-related absence certainly doesn't help his cause. Don't expect Jones to light the fantasy world on fire once he's under center; it'll be tough for such an immobile quarterback to put up absurd numbers. Still, all of the skill-position parties involved would receive a boost if Newton isn't around to vulture everyone near the goal line.
2. State of Denver and New Orleans quarterback battles
It looked like Drew Lock had the upper hand against Teddy Bridgewater after Week 1 of the preseason, but the latter signal-caller efficiently led multiple scoring drives in Week 2 while turning in some impressive throws along the way. This isn't to suggest Lock didn't make some plays in his own right, but the day simply went to Bridgewater. The timeline for Vic Fangio to pick a starter is waning thin, and ultimately neither player projects to be someone worthy of serious fantasy consideration other than as a streamer. This strategy won't be recommended for the majority of the Denver Broncos' rather rough start to the season against the New York Giants, Jacksonville Jaguars, New York Jets, Baltimore Ravens and Pittsburgh Steelers.
And then we have Jameis Winston, who might as well have won the job after his high-flying performance against the Jaguars on Monday Night Football. Not one but two dimes to Marquez Callaway demonstrated the difference in overall passing ability between the pair of New Orleans Saints quarterbacks. Throw in the reality that Taysom Hill demonstrated some shoddy pocket presence that led to sacks and an intentional grounding in Week 2, and I expect Winston to be the Week 1 starter.
This is great news for the likes of Callaway and Alvin Kamara but just realize Winston hasn't exactly lit up the fantasy football world throughout his career.
2019: QB8 in fantasy points per game
2018: QB15
2017: QB18
2016: QB20
2015: QB19
3. What if Tua is awesome in 2021?
The Miami Dolphins did an excellent job surrounding Tua Tagovailoa with playmakers this offseason. He's expected to be surrounded by the following receivers this season:
It remains to be seen if Tua will make the most of these pieces but through two weeks, his more-than-stellar performance at least suggests this passing game will take a step forward in 2021. This group remains affordable in fantasy land. Don't be afraid to draft players priced closer to their floor than ceiling.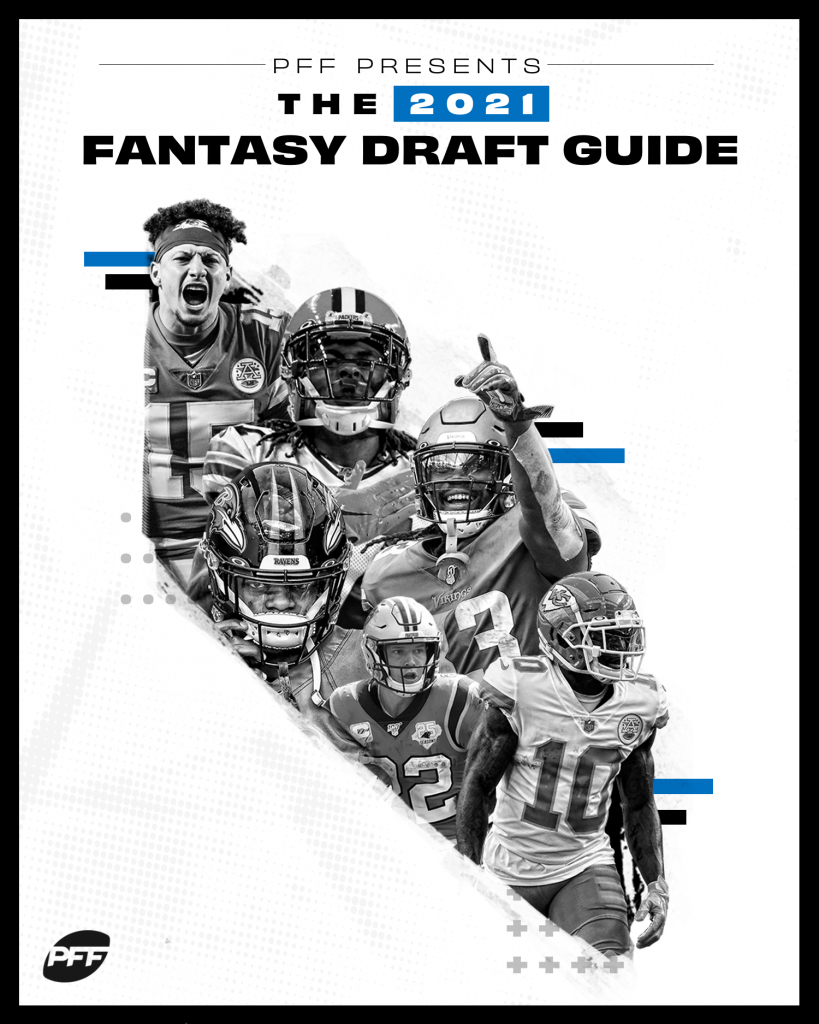 4. This Jets backfield doesn't look any clearer
In Week 1, the New York Jets featured Ty Johnson (13 snaps with the starters) ahead of rookie Michael Carter (9) with Tevin Coleman (personal) sidelined. Things got even worse for the first year back in Week 2, as Coleman (10) and Johnson (9) relegated Carter to No. 3 duties. I won't disagree with anyone that loves Carter's skill-set, but ultimately the Jets' opinion of the rookie matters far more than ours. Opportunity outweighs talent in fantasy football land, and Carter doesn't project to see all that much of it at the moment. He's someone I've consistently failed to land in fantasy drafts throughout the summer. Don't chase this falling ADP inside of the top-40 running backs.
5. OK, seriously, Najee Harris is about to get fed
The Pittsburgh Steelers have utilized their rookie as a complete workhorse through three games:
Hall of Fame: 18/18 snaps with starters (100%)
Week 1: 12/17 snaps (71%)
Week 2: 15/16 snaps (94%)
Last week's 2-53-0 receiving line demonstrated the sort of upside he possesses as a pass-catcher in this offense. The Steelers fed Le'Veon Bell an astronomical 244 carries and 66 targets in just 13 games as a rookie, and even a gross average of 3.5 yards per attempt didn't prevent Bell from returning PPR RB15 production.
PFF projections have Harris finishing with the seventh-most carries and targets among all running backs. It's simply tough for anyone to bust with this much volume. Continue to treat Harris as a legit top-10 back in fantasy formats of all shapes and sizes.
6. To Gibson or not to Gibson
Through two weeks, the Washington Football Team has made it clear they view Antonio Gibson as the engine of their offense. The rising second-year back has handled 17 combined carries and targets on 24 snaps.
The only problem has been third-down usage. Each of Jaret Patterson (11 third-down snaps), J.D. McKissic (10), Peyton Barber (3), Jonathan Williams (3) and Lamar Miller (3) have found more playing time on the money down than Gibson (1). This isn't the end of the world for Gibson's fantasy value, as he should flirt with 300 combined carries and touches regardless. Still, the lack of a true workhorse role is the difference between Gibson becoming Ron Rivera's DC-CMC or functioning as the lead back in more of a Nick Chubb or Jonathan Taylor-esque role.
This isn't to suggest anyone should fade Gibson, as the man is my overall RB11. Just realize the likes of Joe Mixon (RB9) and Harris (RB10) seem to have clearer paths to true three-down roles at the moment.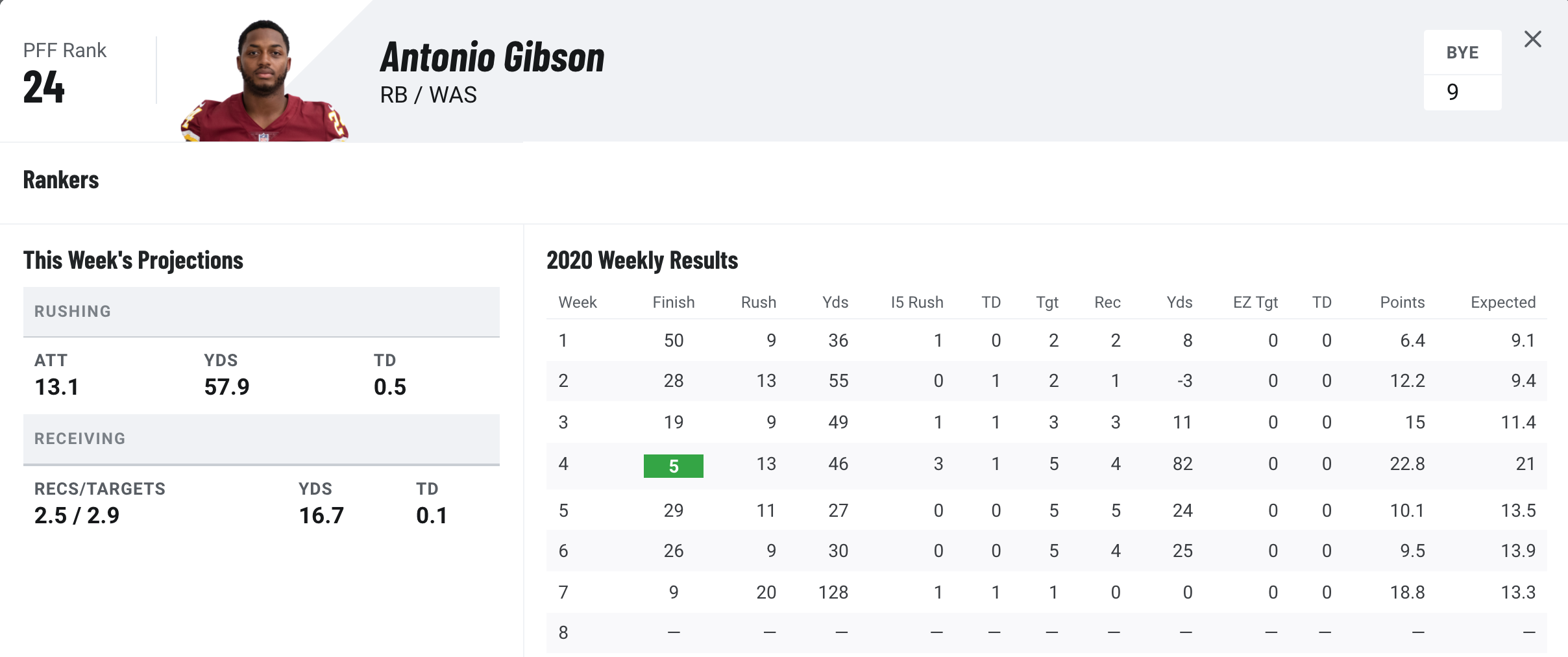 Kinda. At a minimum, people who already drafted Gaskin as an RB2 should feel better. In Week 1, Malcolm Brown out-snapped Gaskin 16-7, but the latter back led the way 19-5 in Week 2. Note that Salvon Ahmed played a rather robust 13 snaps with the starters last week as well.
It makes sense to project Gaskin as this backfield's leader in snaps, targets and carries but just realize he's dealing with competition from not one but two additional parties who most weren't anticipating would be part of the equation this time last month. Credit to Gaskin for making the most out of his opportunities last week. Continue to treat him as more of a borderline RB3 as opposed to RB2 in fantasy land due to the lack of projected season-long touches.
8. Surprise: New England's backfield again looks muddled
On the one hand, Damien Harris continues to look like the starter and No. 1 producer in this New England Patriots backfield. On the other, James White remains cemented as the pass-down back, and cut candidate turned preseason star Sony Michel suddenly is receiving first-team reps.
Overall, Harris (8 snaps) worked well ahead of both White (5) and Michel (4) in Week 2. He remains the back to draft and could flirt with double-digit touchdowns if the switch to Mac Jones happens sooner rather than later. This is enough to continue to draft Harris inside of fantasy's top-30 backs but just realize his potential to surge into the top-20 is dependent on Michel taking a true back seat in this offense.
9. Don't sleep on the Panthers having another fantasy-relevant handcuff
Last season, Mike Davis helped many fantasy squads by supplying legit RB1 production when Christian McCaffrey was sidelined. Now, the projected handcuff is Chuba Hubbard with Davis on the Atlanta Falcons, but it doesn't look like the Carolina Panthers have noticed the change. Overall, Hubbard has played on a whopping 27 of 28 first-team snaps through the first two weeks of the preseason.
I had concerns about Hubbard's pass-down ability when breaking down the top handcuffs prior to the preseason, but the Panthers clearly don't share these worries. The latter point is all that matters in fantasy land, so Hubbard deserves to be treated as one of fantasy's top-six handcuffs. The only pure backup running backs (excluding guys like A.J. Dillon and Kareem Hunt) I'd definitely take ahead of Hubbard in fantasy land at the moment are Tony Pollard and Alexander Mattison.
10. More multi-back committees remain largely sheesh-worthy
Unfortunately, not every backfield has given us good news. Each of the below four squads is expected to utilize multiple backs throughout 2021:
Denver Broncos — Melvin Gordon, Javonte Williams and Royce Freeman: Williams has impressed with his performance throughout the preseason but has worked as more of a 1A to Freeman's 1B as opposed to the featured starter. This is problematic with Gordon expected to be ready to go by Week 1. Don't be surprised if Williams is this offense's No. 2 back for longer than most would hope.
Buffalo Bills — Devin Singletary and Zack Moss: In fantasy, we can live with two-back committees, as there are only a few true workhorses left these days. However, problems arise once a third member is added to the crew. The thesis behind prioritizing Moss as one of fantasy's prime late-round backs was always about his ability to take over this backfield, but a hamstring injury and stellar play from Singletary have made that tough. Don't take too much away from Singletary out-snapping Moss 21-12 in the latter back's first game back from injury. Just realize a takeover doesn't look imminent (particularly if Matt Breida carves out a role when the games start to matter).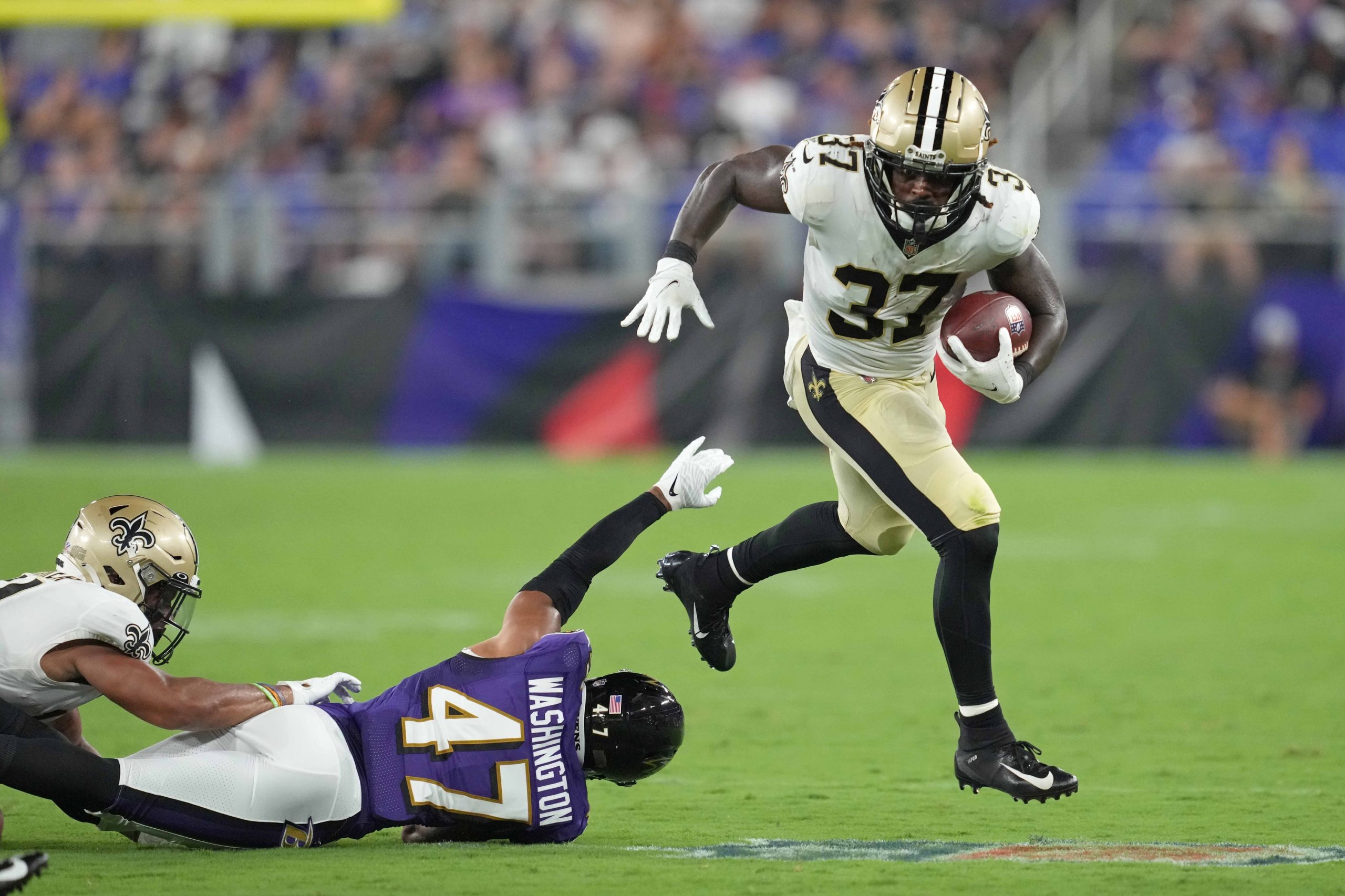 11. A new No. 2 RB in New Orleans emerges
Latavius Murray was presumed to be the first man up behind Alvin Kamara entering 2021, but now that honor seemingly goes to Tony Jones. The 2020 undrafted free agent totaled just three touches as a rookie but has since risen to No. 2 on the depth chart, per head coach Sean Payton.
Jones deserves to be the No. 2 back based on his performance this preseason, but the problem is that it's far from a given he'll be treated as the undisputed workhorse if Kamara misses time. This was the case for Murray in 2019, as he handled 84% and 82% snap rates while working as a top-three fantasy back in the two games when Kamara was sidelined. Still, it's not a given Murray or Devonta Freeman will be straight up cut prior to Week 1, making a committee more likely if disaster strikes.
Recent news forces us to elevate Jones as the No. 2 back in New Orleans, but I'm just hesitant in vaulting him up inside the top-45 backs in place of Murray. Obviously, the latter back can be safely ignored in fantasy formats of all shapes and sizes, but the moral of the story is that there might not be a No. 2 running back worth prioritizing from the Saints this season.
12. Injuries suck, man
The fantasy football world has received another shockwave in the form of first-round RB Travis Etienne suffering a Lisfranc injury. Per ESPN's Adam Schefter, Etienne's season is expected to be over.
The obvious winner is James Robinson. Don't expect the "RB1son" days to necessarily return. Robinson was so damn productive as a rookie primarily because only Dalvin Cook and Derrick Henry had more touches than him before he got hurt. Carlos Hyde out-snapped Robinson 8-7 with the starters in Week 2 and will remain involved to some extent. Still, "RB2son" could become a reality with the rising second-year back fully expected to lead the way on the ground and through the air during Etienne's absence.
Robinson settles in as my RB20 after the injury, behind the likes of Darrell Henderson and J.K. Dobbins but ahead of Javonte Williams, Miles Sanders and Mike Davis. Robinson highlighted my biggest fade at the position this time last month, so readjust to the new information at our disposal and get back to treating him as a top-20 player at the position. Hyde is someone I'm comfortable letting others draft late, as it's more likely the Jaguars would sign a scatback than truly elevate Hyde to a three-down role if Robinson misses time.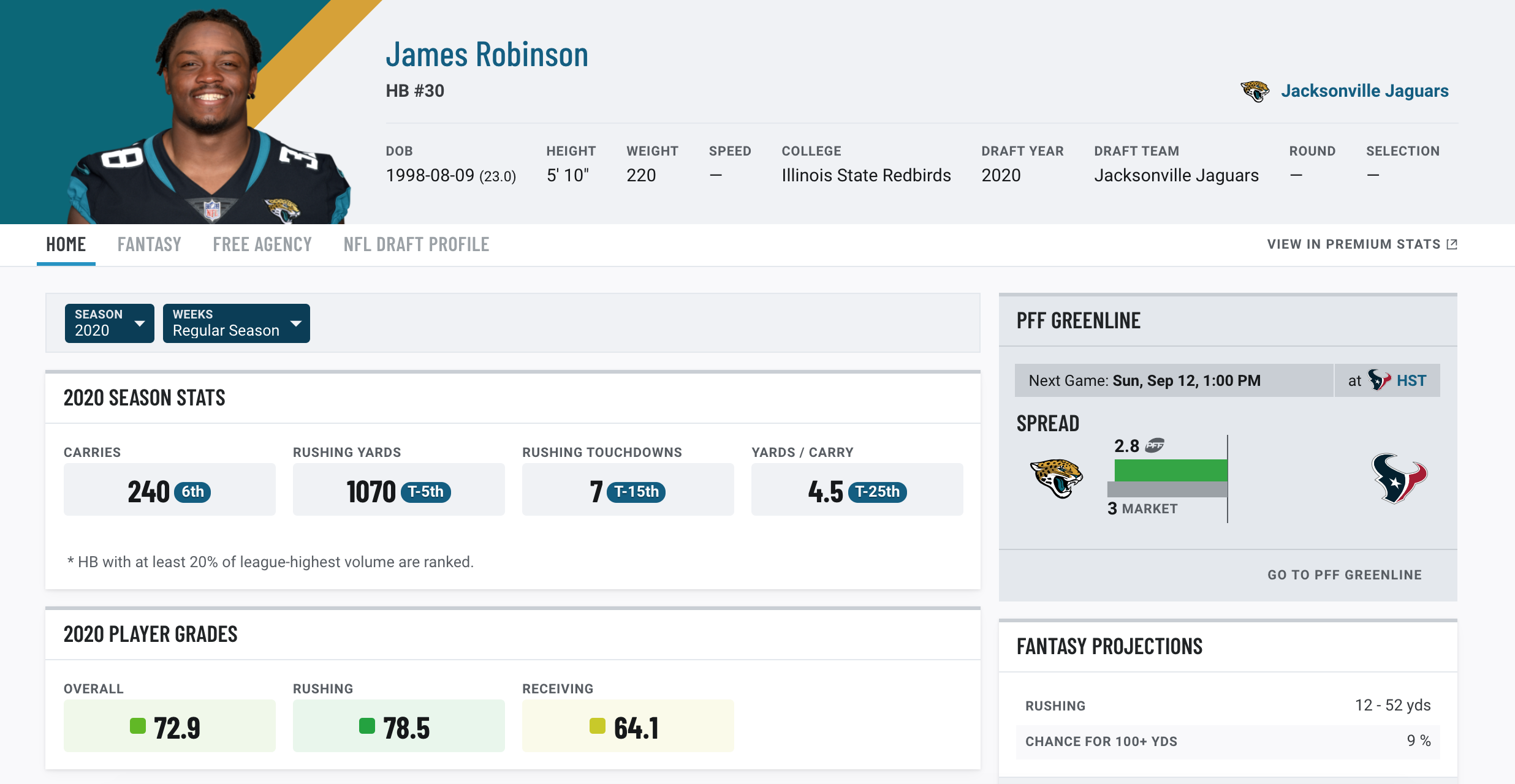 13. The cheapest No. 1 WR in fantasy football is still …
New York Jets WR Corey Davis, who has been targeted on 10 of his 13 routes this preseason. Seriously: the man has had a chance to catch the ball on 76% of his routes. No other receiver with even five targets has cleared the 50% mark. Obviously, this will drop during the regular season, but that doesn't mean Davis isn't a screaming value as the PPR WR46 over at Fantasy Football Calculator. My WR39 at this point, Davis deserves to be prioritized in every fantasy draft you enter.
14. Kliff Kingsbury might have a new fantasy-relevant receiver
Pint-sized rookie Rondale Moore has racked up eight targets and three carries on just 45 offensive preseason snaps. Madness. Sure, Moore hasn't displayed his patented big-play ability just yet, but these designed looks could elevate him to a PPR darling sooner rather than later if this sort of usage persists into the regular season.
The Cardinals getting Rondale Moore the football pic.twitter.com/R6shkUvLQQ

— Ian Hartitz (@Ihartitz) August 17, 2021
DeAndre Hopkins and (unfortunately) A.J. Green are projected to lead the way in targets, but that doesn't mean Moore can't carve out a fantasy-viable role himself as the team's new favorite underneath option. The Arizona Cardinals ranked 10th in total pass attempts to players aligned in the slot last season. Nobody has thrown more screens over the past two years.
Moore is regularly still available as a borderline WR5, so don't be afraid to scoop him up while he remains priced far closer to his floor than ceiling.
15. The answer to which Cowboys wide receiver to draft is yes
A great note from PFF Analyst Dwain McFarland's always brilliant utilization report:
"This game was Amari Cooper's first action since coming off the PUP – context worth noting. However, even if Cooper takes over more work later, the significant development is CeeDee Lamb bumping Michael Gallup off the field in 12 personnel. The only thing holding the second-year star back was the potential 70% route cap. Lamb will be the Cowboy's WR1 this year and is worth his current pick-31 ADP."
One can't catch the ball if they aren't actually on the field, so Lamb replacing Gallup as the Cowboys' second starting receiver in two-WR sets is a huge development for his potential to meet his ever-gaudy ADP. Obviously, Lamb (COVID) has some other issues to worry about at the moment, but it'll be hard to rank 12 receivers ahead of either Lamb or Cooper if both are good to go in Week 1.
Clearly, Gallup is the loser here but even then, he's a prolific No. 3 wide receiver in one of the league's highest-projected offenses. I certainly have no problem taking Gallup ahead of Darnell Mooney, Jarvis Landry, Henry Ruggs and Russell Gage, each of whom presently boast a higher average draft position.
Which Cowboys wide receiver should you prioritize in fantasy land? All of them. Happy drafting.
16. The Steelers' No. 1 wide receiver remains too cheap in fantasy land
Diontae Johnson was a better pass away from scoring a 75-yard touchdown last week. Oh well. The important thing is Johnson hasn't dropped a ball all preseason. The Pittsburgh Steelers have continued to treat him as their fairly undisputed No. 1 receiver.
Seriously: Johnson's targets last year were absolutely wild when healthy.
Week 1: 10 targets
Week 2: 13
Week 3: Injured
Week 4: Bye
Week 5: Injured
Week 6: Inactive
Week 7: 15
Week 8: Injured
Week 9: 10
Week 10: 11
Week 11: 16
Week 12: 13
Week 13: 12
Week 14: 7
Week 15: 13
Week 16: 14
Week 17: 4
Wildcard: 16
Spare me the idea that Johnson is anything other than a stud football player.
2019 Chris Godwin = 2020 Calvin Ridley = 2021 Diontae Johnson pic.twitter.com/0R6iLcYVuI

— Ian Hartitz (@Ihartitz) January 7, 2021
Most seem to finally be coming around on Ben Roethlisberger's No. 1 pass-game option but even then, his WR18 ADP doesn't seem to fully reflect the top-10 upside at hand. Chase Claypool (ankle) and JuJu Smith-Schuster will be plenty involved, but just realize Johnson is set up to (again) lead the way by a decent margin.
17. Will Patrick Mahomes enable more than one fantasy-relevant wide receiver?
There hasn't been much to bark about in regards to the Kansas City Chiefs offense in recent years other than the lack of a productive No. 2 wide receiver. Sure, Sammy Watkins filled this role admirably in Week 1s and during the 2018-2019 playoffs, but none of Mecole Hardman, Demarcus Robinson nor Byron Pringle have given this offense anything resembling consistency in recent years.
Fast forward to 2021, and it sure looks like Hardman is poised to step in as the passing game's No. 3 option behind Travis Kelce and Tyreek Hill. The best case is that Hardman joins Hill in two-receiver sets, and the worst case is he's cemented as the No. 3 receiver in three-receiver formations. Either way, it's an improvement over his role in each of the past two seasons.
Hardman trails only Justin Jefferson and A.J. Brown in yards per target since 2019 — good things happen when the Chiefs throw him the ball. Targeting a cheap, proven talented player poised for his largest role yet inside of a legit top-three offense, is that something you might be interested in? It should be.
18. There's a new No. 1 WR in New Orleans
My goodness, Marquez Callaway looked good Monday night. First, the 2020 undrafted free agent reeled in a diving 43-yard score from Jameis Winston between two defenders. Next, Callaways toasted No. 1 corner Shaquill Griffin to reel in a 29-yard touchdown from Winston — with one hand nonetheless!
Yes, it's the preseason. Also yes, Callaway is making big plays with the starters in an offense that is dying for some help at receiver while Michael Thomas (ankle) remains sidelined. His only healthy competition at the moment is pint-sized return specialist Deonte Harris, receiver-turned running back-turned receiver Ty Montgomery and fellow former undrafted free agent Lil'Jordan Humphrey.
Callaway should be looking at a slot in three-receiver sets even once Thomas and Tre'Quan Smith return to action. Before then, Callaway has a chance to work as the passing game's No. 2 option, behind only Alvin Kamara. I had Callaway as my WR72 before Monday night and have accordingly bumped him up next to Smith in the mid-WR50 range, as we needed some clarity in terms of the pecking order with Thomas sidelined, and some was provided this week.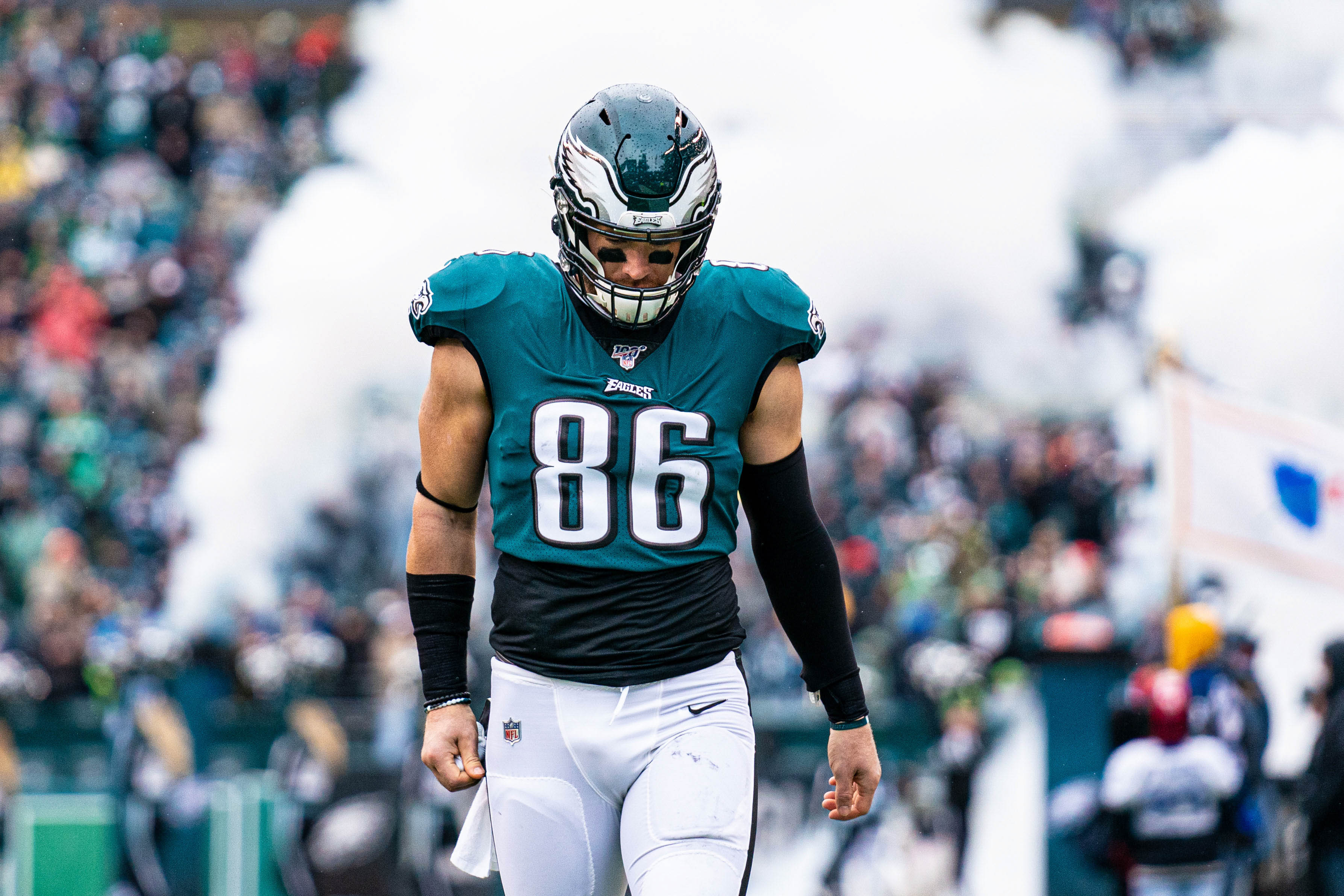 19. Julie Ertz's husband is still a thing in Philly
Trade rumors surrounding Zach Ertz rumbled throughout the offseason, but as of the time of this writing, he remains employed by the Philadelphia Eagles, who don't seem at all poised to turn the majority of the position's snaps and targets over to Dallas Goedert. Overall, the Eagles utilized Ertz (4 snaps with starters) ahead of Goedert (3) in Week 2 of the preseason while Richard Rodgers (3) was also involved.
In fantasy land, the answer to which tight end to draft in an offense that heavily utilizes multiple players at the position is usually simple: no. This is turning into the case in Philly. Goedert should've been moved down to borderline TE1 status once Ertz reported to camp, now it makes sense to slide him further into the upside TE2 range with a starting job not even guaranteed. This makes Ertz a value by default but just realize the days of him posting TE1 production with the help of triple-digit targets are almost assuredly over.
20. Screw late-round tight ends, draft Logan Thomas
Unfortunately, Adam Trautman (foot/ankle) looks poised to miss some time. His Week 1 usage was already problematic enough.
I'm not against chasing someone like Irv Smith at this point among the late-round tight ends. We might as well prioritize the better talents when everyone's target share looks muddled.
Still, avoiding the late-round tight end pool as a whole is looking more and more like the right move in most fantasy settings. Getting one of Travis Kelce, Darren Waller or George Kittle in the first three rounds remains preferred. If not, it'd behoove fantasy investors to snag Logan Thomas before the position experiences a massive dropoff. While Thomas has some incoming target competition to worry about due to the additions of Curtis Samuel, Adam Humphries and Dyami Brown, he remains an every-down tight end who has already demonstrated some solid chemistry with Ryan Fitzpatrick.