We're in the thick of the NFL offseason and it's officially time to start fantasy football prep. I'll be answering the biggest questions heading into the 2021 season. Click here to read the series of questions answered so far.
The Buffalo Bills finished 2021 with the league's second-ranked scoring offense. Only the Baltimore Ravens (+165 point differential), New Orleans Saints (+145), Green Bay Packers (+140) and Tampa Bay Buccaneers (+137) were more dominant than the Bills (+126) over the course of the regular season. Throw in Josh Allen's runner-up MVP campaign, and you seemingly had anyone's idea of an elite situation for a running back to thrive in.
Or not. Both starter Devin Singletary and third-round rookie Zack Moss had their moments in 2020, but the offense flowed so heavily through Allen and the passing game that neither running back was ever truly established.
Fast forward to 2021 and the only real change the Bills made to their backfield was replacing No. 3 back T.J. Yeldon with Matt Breida. Allen and company figure to again field one of the league's highest-scoring offenses; today's question is whether or not the unit will include a high-end fantasy running back this time around.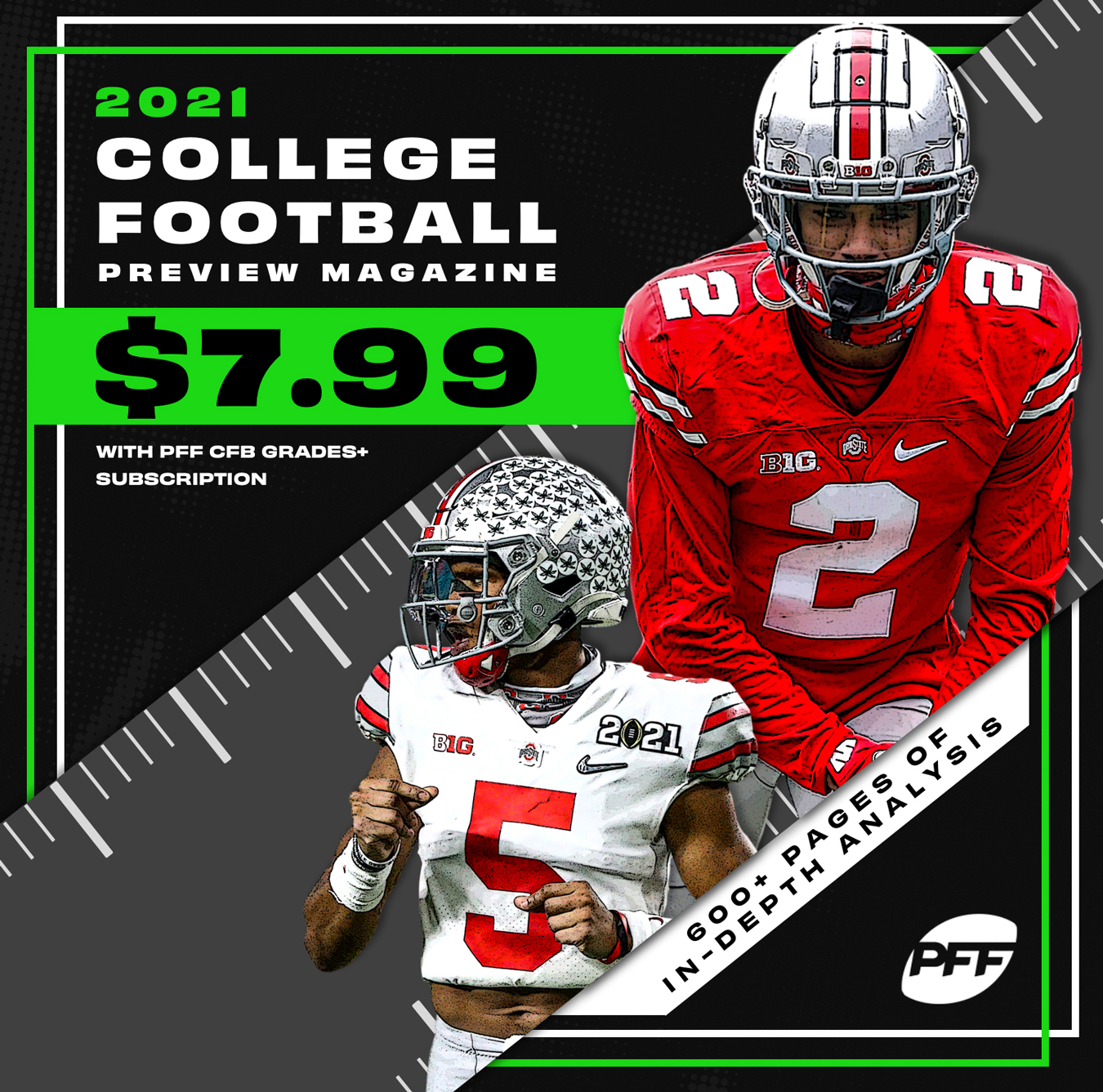 Moss and Singletary have each flashed during their short careers
PFF wrote the following about Moss in the 2020 NFL Draft Guide:
"Moss ticks pretty much every box you'd like to see at the running back position except for speed. He's got the size, vision, hands and especially elusiveness. He's also been above average in pass protection consistently over the course of his career. While he's on the older side at 22 years old already, we're not really drafting for anything after the rookie contract here anyways. Others might chase high-end physical traits at the top of the draft, but give me the guy I know will break tackles in the NFL. That's Moss to a T."
The pass protection point turned out to be spot on: Moss graded out as PFF's sixth-highest-graded pass blocker among 47 qualified backs.
Not the fullest believer in PFF pass protection grades? Watch all-world DE Joey Bosa in the below clip.
Zack Moss shouldn't come off the field (maybe if there's a fire)pic.twitter.com/vdZY54kabU

— Ian Hartitz (@Ihartitz) July 2, 2021
And then there's Singletary, who has started 24 games over the past two years and has consistently been leaned on come playoff time. Nobody will confuse the Bills with possessing anything resembling a top-10 rushing attack. Still, Moss and Singletary each have their strengths and weaknesses, with the latter emerging as one of the league's better breaker of tackles in 2020:
PFF rushing grade: Moss 76.5 (No. 19 among 47 qualified backs); Singletary 72.5 (No. 32)

Missed tackles forced per carry: Moss 0.19 (No. 14); Singletary 0.21 (No. 9)

Yards per carry: Moss 4.3 (No. 27); Singletary 4.4 (No. 25)

Yards after contact per rush: Moss 2.9 (No. 25); Singletary: 3.2 (No. 11)
Both running backs graded out as mediocre receivers, but to be fair, opportunities in the passing game, or near the goal line, aren't exactly plentiful with Allen under center.