We're in the thick of the NFL offseason and it's officially time to start fantasy football prep. I'll be answering the biggest questions heading into the 2021 season. Click here to read the series of questions answered so far.
In 2014, Jimmy Graham was ruled as a tight end by an arbitrator for franchise tag purposes. The decision meant the New Orleans Saints only had to pay him $7.05 million instead of $12.3 million. Apparently it didn't matter that in the previous season Graham spent a whopping 66.6% of his snaps in the slot or out wide on his way to catching 86 passes for 1,215 yards and a league-high 16 receiving scores.
Editor's Note: PFF's 2021 Fantasy Football Draft Guide and 2021 Fantasy Football Cheat Sheets are LIVE!
The rather arbitrary disparity in pay between tight ends and wide receivers hasn't been lost among the former position. Just ask Greg Olsen:
"We have to do the same s— that a $15 million left tackle has to do and run the same routes against the same guy that a $15 million wide receiver has to run routes against, and they're going to pay us $7 million."
Olsen isn't wrong: Just five tight ends are making at least $10 million annually compared to 27 wide receivers and 16 left tackles. Obviously football teams have to manage their finances appropriately in the NFL's salary-cap environment; just realize these sorts of rather arbitrary positional designations are hurting tight ends more than just about any other position.
This brings us to today's question: Which NFL tight ends are better off treated as wide receivers? We'll focus on 2020 snap alignment to identify the contenders before checking out projected target share to get some actionable fantasy football takeaways.
Tight end target rates in the slot or out wide in 2020
The chart below shows every tight end's 2020 snap rate as an inline player vs. in the slot or out wide. We'll focus on pass-play alignment only since the goal of this study is to ultimately figure out which tight ends among 530 players at the position with at least 50 targets last season might have wide receiver-esque usage.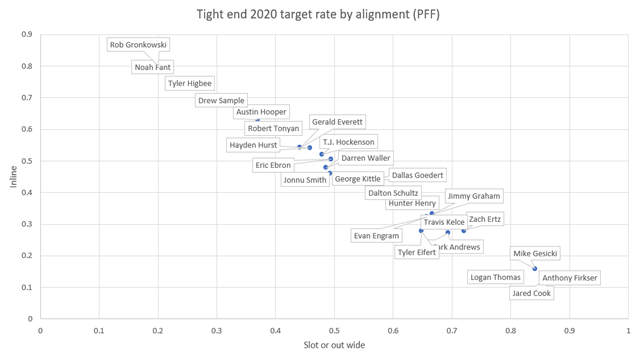 There were 12 high-volume tight ends who saw at least 60% of their targets come from the slot or out wide:
The qualifiers from an inline alignment were Rob Gronkowski (80% of targets from inline), Noah Fant (80%), Tyler Higbee (75%), Drew Sample (69%), Austin Hooper (63%) and Robert Tonyan (60%). This is good: These players won't be taking away true receiver opportunities from their offense's wide receivers just like their teammates won't be sending them to the bench when a pass-down situation arises.
The question now becomes whether or not we should expect last year's top finishers in slot and out wide rate to replicate their usage in 2020. If not, there could be a serious issue in projecting high-end usage considering their lack of history working as a true tight end. Among our group of 12 tight ends, it's fairly easy to see the majority have some newfound competition problems ahead of 2021:
Free for 7-days. Subscribe to continue reading and unlock
All premium content with the best insights + analysis in the game
NFL Draft Guide, Big Board + Mock Draft Sim
Fantasy Draft Kit and Nathan Jahnke's award winning rankings
Bet smarter with PFF player mismatches and expert betting insights
NFL and CFB player grades and premium stats
Unlock all PFF data trusted by all 32 NFL teams
Already have a subscription? Log In