• Multiple San Francisco 49ers put together dominant performances: Christian McCaffrey ran for 152 yards and a touchdown, while Brandon Aiyuk caught two touchdowns and gained 129 yards on eight receptions.
• Calvin Ridley looks better than ever: Ridley missed most of the past two seasons but didn't miss a step with 101 yards on eight receptions and a touchdown in a Jacksonville Jaguars road victory.
• The Falcons' running back duo dominates: Bijan Robinson and Tyler Allgeier both handled 15-plus touches for 75-plus yards and a combined three touchdowns.
---
PFF's fantasy football recap focuses on player usage and stats, breaking down all the vital information you need to achieve fantasy success in 2023.
---



---
Tyler Allgeier

: 15 carries, 75 yards, 2 touchdowns, 3 receptions, 19 receiving yards

Bijan Robinson

: 10 carries, 56 yards, 6 receptions, 27 receiving yards, 1 receiving touchdown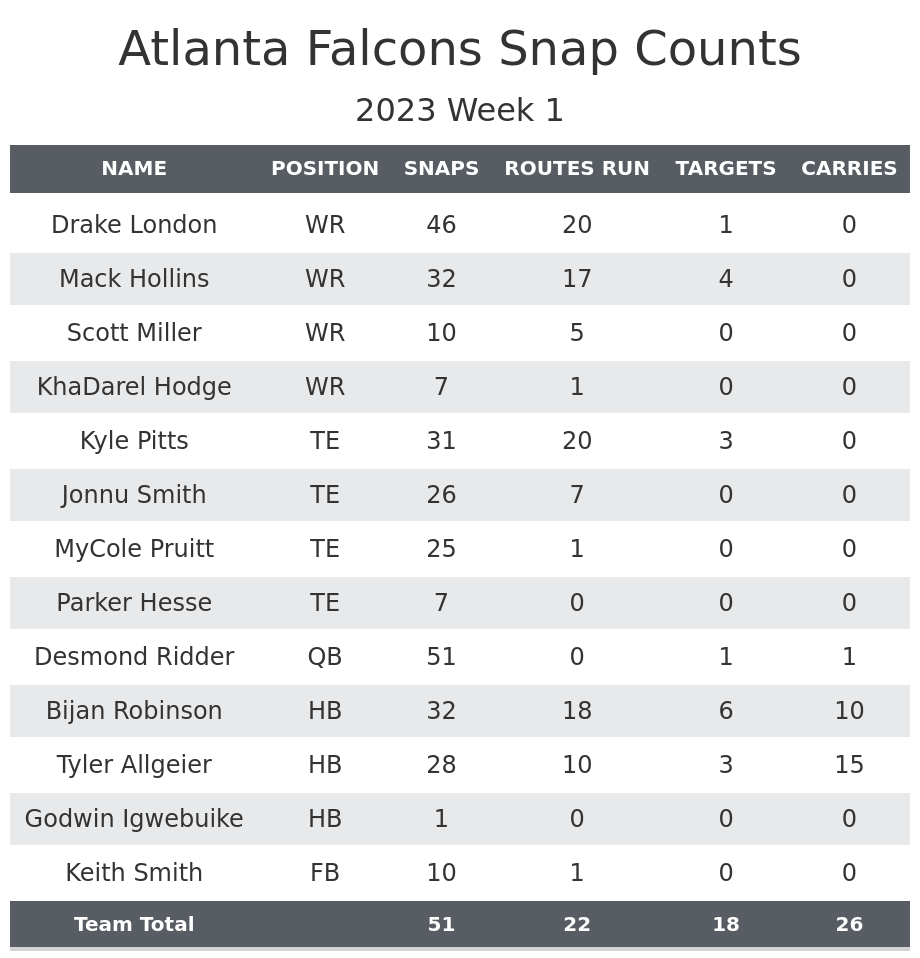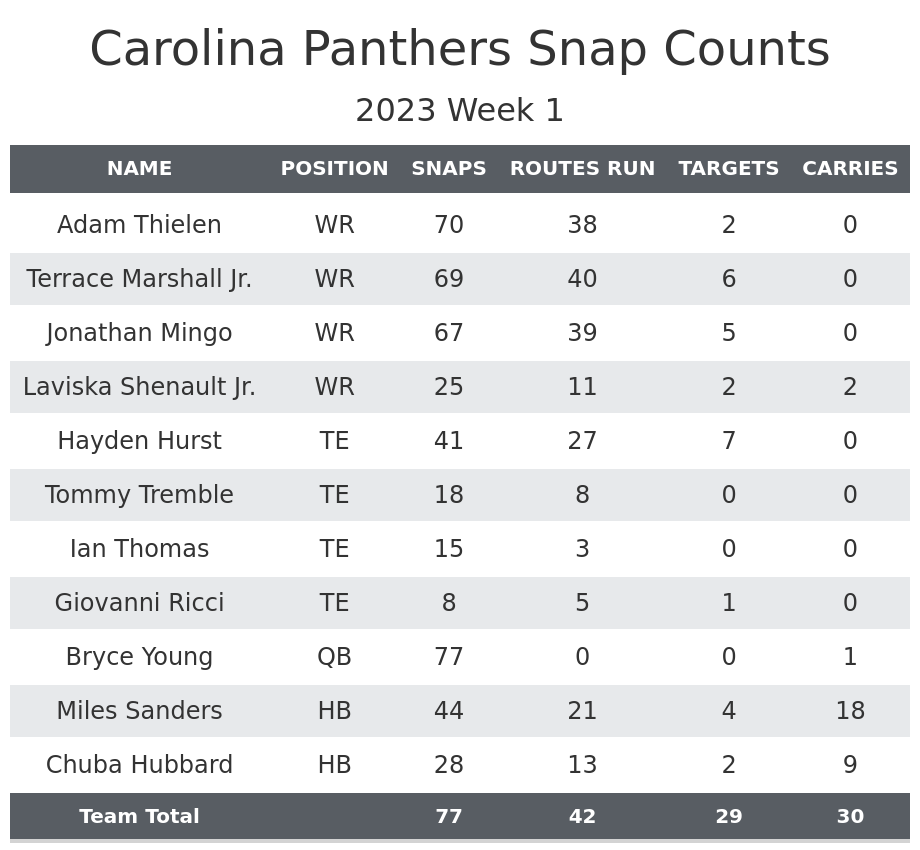 Bijan Robinson makes his debut: The Falcons used a strong two-man committee that drove them to victory.
Atlanta used a pretty even split between the two running backs, with a slight tendency to use Allgeier in running situations and Robinson in passing situations.

Robinson maintained a massive 33.3% target rate, which hurt the fantasy production of all of the other Falcons receivers.

Both running backs maintained 5.0 yards per carry or better, with Robinson being slightly more explosive.

Robinson maintained a clear edge in offensive snaps over the first three quarters. He played in 26-of-33 snaps over the three quarters while Allgeier was used more as a closer, playing in 11-of-15 snaps in the fourth quarter.

Robinson's touchdown occurred in the second quarter, where both of Allgeier's happened in the fourth quarter.

While Allgeier will score more touchdowns this season, I would not anticipate Allgeier consistently being the goal-line back for Atlanta.

Robinson will remain a must-start going forward, but there is a chance Allgeier can also be a fantasy starter.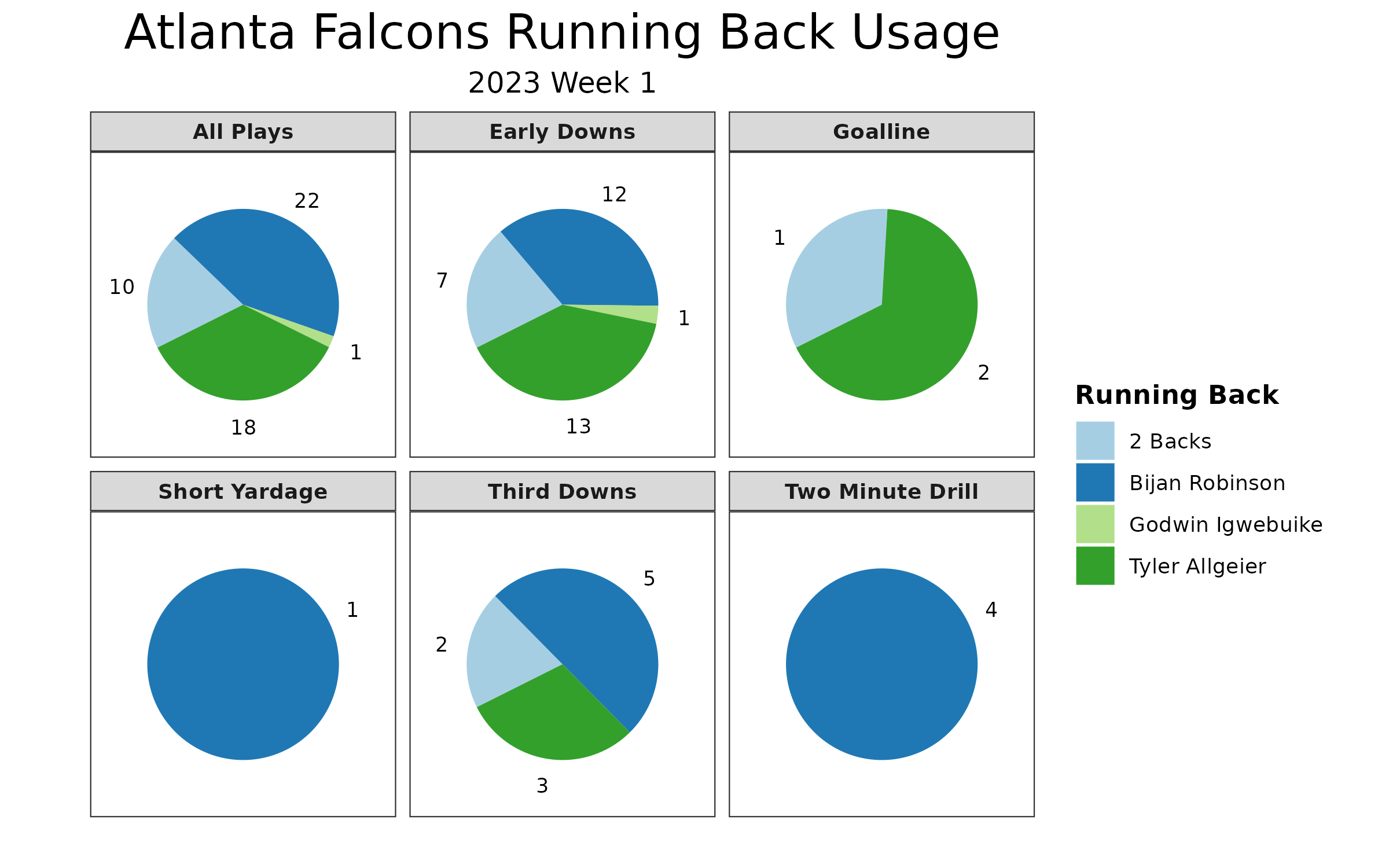 Kyle Pitts' quiet game: The Falcons' tight end led the team in receiving yards, but that won't be enough to satisfy fantasy managers.
He caught two of his three targets for 44 yards, with all of his targets coming in the second half of the game.

Pitts was rotated in and out of the game similar to his worst games last season.

If there was any personnel group you would expect Pitts to be on the field, it would be 11 personnel, but he only took three snaps from 11 personnel out of a possible nine.

If Pitts was used similarly to how he was last season before his injury, he could be a consistent fantasy starter even in Atlanta's run-first offense.

If Atlanta plays every game like this, then Pitts still probably needs to be a fantasy starter, but there will be many frustrating weeks.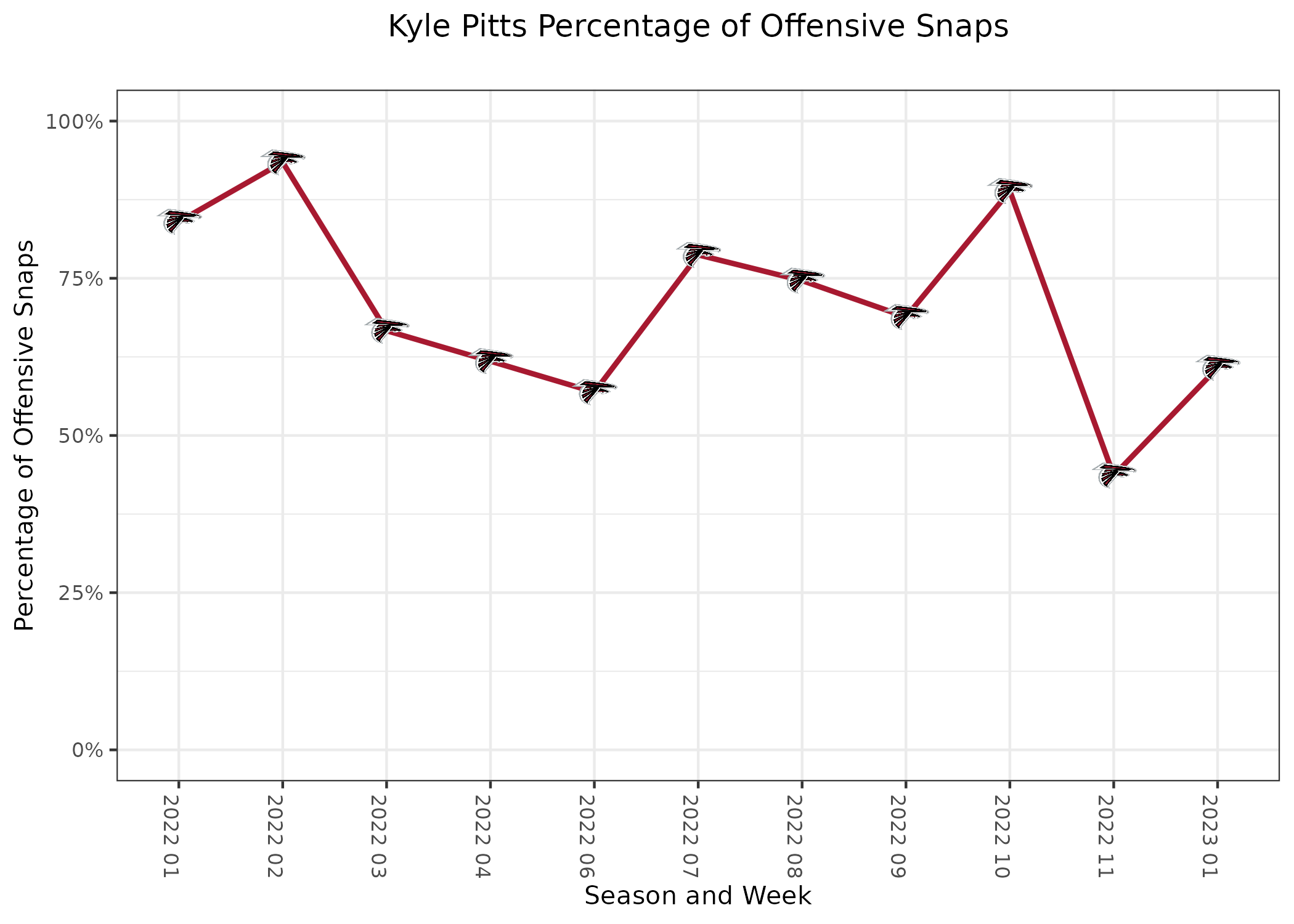 The Panthers two-back committee: There was talk all offseason about Miles Sanders taking a three-down role, but that wasn't the case in this game.
Sanders missed most of training camp and all of the preseason due to a groin injury.

Sanders was the clear starter on early downs with

Chuba Hubbard

also seeing significant playing time on first and second downs.

Hubbard was consistently the Panther on the field on third downs outside of a third-and-1.

Hubbard was the more impressive runner throughout the game, averaging 6.7 yards per carry while Sanders at one point lost a fumble.

Sanders did see more targets and receptions despite not having the passing down role.

The one promising point for Sanders is he did see significant work during two-minute drills, which is a sign Carolina trusts him as a receiver.

The biggest concerning point is Hubbard played significantly in short-yardage situations, which could lead to Hubbard stealing some touchdowns down the line.

It's possible Sanders starts to see more playing time once he's further removed from his injury, but for the time being, Sanders goes from a must-start to someone worth starting as long as the matchup is anywhere from good to average.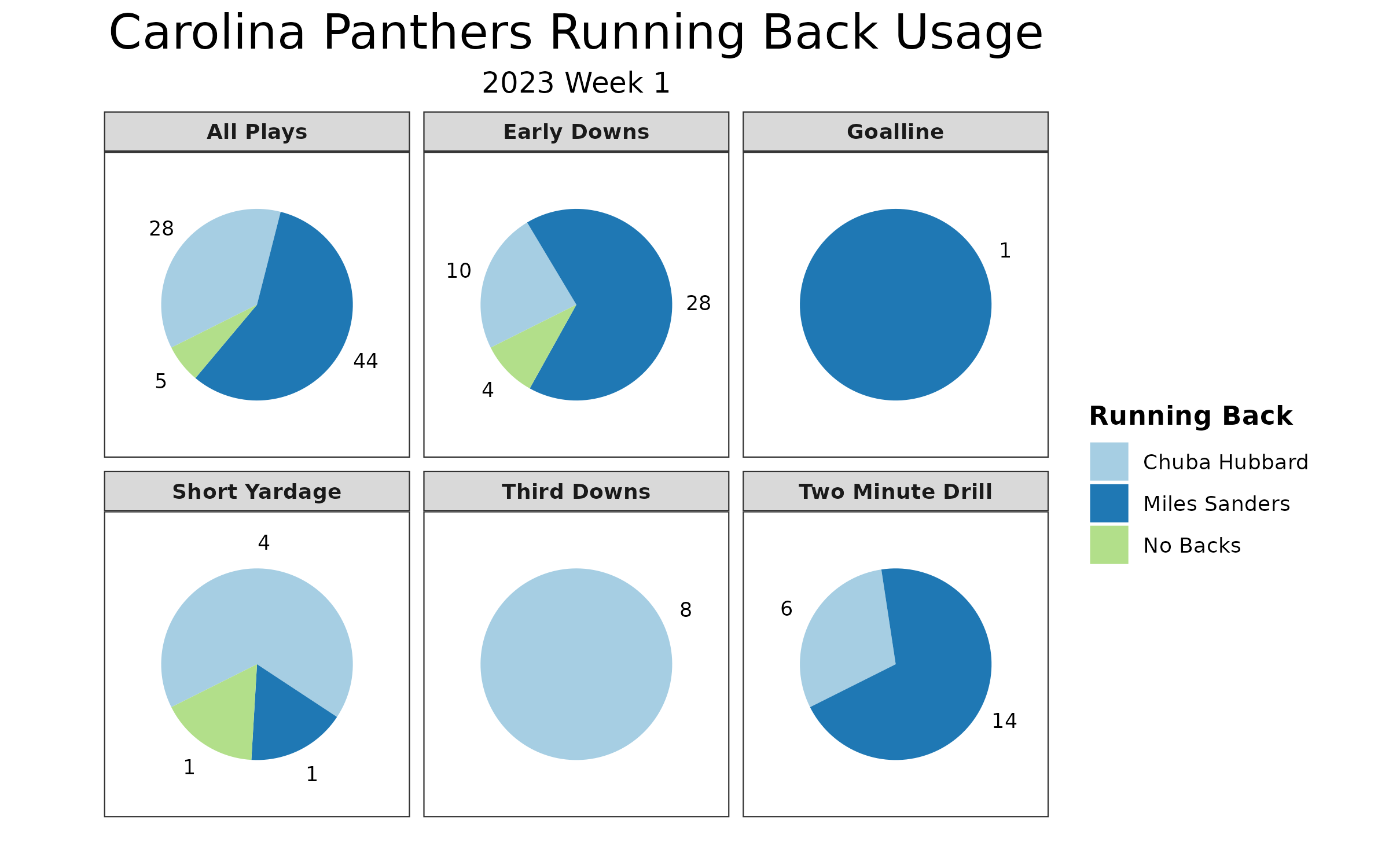 Hayden Hurst is a tight end to watch: Hurst led the team in receiving yards and scored their only touchdown, but he didn't see as much playing time as we originally thought.
Hurst caught five of his seven targets for 41 yards and a touchdown.

He was consistently seeing the clear majority of snaps with the starters throughout the preseason.

Carolina stuck with 11 or 01 personnel for the majority of the with only five snaps in two tight end sets, so the majority of the snaps by the other tight ends were in place of Hurst.

While part of the explanation for his low snaps could simply be Carolina ran a lot of plays and a lot of pass plays in particular, he also only played in seven of 14 snaps in the first quarter, so this was also partially by design.

He is a fine waiver wire target for a fantasy manager looking for a backup, but we will need to see more games before we can trust Hurst in a fantasy starting lineup.
Miscellaneous Notes
Drake London

only left the game for five snaps but was only targeted once on his 22 pass routes, which is discouraging.

KhaDarel Hodge

is expected to be the Falcons' third wide receiver long-term, but Hodge was questionable coming into this game with an ankle injury, which is likely why

Scott Miller

received more offensive snaps than Hodge.

Terrace Marshall Jr.

became a starter with

D.J. Chark Jr.

missing this game with a hamstring injury. It's possible we see a little bit more of a rotation once he's healthy if they want to keep Marshall involved.
---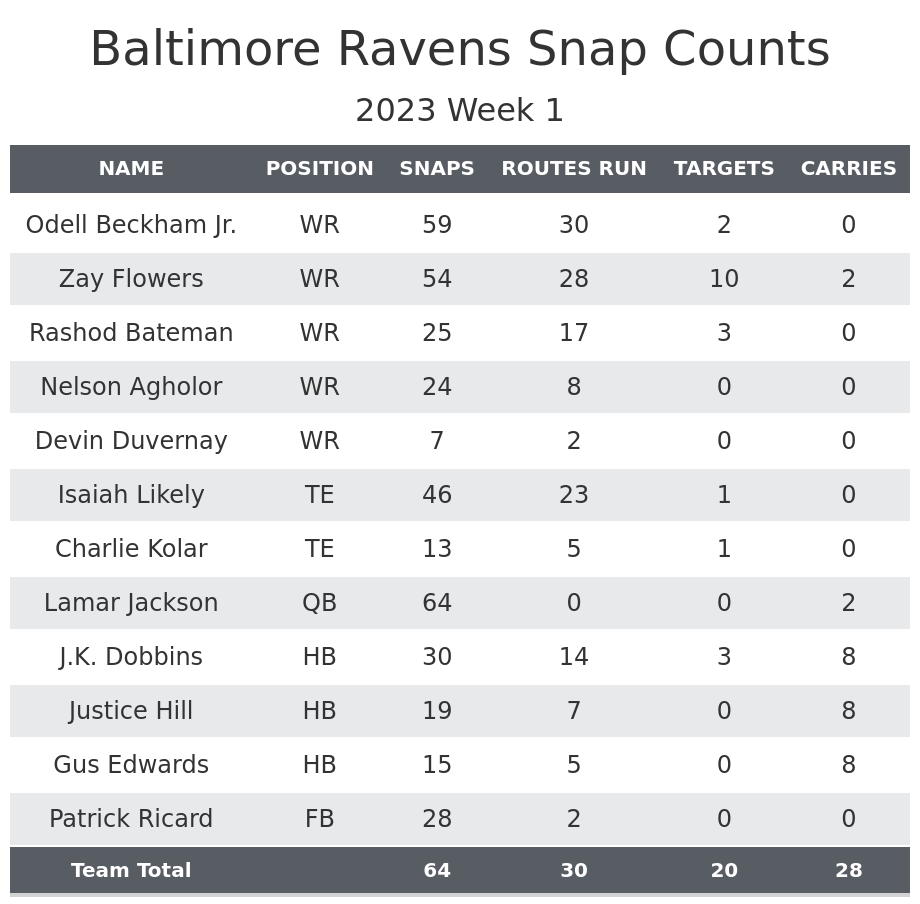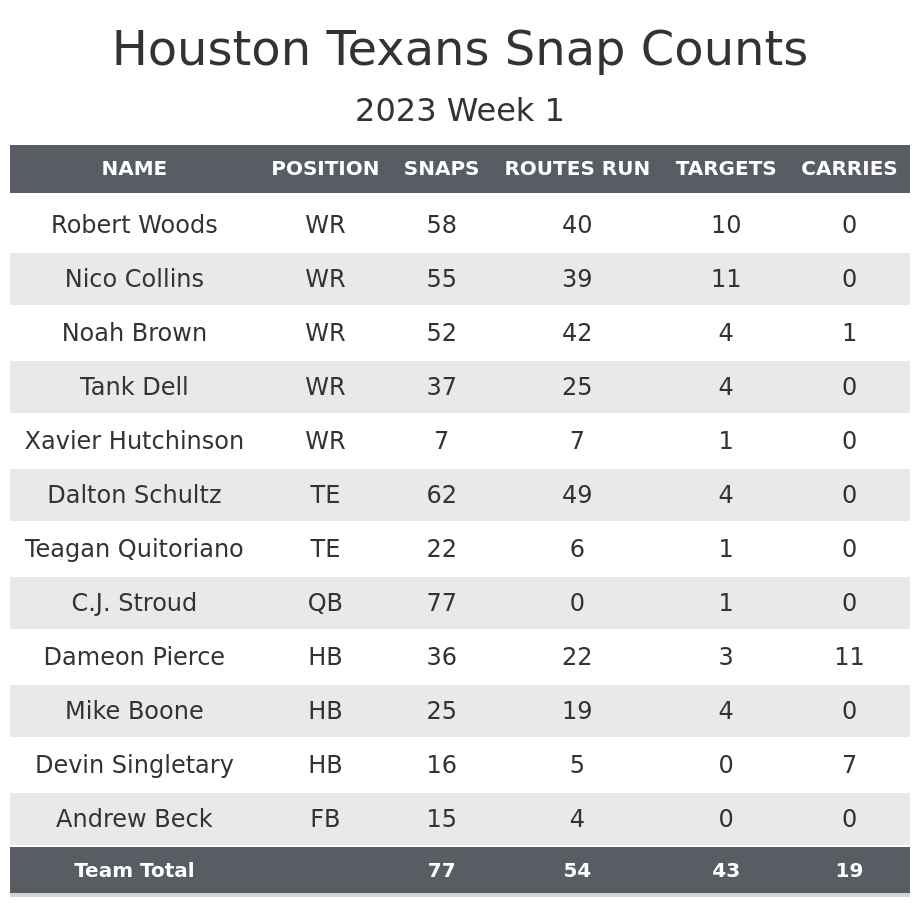 J.K. Dobbins suffers an Achilles injury: Coach John Harbaugh confirmed after the game that Dobbins tore his Achilles, which will likely cost Dobbins the rest of his season.
Dobbins had dominated offensive snaps in the first half, playing 23-of-29 snaps. He hadn't played more than 50% of Baltimore's offensive snaps in a game since 2020 and never more than 66%. This could have been his best offensive snap rate had he not suffered his injury.

Gus Edwards

was the second running back to play an offensive snap, but

Justice Hill

also received early-down snaps in the first quarter.

The Ravens used both Hill and Edwards significantly after the injury.

We can expect Edwards to lead the team in carries going forward but only with a slight edge over Hill, who will be used more in passing situations.

It's certainly possible the Ravens look elsewhere for another running back, but it might not be that likely considering how long both Hill and Edwards have been on the team.

Melvin Gordon III

is on the practice squad, will likely be elevated to the active roster and play at least a few snaps each week going forward.

Keaton Mitchell

was an undrafted rookie with a lot of hype. He's on injured reserve now, but he could be back as soon as Week 4.

Hill and Edwards are worth waiver wire pickups if you're looking for a running back sooner rather than later, as either could be a fantasy starter in a good matchup. Mitchell is worth a stash in deeper leagues.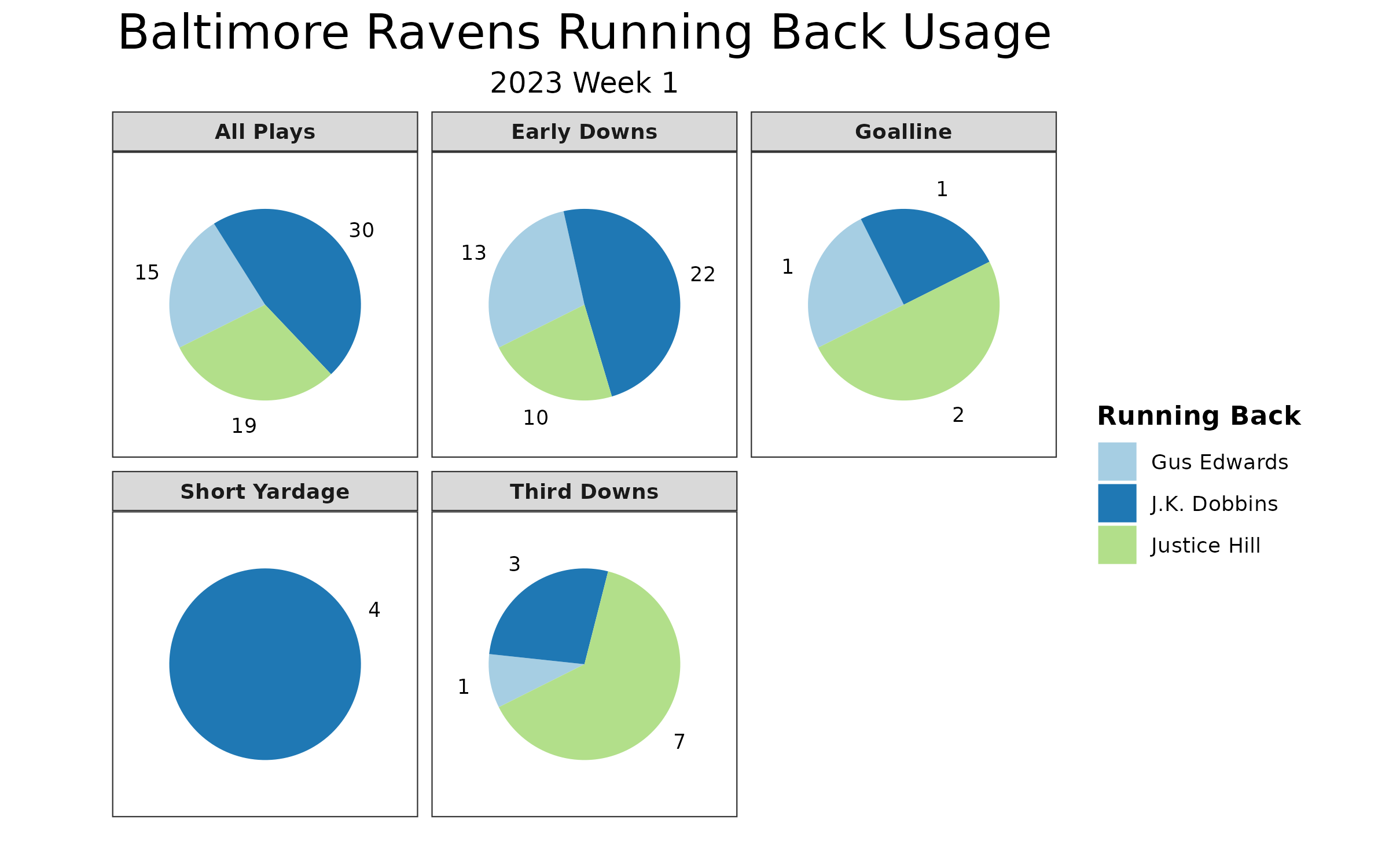 Start Zay Flowers: Flowers is already Baltimore's clear top wide receiver option.
He and

Odell Beckham

unsurprisingly started and consistently played in all personnel groupings.

Baltimore used both

Rashod Bateman

and

Nelson Agholor

at times in three-receiver sets.

Flowers would typically stay outside when Agholor was on the field with Agholor playing in the slot. Flowers would typically go to the slot when Bateman was on the field.

The first-round rookie was making plays regardless of where he lined up.

He ended up with nine receptions for 78 yards and ran the ball twice for nine yards.

It is worth noting that

Mark Andrews

didn't play in this game, so we can expect Flowers' target share to decline when Andrews returns.
Dameon Pierce's preseason hype deflates: Pierce did not maintain the three-down role he had during the preseason.
Pierce's ADP rose throughout August, as he consistently was used on third-and-long with the starters.

Devin Singletary

seemed to be Pierce's biggest competition for the third-down role, but it was clear that role wasn't the plan in the preseason.

Mike Boone

played the majority of passing down snaps on third down as well as in the two-minute drill.

Pierce still received a few snaps in these situations, which is better than what he experienced last year.

Singletary was the primary backup on early downs and cut into Pierce's playing time in those situations more than any other back did last year.

This should still end up in a net positive for Pierce if it means more targets.

Pierce ran the ball 11 times for 38 yards and caught two passes for nine yards.

Houston didn't just pass the ball a lot because of the game script, as the Texans were passing in the first quarter when the game was tied. If this pass/run ratio continues, that could be a problem for Pierce long term.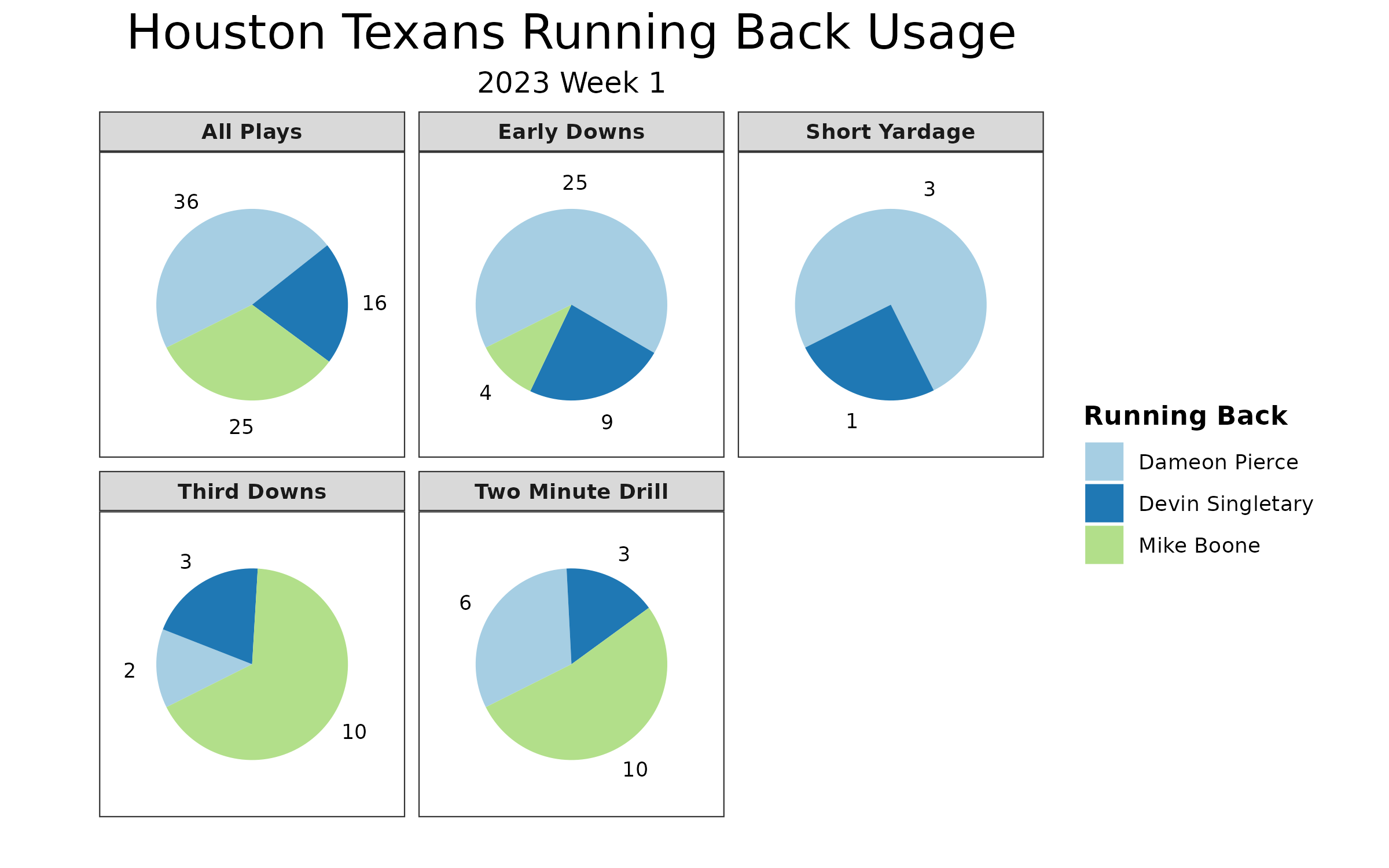 Miscellaneous Notes
Isaiah Likely

took injured

Mark Andrews

' role

as expected but was only targeted on one of his 23 pass routes. Andrews should take over next week.

The Ravens ran more 11 personnel than last season, but they were still at a below-league-average rate of 43.8%. We could see them see them use even less 11 personnel next week, assuming Andrews is healthy.

Tank Dell

made his NFL debut, playing significantly in 11 personnel mostly in

Nico Collins

' place

. This could make Collins a sell-high candidate, as we could see Dell take more of those snaps as the season progresses.

Dalton Schultz

's playing time throughout the preseason was concerning, but his usage in this game was not a problem, playing in 49-of-54 pass plays. Only getting targeted on four of 49 routes leading to two receptions for four yards is concerning.
---
Nick Chubb

: 18 carries, 106 yards, 4 receptions, 21 receiving yards

Joe Mixon

: 13 carries, 56 yards, 3 receptions, 17 receiving yards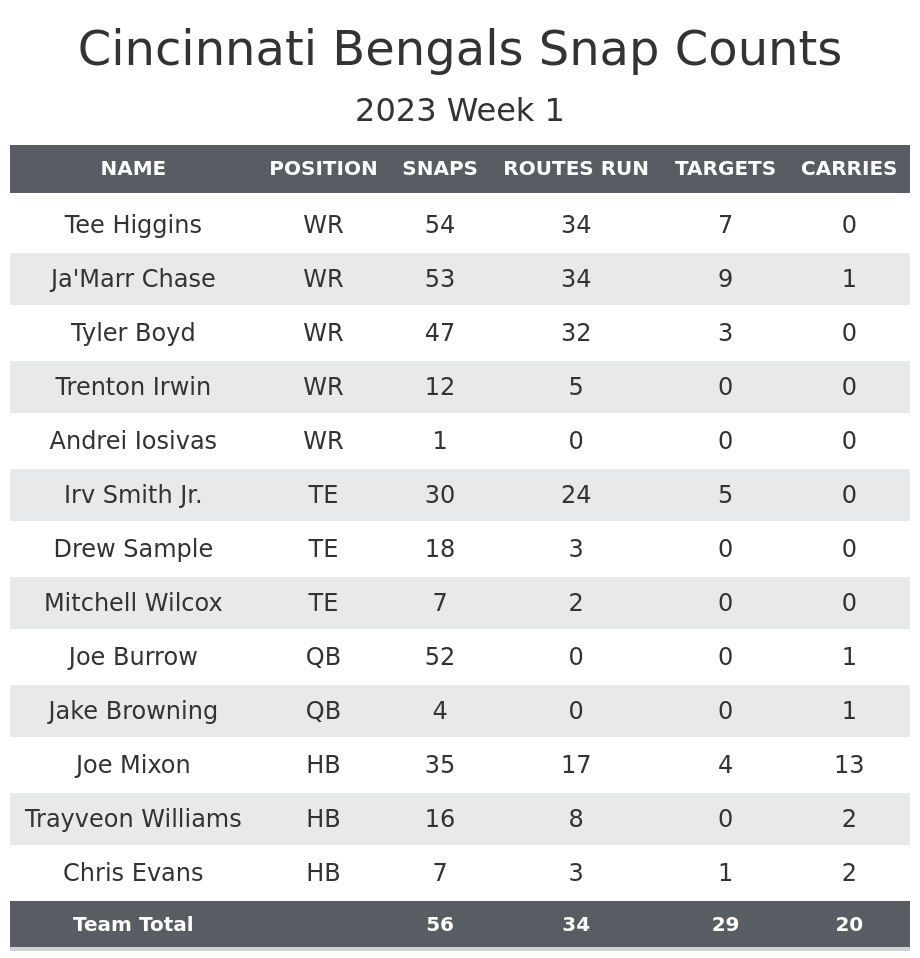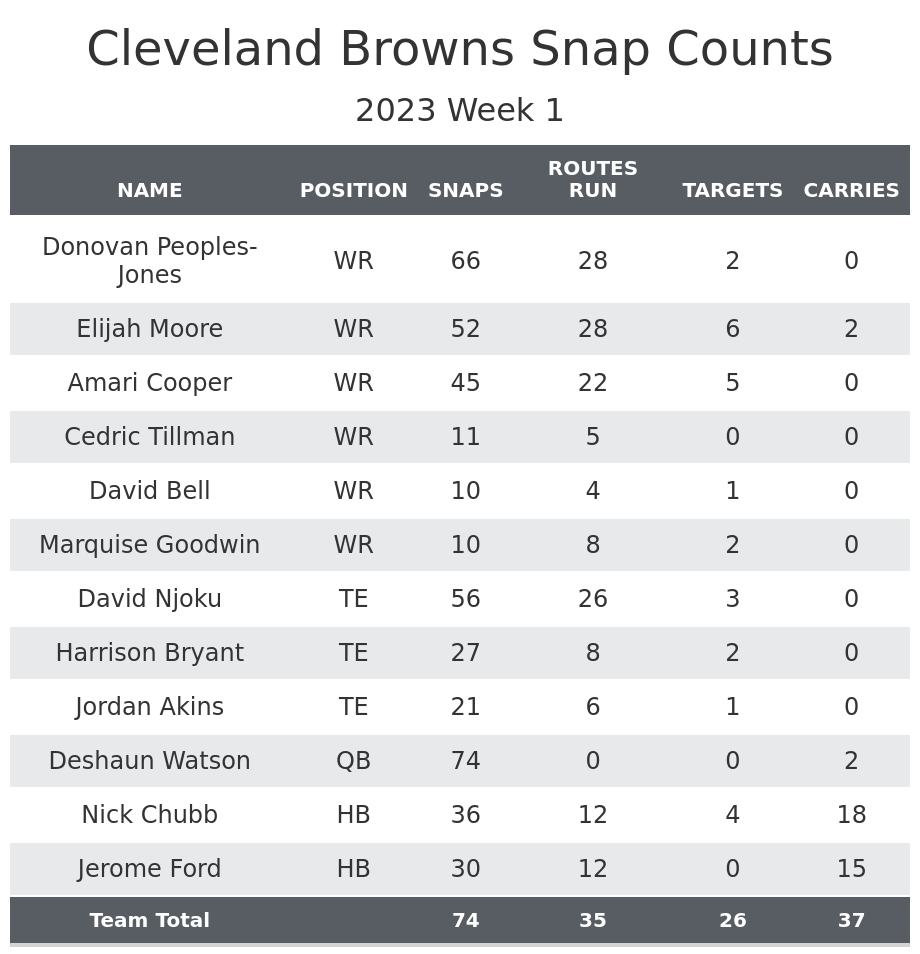 Nick Chubb is in a familiar role: While there was a lot of talk about the Browns offense changing, Chubb's usage looked very familiar.
Chubb was the primary running back on early downs, running for over 100 yards, but he often left the field in passing situations.

Jerome Ford

was the Browns' primary third-down back, and there were also times when Cleveland opted not to have a running back on the field.

Ford also dominated snaps in the fourth quarter when Cleveland had a clear lead. The Browns would often do the exact same thing with

Kareem Hunt

as the closer.

Chubb has historically been among the worst running backs in target share, but he caught all four targets in this game. It was the eighth game in his career with four or more receptions and just his second over the last three seasons.

While we might not see a dramatic change in how Chubb is used this season, he should see a few more targets than what he's received in the last few seasons.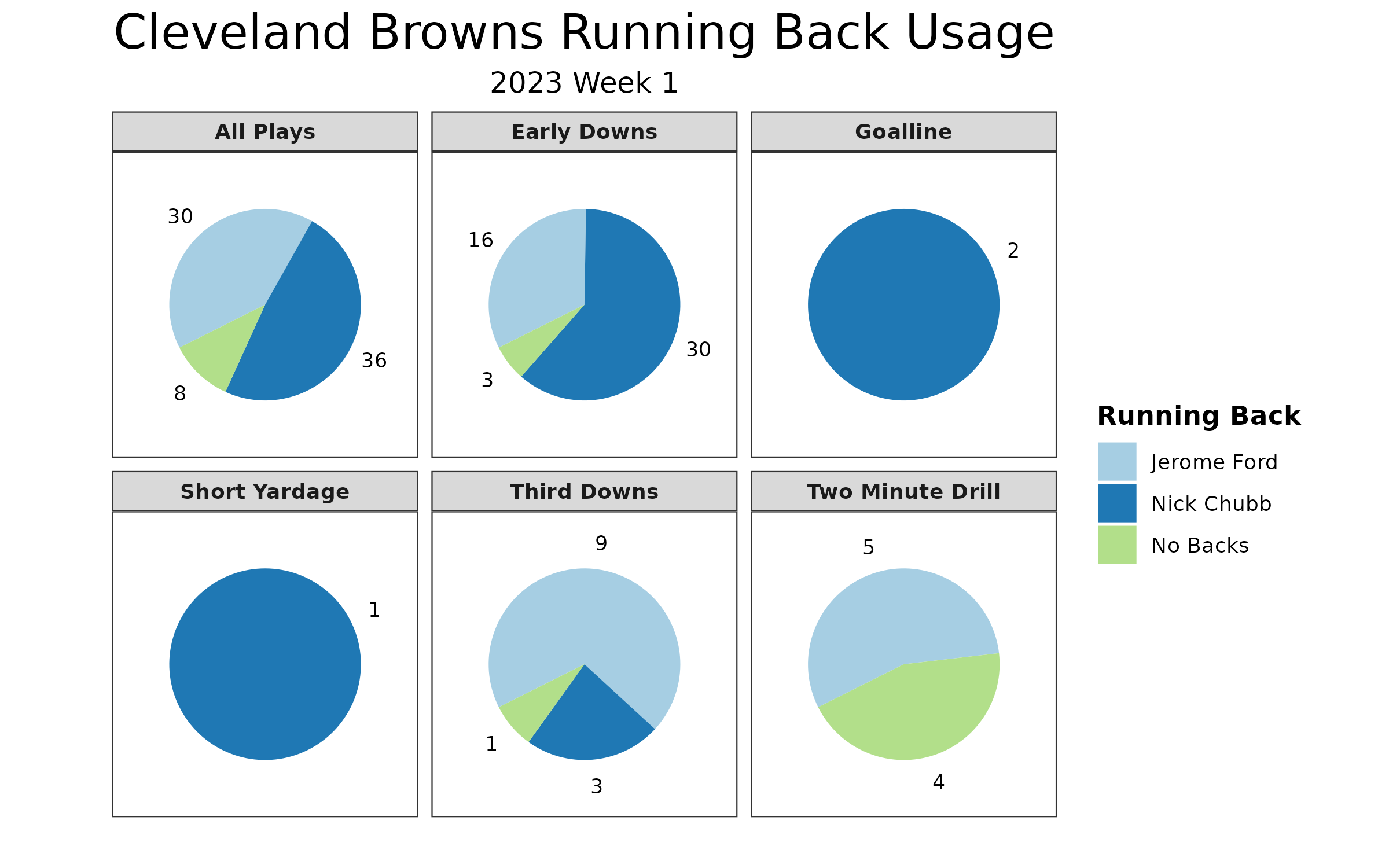 Monitor Amari Cooper's playing time: Cooper only ran a route on 22 of the Browns' 35 pass plays.
He caught three passes for 37 yards.

Cooper spent a little bit of time in the medical tent in the middle of the game but was back by the next drive.

He only played in four of Cleveland's 18 offensive snaps in the fourth quarter. This was partially because they stayed in 13 personnel for a lot of the quarter to keep the lead, but he also rarely played in 11 personnel in the quarter. This could have simply been a precaution after the earlier checkup.

While that explains most of his low snap count, he also only played in 11-of-17 first-quarter snaps, with

Marquise Goodwin

taking several snaps from him.

This curious usage could make Cooper a sell-high candidate, but it's too early to know for sure.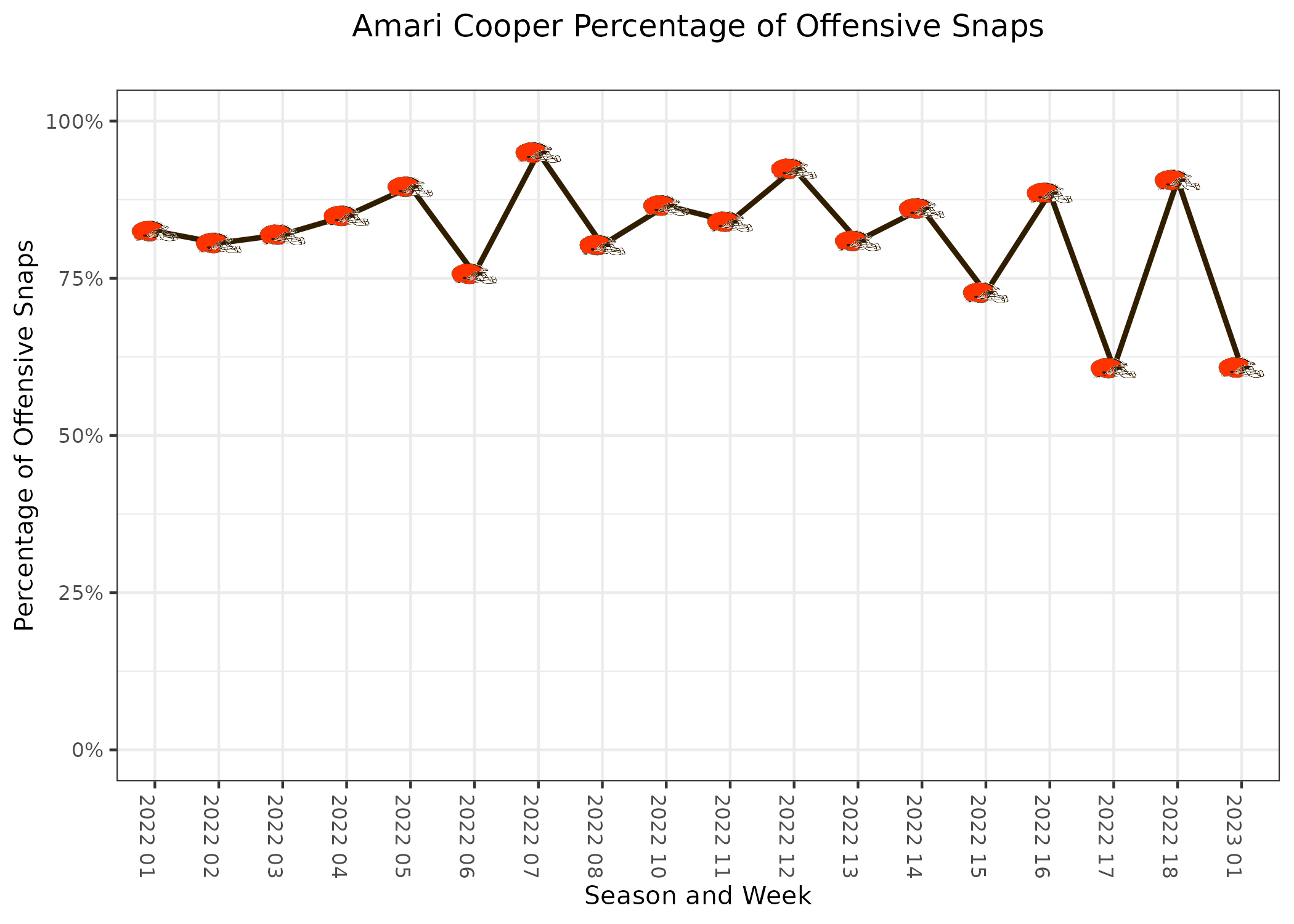 The Bengals backfield without Samaje Perine: Perine's departure seemed to have no impact on Joe Mixon's playing time.
Mixon continued to play the clear majority of snaps on first and second downs, as usual, but he did not play as much on third downs.

Mixon took three snaps on third-and-short,

Chris Evans

received two snaps on third-and-long, and

Trayveon Williams

played the rest of the third downs.

We can expect better performances by Mixon in the future, assuming the entire offense can rebound, but it doesn't look like his ceiling is any higher this year without Perine.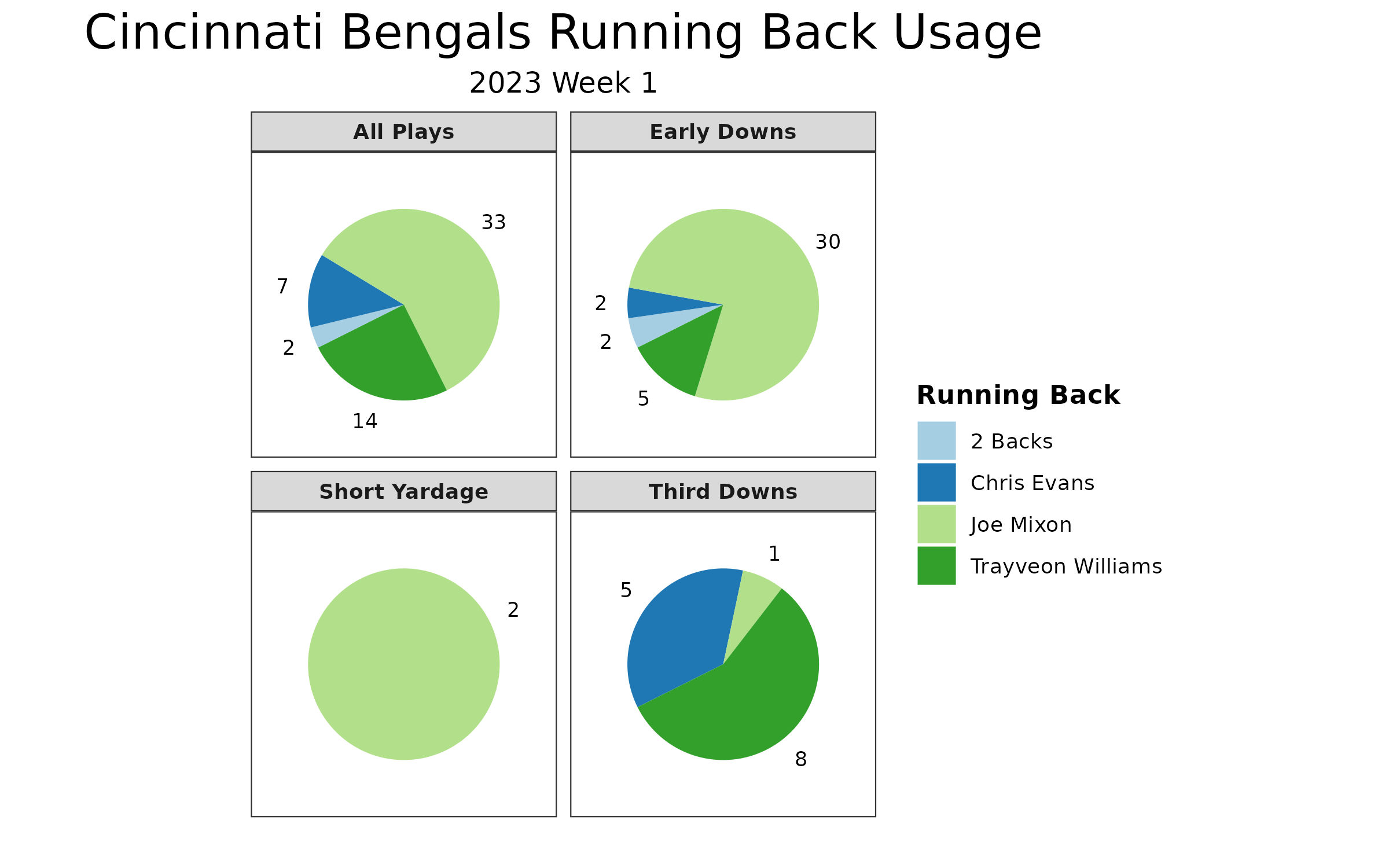 Consider adding Irv Smith Jr.: Smith made his debut with the Bengals after not playing in the preseason and finished second on the team in receiving yards.
Smith caught three of his five targets for 17 yards with one dropped pass.

Smith played in 73% of Cincinnati's offensive snaps in 11 personnel while not playing in two tight end sets.

It's not ideal that he didn't play in 12 personnel, but the Bengals use so much 11 personnel that it shouldn't matter too much.

Smith maintained a 20.8% target rate.

Hayden Hurst

was the only Bengals' tight end to accomplish this in a game last season. He did this four times, and it typically corresponded with one or more Bengals' wide receivers dealing with injuries.

The fact that Smith was able to have a high target share with everyone healthy is a good sign he could have a better season than Hurst had with the Bengals last season.
Miscellaneous Notes
The Bengals put in some backups for the last few plays of the game, which is why

Jake Browning

played.

Browns third tight end

Jordan Akins

missed all of the preseason but made his debut with the team in this game. Most of his snaps came from 13 personnel, but he also received more snaps in 11 personnel than

Harrison Bryant

. He would likely be the handcuff if

David Njoku

were to get injured this season.
---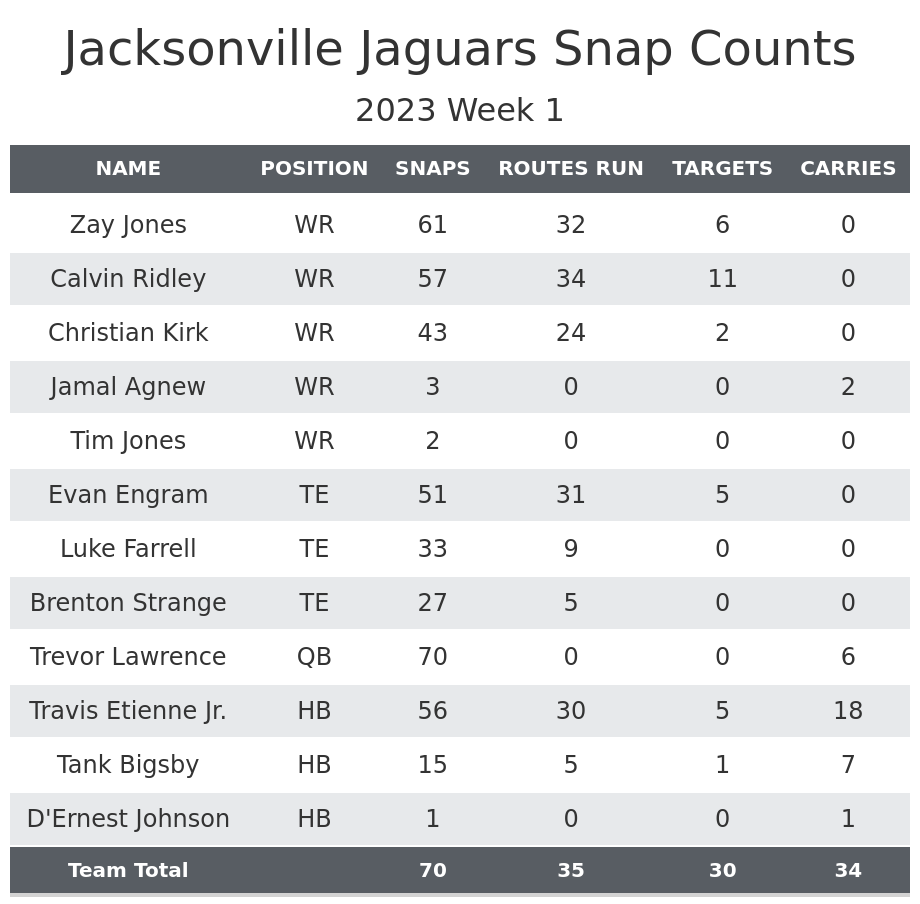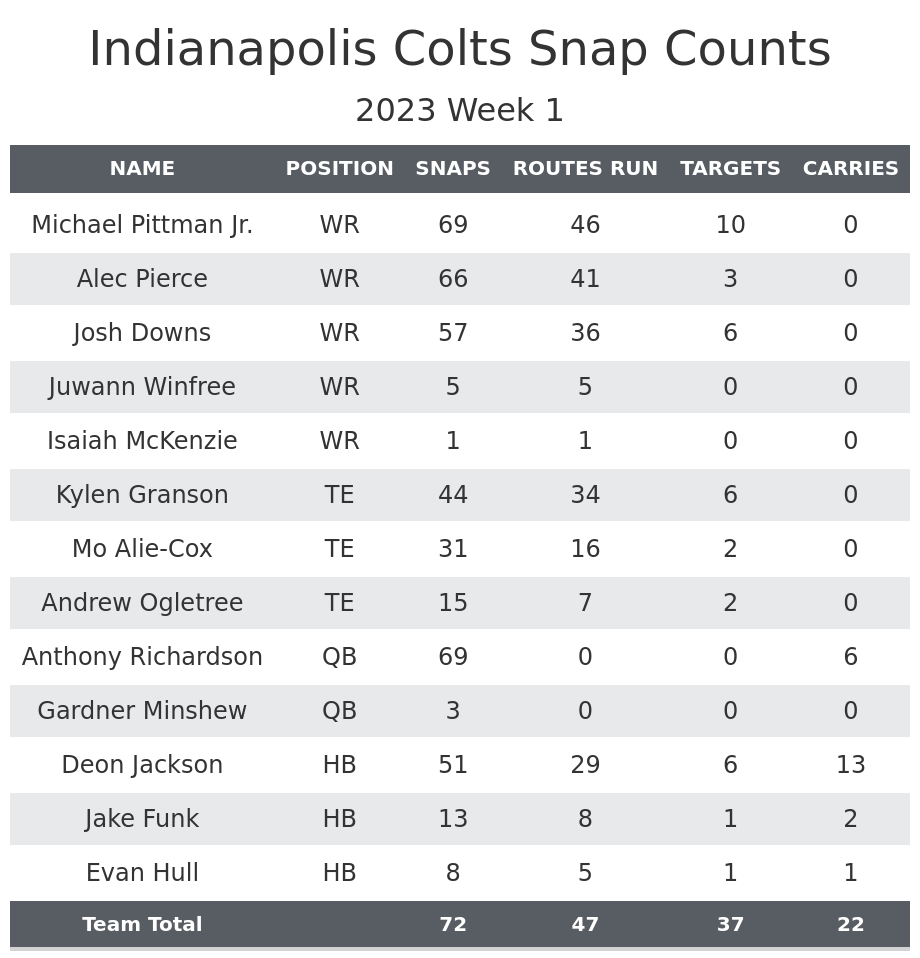 Tank Bigsby has a shaky NFL debut: Bigsby scored a touchdown in his NFL debut but dropped a pass leading to an interception and lost a fumble.
Travis Etienne Jr.

dominated offensive snaps over the first three drives, playing 15-of-16 snaps, but the two split snaps on the fourth and fifth drives.

At that point in time, the two backs were at a near-even split in terms of opportunities.

Etienne dominated snaps after the turnovers, but Bigsby did take the goalline snaps as anticipated, leading to his first NFL touchdown.

This meant the two running backs were relatively close together in terms of

fantasy

points until Etienne broke a 26-yard touchdown run less than a minute later.

Etienne remains a safe start at the moment, but it will be worth seeing how many opportunities Bigsby receives in future weeks.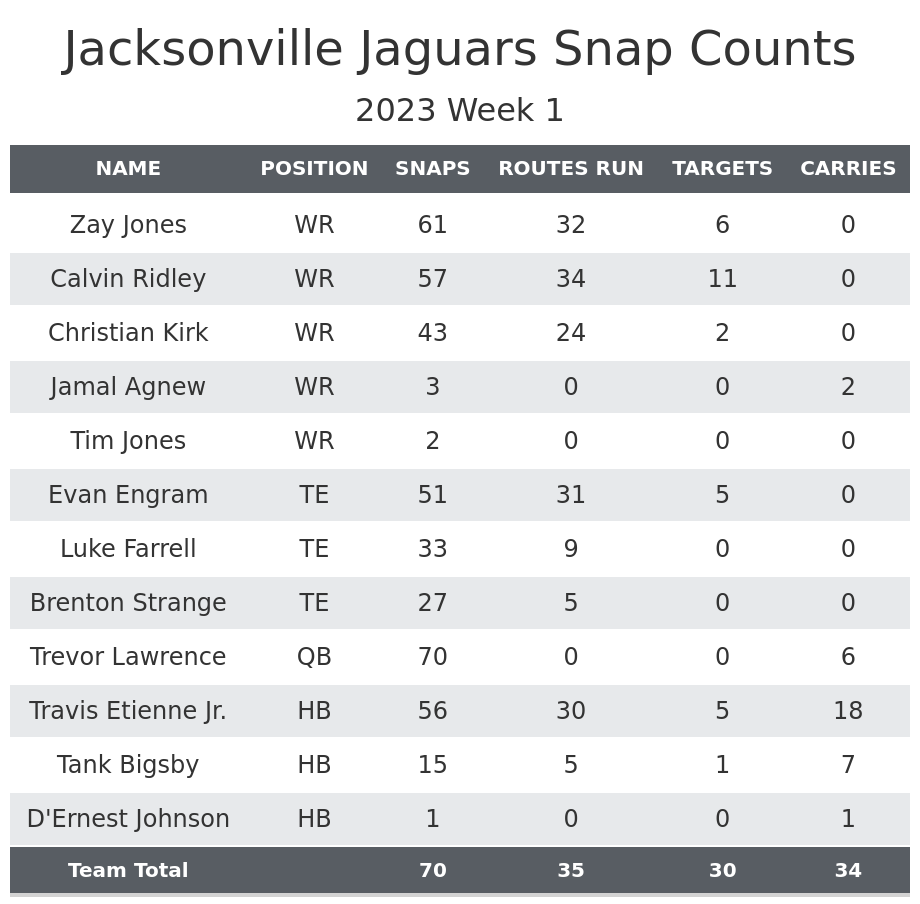 Christian Kirk is reduced to a slot receiver: It appeared Kirk would be losing playing time based on preseason usage, which played out in this game.
Kirk played in 37 of a possible 38 snaps in 11 personnel, but only 6-of-21 in 12 personnel and none of the 11 snaps in 13 or 22 personnel.

This meant Kirk played in a lower percentage of snaps than he did in any week last season because he was consistently playing in 12 personnel last season.

We can expect Jacksonville to continue employing this strategy as long as

Calvin Ridley

and

Zay Jones

are both healthy.

Kirk caught one pass for nine yards.

We can expect Kirk to bounce back from the bad stat line, but his ceiling is notably lower this season than it was last season.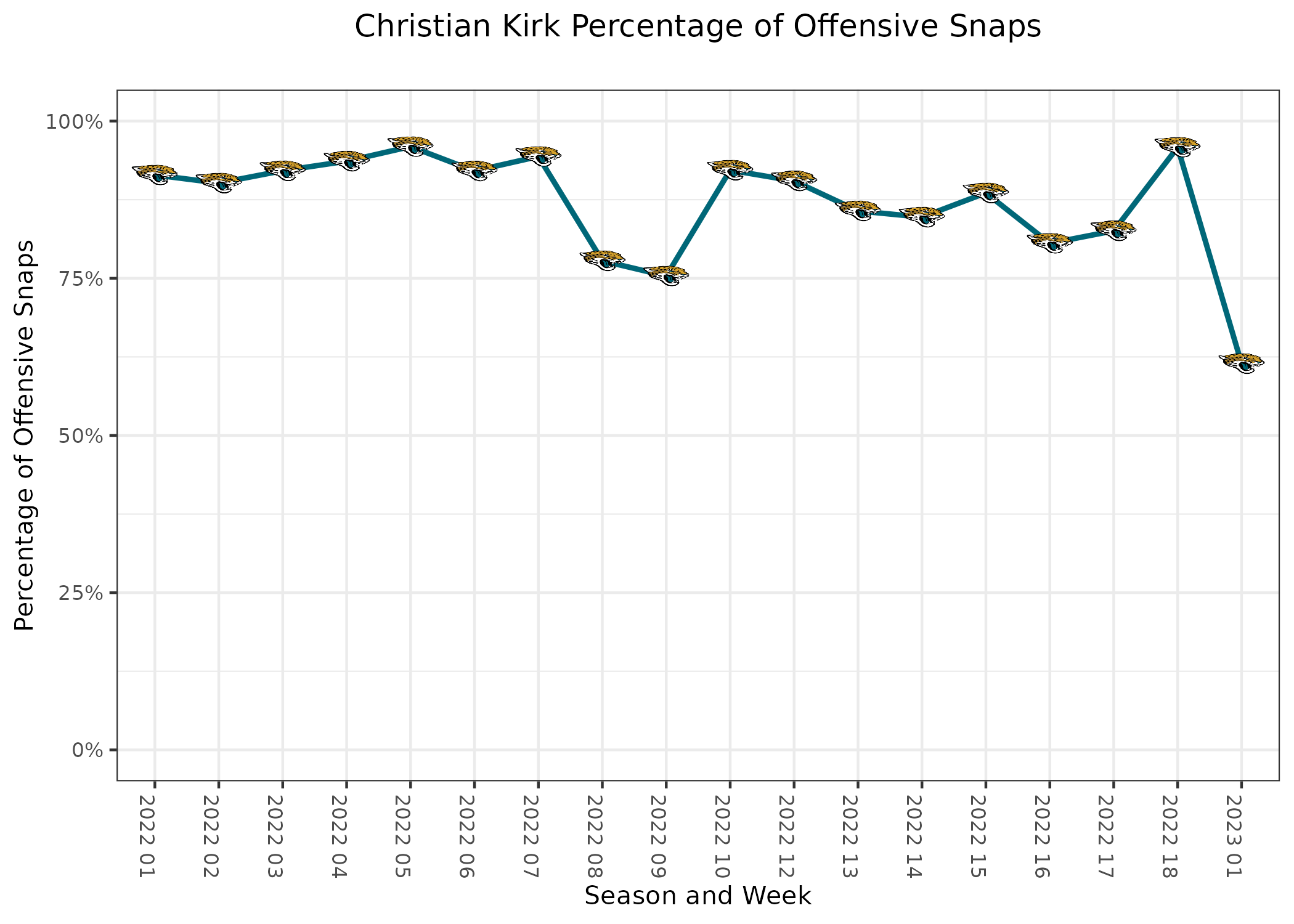 Deon Jackson doesn't make the most of his start: Jackson was the Colts' clear starter but any fantasy manager who started him wasn't happy.
Jackson gained 14 yards on 13 carries and caught five passes for 14 receiving yards.

He completely dominated first-half snaps, playing in 28 of a possible 31 snaps with

Evan Hull

taking the other three snaps.

Jackson's lead in snaps started to decline in the third quarter, only playing in 10-of-17 snaps.

Hull suffered a knee injury and was ruled out for the rest of the game, leading to

Jake Funk

getting involved in the offense.

Jackson and Funk split snaps in the fourth quarter.

Zack Moss

was questionable for this game at one point in the week, so there is at least a chance Moss will be ready for next week. We can expect Moss to be the starter if he's healthy.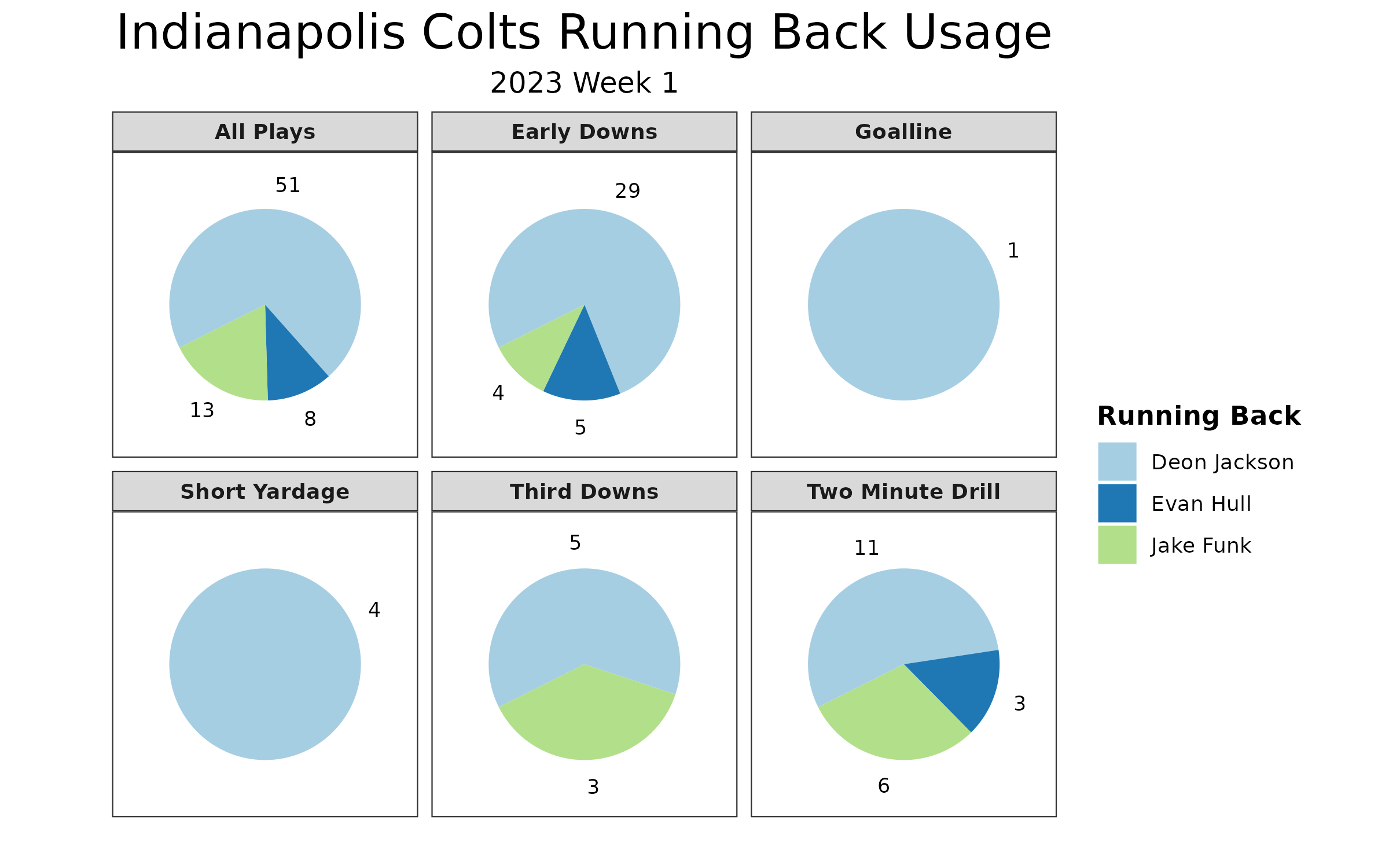 Monitor Drew Ogletree's health: The 2022 sixth-round pick suffered a concussion in the second quarter and was ruled out.
Ogletree was leading the Colts' tight end room in offensive snaps over the first six drives with 15 snaps compared to

Kylen Granson

's 12

and

Mo Alie-Cox

's 11

.

The Colts have continued to use their three-man tight end rotation despite the new coaching staff, with all three playing significantly in 11 personnel and no strong tendencies for which player would be on the field.

Even if Ogletree misses a game due to a concussion, this is a situation to avoid.

Will Mallory

was a gameday inactive and would likely play into the rotation next week if Ogletree misses time.

Jelani Woods

is on injured reserve due to a hamstring injury and will miss at least two more games. He is the best hope for someone on this team to emerge as a fantasy-relevant tight end, but he doesn't have much experience with the new coaching staff.
Miscellaneous Notes
The preseason made it clear

Josh Downs

would be the Colts' primary slot receiver with

Alec Pierce

and

Michael Pittman Jr.

playing out wide. The distribution of Colts wide receiver snaps went exactly as expected in this game.

Calvin Ridley

was also utilized exactly as we expected — an every-down outside receiver who rarely lines up in the slot with a high target share. To no one's surprise, he is a must-start regardless of matchup going forward.
---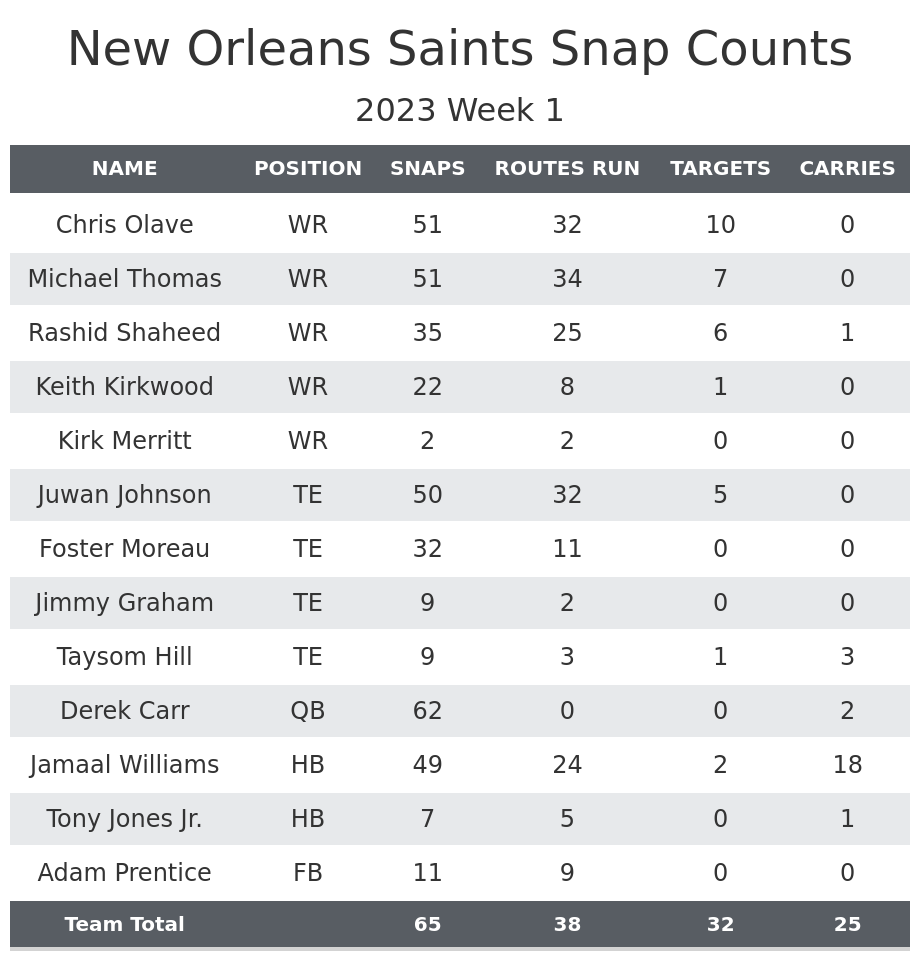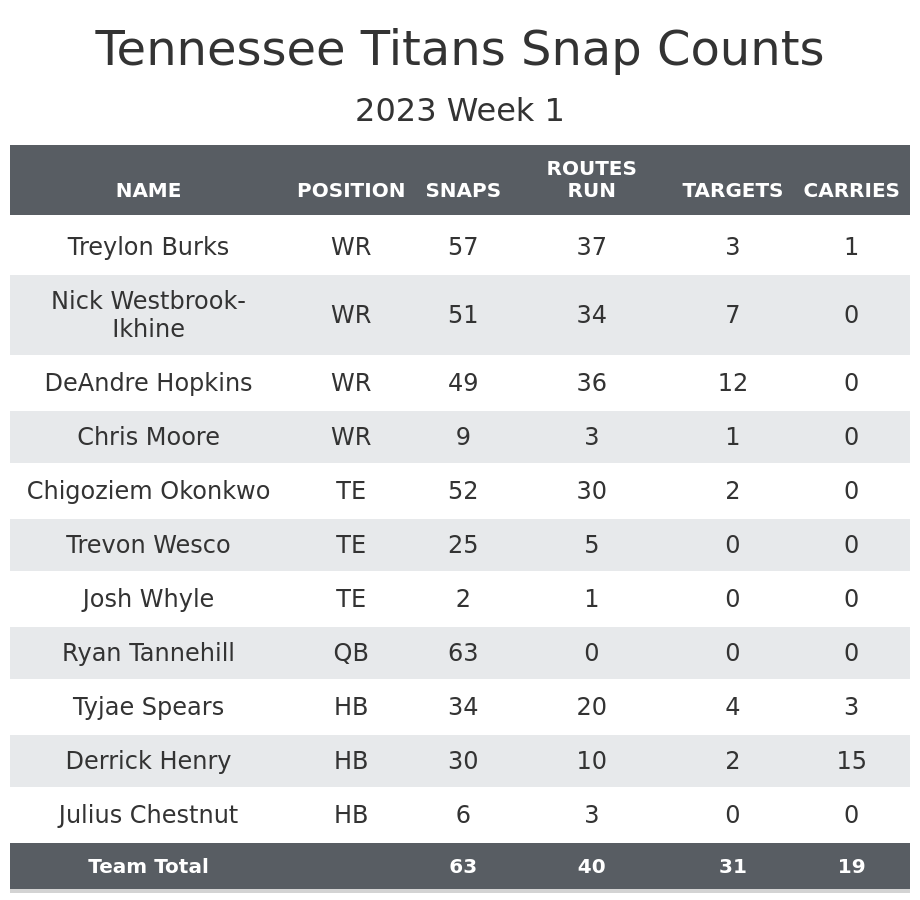 Tyjae Spears leads the Titans' backfield in snaps: Spears played the passing-down snaps, as expected, but also took significant snaps on early downs.
This didn't stop

Derrick Henry

from reaching 15 carries for 63 yards and catching two passes for 56 receiving yards.

It would be a little surprising if Tennessee continues to use Henry in this way, as it was a pretty clear tell that Henry was getting the ball if he was on the field.

Spears did well on his three carries, totaling 27 yards. He was also targeted four times — the third most on the team — but that led to only one catch for one yard.

Henry could be a sell-high candidate because Spears could continue to lead the team in snaps and may even take a touch or two away from Henry moving forward.

Tennessee could stick with running the ball in future one-score games, but it might be harder for Henry to see as many carries if the team falls behind in contests.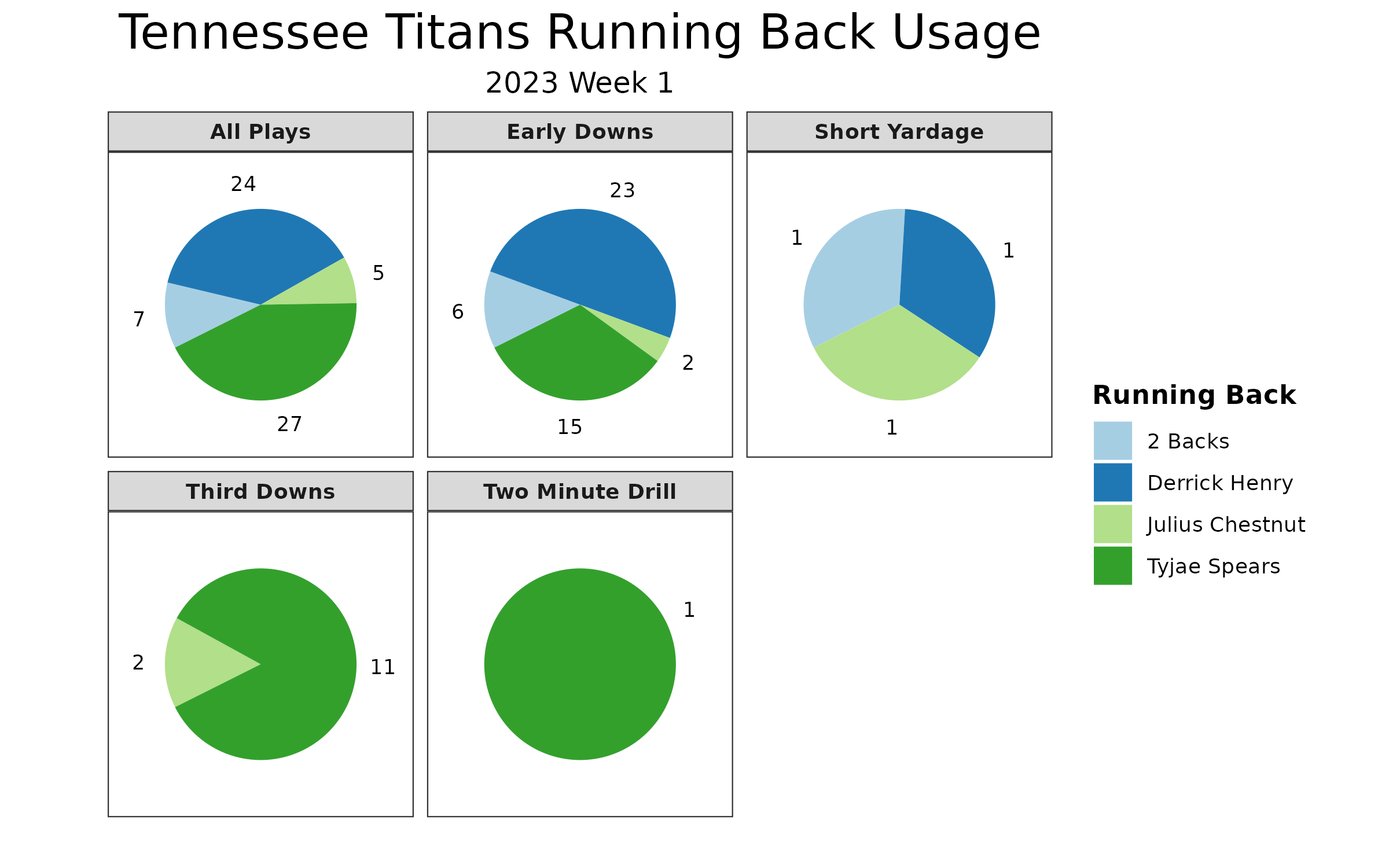 Buy low on Chigoziem Okonkwo: Okonkwo didn't catch either of his targets, but his playing time was very promising.
Okonkowo played 95.6% of offensive snaps in 12 and 21 personnel. He was seeing the majority of those snaps by the end of last season, but never to that extreme.

He played a clear majority of snaps in 11 personnel, with 75% of those snaps. The only times he was off the field in that personnel group was some early down and distances where

Trevon Wesco

was in instead, typically for run blocking purposes rather than for passing plays.

The Saints were the best team at preventing fantasy points to tight ends last season, so it's understandable that Okonkwo had an underwhelming game despite the playing time.

Okonkwo was wide open on one deep pass but the throw wasn't catchable.

If Okonkwo can match his 2022 efficiency with his usage in this game, he can be a top-five fantasy tight end.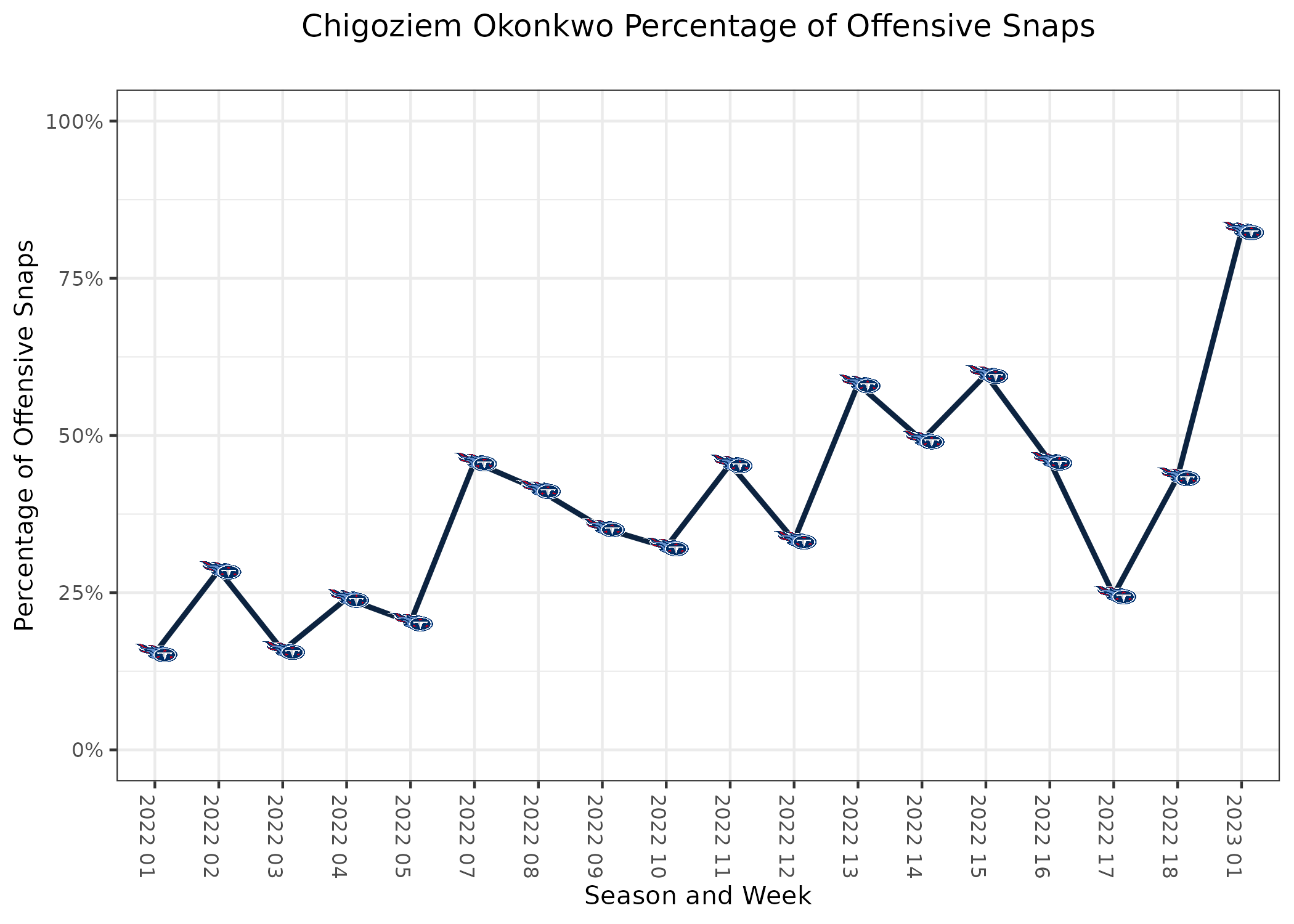 Jamaal Williams underwhelms as the Saints' every-down back: Williams seemed like a relatively safe start, but his inefficient play didn't help fantasy managers.
Alvin Kamara

is serving a three-game suspension and rookie

Kendre Miller

was inactive due to injury, leading Williams to be the clear every-down back for New Orleans.

He ran the ball 18 times for 45 yards and caught two passes for 7 yards.

His offensive line didn't do him any favors. He gained zero yards before contact in the game and 45 after contact.

Tony Jones Jr.

took a few snaps throughout the game as the backup running back, while fullback

Adam Prentice

at times was the solo running back in clear passing situations. The Saints did something similar with Prentice in the preseason.

Williams can be considered a buy-low candidate because he received all of the volume we hoped he would. His numbers could be much better against a different opponent.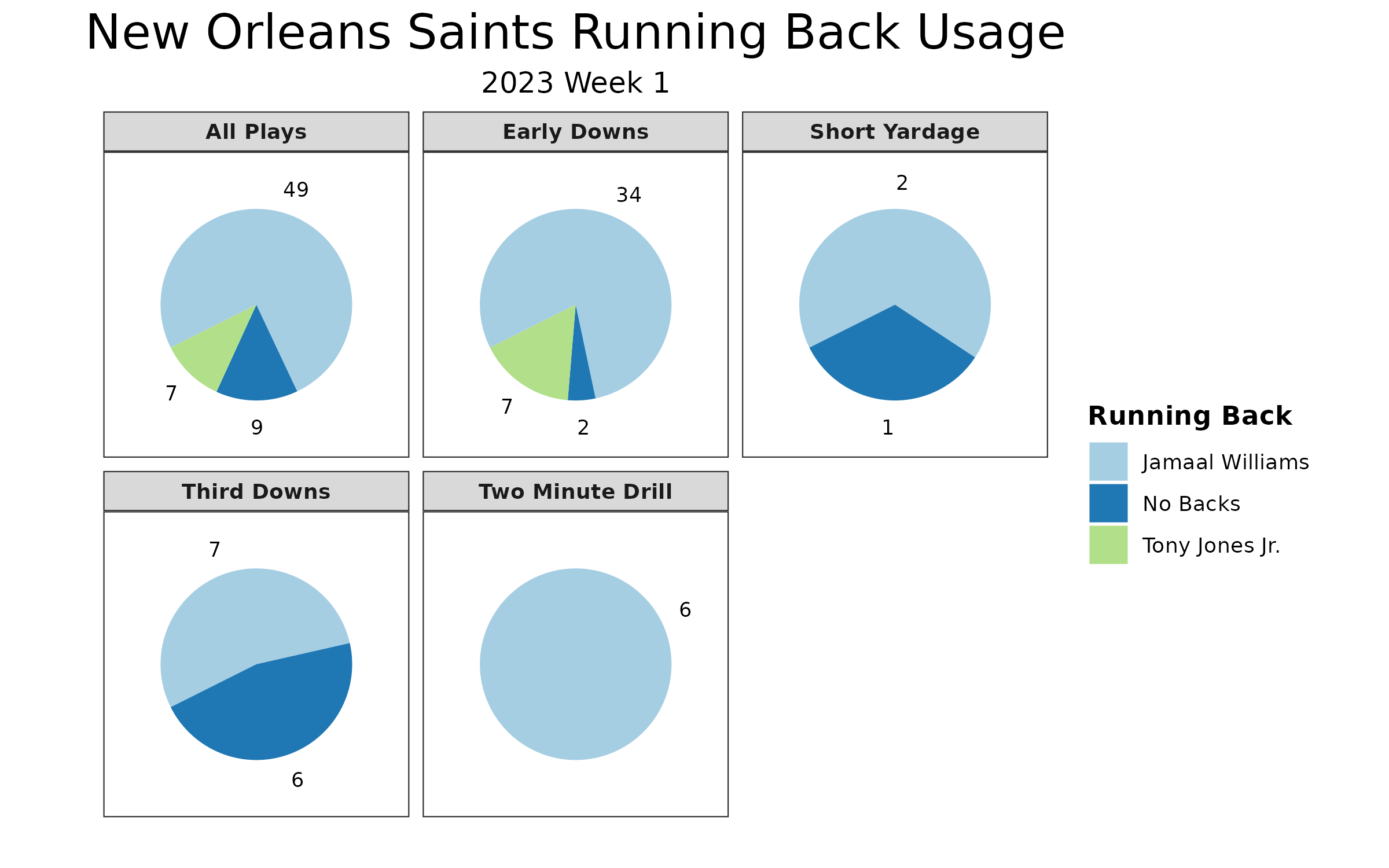 Miscellaneous Notes
---
• Brian Robinson: 19 carries, 59 yards, 1 reception, 7 receiving yards, 1 receiving touchdown
• James Conner: 14 carries, 62 yards, 5 receptions, 8 receiving yards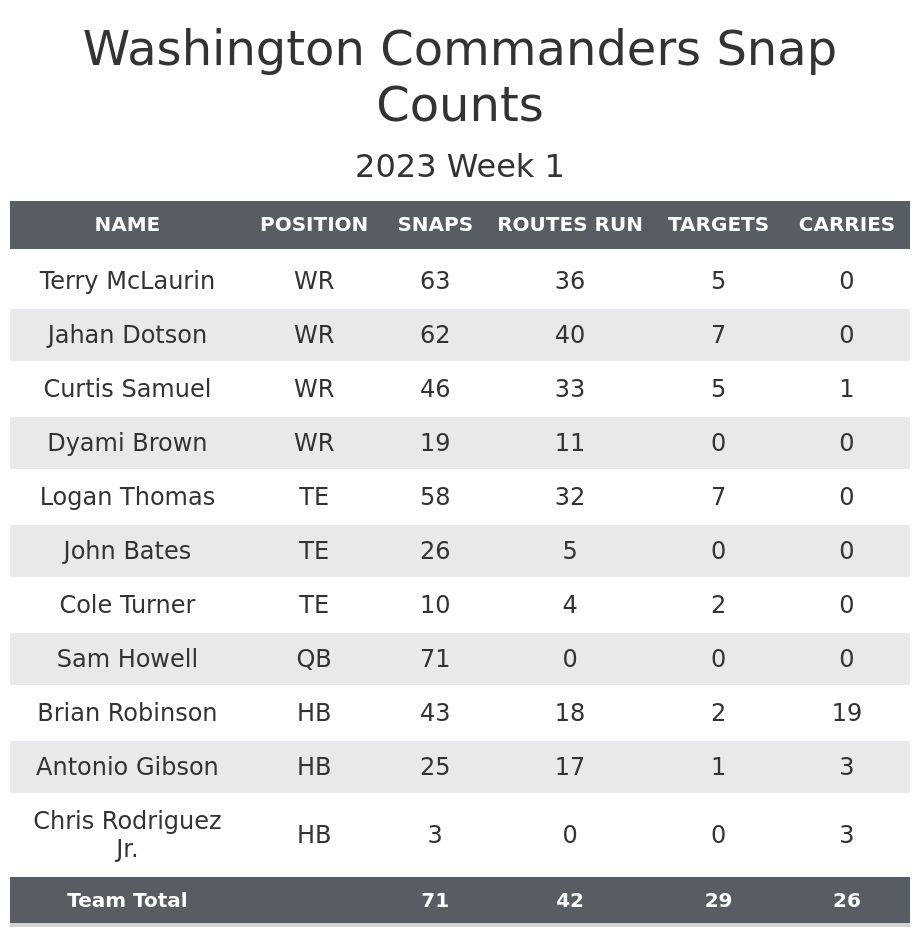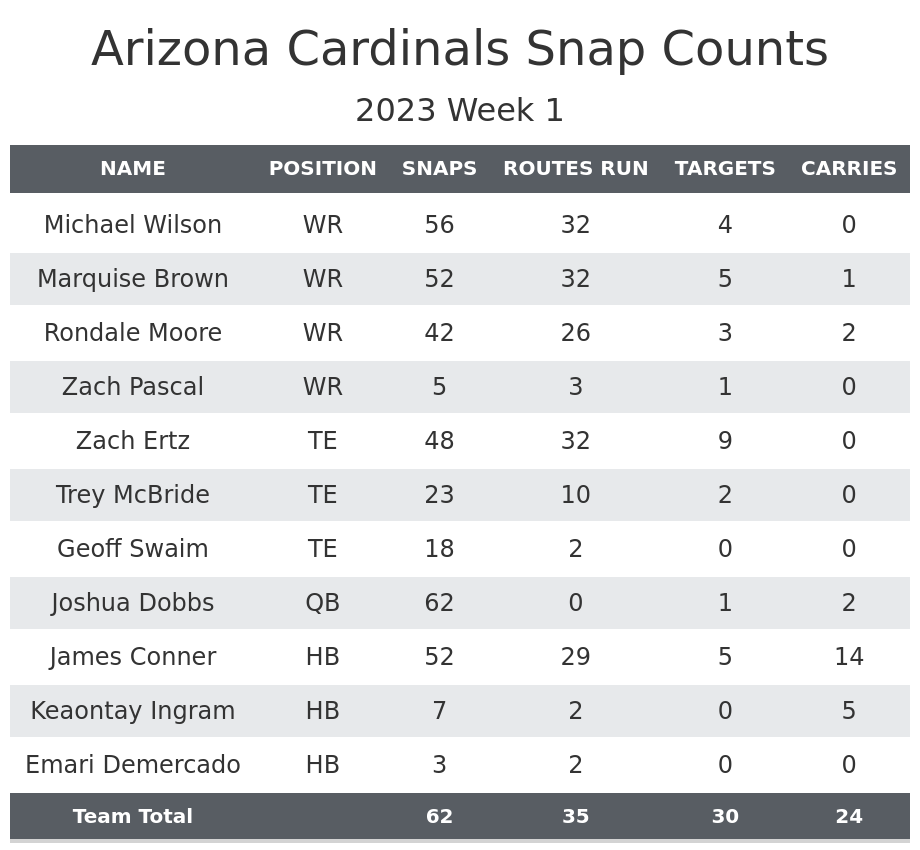 Ertz averaged 11.6 fantasy points per game last season, the sixth-best mark among tight ends, but ACL and MCL tears cut his season short.

It was unclear if Ertz would be ready for the start of the 2023 season, and former second-rounder

Trey McBride

was expected to at least share the tight end workload with Ertz. Ertz turning 33 years old in two months and a new coaching staff added to the concerns.

He was limited in practice all week and questionable coming into the game, but he was consistently the tight end on the field in 11 personnel while also taking a clear majority of snaps in 12 and 13 personnel.

McBride was largely restricted to two-tight end sets.

He caught six of 10 targets for 21 yards.

The offense in general needs to do better before fantasy managers place Ertz in their starting lineups, but the snap share and target share mixed with his history of success are too much to leave him on the waiver wire.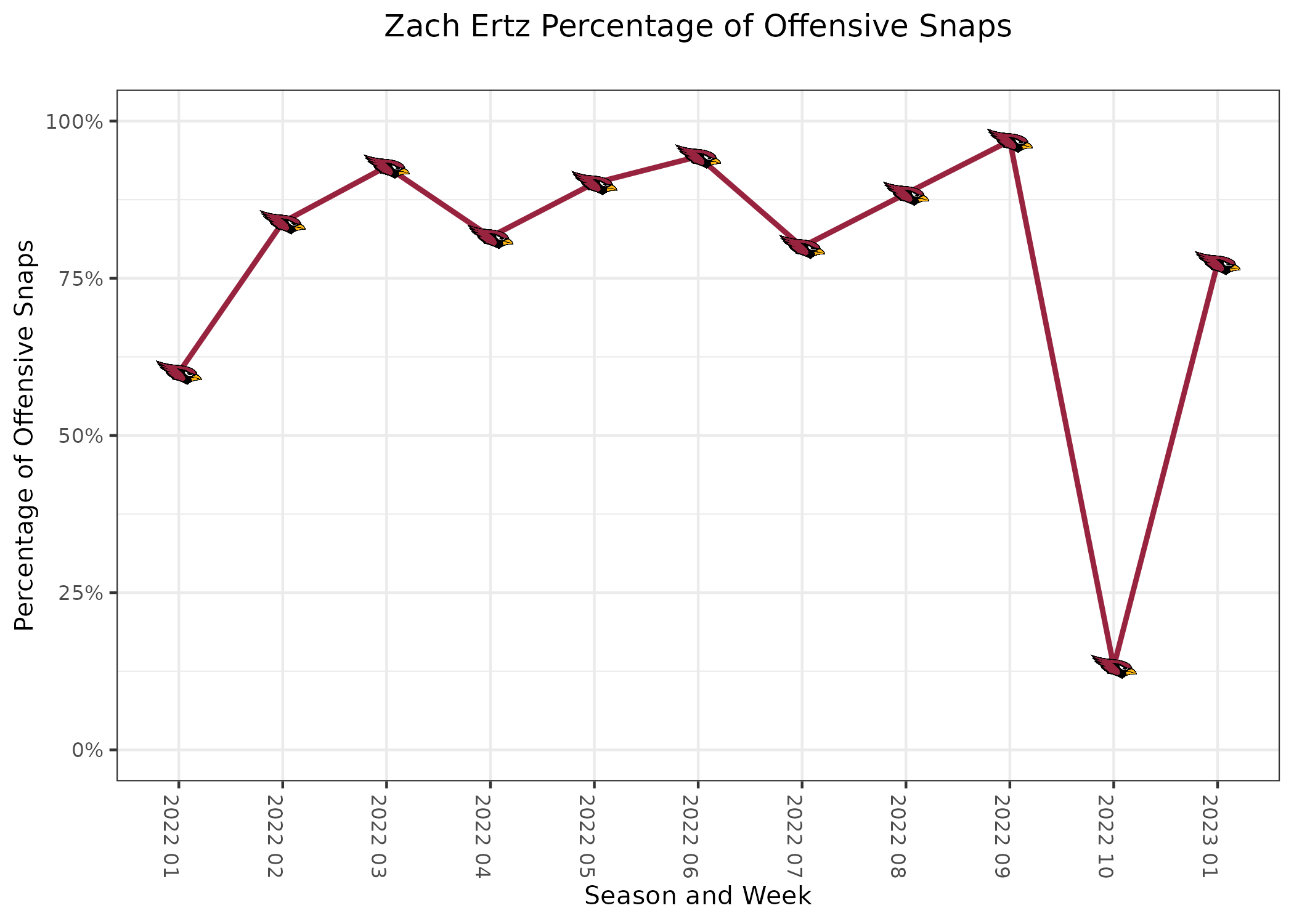 Brian Robinson pulls ahead of Antonio Gibson: It seemed like Robinson has pulled further ahead of Gibson as the Commanders' starting running back.
The second-year back gained 59 yards on 19 carries and caught a seven-yard touchdown pass.

Gibson was held to three carries for nine yards. He also recorded a 10-yard catch and lost a fumble.

The fumble didn't seem to impact Gibson's playing time, as he was on the field for five plays on the following two drives, compared to three for Robinson.

Robinson received a majority of snaps on early downs, but it was surprising to see Robinson play a few snaps on third down.

He took three snaps on third-and-6 or longer, something he did only once all of last season.

Gibson's carries were on the decline late last season, but this was just the second time in his career he was held to four touches or less in a game. The other was a 2020 game where he played only four offensive snaps.

This should make Robinson a safer start in fantasy leagues going forward, and Gibson a back to probably avoid.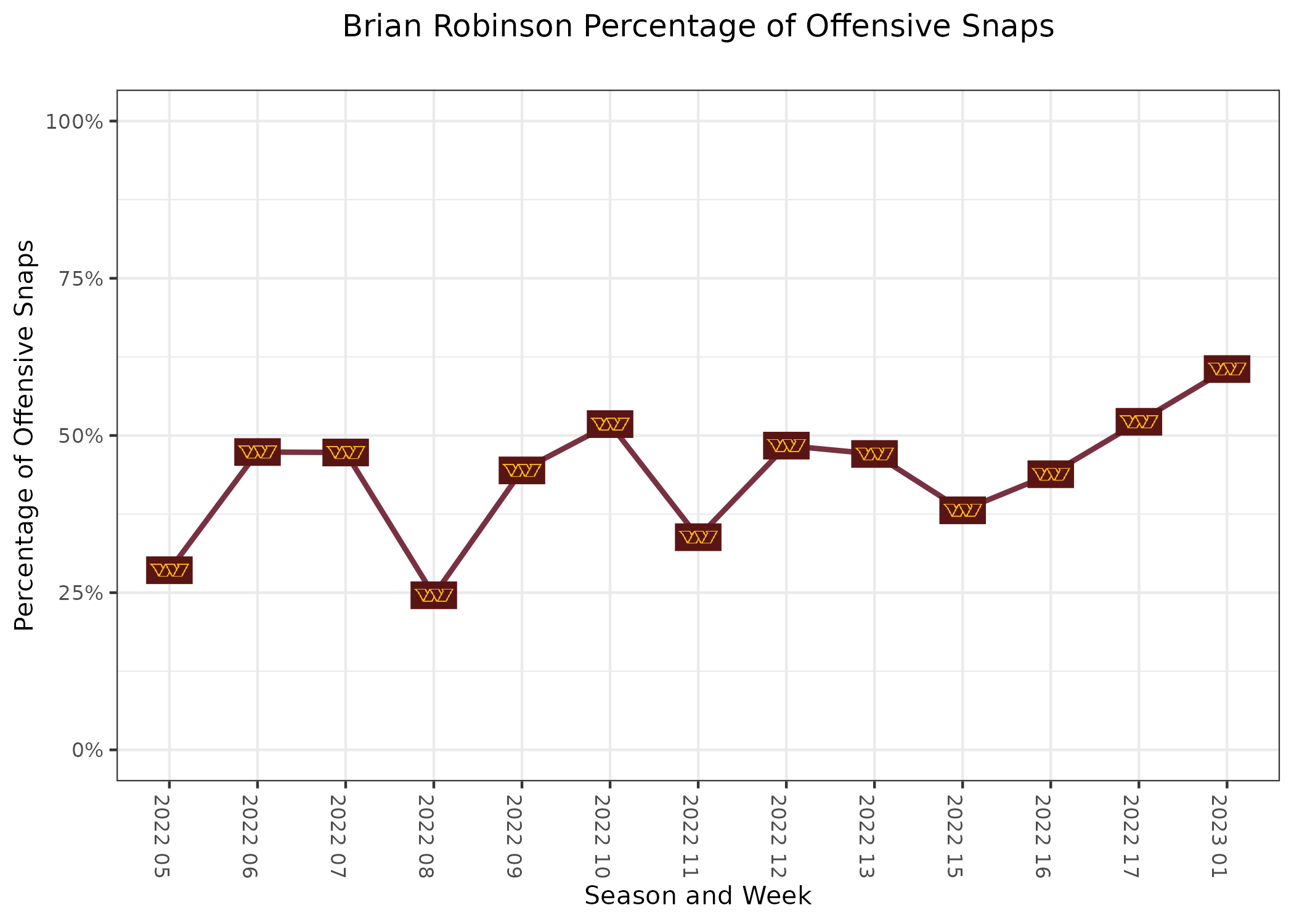 Add Logan Thomas: Thomas missed most of training camp and all of the preseason due to injury, but he played more in Week 1 than he typically received last season.
Thomas led the team in targets and caught four passes for 43 yards.

He gained more than 43 yards on three occasions last season and recorded more than four receptions in only four games.

There had been hype for

Cole Turner

throughout the preseason, but he was third on the depth chart in this game.

John Bates

was always on the field in two- or three-wide receiver sets. If Thomas were to suffer an injury, Turner would probably take over.

New Commanders offensive coordinator Eric Bieniemy has a history of building his offense around a veteran tight end, so we could see Thomas continue to be a big part of things going forward.

This one game might not be enough to push Thomas into fantasy starting lineups, but it's still a reason to be optimistic about him.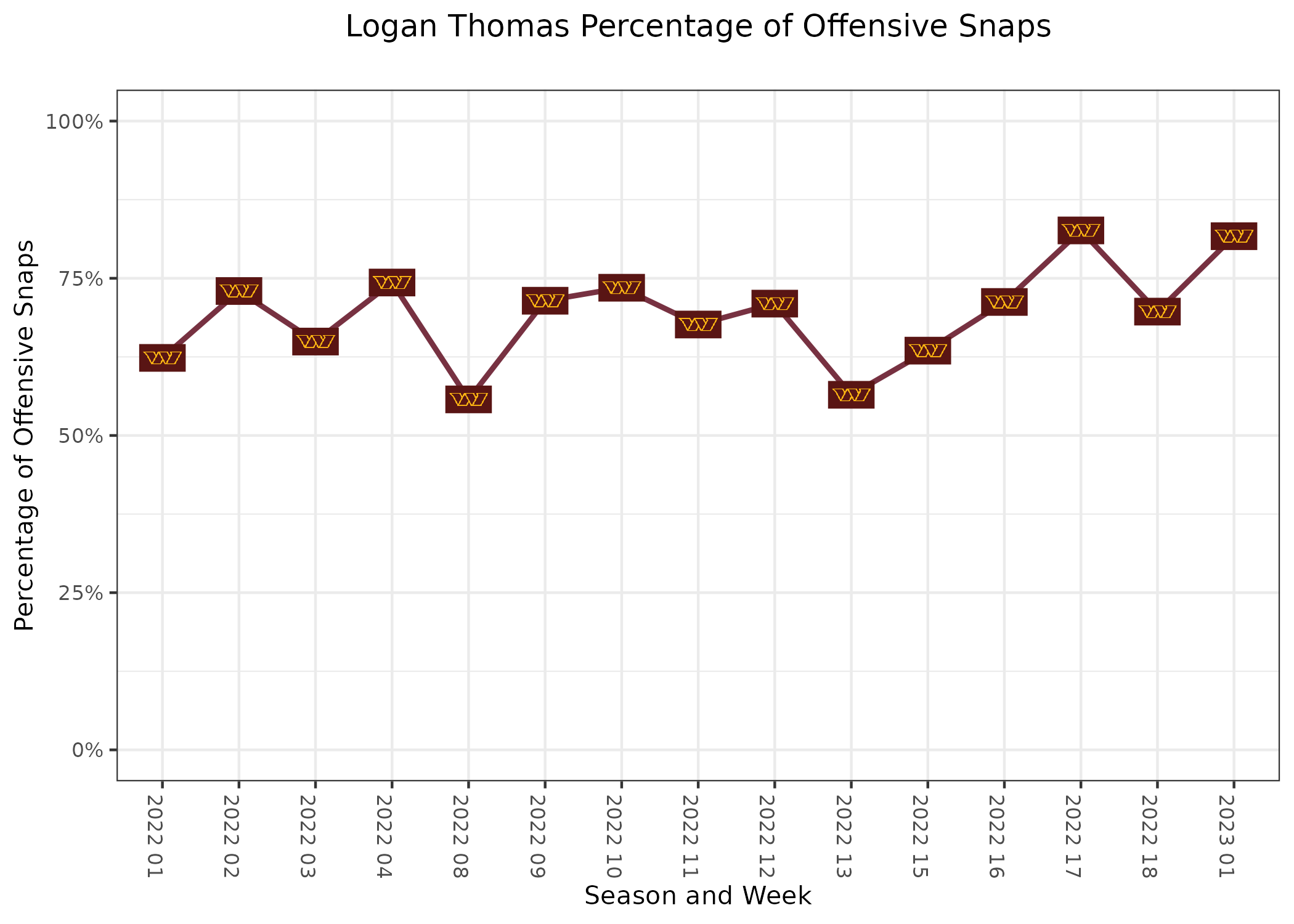 Miscellaneous Notes
Terry McLaurin

has been dealing with a toe injury, but that had no impact on his playing time in this game. It may have impacted his target share, leading to just two receptions for 31 yards.

The Cardinals' wide receiver rotation went exactly as expected, with

Marquise Brown

and

Michael Wilson

playing in two-receiver sets the majority of the time while

Rondale Moore

joined them in three-receiver sets.

The third-round rookie Wilson played in 13 and 22 personnel, which is why he led the wide receiver room in offensive snaps.

The Cardinals' backfield also went mostly as expected, with

James Conner

absolutely dominating snaps. His workload might not be sustainable, so

Keaontay Ingram

could be worth stashing as a handcuff.
---
• Brandon Aiyuk: 8 receptions, 129 receiving yards, 2 touchdowns
• Christian McCaffrey: 22 carries, 152 yards, 1 touchdown, 3 receptions, 17 receiving yards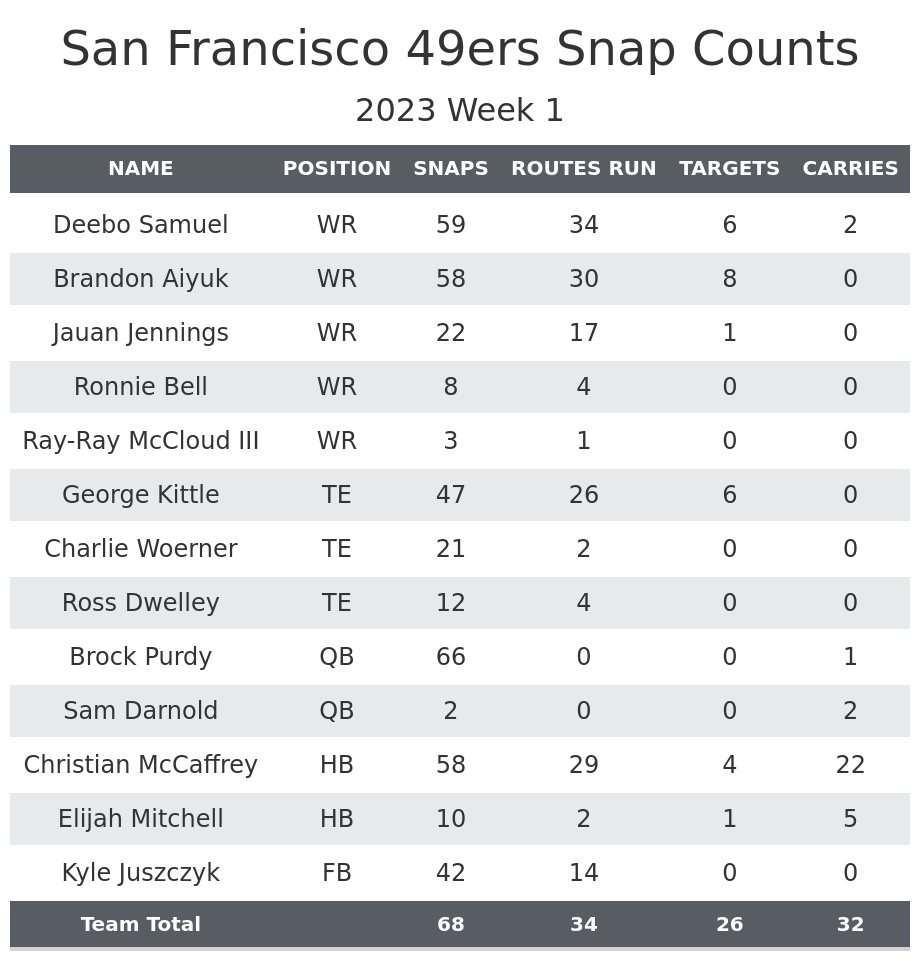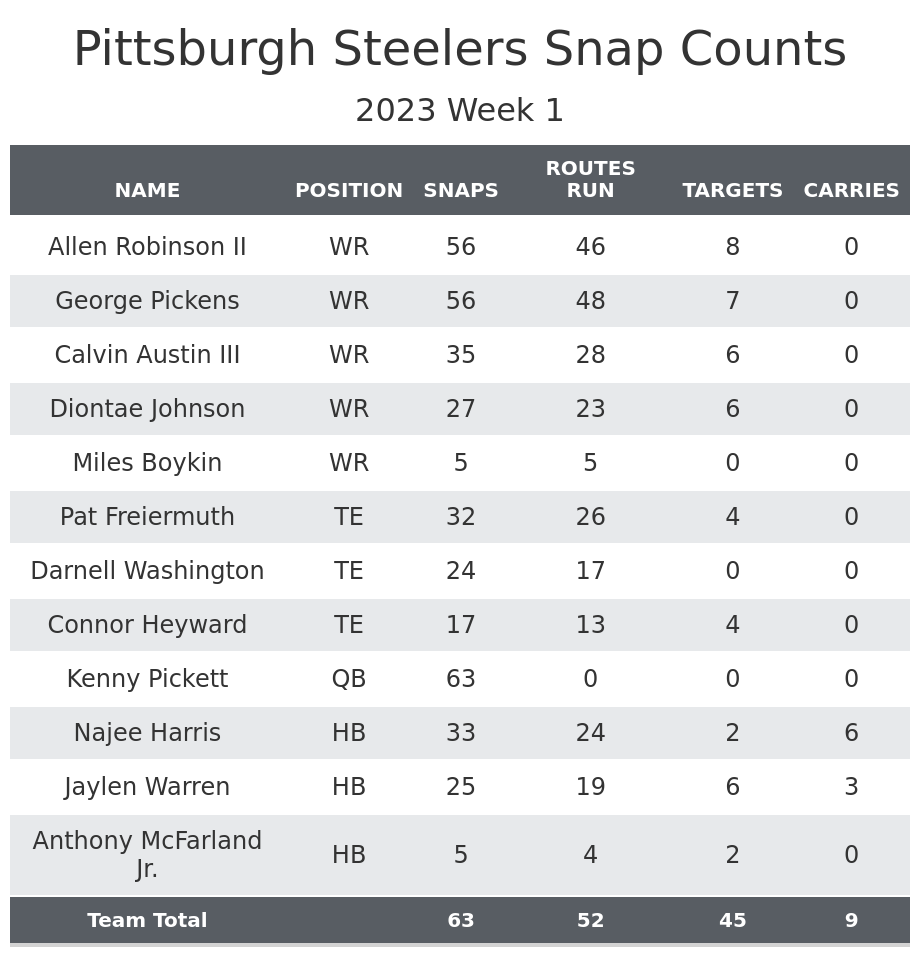 Najee Harris splits early-down snaps with Jaylen Warren: The two running backs played the same number of snaps in normal early-down situations.
Both players touched the ball eight times in this game, with Harris gaining more yards thanks to a 24-yard gain during the two-minute drill.

Harris was still the primary short-yardage back and Warren was the primary third-down back, as expected.

Harris also played the majority of snaps during the two-minute drill. Typically, it's the third-down back who plays those snaps, but Harris was also the two-minute-drill back throughout last season.

Harris is still expected to be the starter going forward, but all of the talk of Warren and Harris splitting snaps proved true in this first game.

We should expect the Steelers' offense to play much better going forward, leading to more opportunities for both running backs. Still, it will be hard for Harris to live up to his ADP in this kind of situation.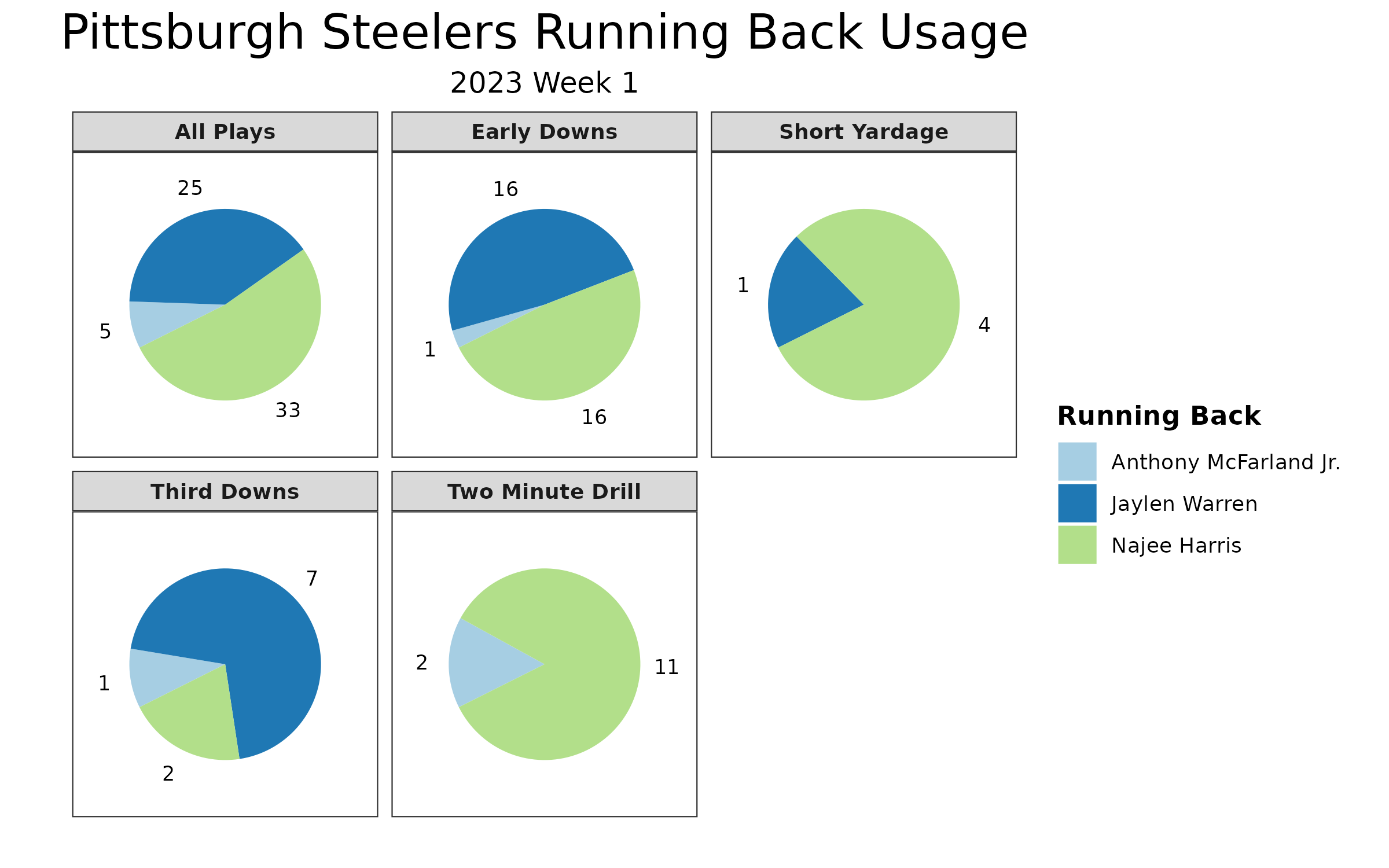 Monitor Diontae Johnson's health: Johnson left for the locker room in the third quarter with a hamstring injury after a reception and was quickly ruled out.
The Steelers' wide receiver rotation went exactly as expected in the first half, with Johnson and Pickens leading the charge,

Allen Robinson II

playing in 11 personnel and

Calvin Austin III

mixing in.

Austin was the direct replacement for Johnson. Austin is typically a slot receiver, but Robinson continued to play in the slot while Austin played out wide.

Austin could be worth a waiver wire target if we find out that Johnson's injury is serious.
Monitor Pat Freiermuth's health: Freiermuth suffered a chest injury but continued to play on a limited basis afterward.
Freiermuth played 23 of 27 snaps in the first half, including 18 of 22 pass plays. This was good to see, considering the investment Pittsburgh made in rookie

Darnell Washington

.

Freiermuth played only eight of 34 snaps in the second half, with his last snap coming with more than 11 minutes left in the game.

Considering the blowout, Pittsburgh likely didn't want to risk further injury.

It's still worth it to monitor his health even though he was able to return to the game.
Christian McCaffrey dominates offensive snaps for San Francisco: McCaffrey played all but 10 of the 49ers' offensive snaps.
The 49ers used McCaffrey heavily last season when games were still close, but once San Francisco built a two-score lead, they would start to rotate running backs more often.

McCaffrey played 59 of a possible 125 snaps when the 49ers had at least a two-touchdown lead last season.

San Francisco spent most of this game with at least a two-touchdown lead and could have rotated its running backs more, but they didn't. McCaffrey still played 34 of 42 snaps once the team established a 14-plus-point lead.

McCaffrey is obviously always a must-start, but knowing he can keep succeeding in these kinds of games is great for his ceiling.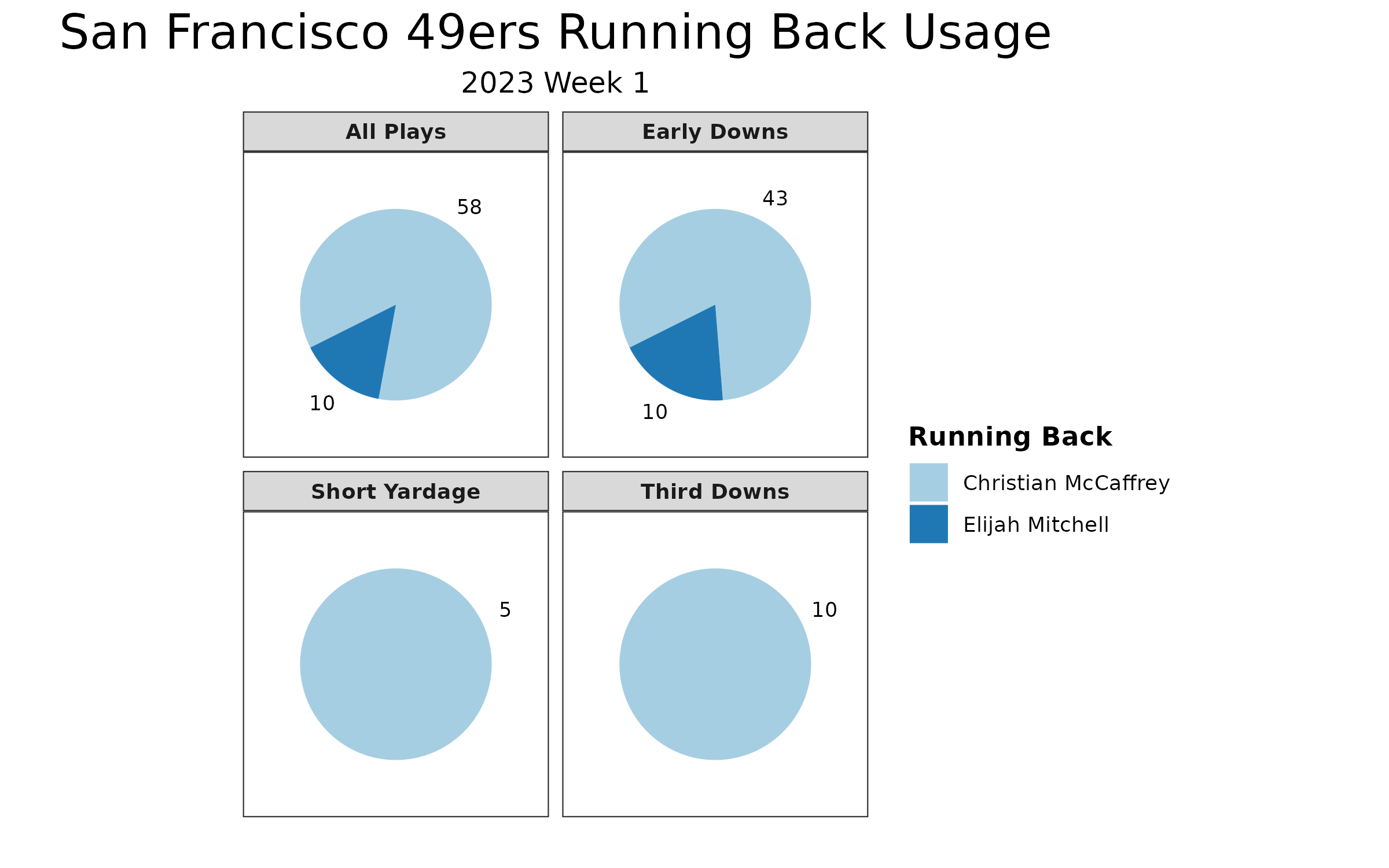 Miscellaneous Notes
The 49ers made minimal changes at wide receiver and tight end this offseason, so their rotations at those positions remained similar to last season.
---
• Justin Jefferson: 9 receptions, 150 receiving yards
• Mike Evans: 6 receptions, 66 receiving yards, 1 touchdown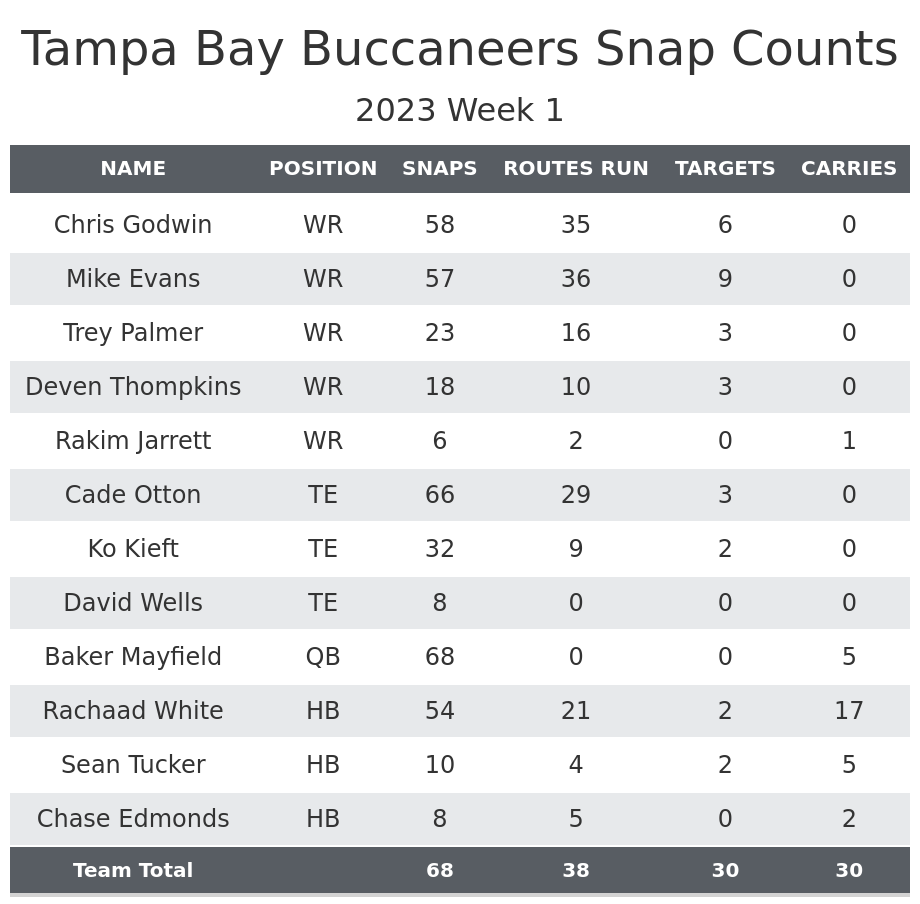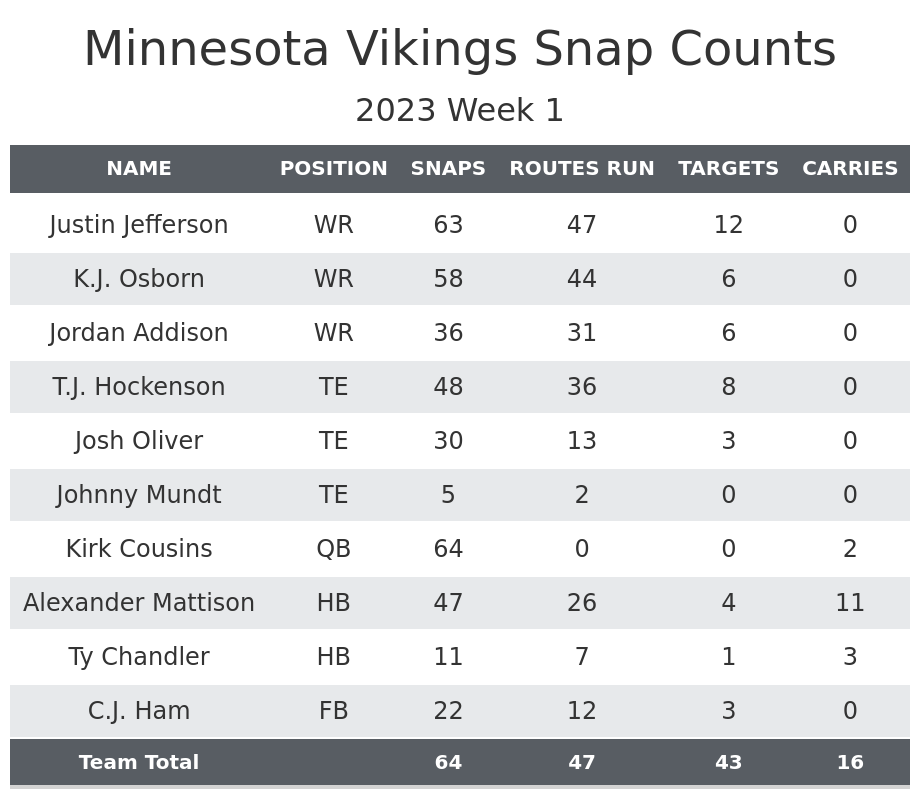 Rachaad White's first game as the Buccaneers' feature back: White dominated offensive snaps throughout the game, but that didn't necessarily lead to great fantasy production.
White ran 17 times for 39 yards and caught two passes for 10 yards.

He was the clear top back in every situation, with

Sean Tucker

and

Chase Edmonds

each seeing a little bit of playing time.

The Buccaneers combined for four total yards before contact on 32 designed runs, with all of the running backs needing to do most of their work after contact.

Everything points to White continuing to handle a dominant workload. But he wasn't an efficient back in this offense last year, and that continues to be the case through Week 1.

If he's not able to turn things around in the next few weeks, it wouldn't be surprising to see undrafted rookie

Sean Tucker

cut into White's playing time.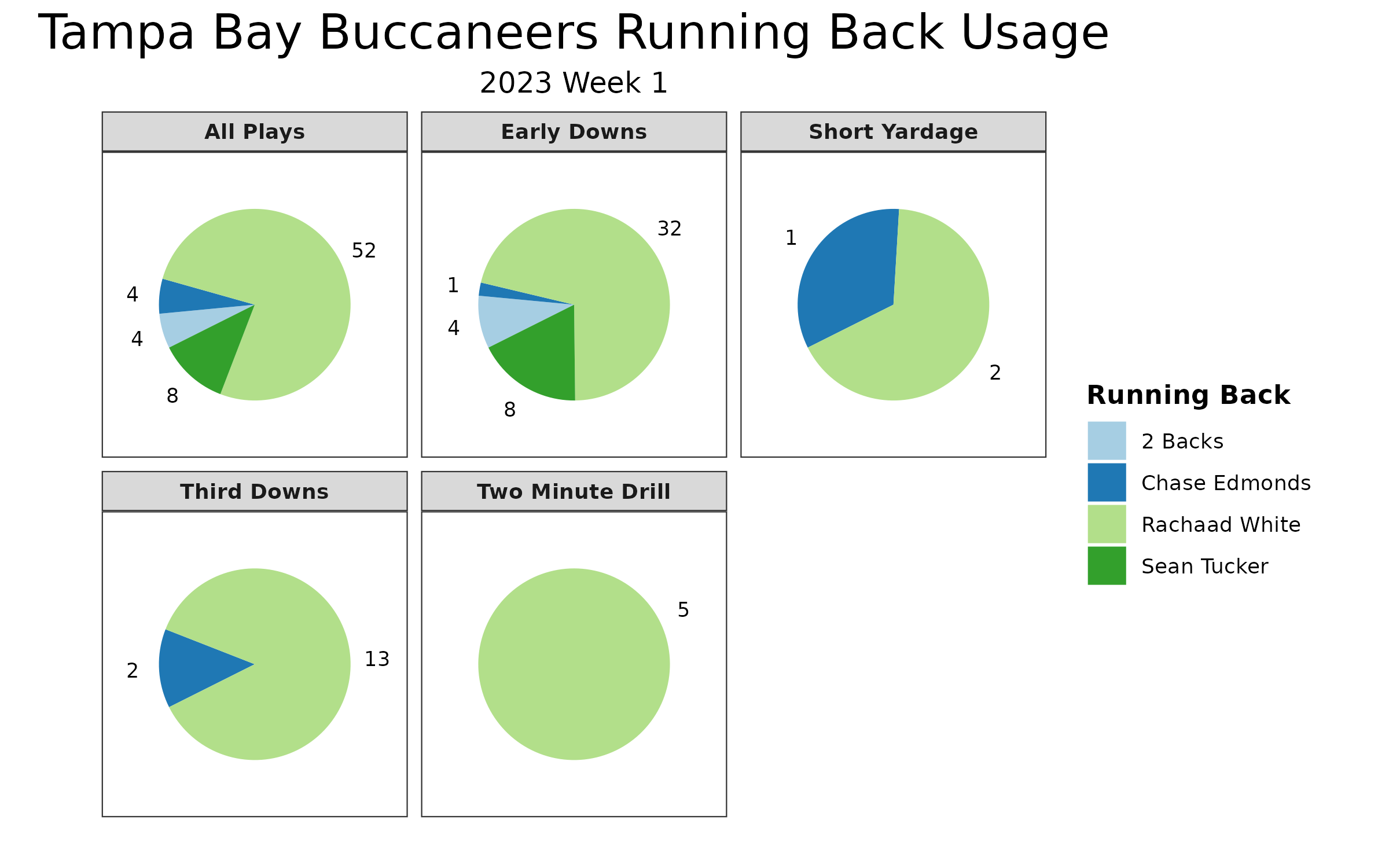 Trey Palmer takes over as the third wide receiver: The sixth-round rookie is the Buccaneers' WR3.
The opportunity opened up when

Russell Gage

suffered a season-ending knee injury.

Tampa Bay gave several young receivers an opportunity to claim the role during the preseason, but as many expected, Palmer took the lead.

He played roughly two-thirds of the offense's snaps in 11 personnel, with

Deven Thompkins

taking the other third.

Chris Godwin

has traditionally been a slot receiver, but he was consistently lining up on the outside while the younger receivers played in the slot.

Rakim Jarrett

took both of the Buccaneers' snaps out of 13 personnel, which were the only snaps

Mike Evans

or Godwin missed.

Palmer caught two of his three targets, one for a seven-yard touchdown and another for a one-yard gain.

Palmer is worth a stash only in deep leagues at this point because of the rotation and the quality of the Buccaneers' offense.
Alexander Mattison makes his debut as the Vikings' top back: Mattison was used how we expected, but that didn't yield great fantasy results.
Mattison ran 11 times for 34 yards and caught three passes for 10 yards and a touchdown.

He was the clear top halfback in every situation.

C.J. Ham

played a solo running back role at times in clear passing situations.

This is the ideal kind of usage for Mattison going forward; he just needs to do more with his opportunities. Ideally, the Vikings will be winning more often so they can run more in second halves going forward.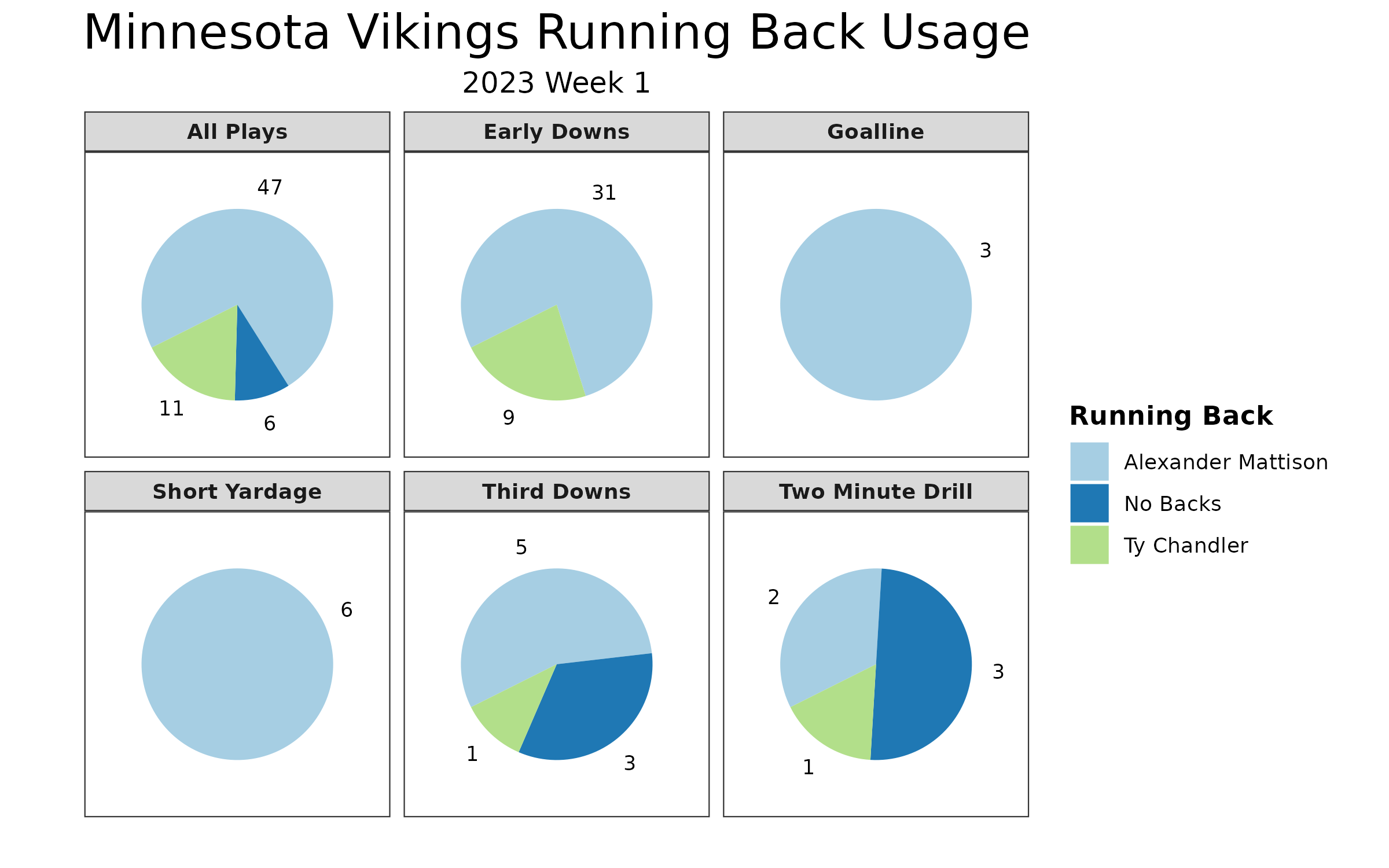 Jordan Addison debuts in a limited role: Addison showed up in a big way on the stat sheet, but his playing time might stay limited for the time being.
Addison caught four passes for 61 yards and a touchdown, with a lot of his production coming via a 39-yard touchdown catch in the second quarter.

Addison played 100% of snaps when the Vikings were in 11 personnel and 0% of snaps in any other personnel grouping.

K.J. Osborn

took the 12 and 21 personnel snaps that last year were going to

Adam Thielen

. This led Osborn to see a higher percentage of offensive snaps than in any game he played last season.

Ideally, if the Vikings are considering having Addison become the WR2 anytime soon, he should play at least a couple of snaps in 12 or 21 personnel at some point.

Addison can outperform Osborn week after week in the passing game, but until Addison becomes an every-down wide receiver, his upside will be limited.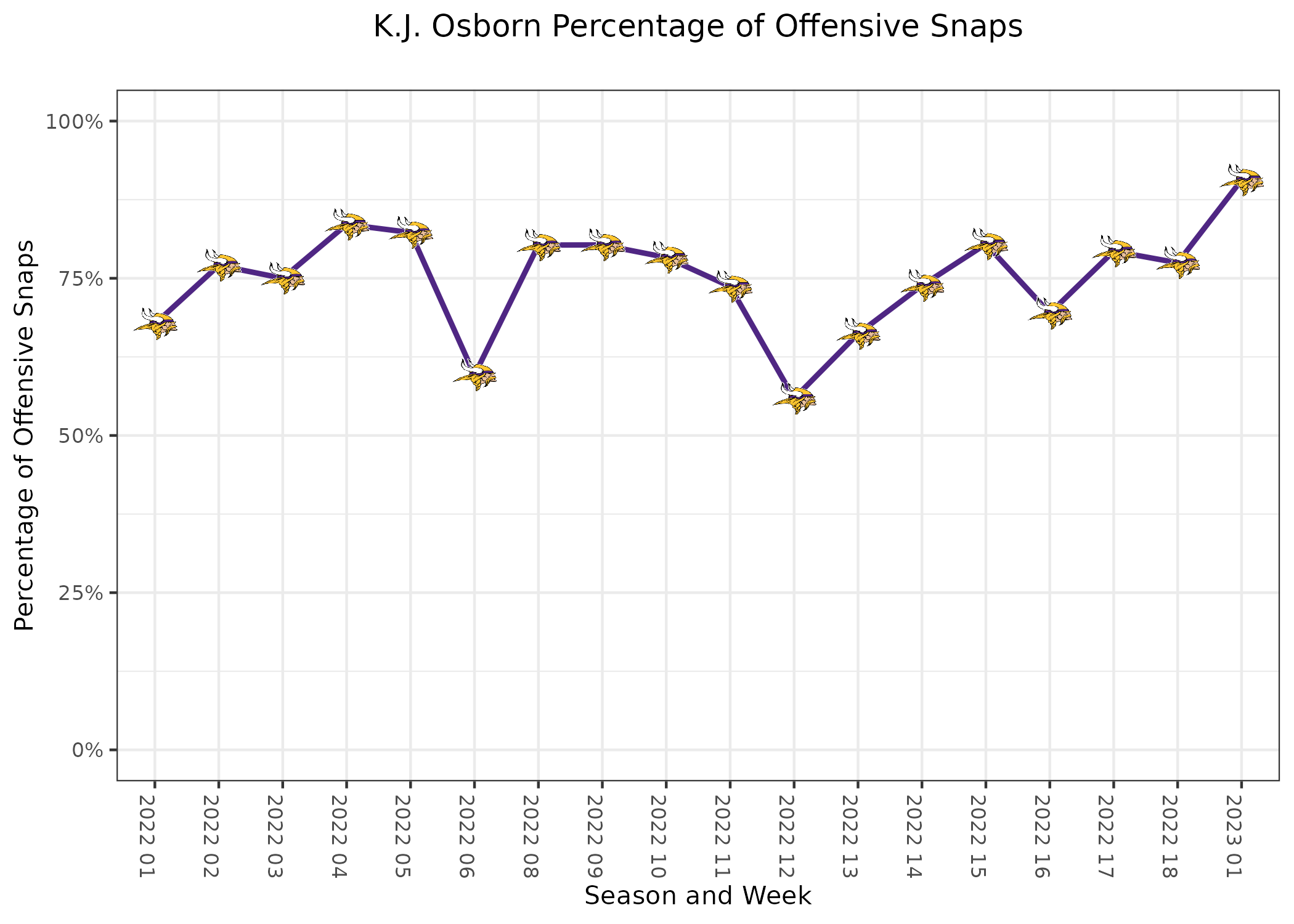 Miscellaneous Notes
There is no reason to be concerned about

T.J. Hockenson

's playing time. He was off the field for 16 snaps, 14 of which were from 21 personnel. This is typically a clear running formation, but Minnesota happened to pass a lot out of 21 this week.

Hockenson won't be playing in 21 personnel anytime soon, but he won't be missing out on this many pass plays in the future.

Cade Otton

dominated offensive snaps, leaving the field for two plays. However, he caught only two of his three targets for 19 yards. He is a player to keep an eye on if the Buccaneers' offense starts clicking later in the season.
---
• Aaron Jones: 9 carries, 41 yards, 1 touchdown; 2 receptions, 86 receiving yards, 1 receiving touchdown
• Romeo Doubs: 4 receptions, 26 receiving yards, 2 touchdowns.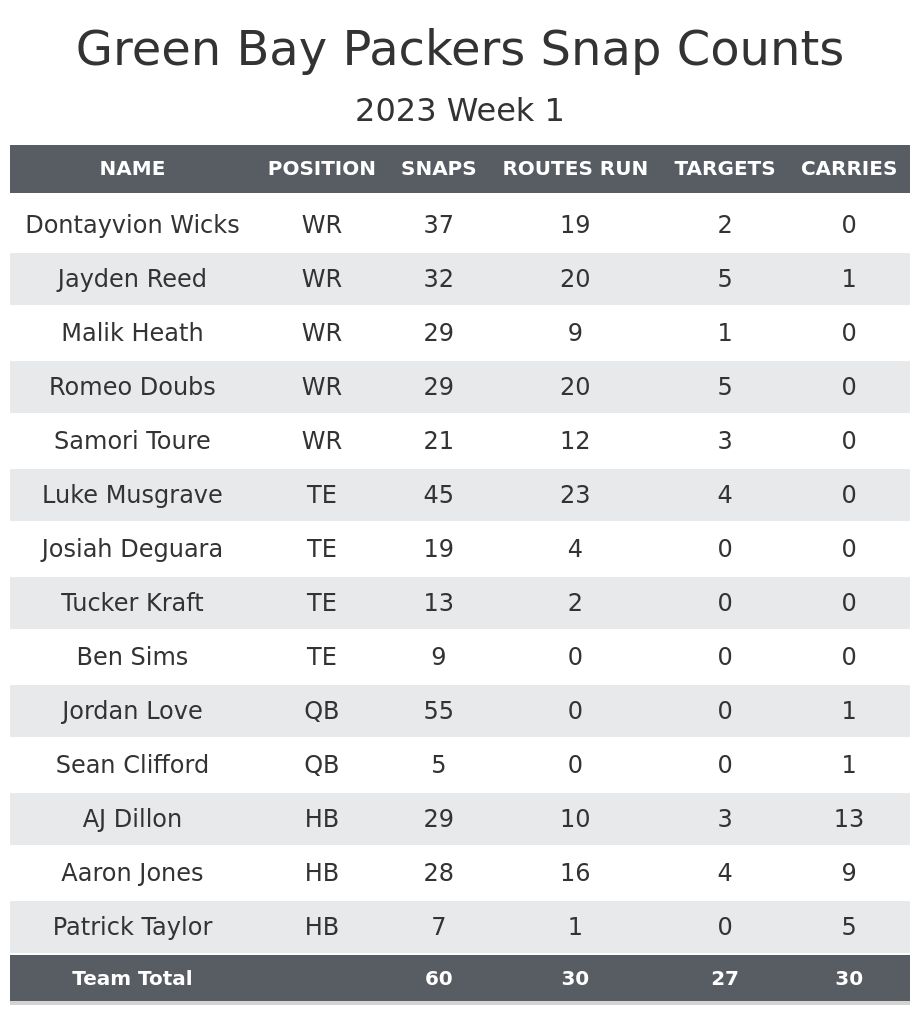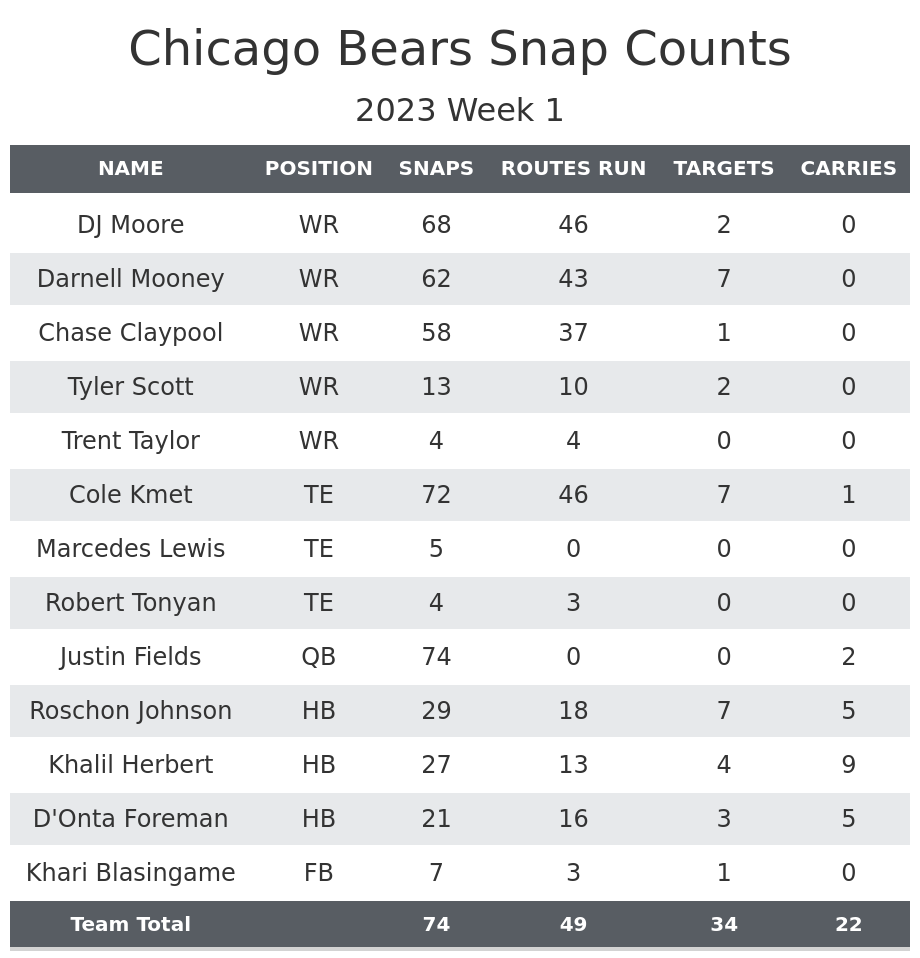 The Bears' three-man committee: When it comes to fantasy football, the biggest fear for a backfield is to see snaps distributed like this.
Khalil Herbert

received every snap for the Bears on their first drive, but after that point, it was a free-for-all.

The only clear tendency was that

Roschon Johnson

was the primary third-down back. Johnson played on third downs with the starters in the Bears' last preseason game, so this wasn't a surprise.

Herbert ended up with the most carries with nine. They resulted in 27 yards.

It was Johnson who scored the team's only rushing touchdown, while Johnson also led the team in receptions with six.

Johnson should be a waiver wire target. It probably doesn't make sense to put any Bears running back in your starting lineup, but Johnson could play more if the season progresses.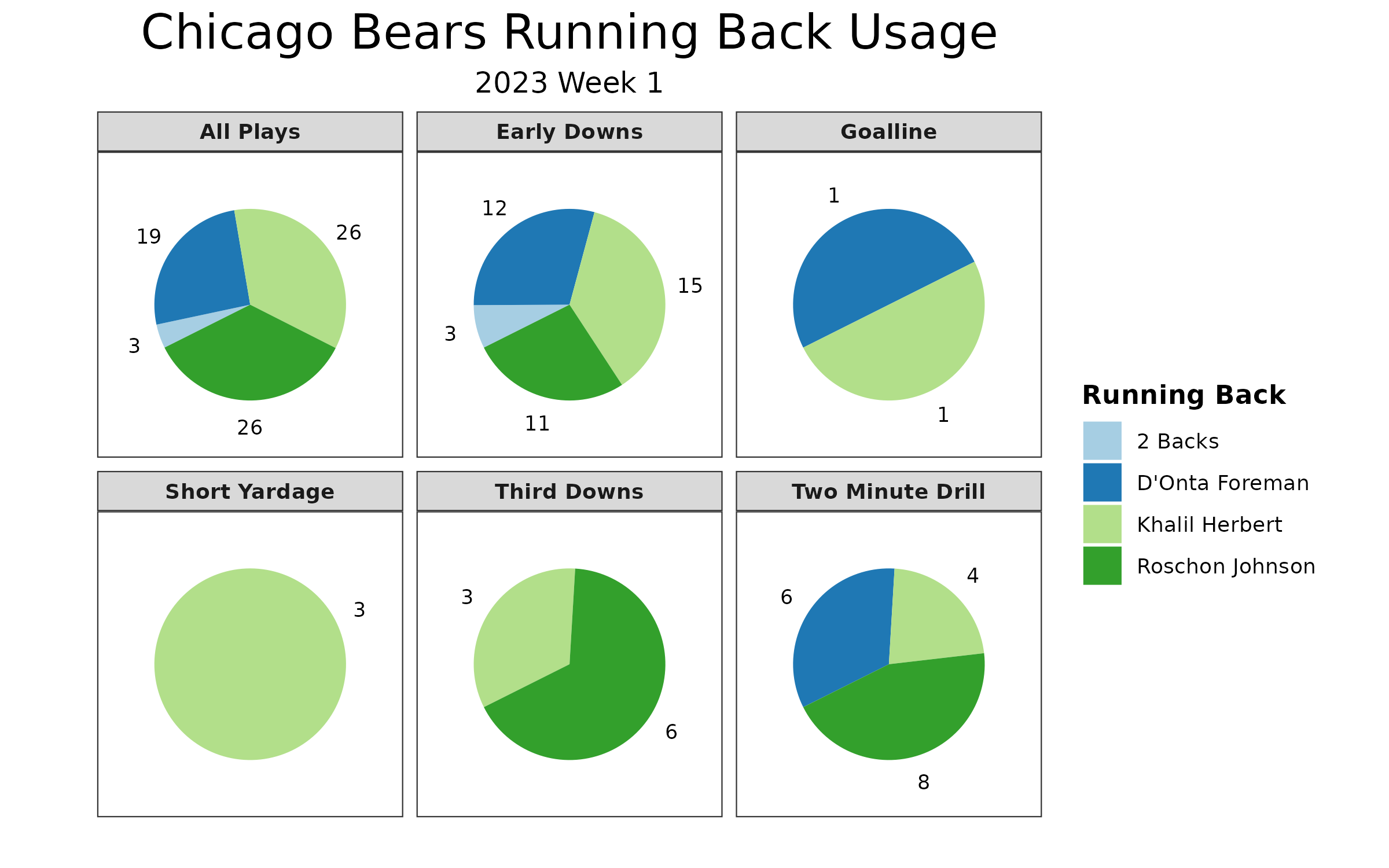 The Packers five-man wide receiver rotation: Green Bay used five different wide receivers throughout the game but none of them supassed 50 receiving yards.
Christian Watson

is typically one of the Packers' outside wide receivers, but he missed the game with an injury.

Romeo Doubs

is expected to be an every-down player, but he was also dealing with injuries and was on a snap count.

Jayden Reed

is the Packers' third wide receiver, and that's the role he played in this game.

Reed played in 30 of a possible 33 snaps in 11 personnel and rarely played in any other personnel grouping.

Reed led the wide receiver room in receiving yards with 48 on two receptions.

He was the clear slot receiver, as expected, with 22 of his snaps coming from the slot. The other four wide receivers combined for 24 snaps in the slot.

Samori Toure

was the only other wide receiver who caught a pass, catching two for 18 yards.

Dontayvion Wicks

nad

Malik Heath

also got significant playing time with no receptions.
Luke Musgrave reaches 50 receiving yards: The Packers rookie tight end caught three passes and was one of the most successful fantasy tight ends of the week.
He didn't receive 100% of snaps with the starters, as he often did in the preseason, but it was still a high majority of snaps. 

Musgrave was a clear starter in every personnel group.

Most importantly, he was the clear receiving tight end. The other tight ends combined for six routes.

Musgrave was on the field for all but four passing plays. He stayed in to block on three passing plays.

He should be one of the top waiver wire targets at the position. Few tight ends available have the role and upside Mugrave has.
Miscellaneous Notes
The snaps for the Bears wide receivers and tight ends went as expected, with

D.J. Moore

,

Darnell Mooney

,

Chase Claypool

and

Cole Kmet

playing the vast majority of snaps.

It was surprising to see Chicago stay in 11 personnel for most of the game, which was at least partially due to the game script.

Aaron Jones

was dealing with a hamstring injury late in the game, but

he doesn't believe it was pulled. He should be fine, but it's a situation worth monitoring.
---
• Jakobi Meyers: 9 receptions, 81 yards, 2 touchdowns
• Courtland Sutton: 4 receptions, 32 yards, 1 touchdown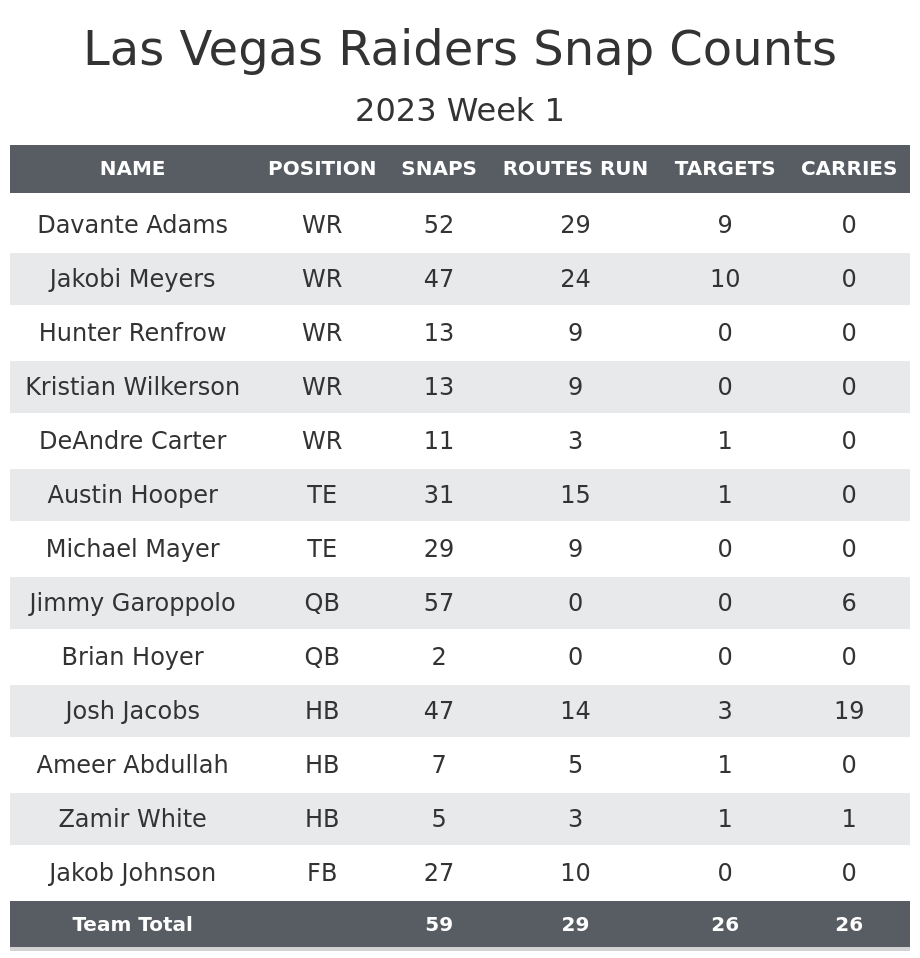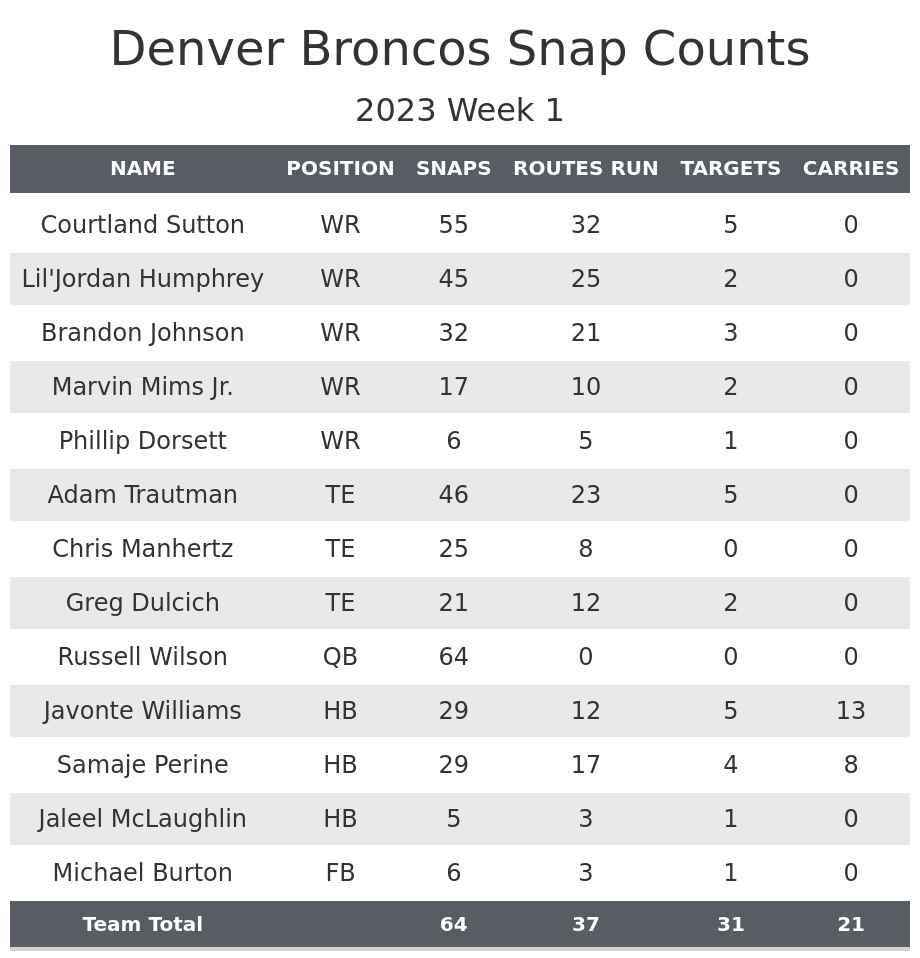 The Broncos' two-man backfield: Denver used Javonte Williams on early downs and Samaje Perine on passing downs.
Williams ended up with 52 rushing yards on 13 carries. He added four receptions for 5 yards.

Perine gained 41 yards on eight carries and led the team in receiving yards, with 37 yards off four receptions.

The Broncos used the running backs the same way in their one preseason game with the starters, and it appears they will keep using their running backs this way in the foreseeable future.

Williams should generally play more than Perine, but

Denver happened to have a lot of third-down plays and plays in the two-minute drill in Week 1.

The biggest concern from a fantasy perspective is that Perine took two snaps in goal-line situations while Williams took one. This could mean that Perine takes some touchdowns away from Williams at some point this season.

It's possible Williams sees an increased role as the season progresses, but this could also be the role we see for these two backs all season long.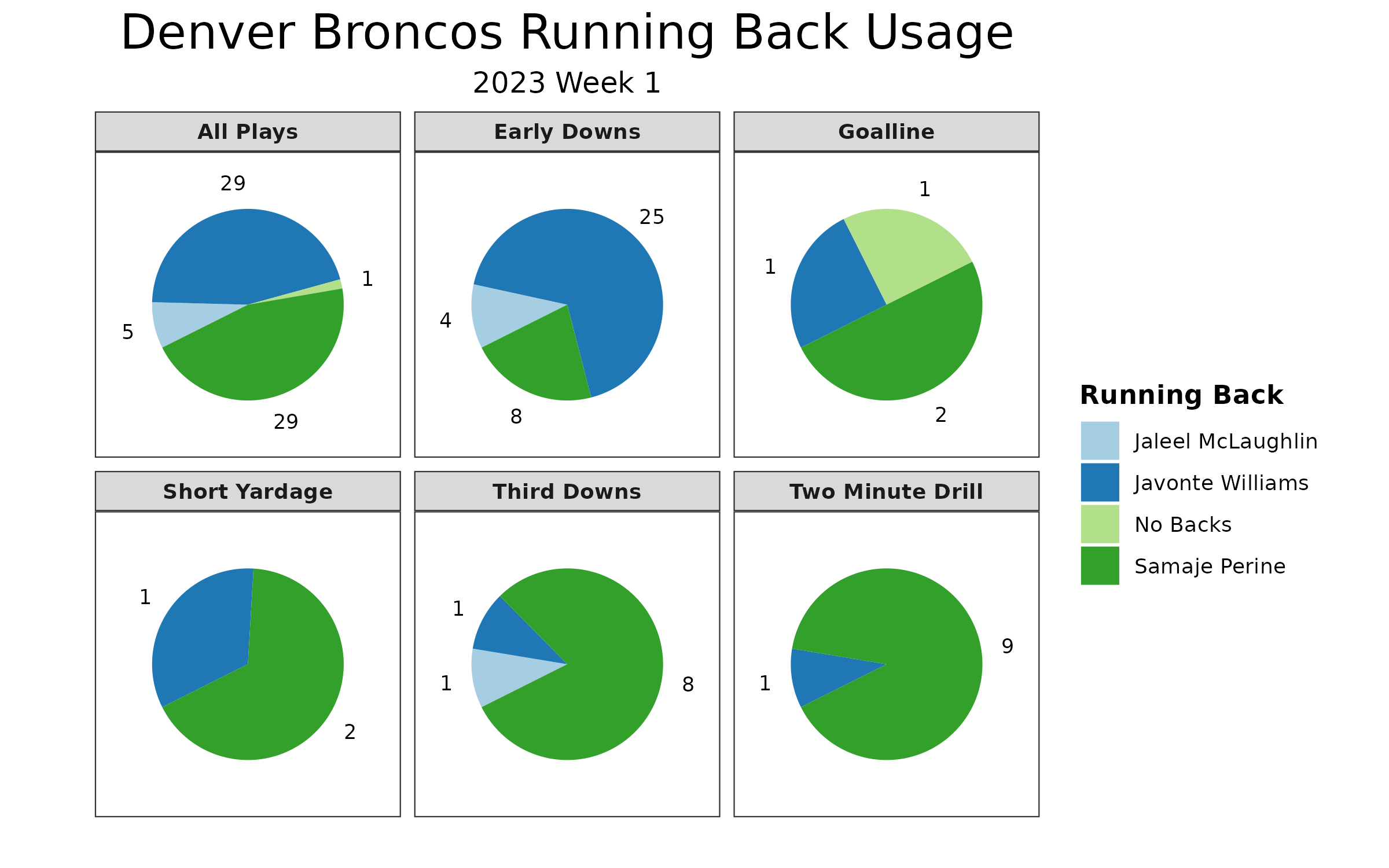 Marvin Mims Jr.'s quiet debut: Mims was expected to be a starter in this game. Instead, he was a backup.
Based on the preseason, Mims seemed set to emerge as the third on the Broncos depth chart. And because

Jerry Jeudy

missed this game due to injury, many expected Mims to take the field with the starters today.

Instead, it was

Courtland Sutton

and

Brandon Johnson

playing on the outside with

Lil'Jordan Humphrey

playing in the slot.

Humphrey will play fewer snaps once

Jerry Jeudy

returns. Johnson and Mims will get fewer chances, too.

Mims shared playing time with Johnson throughout the game, with Johnson playing roughly twice as many snaps and running roughly twice as many routes.

Mims caught just two passes for 9 yards. 

It's certainly fine to stash Mims on fantasy rosters in deeper leagues, but it would also be understandable to drop Mims for a different high-upside young player.
Monitor the health of Greg Dulcich: Dulcich suffered a leg injury late in the second quarter. He missed the rest of the game.
Dulcich played a larger role in the first half of this game than he did in the preseason.

He played in 10-of-17 snaps out of 11 personnel on first and second downs in the first half.

Adam Trautman

played 100% of the snaps in these situations with the starters during the preseason. 

Chris Manhertz

made his Broncos debut for this game, but he was a clear third on the depth chart prior to the injury.

Trautman played some snaps out of 11 personnel on third down, which was Dulcich's role in the preseason.

Dulcich ran a route on 13-of-25 passing plays in the first half, and Trautman ran a route on 11-of-25.

He caught two passes for 22 yards prior to the injury, while Trautman led the team in receptions with five.

Hopefully, Dulcich's injury isn't a long-term issue. Once he's back, it's still probably best to avoid Dulcich for fantasy football purposes.
Monitor the Jakobi Meyers injury: Meyers suffered a head injury late in the game and didn't return.
Davante Adamas and Meyers were the clear starters in this game, as expected.

Meyers typically played in the slot for the

New England Patriots

, but he mostly played on the outside in this game.

Hunter Renfrow

led the team in slot snaps with 13, followed by 12 by Adams and seven by Meyers.

Renfrow used to be a clear top receiver for the Raiders, but he led a three-man rotation for the Raiders' third receiver spot, fighting for time with

Kristian Wilkerson

and

De

Andre Carter

.

It's probably best to avoid the Raiders receivers not named Adams if Meyers misses a game since it will likely remain a rotation.
Avoid the Raiders tight ends: Las Vegas has a two-man rotation at tight end and is rarely using 12 personnel.
Las Vegas ran only two snaps out of 12 personnel compared to 16 snaps out of 21 personnel. This means we rarely saw 

Austin Hooper

and

Michael Mayer

on the field at the same time.

Of the seven times that they were both on the field, the team ran the ball six times.

Mayer was the clear primary tight end in 21 personnel, while Hooper was the tight end in 11 personnel on 75% of snaps.

This meant Hooper played roughly half of the Raiders' pass plays, and Mayer even less.

They combined for one target.

Ideally, Mayer can overtake Hooper in 11 personnel as the season progresses, but they might view him as too valuable a run-blocker to use his energy in too many 11-personnel plays.
Miscellaneous Notes
Josh Jacobs

continued to dominate offensive snaps in a way that no other running back in the NFL is doing, but he averaged only 2.5 yards per carry in this game.
---
• Tyreek Hill: 11 receptions, 215 yards, 2 touchdowns
• Austin Ekeler: 16 carries, 117 yards, 1 touchdown; 4 receptions, 47 receiving yards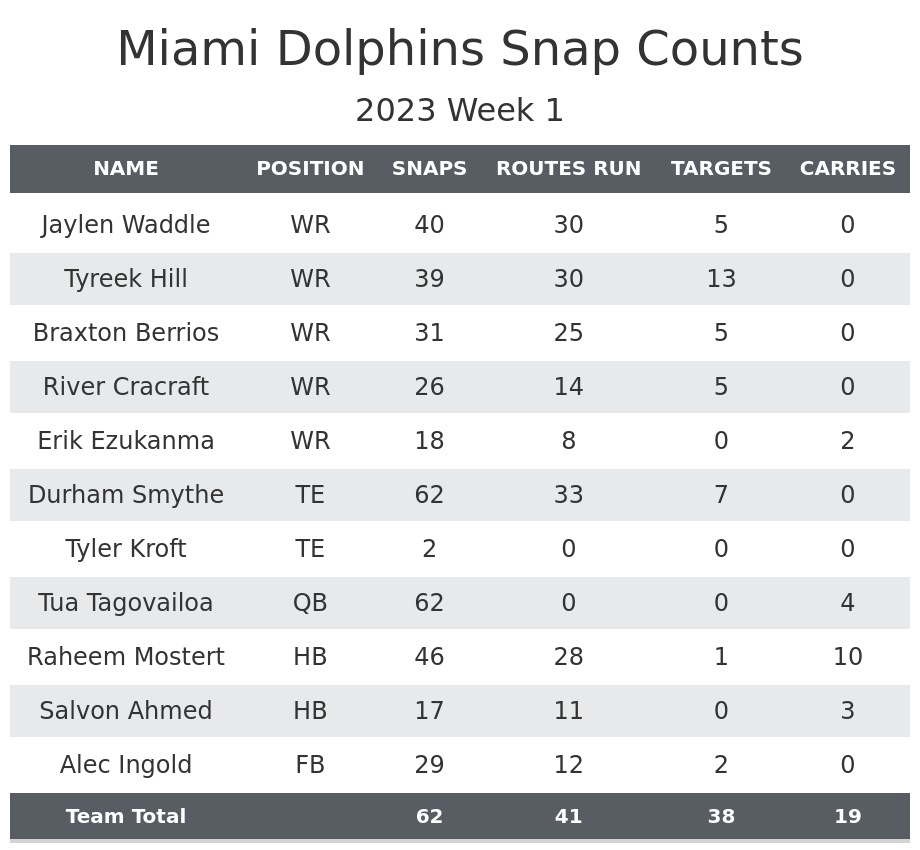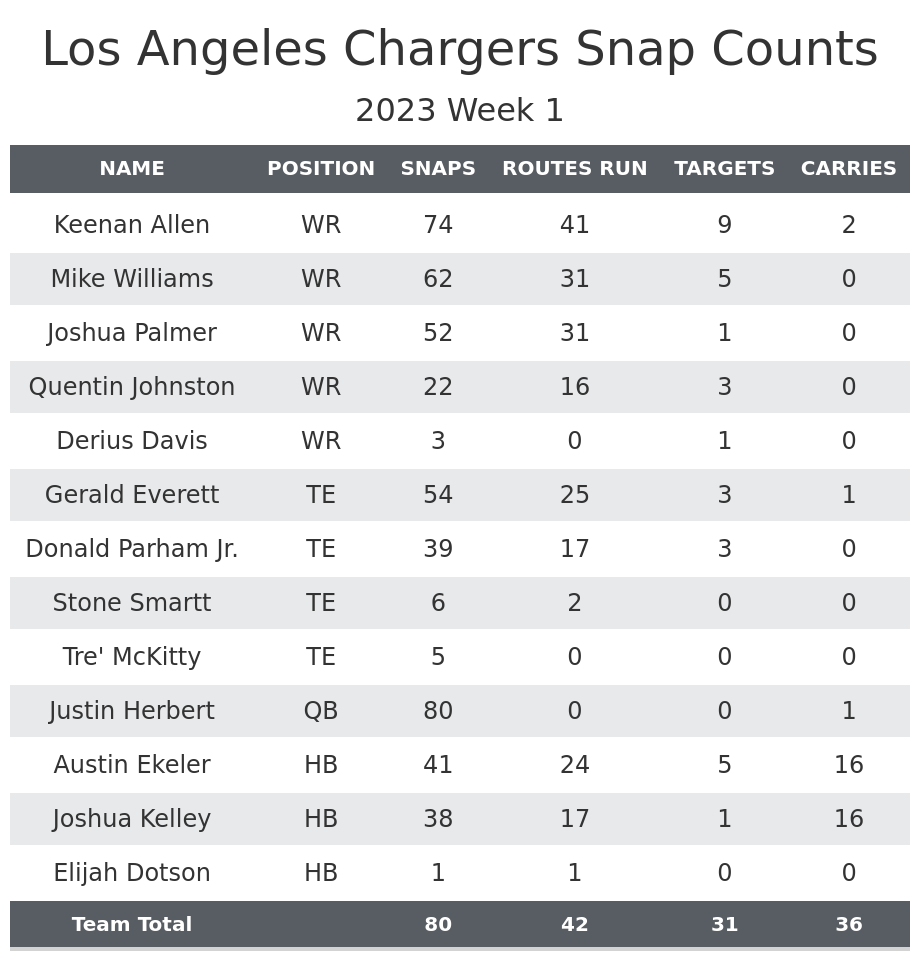 Raheem Mostert leads the Dolphins' backfield: Mostert played roughly three-quarters of the Dolphins' offensive snaps.
Mostert ran the ball 10 times for 37 yards and a touchdown and caught two passes for 13 yards.

Jeff Wilson Jr.

is on injured reserve and will miss at least the next two games, while

De'Von Achane

was a surprise inactive.

Achane will hopefully be able to work his way into the 46-man active roster sooner rather than later, but his NFL career has not started well.

Mostert could score more fantasy points in the next two games if the Dolphins don't abandon the run game and throw so much.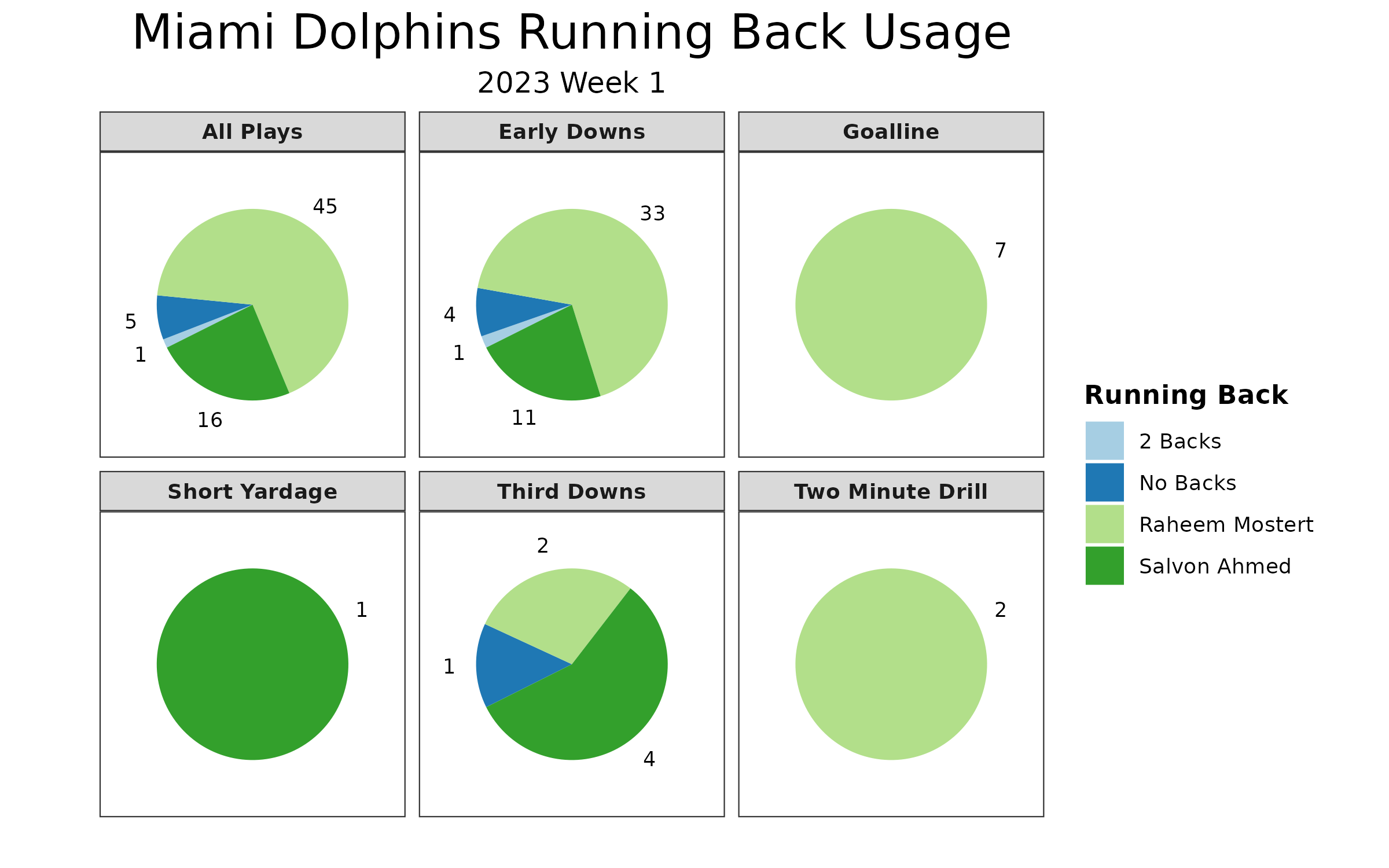 Durham Smythe plays every offensive snap: The Dolphins tight end was more involved in Miami's offense than last year.
Smythe caught three of his seven targets for 44 yards, marking the second-best single-game yardage total of his career. 

He was the Dolphins' starting tight end last season but was used primarily as a blocker.

Before today's game, he had only three multi-catch games in his career.

It is hard to believe that he will continue to be as big a factor once the running backs get more involved, but it's at least a situation worth monitoring.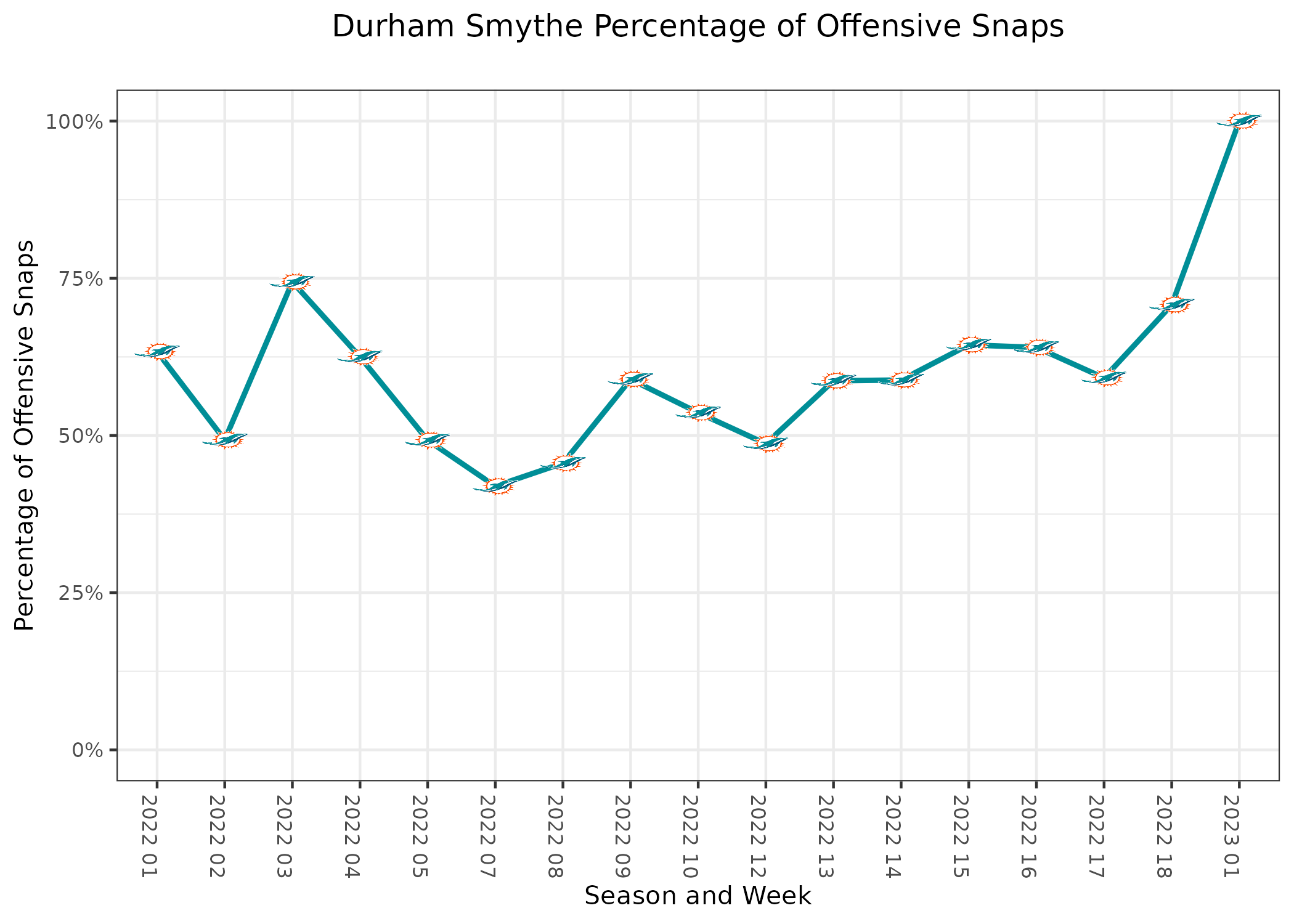 Quentin Johnston's quiet debut: Johnston caught two of his three targets for 9 yards as the Chargers' fourth wide receiver.
Based on the preseason, Johnston was the clear fourth wide receiver on the depth chart, as 

Joshua Palmer

sat out with the starters in every preseason game.

In Week 1, 20 of Johnston's 22 snaps came in 11 personnel, where he took snaps away from

Mike Williams

and

Joshua Palmer

.

Williams missed significant time in the second quarter while he was being evaluated for a head injury, but he returned in the second half — so, Johnston might have played only 10-15 snaps had Williams not missed time.

The Chargers ran two plays out of 10 personnel, which is something we could see more of going forward.

The only bright note for Johnston is Palmer was only targeted once, where he caught a 4-yard pass.

It's far too early to give up on Johnston's fantasy value for 2023, but this isn't an ideal start.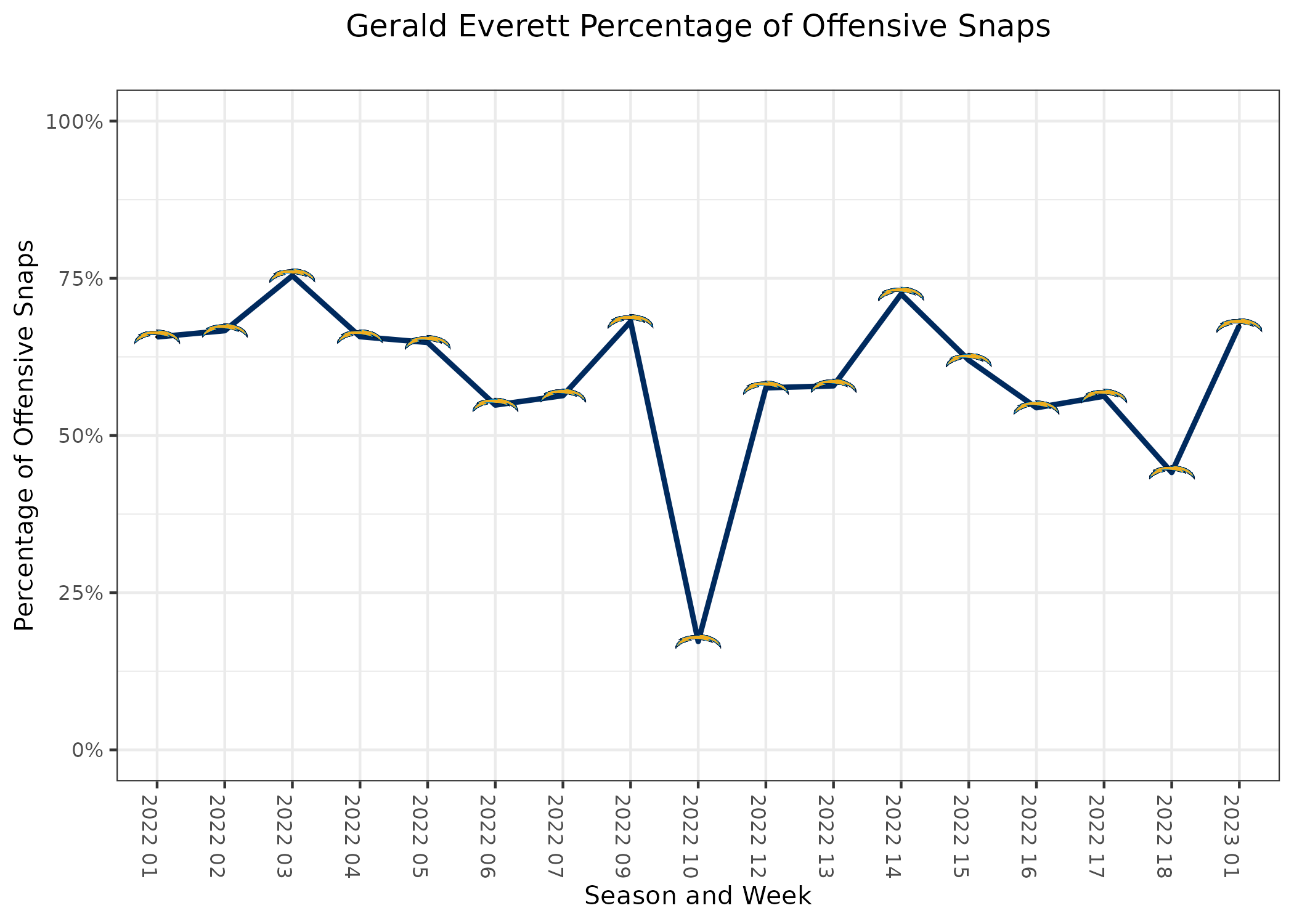 Don't start Gerald Everett: The Chargers have changed how they are using their tight ends under new offensive coordinator Kellen Moore.
The Chargers used to have a three-man committee, with Everett almost always playing on passing downs. 

This year, it's more of a duo with

Gerald Everett

and

Donald Parham Jr.

Instead of Everett being the receiving tight end and Parham the blocking tight end, the two are being used interchangeably.

Everett's total percentage of snaps is similar to last season, but his 25 run blocks were more than any game last season, while his 25 pass routes were lower than average.

Part of that was simply the Chargers running the ball a lot, but the percentages also weren't in Everett's favor.

Everett caught two passes for 21 yards, while Parham caught three for 21 yards and a touchdown.

Because the two tight ends are used interchangeably, it's possible Parham cuts even further into Everett's playing time going forward.
Miscellaneous Notes
The Dolphins wide receiver rotation was exactly as expected.

Jaylen Waddle

and

Tyreek Hill

were the starters, with

River Cracraft

and

Erik Ezukanma

getting significant playing time when either needed a break. 

Braxton Berrios

didn't play in 21 or 22 personnel but played 34-of-35 snaps in 11 personnel.

Austin Ekeler

had a clear lead in offensive snaps in the first half, playing 24 of a possible 35 snaps. The main reason the snaps for the backs were so close was the high number of total plays. The snap split is not a concern for his fantasy value.
---
• Kendrick Bourne: 6 receptions, 64 yards, 2 touchdowns
• DeVonta Smith: 7 receptions, 47 yards, 1 touchdown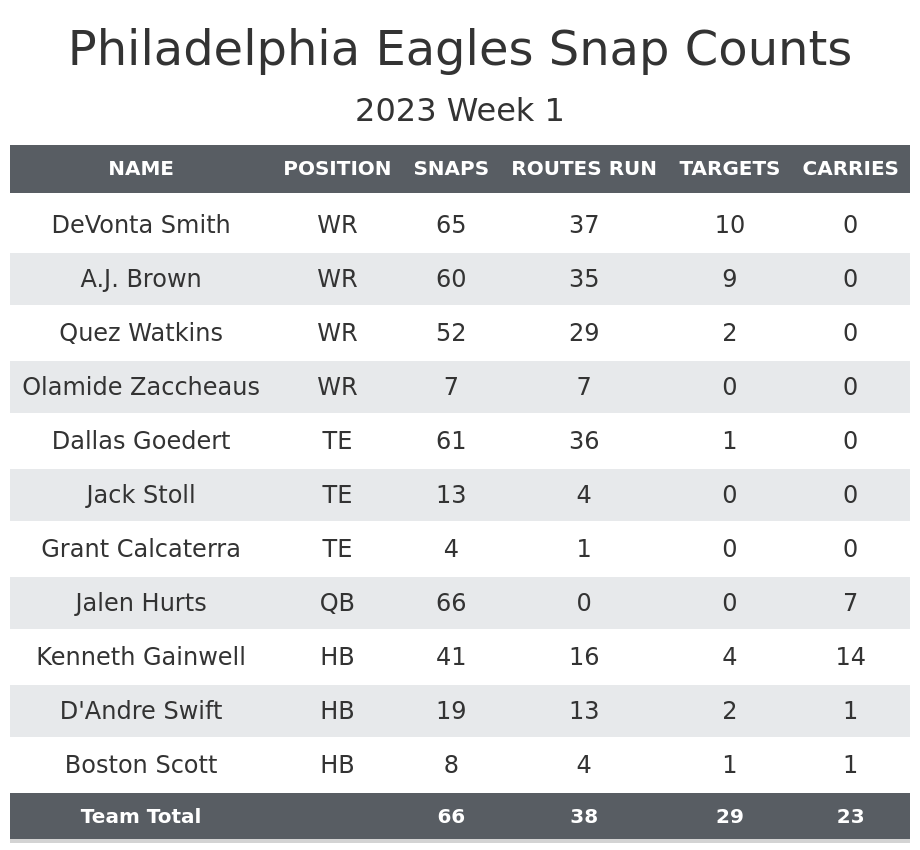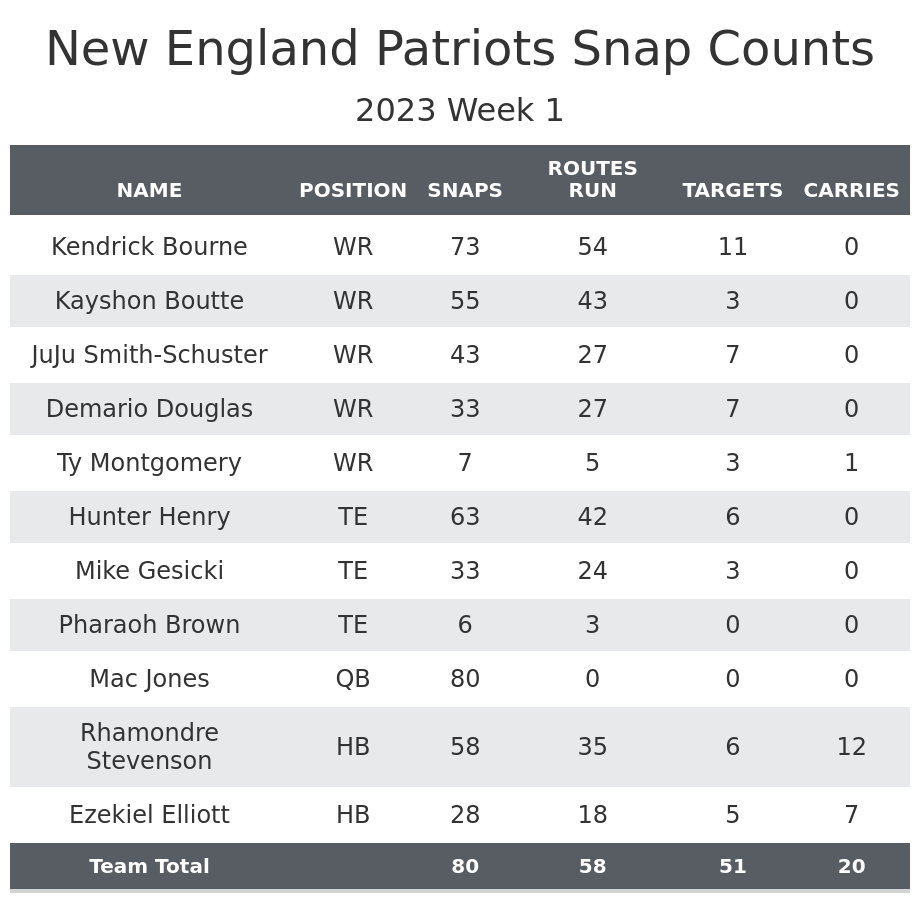 Kenneth Gainwell leads the Eagles' running back rotation: Gainwell was the Eagles' every-down back, with D'Andre Swift serving as the primary backup.
Gainwell ran the ball 14 times for 54 yards and caught four passes for 20 yards.

Swift was restricted to one carry for 3 yards and one reception for 0 yards.

Boston Scott

also received a few snaps, and that was enough to match Swift in carries and receptions but with 10 total yards on his plays.

Rashaad Penny

was a healthy inactive.

Everything from beat writers pointed to Gainwell being the lead back in Philadelphia, so we could see Gainwell continue as the every-down back and have even more success when the Eagles offense is playing better. This makes him one of the top waiver wire options of the week.

It's fine to hold onto Swift and even Penny, but they should stay far away from fantasy starting lineups for the time being.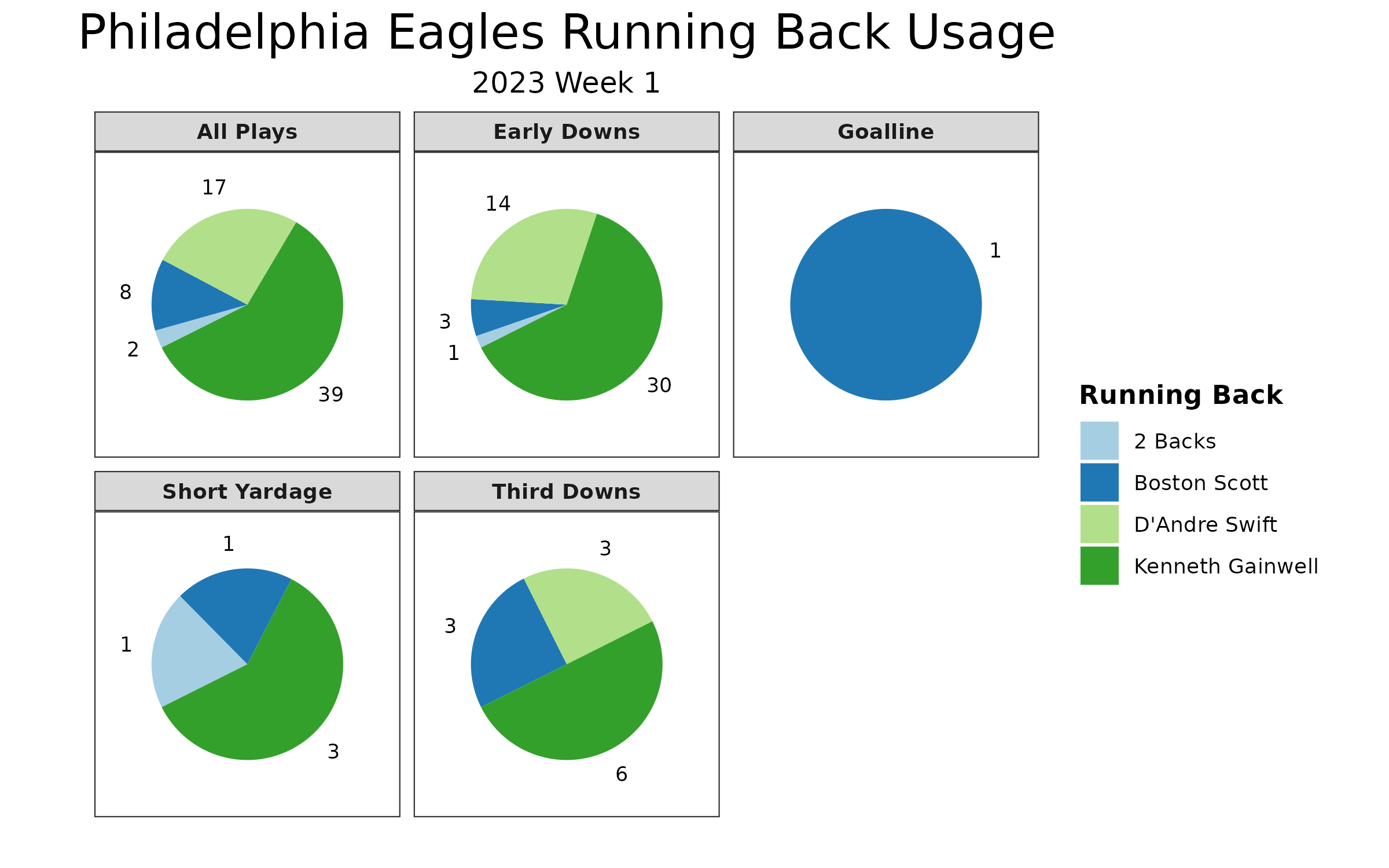 Ezekiel Elliott debuts with the Patriots: We got the first glimpse of the Patriots running back rotation with Rhamondre Stevenson and Elliott.
New England has traditionally rotated by situation or based on down and distance, but the tendencies weren't as clear cut today.

Stevenson dominated playing time in general. Half of that was because he played in two-minute drills, and the other half was simply Stevenson playing more in normal situations.

Stevenson carried the ball more times (12-7) and caught more passes (6-5).

The Patriots had both Steveon and Elliott on the field at the same time for 10 different plays.

Many speculated Elliott could be the goal-line back. Elliott took a two-point conversion attempt late in the game, which counted as the Patriots' only goal-line play. It occurred after a drive where Stevenson took every snap, so this case could have simply been time for Elliott to take over regardless of the situation.

Stevenson will remain a fantasy starter based on this usage, but it's possible Elliott could have standalone value this season too.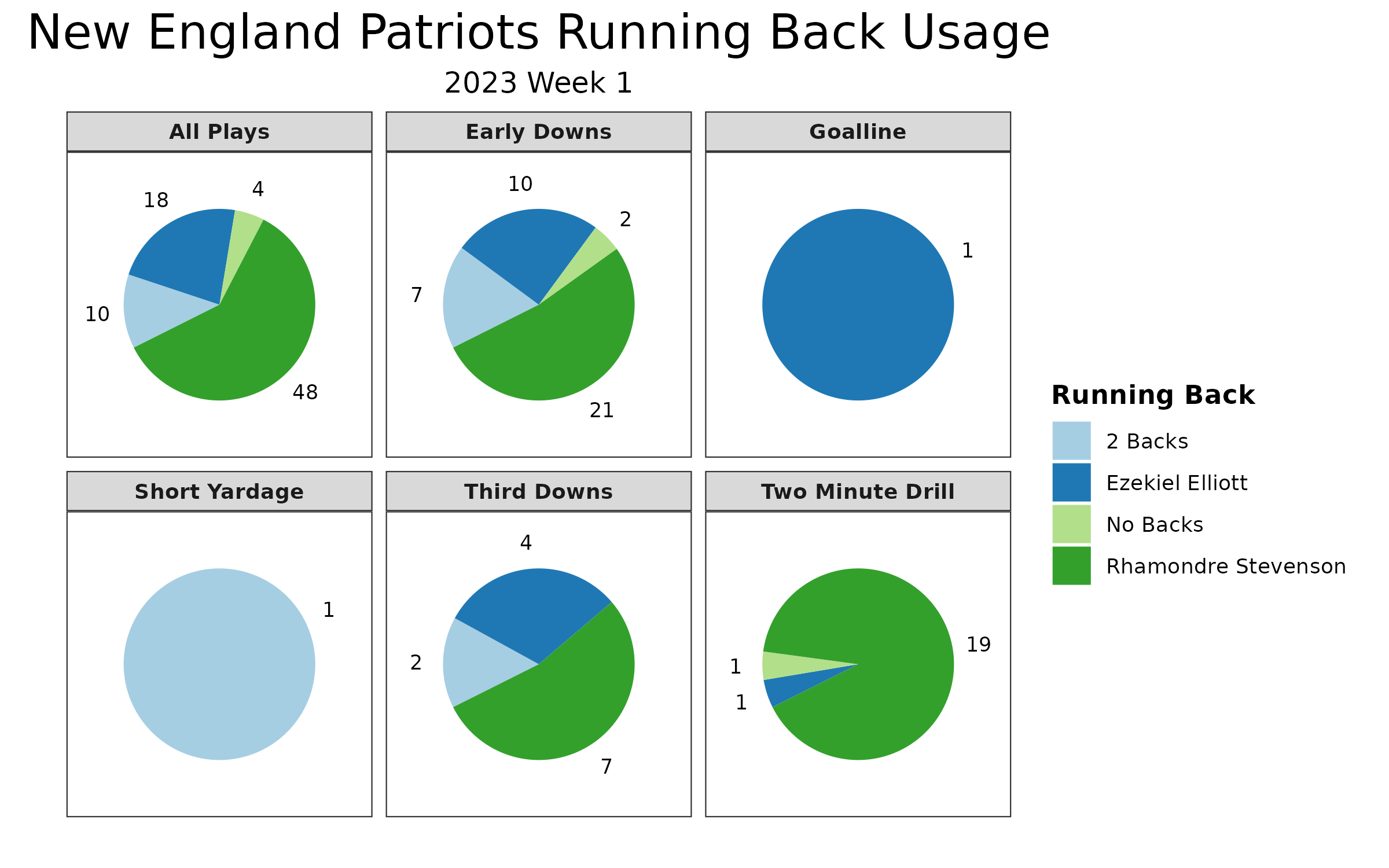 JuJu Smith-Schuster is third on the Patriots' depth chart: Smith-Schuster ran notably fewer routes than both Kendrick Bourne and sixth-round rookie Kayshon Boutte.
The Patriots consistently used Smith-Schuster in 12 and 21 personnel, playing 21 of a possible 21 snaps in those situations.

It was 11 personnel where he started losing playing time, with

Kayshon Boutte

,

Kendrick Bourne

and

Demario Douglas

as the most common trio in that personnel grouping.

It's pretty unheard of in today's NFL for a wide receiver to be fantasy-relevant without being one of the main wide receivers in 11 personnel.

DeVante Parker

missed this game. The two wide receivers play fairly different roles in the offense, but Parker's return is more likely to hurt Smith-Schuster's playing time rather than help it.

He caught four passes for 33 yards.

He's not exactly a sell-high candidate because this wasn't a great game, but he is someone I would be looking to trade based on his usage in this game.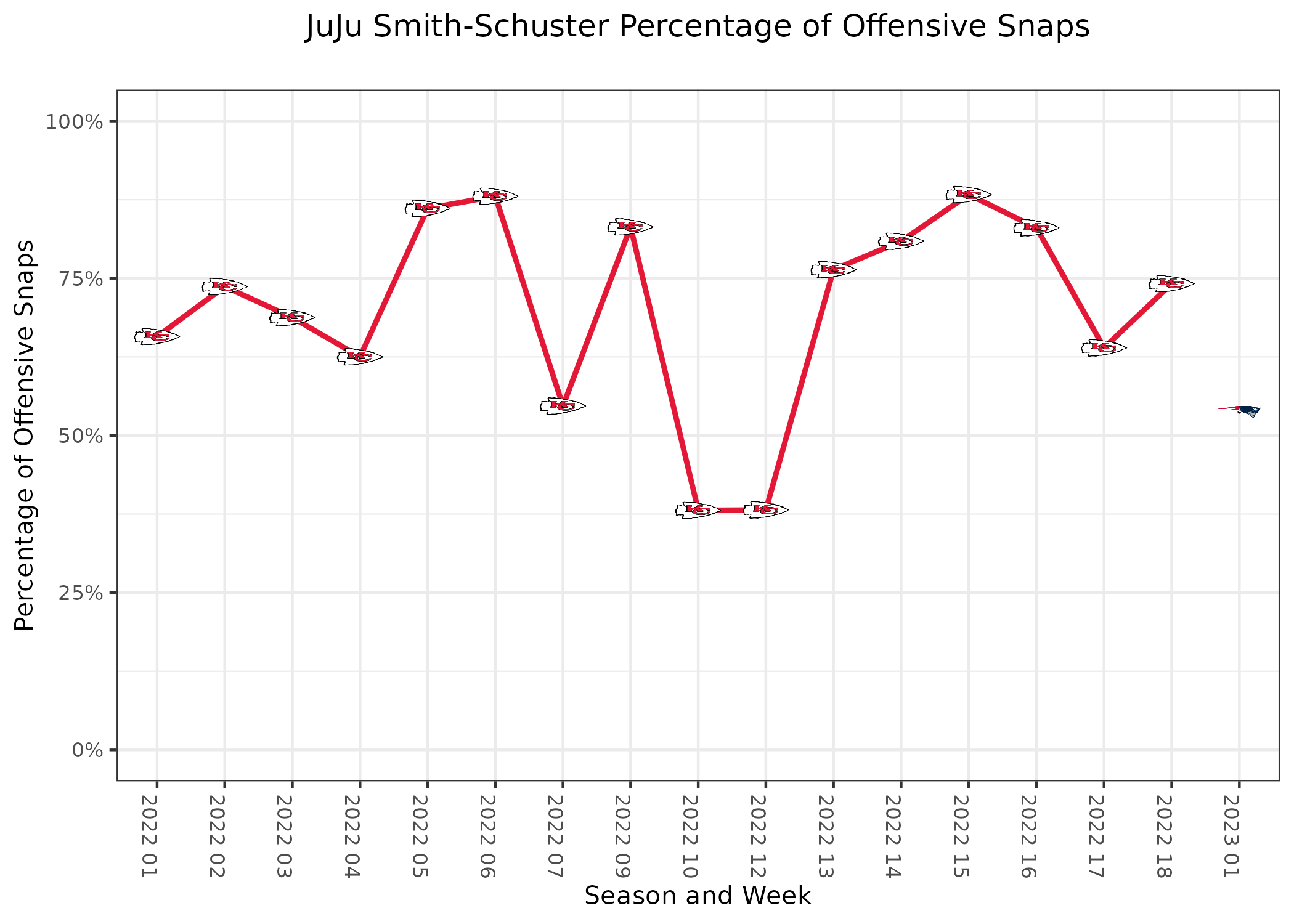 Miscellaneous Notes
The Eagles' wide receiver and tight end rotation were very similar to last season, except with

Olamide Zaccheaus

serving as the Eagles' fourth wide receiver.

Dallas Goedert

was held without a catch for just the second time in the last four seasons.

Hunter Henry

was one of the best fantasy tight ends this week with five receptions for 56 yards and a touchdown, but he benefited from the Patriots running 58 pass plays. We can expect him to run fewer than 42 routes going forward.
---
• Kyren Williams: 15 carries, 52 yards, 2 touchdowns; 0 receptions, 2 receiving yards via lateral
• Puka Nacua: 10 receptions, 119 receiving yards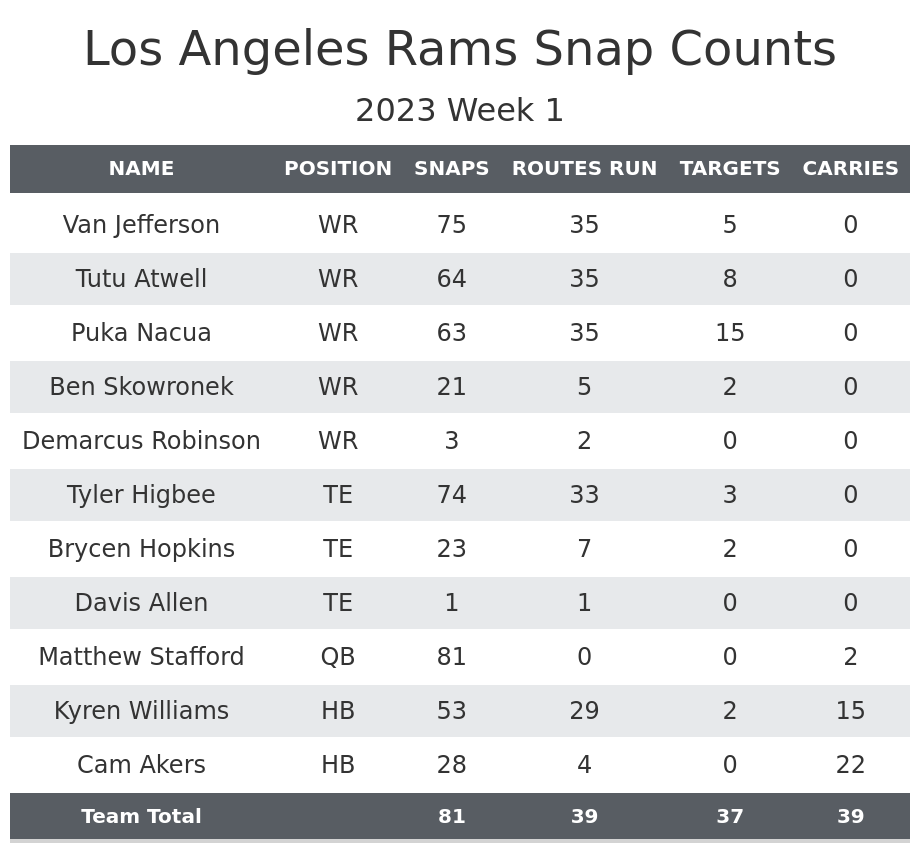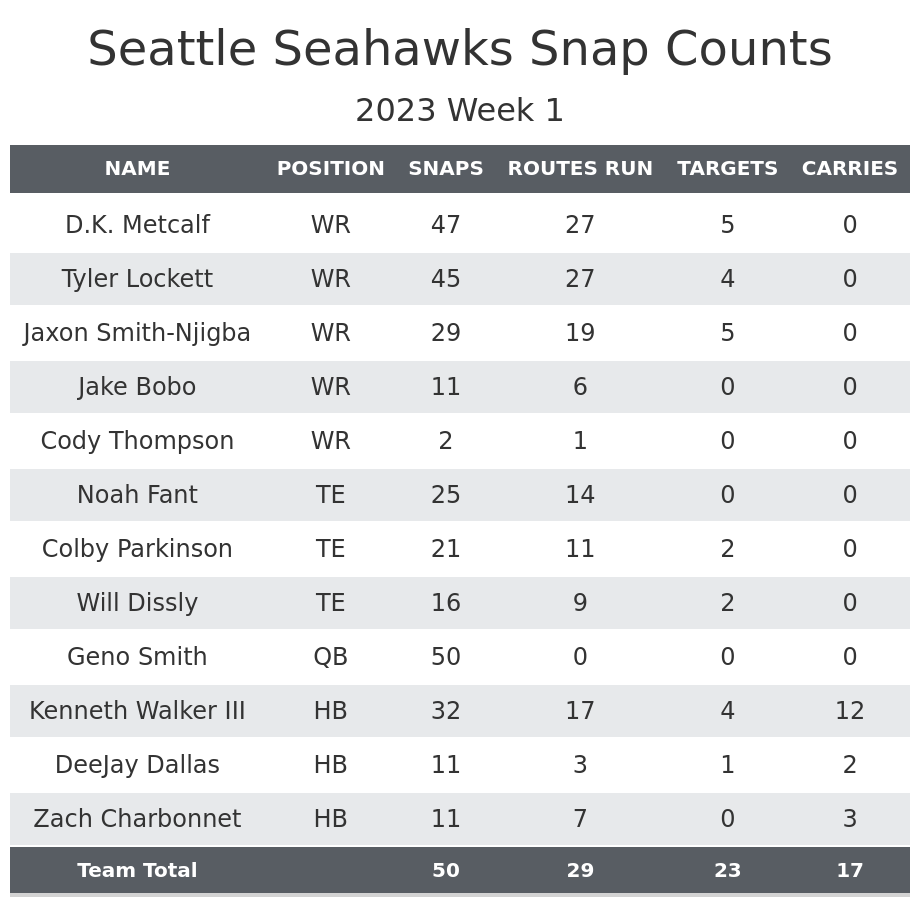 Kyren Williams leads the Los Angeles Rams' backfield: Cam Akers started for Los Angeles, but Williams entered the game for the second play and was the Rams' leader in every situation.
Williams was expected to be the passing-down back, with Akers as the early-down back, but Williams took most of the early-down work today. 

Akers ended the game with 29 yards and a touchdown on 22 carries.

The Rams had a 17-13 lead heading into the fourth quarter, and at that time, Williams had more carries (11-10) and nearly three times as many yards (36 to 13).

It wasn't until late in the fourth quarter when the Rams were protecting their lead that Akers overtook Williams as the leader in carries. Akers received eight carries in the last four minutes of the game.

This makes Williams the clear waiver wire target at running back for the week, as he's the one clear top running back available on the waiver wire.

We have seen backfield usage change wildly from one week to the next in Sean McVay's offense, so it's possible we see Akers regain the early-down role in the future.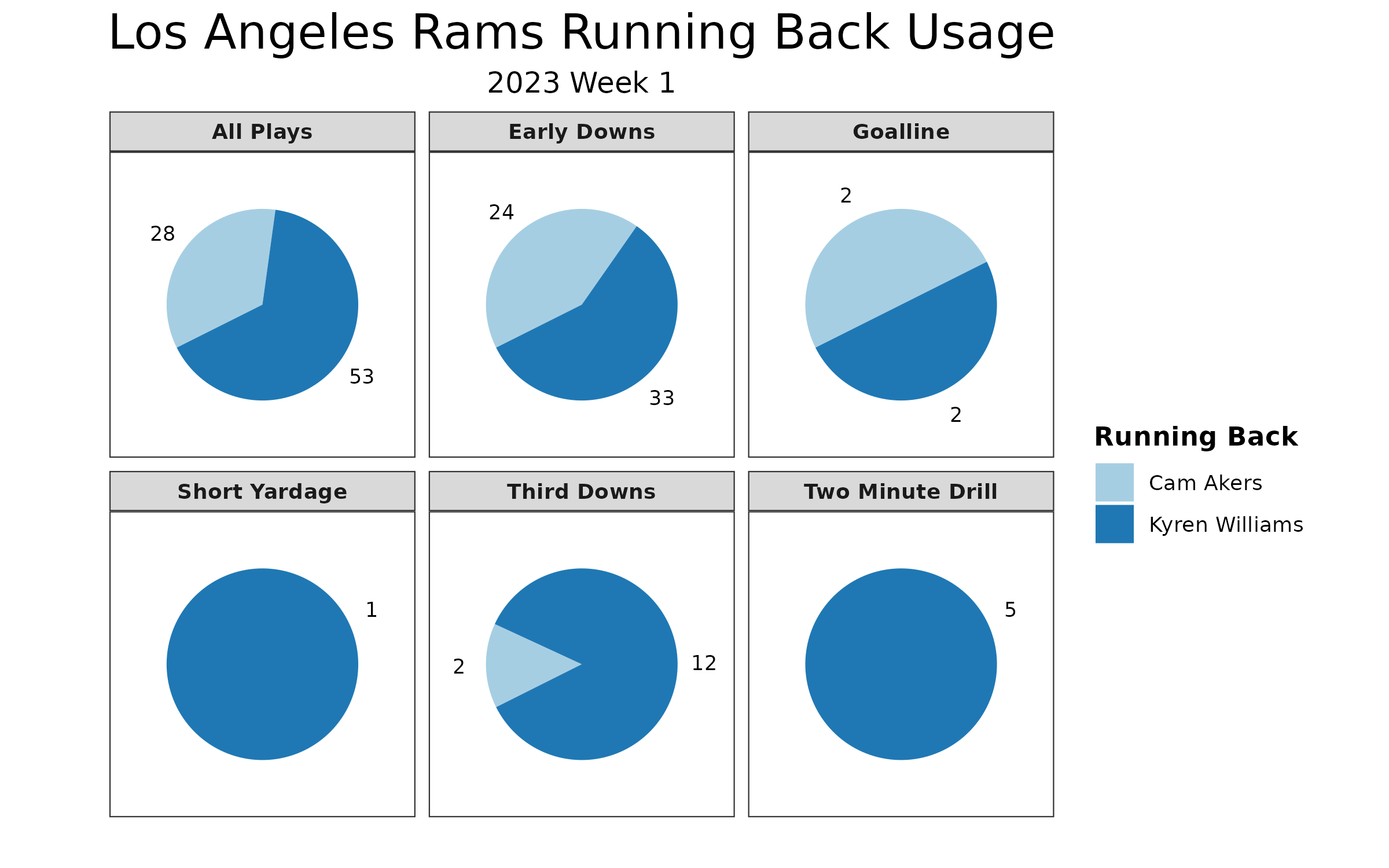 Puka Nacua and Tutu Atwell have breakout games: Both wide receivers stepped up with Cooper Kupp on injured reserve, with both gaining 119 yards.
It was clear from their preseason usage that Atwell and Nacua would be every-down players.

The numbers of snaps and routes for Atwell and Nacua were not surprising, but the number of targets was.

Nacua posted a dominant 42.9% target rate, matching

Tyreek Hill

 for the week

. 

Both players rank top-five in receiving yards prior to Sunday Night Football.

They should continue to see this kind of playing time over the next three weeks as long as Kupp is out.

It's hard to imagine either player sustaining fantasy success if Kupp is healthy, but we don't know when he will be healthy. Both players will be top waiver wire targets at wide receiver.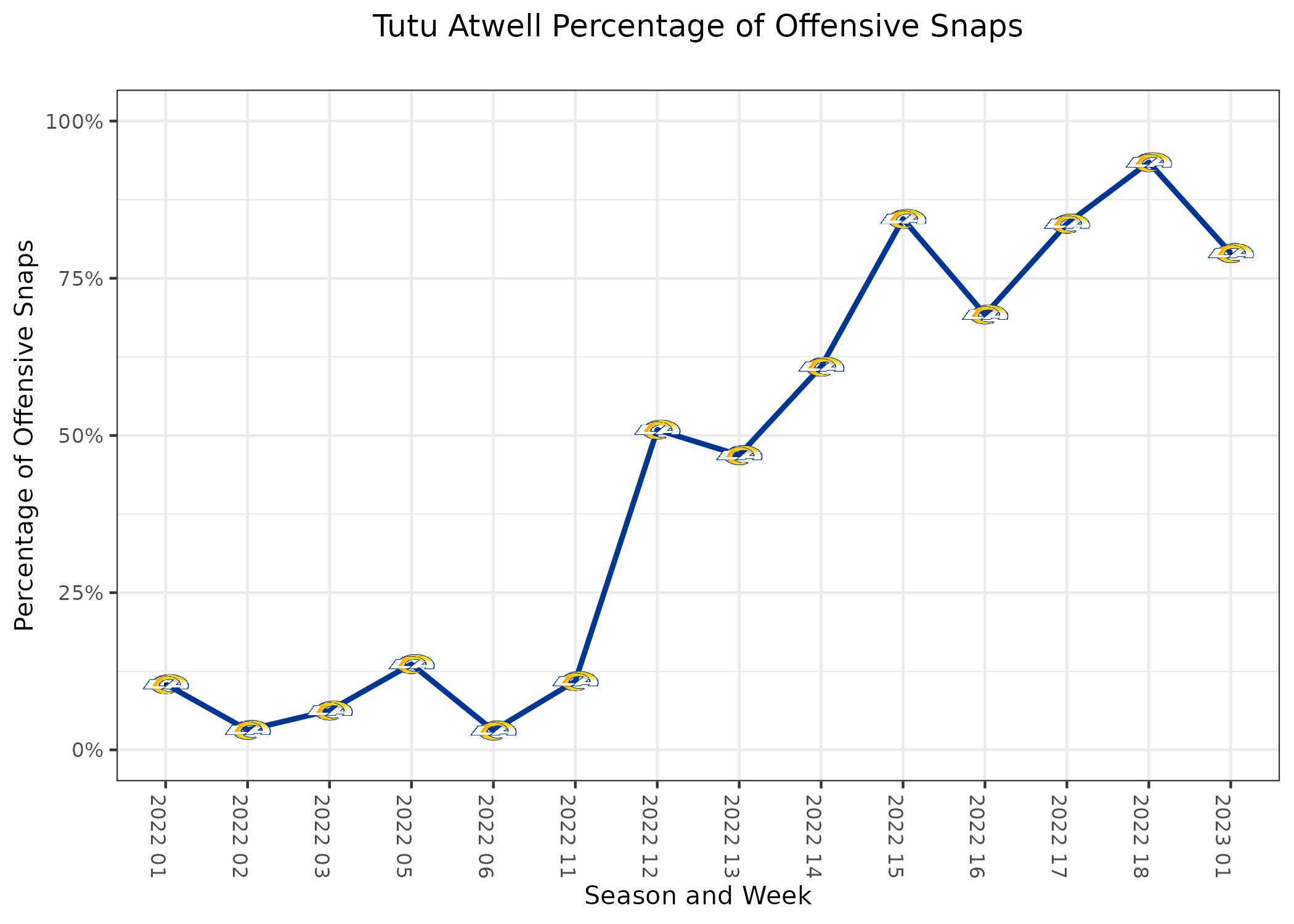 The Seahawks running back rotation: We finally got to see Kenneth Walker III, Zach Charbonnet and DeeJay Dallas in the same game.
The rotation went roughly as expected. Walker was the primary early-down back, Charbonnet the backup early-down back and Dallas was the primary receiving back.

It was good to see both Walker and Charbonnet receiving at least a few snaps on third-and-long, making it possible for the three-man committee to become a two-man committee at some point.

Walker had a fine game, picking up 64 rushing yards on 12 carries and 3 receiving yards on four receptions.

Seattle ran 50 plays but moved the chains just once in the second half.

Walker can confidently be put in starting lineups. Charbeonnet should remain on the bench but be picked up off the waiver wire.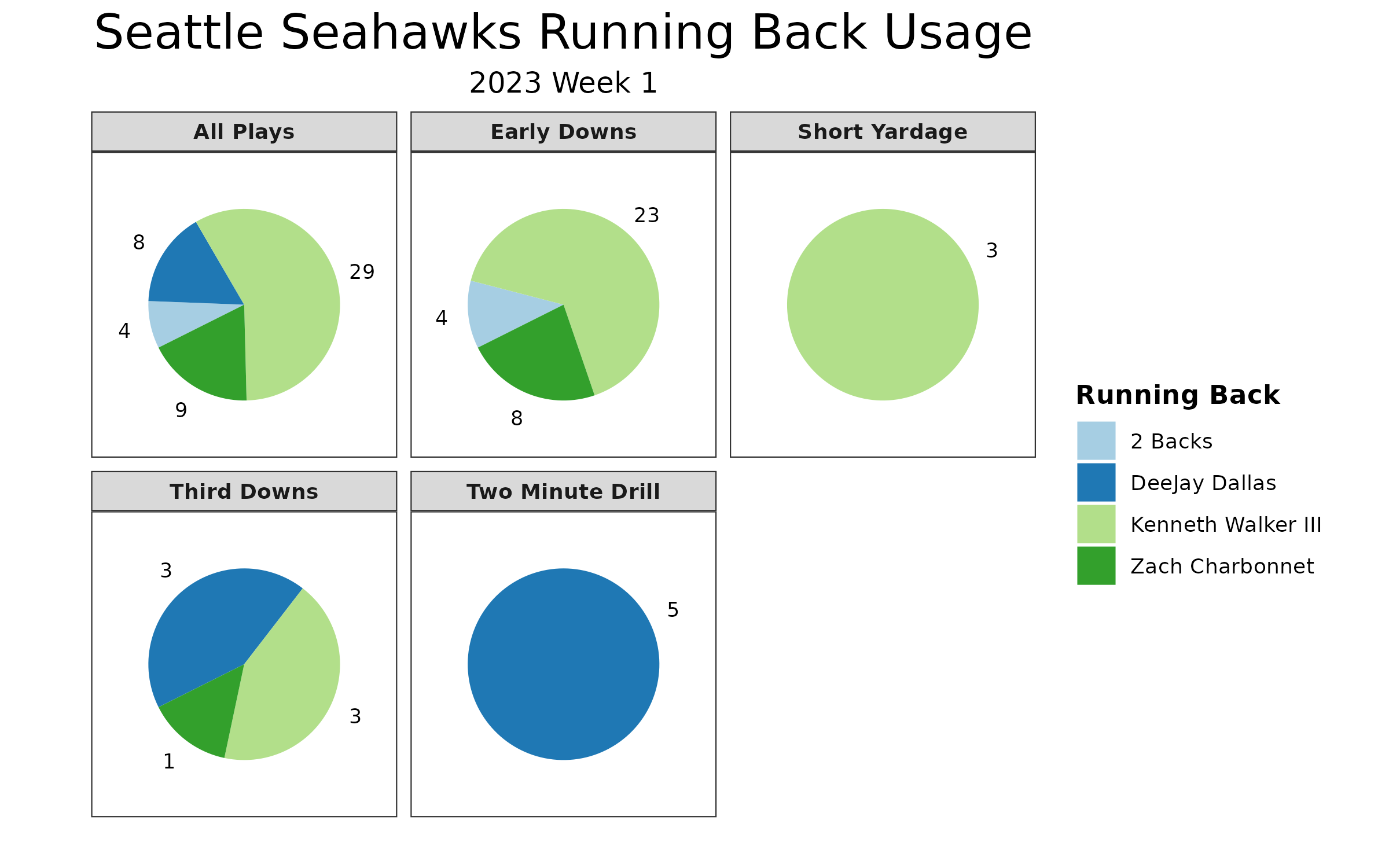 Jaxon Smith-Njigba makes his debut for Seattle: Smith-Njigba played consistently in three- and four-receiver sets but didn't take a single snap out of 12, 13, 21 or 22 personnel.
He luckily received a high target share when he was on the field. He was targeted five times on 19 routes.

He caught three of those passes for 13 yards.

The Seahawks passing offense needs to play a lot better before fantasy managers even consider putting Smith-Njigba in fantasy starting lineups.

It's possible for him to be a fantasy starter in this role, but it's very difficult without him getting at least some of the snaps in 12 personnel.
Miscellaneous Notes
Tyler Higbee

was supposed to be one of the top fantasy tight ends this week. He ran the number of routes necessary to finish among the best, but the young wide receivers prevented Higbee from having a great game of his own.

The Seahawks' tight end situation remains a three-man rotation. It won't be safe to trust any of them due to the lack of playing time.

Noah Fant

can probably be dropped from rosters.
---
• Tony Pollard: 14 carries, 70 yards, 2 touchdowns; 2 receptions, 12 receiving yards
• CeeDee Lamb: 4 receptions, 77 receiving yards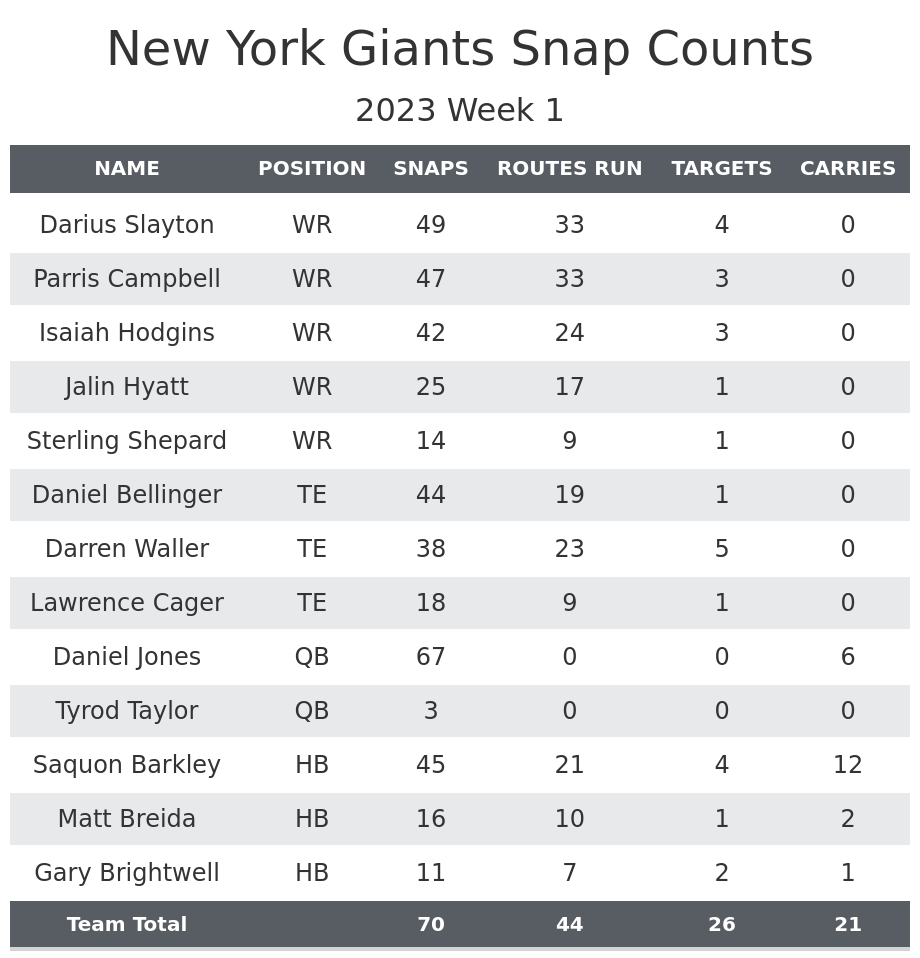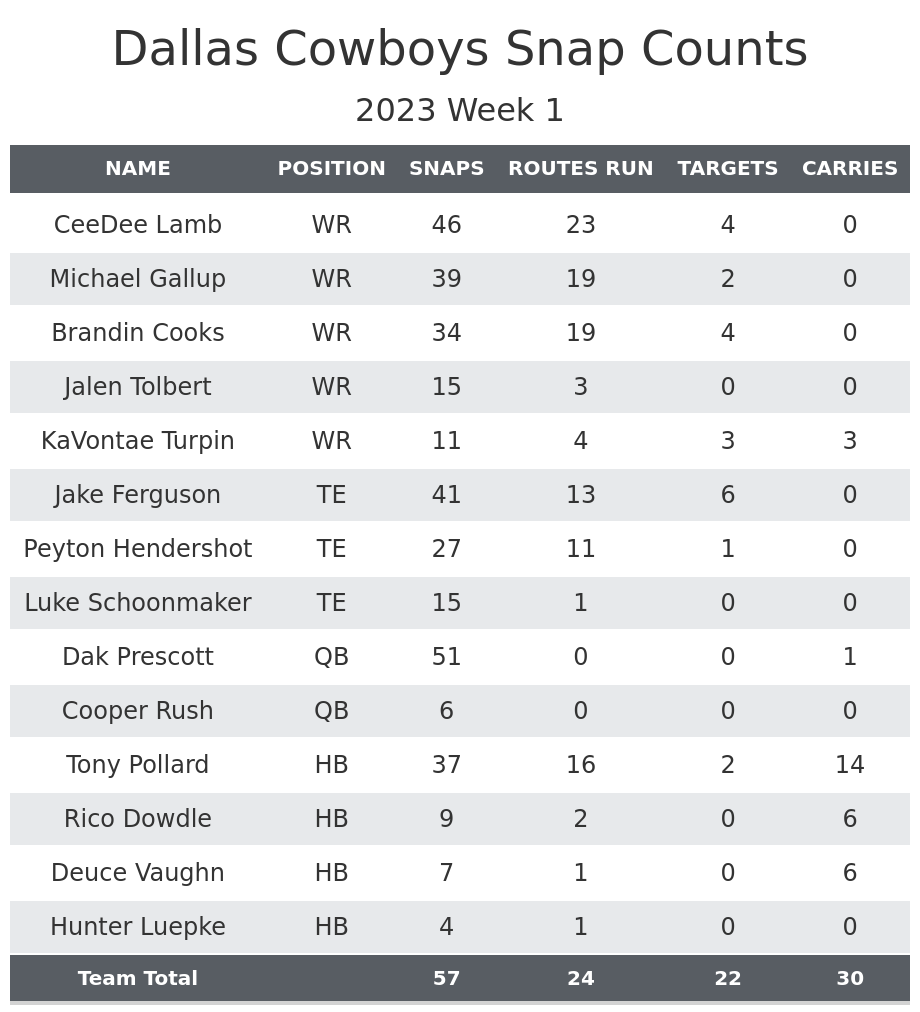 Tony Pollard dominates snaps for Dallas: Pollard lived up to expectations as the clear starter without Ezekiel Elliott.
Pollard played 32 of a possible 43 snaps over the first three quarters, only losing a few snaps to

Rico Dowdle

and Hunter Luepke. 

He was the only running back to play a snap in the first quarter but slowly started losing snaps over the rest of the game while Dallas continued to grow a lead.

Pollard had played over 65% of offensive snaps just twice in his career, and they were both in close games where Dallas needed its top player to play significant snaps.

It's certainly possible Dallas will rely even more on Pollard when they need to.

This was a great start towards Pollard potentially being a top-five fantasy running back this season.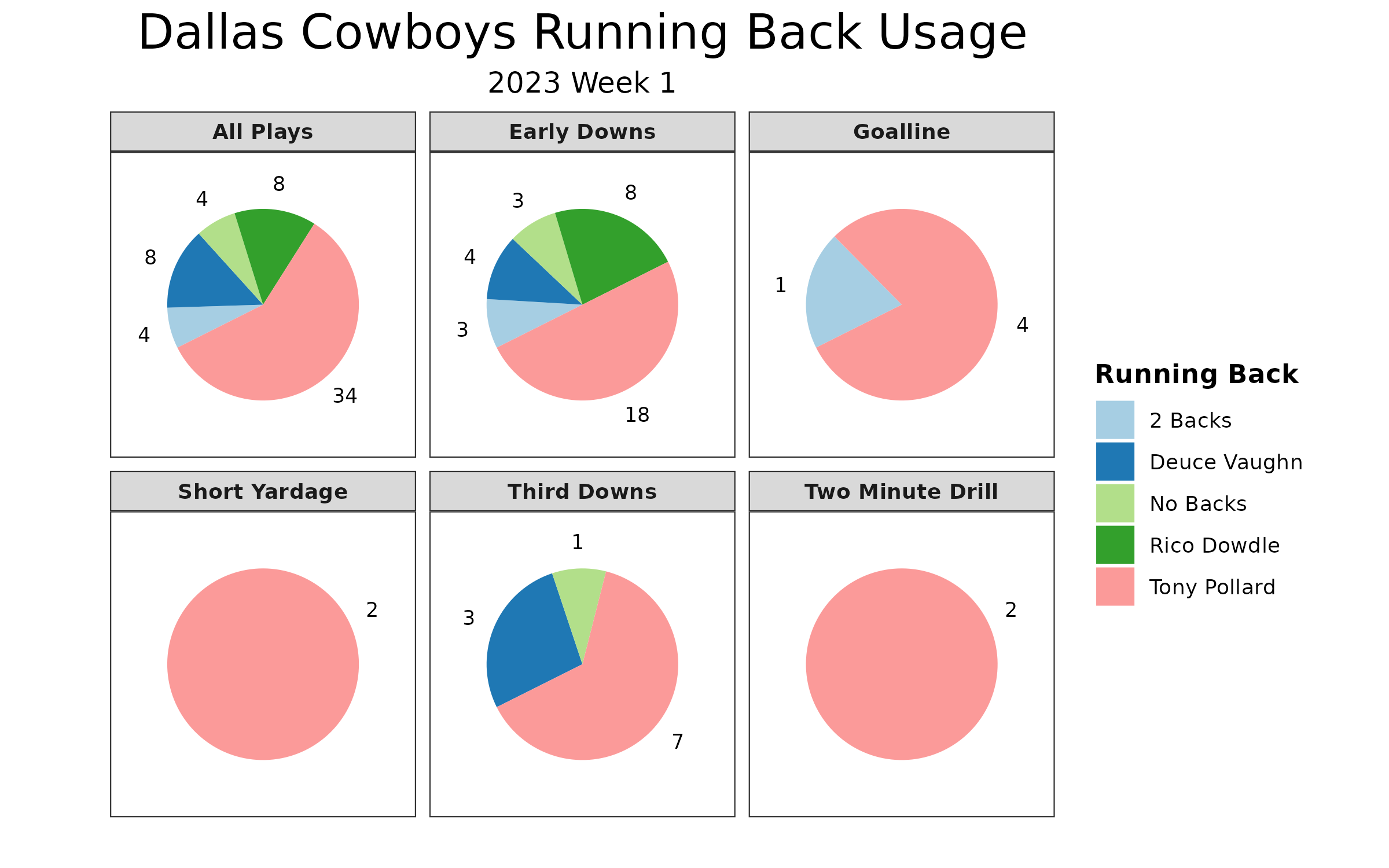 Jake Ferguson leads Dallas in targets: Ferguson was targeted seven times but caught only two passes for 11 yards.
His usage wasn't quite as high as many anticipated coming into the season.

Peyton Hendershot

took significant snaps out of 11 personnel, and when Hendershot was on the field, Dallas often threw the ball. When Ferguson was on the field it was more of a mix.

This meant Ferguson wasn't on the field for roughly half of the Cowboys' passing plays.

This kind of player usage is likely to continue, while Ferguson's ridiculously high target rate will likely decline.

Rookie

Luke Schoonmaker

was the third tight end this game. He is coming off of injury and could see more playing time as the season progresses.

There is certainly a chance Ferguson can break out this season and earn those snaps over Hendershot, but this was not as good of a start as the seven-target game might look like.
Darren Waller is limited due to injury: Waller was limited in practice on Friday with a hamstring injury and was questionable heading into this game.
Waller played in 33-of-37 offensive snaps in the first half as the Giants mostly in 12 personnel.

The Giants stopped using him as much in the third quarter when New York was down 26-0. Waller played only five of a possible 16 snaps in the third quarter and was done playing by the fourth quarter.

Waller was still

Daniel Jones

' favorite target despite the injury, and he caught three of his five targets for 36 yards.

The yardage total and targets both led the team.

Waller should be fine by next week, but hopefully, the Giants' offense as a whole is playing a lot better.
Miscellaneous Notes
---
Table Notes
• Snaps include plays called back due to penalties, including offensive holding or defensive pass interference. The other three stats have these plays removed.
• Targets may differ from official NFL sources. The most likely discrepancy would be from a clear thrown-away pass, where the NFL may give the target to the nearest receiver, while this data will not.
• Carries are only on designed plays. Quarterback scrambles won't count for the total number of carries in the game.