Quarterbacks run today's pass-happy NFL. The teams with the best signal-callers in the game generally have better odds to go the distance, and the unfortunate clubs on the outside looking in at this top-10 list need quite a lot of help around their quarterback to succeed.
Here is PFF's list of the top-10 quarterbacks heading into the 2019 NFL season.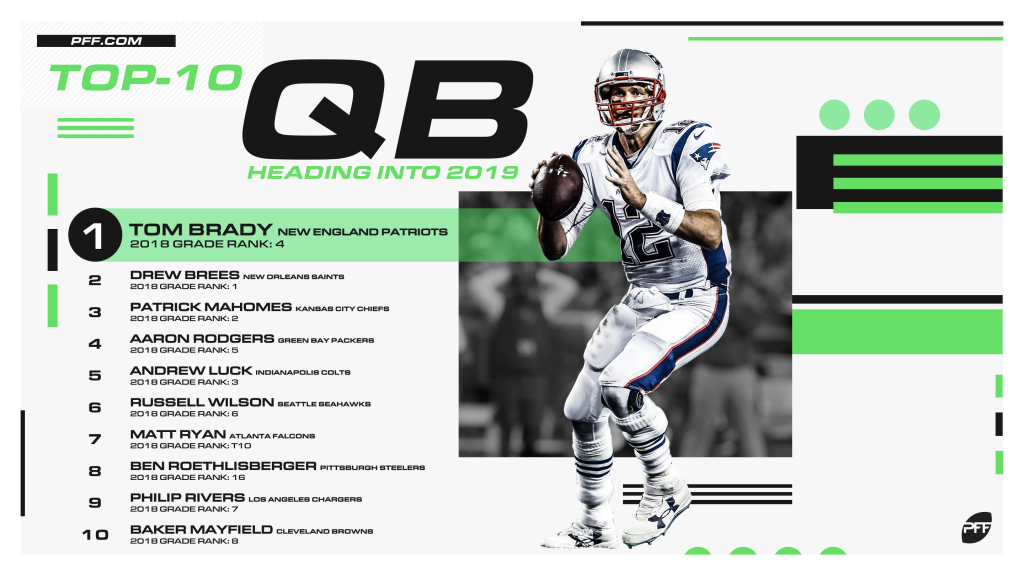 2018 OVERALL GRADE RANK: 8
From PFF's Mike Renner on Mayfield and his current MVP odds:
"In PFF's 13 seasons of NFL grading, only Russell Wilson put up a higher grade from the quarterback position as a rookie than Mayfield, and now, the Browns quarterback has a new number one receiver to work with. Odell Beckham Jr. was putting up video game numbers with a far less accurate quarterback throwing him the ball his whole career. Now he goes to a quarterback in Mayfield who had the third most big-time throws in the NFL last season."
Mayfield managed a big-time throw rate of 7.3% that ranked third among his peers a season ago, and he finished the year with an overall grade of 84.5 – the second-best mark ever recorded by a rookie quarterback. The future is indeed bright in Cleveland.
2018 OVERALL GRADE RANK: 7
Rivers very quietly earned one of the best single-season overall grades of his career last year, ranking seventh among qualifiers at 88.9. Despite working behind a struggling offensive line, Rivers was very accurate throwing to open targets and had some of the best ball placement in the NFL throwing underneath routes to a healthy Keenan Allen and Mike Williams.
From PFF's Connor Price on Rivers' 2018 passing ability from a clean pocket and under pressure:
"Rivers did an excellent job of hiding the Chargers' offensive line flaws a season ago. Of his 674 dropbacks in 2018, 316 were stifled as a result of the Chargers' 31st-ranked pass-block unit (61.9), but he still managed to earn a 70.3 grade and a 67.5% adjusted completion percentage on these plays. 
Perhaps even more impressive was his performance from a clean pocket. Rivers tied for fourth with an 8.3 yard per attempt mark as a result of 42% of his throws venturing further than the sticks when working from a clean pocket."
Even at 37 years old, Rivers still projects to do much of the same even if the Bolts' offensive line doesn't take a step forward in 2019. He is one seven quarterbacks PFF currently projects to go over 4,200 passing yards in 2019.
2018 OVERALL GRADE RANK: 16
Like Ryan, Roethlisberger still turned in an above average season; it just wasn't the standard we've come to expect from him. He earned the lowest overall grade (78.2) and passing grade (75.2) we've seen from him since his 2011 campaign.
From PFF's 2019 QB Annual:
"Roethlisberger got off to a sloppy start, where he was forcing throws left and right into coverage, and his timing and accuracy were all over the place – especially down the field. He cleaned up his game in the middle part of the season with a mix of a quick passing attack and better accuracy on throws of 20-plus yards. Inconsistency throughout a game was the common theme for this year, as they are for many years when he doesn't play up to a top-10 standard – with poor decisions under duress late in the play, sloppy ball location at times and then bouncing back to make a big play when it was needed."
[Editor's Note: Here are links to all of PFF's lists of the top-10 players by position entering the 2019 NFL season. For all of the advanced stats and grades we speak to in the articles, subscribe to PFF's ELITE subscription today!]
QB | RB | WR | TE | T | IOL | DI | EDGE | LB | CB | S
2018 OVERALL GRADE RANK: T-10
After earning 92.2 and 88.3 overall grades in 2016 and 2017, respectively, Ryan watched his overall grade drop to 84.3 in 2018. It's still impressive compared to the rest of the league, but it wasn't the standard we've come to expect from Matty Ice.
From PFF's 2019 QB Annual:
"Ryan's season was a dip down from what we've seen over the last couple years, as much like stretches of last year, the offense didn't quite mesh in some games. Most of Ryan's poor games came on the road this season, as the ball didn't quite have the same pop and accuracy as he saw in his friendly confines of the dome, leading to some questions about his arm that weren't apparent in previous seasons. After having some bad interception lock a season ago, the pendulum swung back in his favor this year, where he was not penalized as often on poor throws and decisions."
2018 OVERALL GRADE RANK: 6
Wilson has ranked inside the top-10 in overall grade among qualifying quarterbacks in six of his seven years in the NFL, and he only dropped to 14th in the only season he ranked outside the top-10 (2014). His passing grade and passer rating from a clean pocket – two very stable metrics year over year – have both ranked inside the top-10 in each of the past two seasons, and he's ranked inside the top-10 in at least one of the two metrics in every season but his 2016 campaign.
PFF's NFL Editor Mark Chichester said it best in his article on the superstar quarterback prior to his new contract getting signed:
"Wilson is not inconsistent. He is not easily replaced with a second-string quarterback. He's shown no signs of being past his prime, and he's certainly not worth trading away for merely a couple of first-round draft picks. Wilson is — and has been for some time — one of the league's best at the position; he should be Seattle's number one priority."
2018 OVERALL GRADE RANK: 3
In Weeks 7-17 of last year, Luck earned the fourth-best overall grade of any offensive player in football at 91.4. He proved his ailing shoulder issues were no longer a concern and was rightfully named the AP and PFF Comeback Player of the Year as a result.
From PFF's Ben Linsey on Luck and his PFF Comeback Player of the Year honors:
"He finished the season ranked third among all quarterbacks in PFF grade at 91.1 behind only Patrick Mahomes and Drew Brees. If it weren't for the brilliance of those two, his name would be soundly in the MVP conversation. After that 1-5 start, the Colts only lost one more game the rest of the season, and it was due largely to Luck showing that the shoulder issues that plagued him for over a year were in the rear-view mirror and he was still in the elite tier of quarterbacks." 
For the first time in his career, Luck was at the helm of an offense designed to make him better rather than have him lean on the surrounding talent, and it resulted in him receiving a career-high overall grade (91.2) in 2018. The sky's the limit for Luck heading into Year 2 under Frank Reich. 
2018 OVERALL GRADE RANK: 5
Rodgers, though hampered by injury throughout the season, still finished the year with an impressive 89.7 overall grade that ranked fifth among qualifying signal-callers in 2018. He also ranked seventh in clean-pocket passing grade (90.7) and ninth in passer rating from a clean pocket (109.0).
Though his 5.86% big-time throw rate cracked the top-five among quarterbacks with 300 or more dropbacks last season, it was Rodgers' ability to avoid turnover-worthy plays that truly propped his overall and passing grades up in 2018. He committed a turnover-worthy play on an NFL-low 1.04% of his dropbacks on the year.
2018 OVERALL GRADE RANK: 2
Mahomes' 46 big-time throws were three more than anyone else in the NFL. He broke PFF's single-season deep passing yardage record with 1,514 yards on passes of 20 or more yards downfield, and that's with three dropped deep balls on the year. In fact, Mahomes had 35 dropped passes from his receivers this season, the third-most of any quarterback in the NFL.
Named PFF's 2018 MVP, Mahomes is no flash in the pan. PFF's Mike Renner sees the Kansas City signal-caller continuing to dominate the NFL far beyond the 2019 season.
"The superlatives for the second-year quarterback go on and on. In only his second year in the NFL, he's already the league's most valuable player. While the season didn't end the way he or Chiefs fans had hoped, the rest of the NFL should be scared for seasons to come."
2018 OVERALL GRADE RANK: 1
On his 489 regular season attempts, Brees' ball placement was deemed 'perfect' 20.0% of the time and 'accurate' 71.5% of the time, which ranked sixth and first among the league's quarterbacks this year, respectively. Among the 44 quarterbacks with at least 100 dropbacks throughout the regular season, Brees' positively-graded throw rate of 27.6% ranked fourth, while his absurdly low negatively-graded throw rate of 7.0% was far and away the best mark in the league.
Brees took home PFF's 2018 top passer award following what was a record-setting season for the veteran signal-caller this past season.
From PFF's Mark Chichester:
"When you add it all up, Brees was the clear top passing quarterback in the league, and it showed in his PFF passing grade, the only one above 93.0 in the NFL this season. In his 18th year, Brees has continued to demonstrate that he can produce on any field he steps foot on, and he has continued to demonstrate the traits that arguably make him the most accurate quarterback of all time. After an incredible, record-breaking season, his performance throughout the season is more than deserving of the award."
2018 OVERALL GRADE RANK: 4
Yes, he's still the best in the business.
Even at 41 years old, Brady turned in an elite 90.6 overall grade in 2018, making it the fourth consecutive season he's earned an overall grade of 90.0-plus. His passing grade on passes with a step of separation over the last three years leads all qualifying signal-callers, and his passing grade on tight-window throws ranks fourth on the list. Surprising no one, Brady also earned a starting role on PFF's 2018 NFL Clutch Team for his efforts in one-score games this past season.
From PFF's Ben Linsey in his 2018 NFL Clutch Team article:
"We kick off the list with a shocker. Tom Brady has been the standard at the quarterback position for the better part of his career, and in a year in which he took home his sixth Super Bowl title, Brady earns a first-team spot on the Clutch Team with his 90.5 grade when it mattered most. He picked up big chunks late in tight games — 1,073 passing yards on 107 attempts — and those 10.0 yards per attempt led all quarterbacks with 50 or more attempts in clutch time."
[Editor's Note: Here are links to all of PFF's lists of the top-10 players by position entering the 2019 NFL season. For all of the advanced stats and grades we speak to in the articles, subscribe to PFF's ELITE subscription today!]