Coming off a career year, New England Patriots veteran cornerback Stephon Gilmore takes the top spot on PFF's list of the top-10 cornerbacks ahead of the 2019 NFL season. Check out the rest of the list below!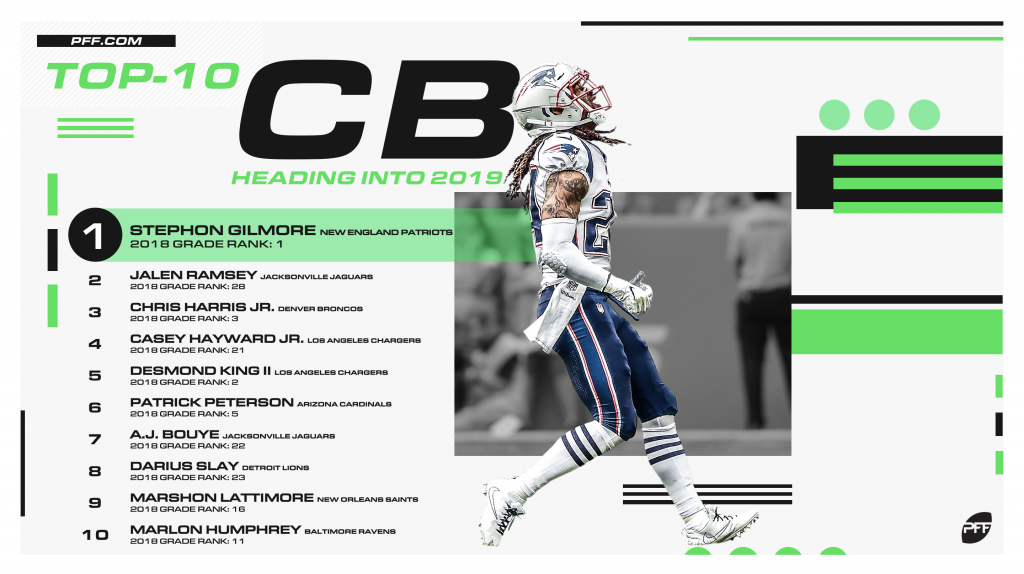 2018 OVERALL GRADE RANK: 11
The second-year cornerback out of Alabama improved on his stellar rookie season with an overall grade of 80.0 in 2018. His 52.5% catch rate allowed was the seventh-best in the league this season, and his 22.5% forced incompletion rate was third-best.
2018 OVERALL GRADE RANK: 16
Lattimore has earned an 88.7 coverage grade over the last two years in the league, and he figures to be a difference-maker at the position maker for years to come. Since 2017, the former Ohio State corner has allowed a passer rating of just 68.8 on throws into his primary coverage – fifth among cornerbacks with at least 100 targets in that span.
2018 OVERALL GRADE RANK: 23
From PFF's Austin Gayle in his latest feature on Slay:
"Slay's consistency is underrated. Other names have dominated the very top of the cornerback conversation all throughout his six-year career, but Slay's floor is one of the highest of any defensive back in the NFL.
All while playing at least 500 coverage every year, Slay has earned single-season coverage grades at or above 70.0 in each of the past five seasons (2014-18). Only Slay, Chris Harris Jr.and Casey Hayward Jr. can lay claim to the feat over the five-year span.
Slay's 90.5 five-year coverage grade ranks tied for eighth among the 93 cornerbacks targeted at least 200 times since 2014, and he ranks 11th in forced incompletion percentage (17.2%) and 16th in passer rating allowed among the same group of cornerbacks."
[Editor's Note: Here are links to all of PFF's lists of the top-10 players by position entering the 2019 NFL season. For all of the advanced stats and grades we speak to in the articles, subscribe to PFF's ELITE subscription today!]
QB | RB | WR | TE | T | IOL | DI | EDGE | LB | CB | S
2018 OVERALL GRADE RANK: 22
It's been two seasons since his breakout 2016 campaign with the Houston Texans, and over that time, Bouye has secured himself as one of the best perimeter cornerbacks in the game. He earned coverage grades of 89.9, 84.7 and 79.3 in 2016, 2017 and 2018, respectively, and over the course of his career, Bouye has allowed a passer rating of just 66.6 on his snaps at outside cornerback — the fourth-best mark among the 85 cornerbacks with at least 200 targets in outside coverage since 2006, one spot above Ramsey (67.7).
2018 OVERALL GRADE RANK: 5
Peterson was at his usual, stingy self in coverage, ending the year with a fifth-ranked 83.7 coverage grade and an 82.5 passer rating allowed. Peterson has been a model of consistency since day one; he's one of five cornerbacks who have allowed a sub-100.0 passer rating for eight straight seasons, and he joins Chris Harris Jr. and Desmond Trufant as the only three corners who have allowed less than a yard per coverage snap for four consecutive seasons.
2018 OVERALL GRADE RANK: 2
Like right tackle Ryan Ramczyk, King entered the NFL with outstanding collegiate production. He earned 85.0-plus coverage grades in each of his last three seasons with Iowa, including a career-high 89.9 coverage grade in 2016.
And we've only seen much of the same from King at the NFL level. In his two years with the Bolts, King has earned 85.7-plus overall grades and 86.6-plus coverage grades. Also, his two-year slot coverage grade (92.0) leads all qualifying slot cornerbacks. Now just 24 years old heading into Year 3 in the league, King is well on his way to becoming the NFL's next great slot cornerback – a position growing in value year after year.
2018 OVERALL GRADE RANK: 21
No NFL cornerback has earned a higher coverage grade over the last three seasons than Hayward (91.9). Since joining the Bolts in 2016, Hayward has allowed just 125 receptions from 236 targets for 1,782 yards, 80 first downs and nine touchdowns, while he's also logged 56 forced incompletions —the third-most of any cornerback in that period. Among the 111 cornerbacks targeted 100 or more times since 2016, Hayward ranks third in forced incompletion percentage (23.7%), ninth in passer rating allowed (71.0) and eighth in completion percentage allowed (53.0%).
2018 OVERALL GRADE RANK: 3
From PFF's Mark Chichester on Harris Jr. and his incredible NFL career:
"Whichever way you slice it, Harris has been among the very best at his position over his eight years in the NFL. He's graded in the top 10 among corners in five of his eight seasons, and he notably finished the 2016 season with an elite 90.2 overall grade that ranked first among his peers. Over his entire career, the former Kansas Jayhawk has allowed 377 catches from 644 targets for 3851 yards, 16 touchdowns and 19 interceptions, and among the 59 cornerbacks who have seen at least 500 career targets within the PFF era (2006 – present), Harris' 71.8 passer rating allowed ranks sixth, his 10.2 yards allowed per reception ranks first, his 0.87 yards allowed per coverage snap ranks second and his 11.73 snaps played per reception allowed ranks 12th."
Asked to play outside cornerback in Denver's base defense and slot cornerback in nickel and dime packages, Harris is in a league of his own both from a positional versatility and overall production standpoint. The Broncos' brass was smart to increase Harris' pay this offseason; his consistent, high-end play is hard to find in the secondary.
2018 OVERALL GRADE RANK: 28
Ramsey's three-year coverage grade (90.9) ranks fourth among the 53 NFL cornerbacks with at least 1,200 coverage snaps played since 2016, allowing receptions on just 164-of-305 targets for 2,207 yards and eight touchdowns in the process. He ranks fifth on the list in completion percentage allowed (53.8%) and eighth in passer rating allowed (72.1), as well.
Though he did turn in just a 72.8 coverage grade this past season, Ramsey should return to form in 2019 and beyond considering just how dominant he's been across his three-year career. PFF's Mike Renner listed Ramsey on his list of bounce-back candidates earlier this offseason.
"A year after Ramsey firmly put himself in the conversation for best cornerback in the NFL, Ramsey inexplicably took a sizable step backward in Year 3. He had fewer picks (3), pass breakups (9), allowed more yards (749), allowed a higher completion percentage (54.6) and allowed a higher passer rating (73.8). Those are still pretty darn good numbers though, and I'm not expecting it to be too long before Ramsey is back to his 91.3 overall grade level from 2017 once again."
2018 OVERALL GRADE RANK: 1
Gilmore and Bill Belichick's defensive scheme have been a match made in heaven. No qualifying cornerback has earned a higher coverage grade over the past two seasons than Gilmore at 91.9. Among the 56 cornerbacks with 800-plus coverage snaps played in the two-year span, Gilmore ranks fourth in completion percentage allowed (50.3%), second in forced incompletion percentage (26.7%) and 11th in passer rating allowed (73.2).
From PFF's Austin Gayle on Gilmore's career year in 2018:
"Gilmore's 2018 season was also a historic effort. Among the 1,082 instances where a cornerback was targeted 50 or more times in a single season since 2006, Gilmore's 2018 campaign ranks 12th in completion percentage allowed (44.0%). His 26.6% FINC percentage a year ago ranks seventh on the list – just shy of his 26.8% FINC percentage in 2017.
 His 84.8 coverage grade in single coverage ranked third among cornerbacks with at least 20 targets in such coverage a year ago. Baltimore Ravens' Marlon Humphrey (90.6) and Chicago Bears' Kyler Fuller (90.0) were the only two corners ahead of Gilmore."
[Editor's Note: Here are links to all of PFF's lists of the top-10 players by position entering the 2019 NFL season. For all of the advanced stats and grades we speak to in the articles, subscribe to PFF's ELITE subscription today!]