A change in uniform doesn't keep Earl Thomas from taking the top spot on this list. The new Baltimore Ravens safety enters his age-30 season as the league's best at the position.
Here's a look at PFF's list of the top-10 safeties entering the 2019 NFL season.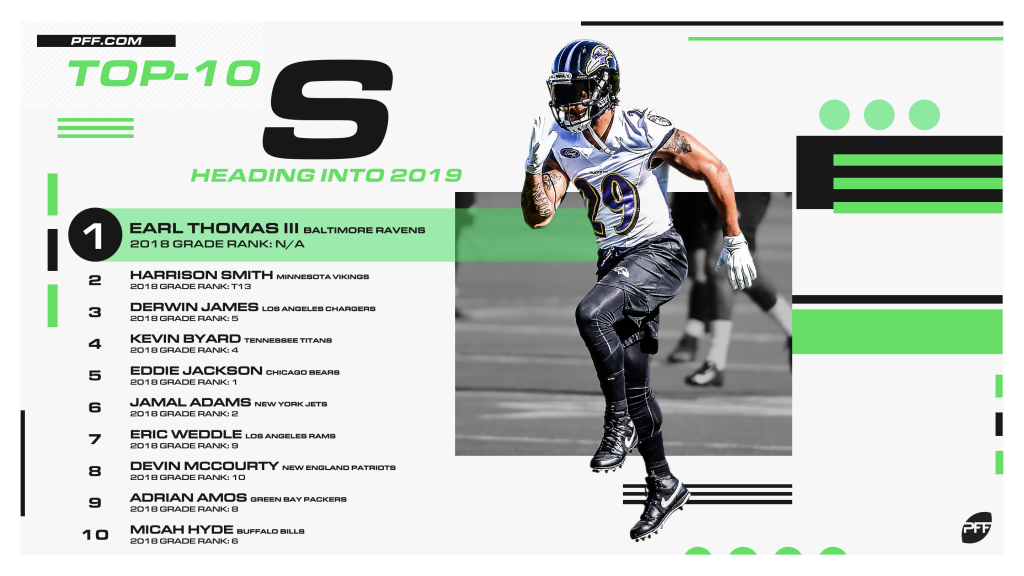 2018 OVERALL GRADE RANK: 6
From middle-of-the-pack slot cornerback to superstar-caliber free safety, Hyde's work at the back end of the Bills' defense has quite simply been the best in the league over the last two seasons. Over that time, Hyde's overall grade of 91.6 at the position beats out a number of well-established stars, players like Earl Thomas, Eddie Jackson and Tennessee's Kevin Byard.
As one of the league's premier playmakers in coverage, the Iowa product has allowed just 18-of-31 throws into his coverage at free safety to be completed, and he's yielded just 174 passing yards, two touchdowns and just seven first downs in the process. His 11 combined pass breakups and interceptions are the second-most among all free safeties in that span, while his defensive success rate (forced incompletions+coverage stops/targets) of 58.1%, his forced incompletion percentage of 22.6% and his 55.8 passer rating allowed over that span rank third, eighth and sixth, respectively, among players with at least 15 targets in that span.
2018 OVERALL GRADE RANK: 8
While his 12 combined interceptions and pass breakups over the past two seasons wouldn't give the impression of an elite safety, Amos has been one of the league's premier players at the position over recent seasons. His overall grade over the past three years falls into the elite category at 90.6, and it ranks third among all safeties with at least 1,000 snaps since 2016. In a career that has spanned 2,315 snaps in coverage, he has been beaten for a reception longer than 40 yards just once, and he was downgraded at the third-lowest rate of any starting safety in 2018. Now that he's in the spotlight thanks to his four-year, $36 million deal, Amos will now have the chance to make his name heard, and if he can keep up the same stellar play that made him shine in Chicago, he'll be well on the way to providing the kind of safety play that Green Bay has been missing for some time.
2018 OVERALL GRADE RANK: 10
Fresh off of his Super Bowl LIII victory with the Patriots, McCourty makes the list after his ninth straight season logging 1,000 or more snaps at his safety position. His 79.5 overall grade ranked 16th-best, and his tackling grade of 83.4 ranked in the top 10 among safeties as he only missed five tackles on 77 attempts in 2018.
[Editor's Note: Here are links to all of PFF's lists of the top-10 players by position entering the 2019 NFL season. For all of the advanced stats and grades we speak to in the articles, subscribe to PFF's ELITE subscription today!]
QB | RB | WR | TE | T | IOL | DI | EDGE | LB | CB | S
2018 OVERALL GRADE RANK: 9
In his most recent season, Weddle was once again an impact player against both the run and the pass. He allowed a total of 111 yards into his coverage at an average of just 0.18 yards per coverage snap — tied for the eighth-best mark at the position. Proving that there's still plenty left in the tank, Weddle was at his best in coverage against wide receivers, yielding a passer rating of just 57.0 when quarterbacks targeted wideouts in his coverage. Again, showing his all-around ability, Weddle also missed only five tackles on 78 attempts, and he finished the year with 17 total defensive stops against the run, the 17th-most at the position.
2018 OVERALL GRADE RANK: 2
PFF has poured ample praise onto Adams in recent months. He landed at No. 20 on PFF's list of the 101 best NFL players in 2018 and was named to our list of the top-25 players under 25 years old, as well. He graded out as the third-best safety in football behind Eddie Jackson and Derwin James while earning grades of 77.0 or higher in all four facets of our defensive grading system in 2018. If we see another year similar to his sophomore campaign in 2019, Adams will undoubtedly fly up this list in 2020.
2018 OVERALL GRADE RANK: 1
After earning just a 68.3 overall grade across 1,055 defensive snaps as a rookie, Jackson exploded onto the NFL scene in Year 2 of his career. He logged five defensive touchdowns and earned position-high marks in overall grade (93.2) and coverage grade (94.7) in the process. Regression is in order for the former Alabama standout given just how successful he was in creating turnovers and turning them into points, but he shouldn't fall far in 2019.
2018 OVERALL GRADE RANK: 4
In junior and senior seasons at Middle Tennessee (2014-15), Byard earned 81.0-plus overall grades and 86.0-plus coverage grades. And his collegiate success has only followed him to the NFL ranks.
After somewhat of a slow start as a rookie (68.5 overall grade), Byard turned in 85.3 and 88.4 overall grades in 2017 and 2018, respectively. All combining for what was a career year for Byard, he earned an 89.0 run-defense grade, an 82.5 coverage grade and allowed a lowly 55.8 passer rating in coverage in 2018, logging four picks and two passes defensed in the process. Slotted as one of the better single-high safety prospects in the 2016 class, Byard has truly thrived at the position with Tennessee.
2018 OVERALL GRADE RANK: 5
Like Barkley, James only needed one season in the NFL to prove he's worth a spot on the 2019 PFF50. The do-it-all Chargers safety could do no wrong as a rookie, earning high grades against the run, in coverage and rushing the passer all from an array of pre-snap alignments. His 88.3 overall grade a year ago ranks third among all qualifying rookie Safeties in the PFF era (2006-18), which made him a no-brainer decision for PFF Defensive Rookie of the Year honors in 2018.
From PFF's Cam Mellor on James:
"Described as a 'movable chess piece' along the defense, James' ability to line up across the field, and do so efficiently, led to his selection as our Defensive Rookie of the Year as well as his ridiculous statistics in our PFF advanced metrics."
2018 OVERALL GRADE RANK: T-13
Among the 70 NFL safeties with 2,000-plus defensive snaps played in the last five years (2014-18), only Earl Thomas (93.6) has earned a higher overall grade than Smith (92.6). The Vikings standout also ranks first in run-defense grade (96.4) and fourth in coverage grade (93.6) among the same group of qualifiers.
From PFF's Sam Monson when Harrison was awarded PFF's Dwight Stephenson Award for best player in the NFL in 2017:
"When you turn on the tape, you see a player at the heart of every meaningful play on the best defense in the NFL, and somebody that was far more influential than any other safety during the 2017 season.
Because he is a safety, Smith stands no chance of garnering any kind of MVP recognition, but if you look purely at the best players in the game this season, there is little doubt that he was one of the best in the game, and in PFF's opinion, the best in the entire league."
2018 OVERALL GRADE RANK: —
Thomas led all qualifying safeties in overall grade (91.3) and coverage grade (90.6) before he suffered a season-ending injury (lower leg fracture) in Week 4 of last season. He showed he can still play at an elite level nine years into his NFL career and should only pick up where he left off in Baltimore if he can stay healthy.
Among the 70 NFL safeties with at least 2,000 snaps played in the last five years, Thomas ranks first in overall grade (93.6) and coverage grade (97.2). He's one of the very few free safeties who have dominated as a standalone centerfielder in the NFL, a rare talent by all measures.
[Editor's Note: Here are links to all of PFF's lists of the top-10 players by position entering the 2019 NFL season. For all of the advanced stats and grades we speak to in the articles, subscribe to PFF's ELITE subscription today!]