The NFL is loaded with elite receiving talent right now. Six of the wide receivers listed below made PFF's list of the NFL's top-50 players regardless of position, and the other four were in our list of the 10 players that just missed the cut for the PFF50.
Here's a list of the top-10 wide receivers entering the 2019 NFL season.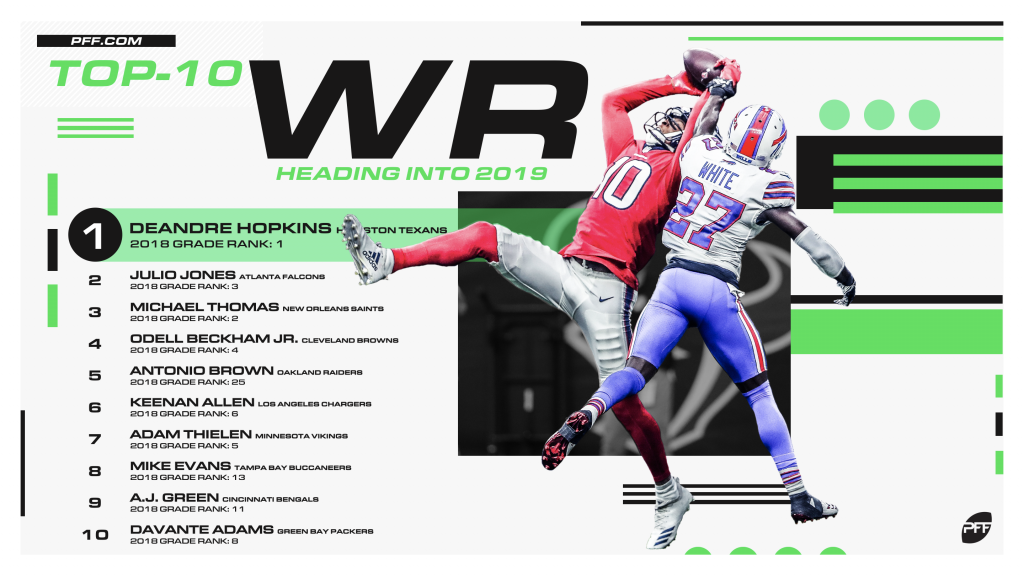 2018 OVERALL GRADE RANK: 8
After earning sub-80.0 receiving grades in each of his first four seasons in the NFL, Adams earned career-high marks across the board in what was a breakout 2018 season for the former Fresno State standout. Catching 111-of-162 targets for 1,386 yards and 13 touchdowns, Adams earned an 87.5 receiving grade across his 695 routes run this past season.
Odds are the 26-year-old phenom continues his upward trend and blows the doors of the NFL again in 2019. And if he does, he won't be on the outside looking in at the PFF50 next year.
2018 OVERALL GRADE RANK: 11
Before injury cut his season short, Green earned an impressive 84.9 receiving grade across 313 routes run. He's now earned an 80.0-plus receiving grade in every season after his rookie campaign in 2011. Entering the 2019 season at 31 years old, Green will find it harder to have the success he had in years prior, but he's still a premier receiving talent with all of the tools necessary to turn in elite production in 2019 and the years following.
2018 OVERALL GRADE RANK: 13
I've said this before, and I'll say it again. The top of the NFL is crowded at the wide receiver position. With elite receiving talent nearly everywhere you look, a superstar such as Evans enters the 2019 season as PFF's seventh-best wide receiver.
Since entering the league in 2014, Evans has caught 395-of-697 targets for 6,103 yards, 274 first downs and 40 touchdowns en route to a 92.0 receiving grade that ranks seventh among qualifiers. He's landed on the PFF101, a list of the best 101 best players from the previous season, three times in his career for his efforts.
From PFF's list of the top 101 players from the 2018 NFL season, where Evans ranked 56th:
"Evans had to endure shaky quarterback play this year, but that didn't stop him from producing. He ended the regular season ranked eighth among receivers with an average of 2.38 yards per route run, while his contested-catch rate of 61.5% ranked fifth among those with 10 or more contested targets."
[Editor's Note: Here are links to all of PFF's lists of the top-10 players by position entering the 2019 NFL season. For all of the advanced stats and grades we speak to in the articles, subscribe to PFF's ELITE subscription today!]
QB | RB | WR | TE | T | IOL | DI | EDGE | LB | CB | S
2018 OVERALL GRADE RANK: 5
What Thielen did this past season was incredible. The former undrafted Minnesota State product earned a career-high 89.5 receiving grade in just his second season with 1,000-plus offensive snaps played. Among NFL receivers with 300-plus routes run in 2018, Thielen ranked seventh in receiving grade (89.5), 15th in yards per route run and 13th in passer rating when targeted (115.4).
If Thielen can repeat if not improve on his 2018 campaign, he'll be a lock for next year's list.
2018 OVERALL GRADE RANK: 6
Allen's two-year receiving grade (91.2) ranks fourth among the 53 NFL wideouts with 150 or more targets since 2017. Only Michael Thomas, DeAndre Hopkins and Julio Jones rank ahead of the Chargers phenom. He also ranks third in yards per route run (2.43) and seventh in passer rating when targeted (111.6) among the same group of qualifiers.
From PFF's Cam Mellor in his WR prototypes article released last week:
"An underrated aspect of Allen's repertoire, his route-running skills are second to none at this stage of his career. Not only does he have a feel for coverages, but he also has an innate knack for reading when and where to make his breaks based upon the defenders he's going to face. He's just as routinely spotted jetting past overwhelmed linebackers as he is finding the soft spots in zone coverage in between defensive backs."
2018 OVERALL GRADE RANK: 25
Brown earned a career-low 79.0 receiving grade in 2018, and he still caught 104-of-164 targets for 1,297 yards and 15 touchdowns on the year. That alone speaks volumes to just how productive Brown has been all throughout his career. Among the 66 wide receivers with 300 or more targets in the last five seasons, Brown ranks second in overall grade (93.9), yards per route run (2.53) and total receptions of 15-plus yards (209). Only Atlanta Falcons' Julio Jones ranks higher in the three metrics.
2018 OVERALL GRADE RANK: 4
Despite having to battle inconsistent play at the quarterback position throughout the entirety of his career, OBJ has still managed to take the league by storm since coming off the board at No. 12 overall in 2014. His five-year receiving grade (92.6) ranks sixth among the 47 wideouts with at least 2,000 routes run in the last five years. Only Julio Jones, Antonio Brown and DeAndre Hopkins rank ahead of the former LSU standout in receiving grade and yards per route run on the list.
Trading an aging Eli Manning for second-year Baker Mayfield in Cleveland, Beckham has a real shot at earning career-high marks across the board and jumping ahead some of the aforementioned wideouts in 2019.
2018 OVERALL GRADE RANK: 2
Only Julio Jones (94.3) has earned a higher receiving grade than Thomas (93.2) among the 82 NFL wide receivers with at 900 routes run over the past three seasons (2016-18). He also ranks third on the list in passer rating when targeted (116.8) and yards per route run (2.39), catching 352-of-448 targets for 4,210 yards, 202 first downs and 26 touchdowns in the process.
Thomas has also dropped just 2.76% of his 448 targets in his career, a rate that ranks third among the 59 wide receivers with at least 200 targets since 2016. Only Seattle Seahawks' Doug Baldwin (2.46%) and Tyler Lockett (2.65%) have recorded lower drop rates in the three-year span.
2018 OVERALL GRADE RANK: 3
Riding the momentum of five consecutive years with single-season receiving grades of 89.0 or higher, Jones enters his age-30 season with unparalleled production at the NFL since 2014. He's ranked first in yards per route run in four of the past five seasons, and his five-year yards per route run average (2.99) leads the position by a considerable margin.
From PFF's Mark Chichester in January:
"Since he entered the league in 2011, Jones ranks second in receptions (698), second in receiving yards (10,731), third in receiving yards after the catch (3747), second in first down receptions (495) and first in explosive plays (302) among receivers in that span. This is all while grading among the top-five players at the position in each year since 2014, including a three-season run from 2015 to 2017 where he finished as the highest-graded receiver in football.
 In yet another elite-caliber season, Jones ended the 2018 campaign with 113 catches for 1677 receiving yards from 573 snaps in route. His average of 2.93 yards per route run ranked first among receivers with at least 200 routes run, and it's also fifth-highest mark since 2014, with the only player/seasons ahead of him being Julio Jones in 2016, Julio Jones in 2017, Julio Jones in 2015 and A.J. Green in 2014."
2018 OVERALL GRADE RANK: 1
It's a two-man race between Jones and Hopkins for top NFL receiver entering the 2019 season, and we at PFF have opted for the latter. Hopkins' two-year receiving grades bests that of Jones by 0.2 grade points, and Hopkins also finished ahead of Jones in PFF's new WAR metric (3.24) and receiving grade (92.1) in 2018. The 27-year-old Texans standout is only getting started.
From PFF's Mike Renner in his article crowning the Texans wideout as the 2018 PFF Offensive Player of the Year:
"There's really nothing Hopkins can't do as a wide receiver. He ranked top-10 in touchdowns (11), deep receiving yards (387) and broken tackles (12). Hopkins was everything and then some in his first full season with Watson at the helm. Still only 26 years old, Hopkins is going to be putting up big numbers for a long time in Houston."
[Editor's Note: Here are links to all of PFF's lists of the top-10 players by position entering the 2019 NFL season. For all of the advanced stats and grades we speak to in the articles, subscribe to PFF's ELITE subscription today!]