There is often debate over which players perform best when the pressure is at its highest, i.e. which players in the NFL are the most "clutch." These debates often rely on anecdotal evidence, such as one memorably great play in a key moment, but the play-by-play grading at PFF allows us to look at the bigger picture and take the totality of a player's performance in "clutch time" into consideration.
The sample size for this list — plays in the fourth quarter of games within seven points — might seem specific, but it's meant to capture only those high-pressure situations in which the makeup of a player is put to the test. Among all players with 100-plus snaps in those situations last season, these guys came out on top.  

We kick off the list with a shocker. Tom Brady has been the standard at the quarterback position for the better part of his career, and in a year in which he took home his sixth Super Bowl title, Brady earns a first-team spot on the Clutch Team with his 90.5 grade when it mattered most. He picked up big chunks late in tight games — 1,073 passing yards on 107 attempts — and those 10.0 yards per attempt led all quarterbacks with 50 or more attempts in clutch time.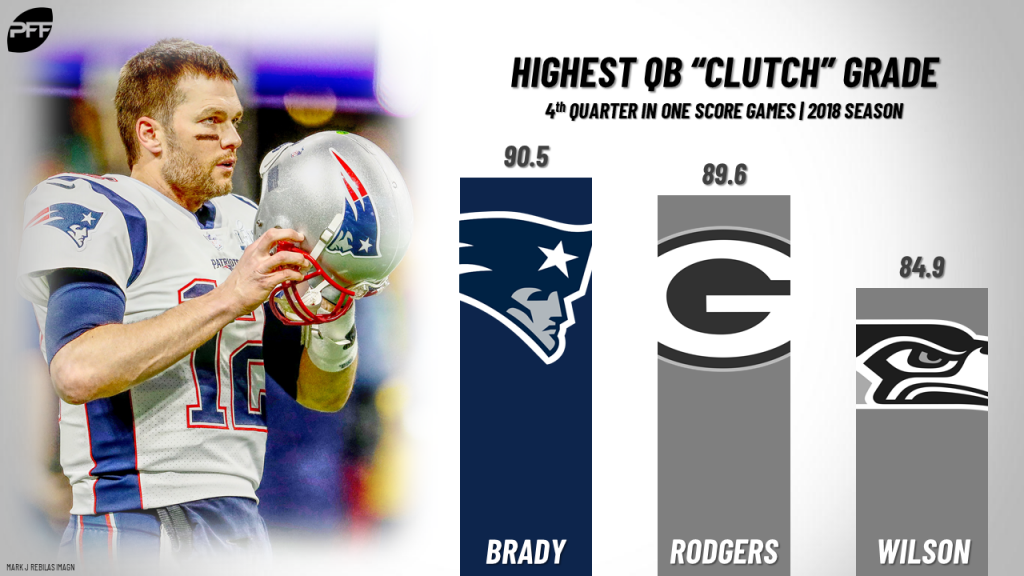 Mixon won the title of the top clutch running back last season by a healthy margin, as his 85.0 grade paced the position by over seven points. As a runner, he ran for 7.1 yards per attempt (first among running backs with 25-plus carries) and 3.8 yards after contact per attempt (second), and he forced eight missed tackles (fourth) in the process. As a receiver, he caught 9-of-10 targets for 81 yards and a touchdown.
The first-team spots at wide receiver come from two of the top receivers in the game in Jones and Thomas, both hailing from the NFC South. Jones was a volume monster in clutch time with 612 receiving yards (first by 141 yards) and 20 explosive plays (plays of 15 or more yards) as a receiver, which was the most by eight plays. Thomas was just as efficient when the game was on the line: he caught a ridiculous 29 of his 33 targets for 312 yards, five touchdowns and a passer rating when targeted of 145.6.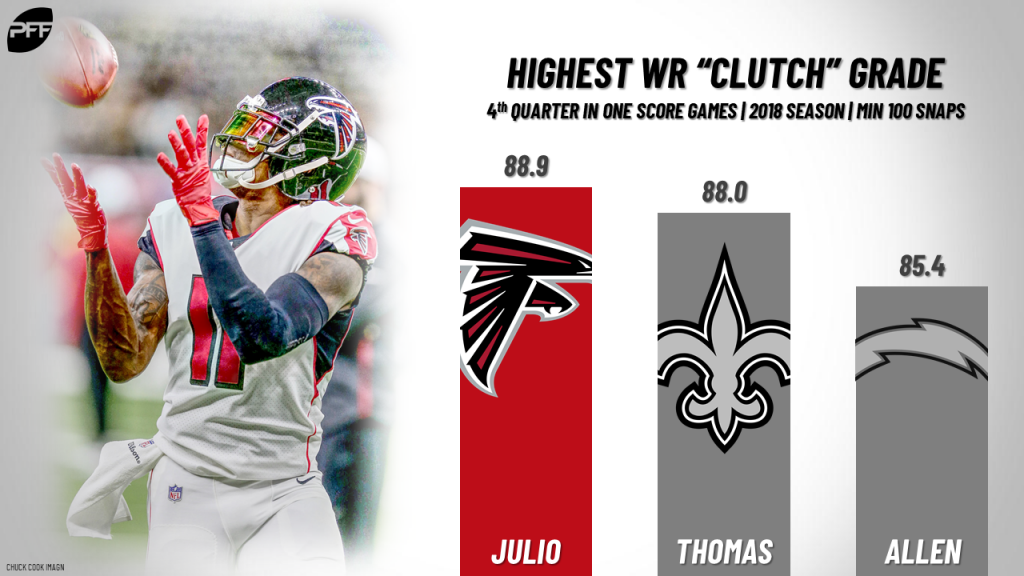 Goedert only just made the snap threshold, though as his spot on the top of the list would suggest, he was efficient in his time on the field. His run-blocking grade of 66.7 ranked seventh at the position, but he made his biggest impact in the passing game. His numbers look pedestrian at just eight receptions on 11 targets for 83 yards and a touchdown. Those numbers, however, do not take into account a 75-yard contested catch that was brought back for a penalty in which he forced two missed tackles. The PFF grade does take that into account, and it's part of the reason Goedert ended up at the top of the list.
Over the course of the season, Smith graded out as the sixth-best left tackle with an overall grade of 80.1. As great players do, though, he raised his game in clutch time and finished those plays with a grade of 87.3. Smith's run-blocking grade of 78.4 led all tackles, and he allowed zero quarterback hits or sacks on 156 pass-blocking snaps.
In his first season, Nelson immediately made his spot among the top guards in the league known. His performance in high-pressure situations was no different. Nelson led all left guards in run-blocking grade by a healthy margin (79.0), and he was no slouch in pass protection either. Only four pass-rushers got by him on 188 opportunities.
When you look at all snaps, Kelce was the clear-cut top center in the league last season with an overall grade of 83.6. That was even more apparent in the fourth quarter of close games, as Kelce's grade rose to 86.6 — a full 8.5 points above the second place Hudson. It was his 85.5 run-blocking grade that really set him apart. He was one of only three centers to eclipse the 75.0 mark in clutch time.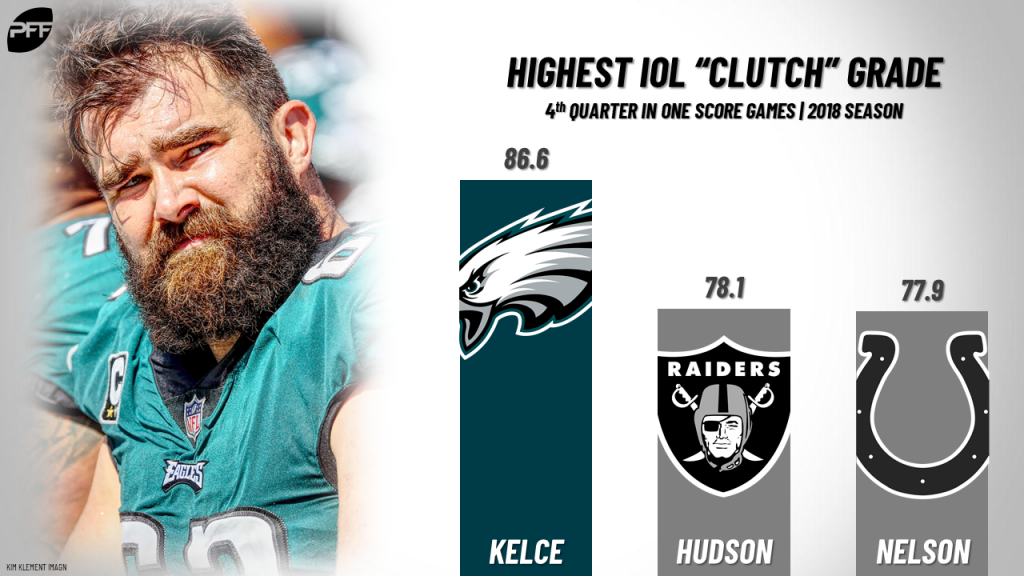 Joining his teammate from Indy, Glowinski locked down the top spot at right guard with an overall grade of 76.4 in the clutch. Similar to Nelson, he was dominant in the run game. His 76.4 run-blocking grade across 48 snaps came in tops among all qualifying right guards.
The rookie Smith makes three members of the Colts' starting offensive line that ended up on the Clutch Team, surely making Andrew Luck a happy man. Smith allowed five pressures on 128 pass-blocking snaps, and he finished the season with a 75.1 overall grade in clutch time — first among all qualifying right tackles.
The run of Colts continues at the edge position, though this time it's one of the team's new additions that make the list. With the Chiefs, Houston was the only edge defender with 100-plus snaps to eclipse an overall grade of 90.0 in the clutch. He routinely beat his blocker as a pass rusher, notching a pass-rush win rate of 20.6%. The other first-team selection — Carlos Dunlap — did it with a well-rounded approach. He was one of six edge defenders to have both a run-defense and pass-rush grade of 73.0 or higher in the fourth quarter of one-score games.
If there is an NFL list of any kind, it's a safe bet to pencil in Donald at interior defender. The guy is a one-man wrecking crew in the passing game, as his absurd 25.1% pass-rush win rate in clutch time can attest. No other interior defender with 50 or more pass-rushing snaps came within 4% of that rate. Short was second-best with a rate of 20.8%, which is impressive in its own right, and he was a stopper in the run game, as well: his run-defense grade of 90.4 ranked second behind only Jurrell Casey. 
In a similar vein to Donald, Wagner is one of the unquestioned, elite players at his position, so it comes as no surprise to see him at the top in clutch time. He was excellent in all phases of the game, notching a run-defense grade of 81.5 (second among qualifying linebackers) and a coverage grade of 91.2 (first among qualifying linebackers). Joining the ranks of first-year Colts to burst onto the scene, Leonard also excelled in the clutch, especially in coverage. His six forced incompletions led the position, and his eight defensive stops in coverage trailed only Vander Esch.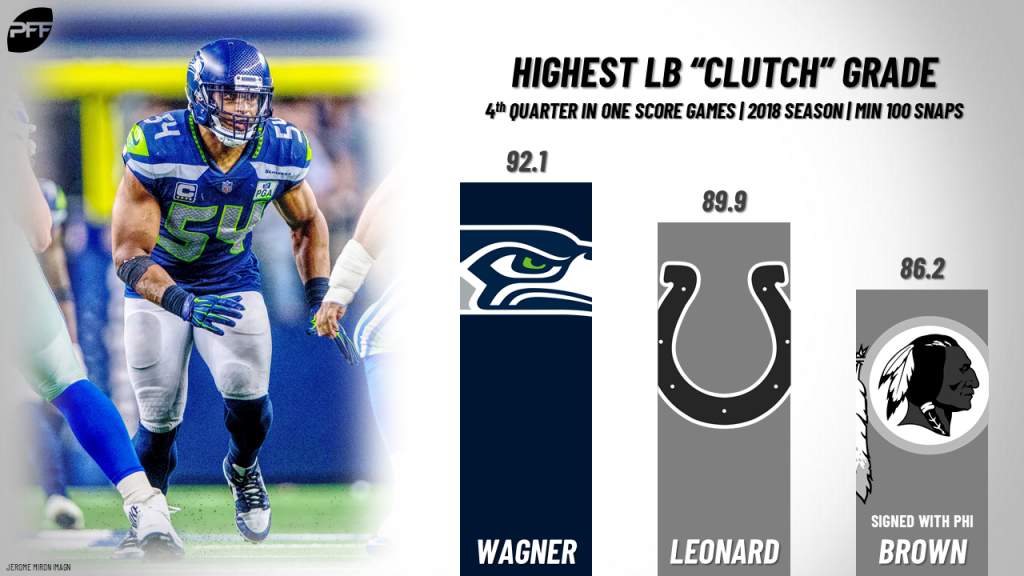 Humphrey is developing into one of the more promising young cornerbacks in the NFL, and he put it on display in high-pressure situations last season. On those plays, Humphrey was targeted 18 times and allowed just eight receptions for 58 yards while picking off two passes and forcing five incompletions. King recorded his second season with an overall grade of 85.0 or higher, and that bumped up to 91.3 in the fourth quarter of one-score games, and his ten defensive stops in coverage led all cornerbacks.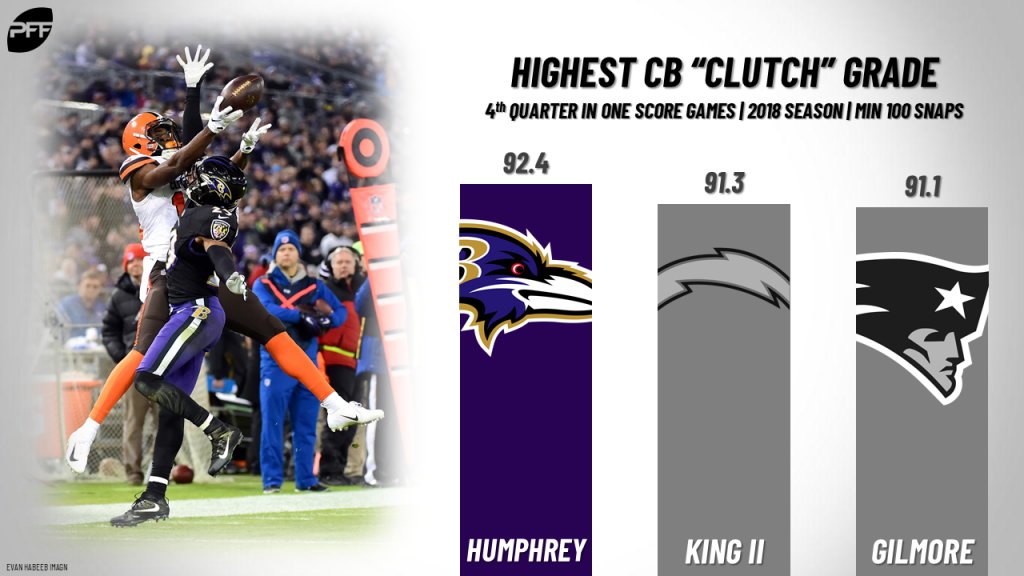 The two first-team spots at safety go to two of the best in the league last season. Jackson was an excellent playmaker on the back end, allowing a completion rate of just 35.7% on throws into his coverage while picking off three passes. Adams had similar success in coverage, allowing just 4-of-12 throws to be completed for 32 yards. Adams also saw some success as a pass-rusher, with five pressures on 13 pass-rushing snaps.