In years past, 40-year-old starting quarterbacks were likely either already washed up or just hanging on in there to plug a hole under center. Oh, how times have changed, and we should be grateful that we live in a time where we get to see 40-plus-year-old quarterbacks who are not only thriving in the NFL but completely surpassing what we once thought was impossible.
The winner of PFF's 2018 award for best passer is one of those well-aged quarterbacks, and his 2018 season was not just head and shoulders above his peers this year, it was also good enough to break several NFL records. In Week 3 of the 2018 season, he broke Brett Favre's NFL completion record. In Week 5, he surpassed Peyton Manning's record for most career passing yards. By Week 17, he had earned PFF's third-highest single-season grade by a quarterback, and broken his own record for single-season completion percentage – the fourth time he'd either tied or set the record.
His season may not have ended in a way that he deserved, but after a tumultuous, record-breaking season, New Orleans Saints quarterback Drew Brees' 2018 performance was more than enough to earn PFF's top passer award.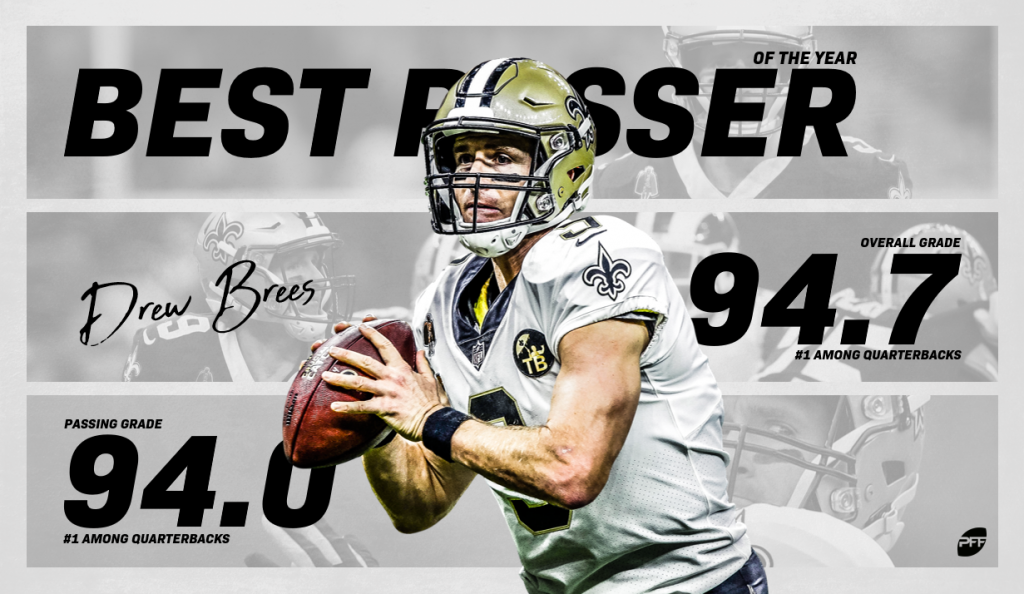 After his 18th year in the NFL and his 13th year with the Saints, it's hard not to include Brees in the conversation for one of the greatest quarterbacks ever to play the game. Through 17 weeks of the regular season, he earned an overall grade of 94.7 and a passing grade of 94.0, the third and fourth-best single-season marks of the FFF era (2006-present), respectively. He finished the regular season with a 3:1 big-time throw to turnover-worthy throw ratio (which was good for third-best among qualifying signal-callers) and to top off a campaign that had him mentioned as a sure-fire MVP candidate for most of the year, he broke the PFF record for single-season adjusted completion percentage.
In a season packed with impressive statistics and records, perhaps none are more telling than his grading on a play-by-play basis, where Brees was the best quarterback in the league in terms of preventing negatively-graded plays while still producing positively-graded ones. Among the 44 quarterbacks with at least 100 dropbacks throughout the regular season, Brees' positively-graded throw rate of 27.6% ranked fourth, while his absurdly low negatively-graded throw rate of 7.0% was far and away the best mark in the league.
Looking at his performance from a clean pocket, which PFF has found to be the most stable condition to evaluate and predict quarterback performance, it's easy to see why Brees has laid claim to this award. Through 17 weeks of the regular season, Brees completed 296-of-377 attempts from a clean pocket, for 3272 yards, 27 touchdowns, and just one interception. He finished second in passer rating from a clean pocket (125.6), third in turnover-worthy throw rate from a clean pocket (1.06%) and first in adjusted completion from a clean pocket (84.3%), while his clean-pocket passing grade of 95.7 tied for the best mark of the PFF era.
[Editor's Note: All quarterback stats in this story can be found in our QB Annual, released for PFF EDGE & ELITE subscribers. The QB Annual contains detailed profiles, exclusive signature stats, grades and much, much more. Not a member of PFF EDGE? Sign up now.]
For the last 15-plus years, the defining characteristic of Brees' play has been his pinpoint accuracy, and he's been as consistent as they come in this regard, as the Saints' veteran signal-caller has now placed in the top-five in adjusted completion percentage in 10 of the last 13 seasons that PFF has data for.  Thanks to PFF's new quarterback charting data, which we debuted last season and is available in this years QB Annual, we can demonstrate just how accurate he was on a throw-by-throw basis.
On his 489 regular season attempts, Brees' ball placement was deemed to be 'perfect' 20.0% of the time and 'accurate' 71.5% of the time, which ranked sixth and first among the league's quarterbacks this year, respectively.
While what Brees managed to do in his 18th season was incredible from an individual standpoint, it's also worth noting how well he played with his number one receiver, Michael Thomas, and that partnership was a defining reason for Brees' incredible season. With Brees under center in 2018, Thomas was targeted on 28.2% of Brees' total attempts and in turn, he recorded a staggering 119 catches – both of which are the best single-season marks of Brees' illustrious career within the PFF era (2006-present). More impressively, however, is that fact that 92.0% of those 119 passes were deemed catchable, which is the best single-season mark ever recorded by a quarterback-wide receiver tandem with at least 50 targets to their name.
When you add it all up, Brees was the clear top passing quarterback in the league, and it showed in his PFF passing grade, the only one above 93.0 in the NFL this season. In his 18th year, Brees has continued to demonstrate that he can produce on any field he steps foot on, and he has continued to demonstrate the traits that arguably make him the most accurate quarterback of all time. After an incredible, record-breaking season, his performance throughout the season is more than deserving of the award.

Keep up to date with PFF's end of season awards:
Offensive Rookie of the Year | Defensive Rookie of the Year | Comeback Player of the Year | Offensive Player of the Year | Defensive Player of the Year | The Stephenson Award | PFF's Most Valuable Player | The Hutson Award for Best Wide Receiver | The Matthews Award for Best Offensive Lineman | The Reggie White Award for Best Pass Rusher | The Ted Washington Award for Best Run Defender | The Richard Lane Award for Best Coverage Defender | Breakout Player of the Year | Pass Blocker of the Year | The NFL's Best Offensive Line | Run Blocker of the Year | Passer of the Year | Special Teams Player of the Year