Last offseason, we introduced PFF's advanced quarterback charting data, which is an entirely new way of evaluating the game's most important position. While the QB Annual and the PFF Draft Guide are the best places to start for a broad overview of each NFL quarterback's advanced accuracy, I'll be taking you through an in-depth breakdown of some of our data points throughout this week.
First, be sure to refamiliarize yourself with the overview of our process, and it's always nice to have the below image handy as a reference point for when you go through the data.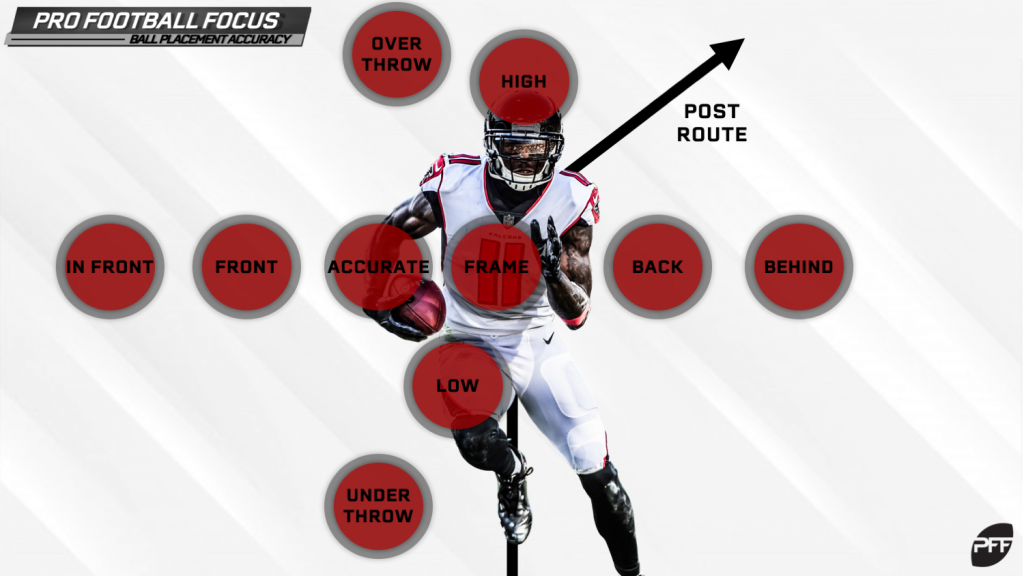 Today's focus is overall accuracy by various field ranges: The short range (0-9 yards downfield), the intermediate range (10-19 yards downfield), and the deep range (20-plus yards downfield). For today's study, we will lump all throws labeled as accurate, frame and away from coverage into the accurate category. The away from coverage designation is our way of crediting the quarterback for placing the ball away from the leverage of the defender, so passes that may look at first glance to be high, low, back or front in the diagram may actually be considered accurate for the purposes of our charting, and thus they get the away from coverage label. Passes in the accurate and away from coverage buckets get an "accurate plus" designation, which is the highest attainable level of accuracy.
Remember: This is all about the actual ball location of the pass, not just throwing a catchable pass. We've proven the importance of ball location with regard to yards after the catch and expected points added, so putting the ball in the right spot is crucial in order to optimize success.
0-9-Yard Range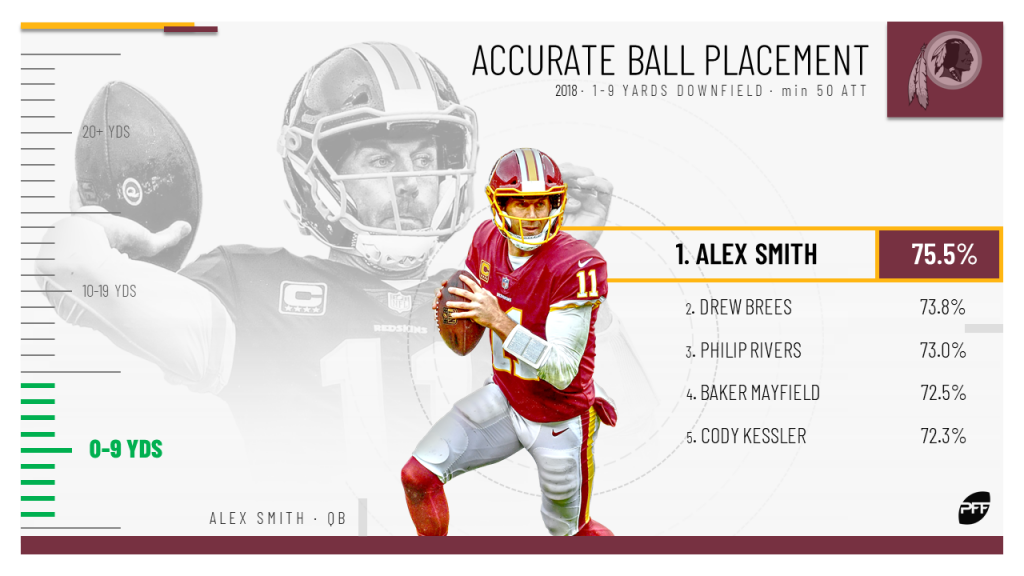 Following on from his career year as a deep passer, Alex Smith was his usual, efficient self in Washington, and he completed 122-of-152 short pass attempts up until his season-ending injury. A whopping 75.5% of those attempts were charted as accurate through 11 weeks – the best mark ever recorded over the last three seasons.
The winner of PFF's top passer award, it comes as no surprise to see that Drew Brees is the only signal-caller whose name appears three times in this study. Brees earned an accurate designation on 73.8% on his short pass attempts last year, and 19.6% of those throws earned the "accuracy plus" tag.
The Los Angeles Chargers' pass-catchers led the league in yards after the catch per reception on short passes last year, and Rivers' ball placement was a huge reason why. He ended the year with a 73.0% accuracy rate and the second-highest passing grade among quarterbacks on short throws.
The future of Cleveland turned out to be everything we thought he would be in his rookie year. In terms of accuracy, Mayfield was head and shoulders above his draft class coming out of college, and that translated over to the NFL level almost seamlessly. Mayfield earned an accurate tag on 72.5% of his short passes in 2018, which ranked fourth among quarterbacks with at least 50 short pass attempts.
The new man in Philadelphia only played 263 snaps in relief of Blake Bortles in Jacksonville last year, and while he did end the year with a poor 52.1 passing grade (no thanks to the 2:3 big-time throw to turnover-worthy play ratio), he did manage to finish the year ranked 18th among signal-callers in overall accuracy percentage. His work on the short stuff was a big reason why – 72.3% of his short throws earned an accurate designation, which beat out notable names like Matt Ryan (72.0%), Russell Wilson (71.7%) and Tom Brady (71.1%).
10-19-Yard Range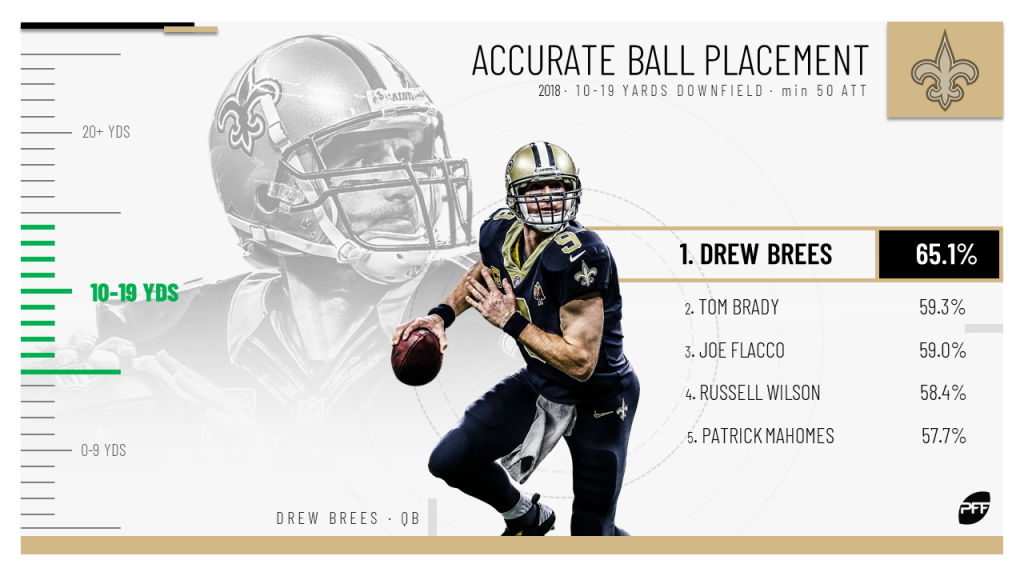 The perennial example of pinpoint accuracy, Brees was outstanding at the intermediate range of the field last season. He ended the regular season as the highest-graded quarterback on such throws, no doubt thanks to the 65.1% accuracy rate – the second-best rate we've ever recorded.
The six-time Super Bowl champion was once again among the league's best at throwing to the intermediate range of the field last year. His 2016 accuracy rate of 67.1% is still the best mark we've ever seen on throws from 10-19 yards downfield, but his 2018 mark of 59.3% — which ranked second among signal-callers this year — isn't far off.
Flacco will look to reignite his career in the Mile High City after being traded from Baltimore earlier in the offseason. If there's one thing that can draw hope from Broncos Country, it's his accuracy rate downfield last year, as 59.0% of his intermediate attempts earned the accurate tag – third among qualifying quarterbacks.
As I discussed in an article last month, Wilson was lights out in the intermediate range of the field last year and earned a passing grade of 92.3 — good for fifth among quarterbacks — for his efforts. His accuracy was almost flawless, as 58.4% of his attempts earned the accurate tag, and he also ended the year ranked third in "accuracy plus" percentage (37.7%).
The 2018 MVP ended the year as the league's third-highest graded quarterback on throws between 10 and 19 yards downfield, thanks in large part to his almost pinpoint accuracy. Mahomes was accurate on 57.7% of such throws, and, in turn, the Chiefs' pass catchers averaged 11.14 yards per route run on routes run to the intermediate range – fourth-best among teams.
[Editor's note: All data from the QB charting process can be found in the 2019 NFL QB Annual which is available for all PFF Edge and Elite subscribers. Join today!]
20-Plus-Yard Range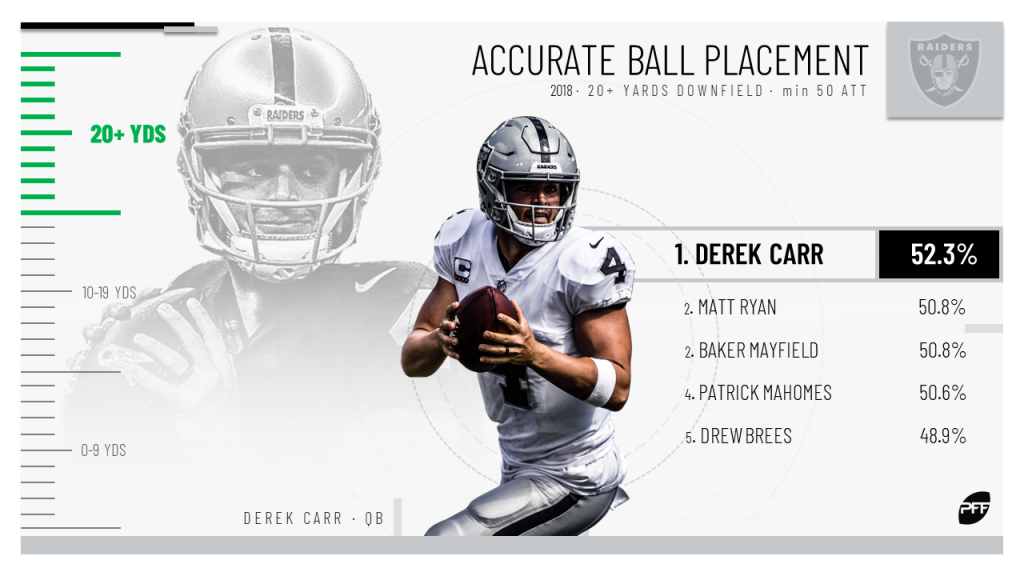 The Raiders' signal caller tops this list no doubt to the surprise of many, but the reality is that Carr has always shown well on his deep pass attempts. After three years of charting the ball placement of every throw of every game, the top-three highest single-season deep-passing accuracy rates belong to Russell Wilson in 2016 (55.6), Derek Carr in 2018 (52.3%) and Derek Carr in 2016 (51.1%). Now that he's armed with Antonio Brown and deep threat Tyrell Williams, Carr could very well reappear on this list this time next year.
Thanks to the accuracy of their MVP-winning quarterback, the Atlanta Falcons' pass catchers combined to produce 238 yards after the catch on their deep looks, which ranked fourth among receiving units. Ryan put the ball exactly where it needed to be on 50.8% of his attempts last year, which tied for second among quarterbacks.
The No. 1 overall pick makes a reappearance here, and quite rightly so, as the former Oklahoma signal-caller uncorked a number of breathtaking deep passes throughout his rookie year, including a touchdown pass to Jarvis Landry in Week 14 that was arguably the best throw any quarterback made all year. Mayfield ended his rookie year with an accuracy rate of 50.8% on his deep passes and an "accuracy plus" rate of 41.5% that is the third-best mark ever recorded over the course of a single season.
As one of the most electrifying offenses in the entire league, the Kansas City pass-catchers put up a league-leading 1,514 receiving yards, 42 first down conversions and 42 explosive plays from passes of 20 or more yards downfield, all thanks to the accuracy of their MVP quarterback, who earned an accurate tag on 50.6% of his deep passes.
Rounding out a seemingly perfect season as a passer, Brees shredded opposing defenses deep downfield to the tune of a 48.9% accuracy rate. His 31.9% "accuracy plus" rate tied with Philip Rivers for the sixth-best mark among quarterbacks last year.