No one is arguing that Bobby Wagner and Luke Kuechly aren't the two best off-ball linebackers in the NFL. And Deion Jones coming in at No. 3 on the list is tough to argue against, as well. The battles for Nos. 4-10 are much closer, however.
Here's PFF's list of the top-10 off-ball linebackers ahead of the 2019 NFL season.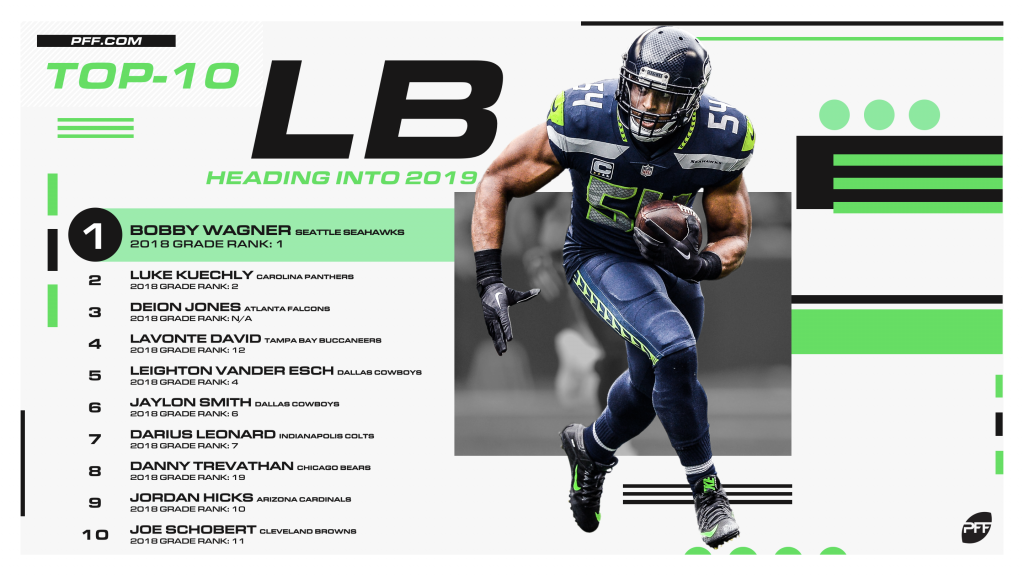 2018 OVERALL GRADE RANK: 11
Schobert's move away from edge defender and two off-ball linebacker has paid dividends for the Browns' defense. He earned career highs in overall grade (78.2) and coverage grade (87.7) a year ago, a sign that he's well on his way to move up this list if he can stay healthy and continue to pick up the position quickly.
2018 OVERALL GRADE RANK: 10
Hicks rebounded from an Achilles injury that limited him to just 268 snaps in 2017 to record an overall grade of 80.7 in 2018, 10th-best among 92 qualifying linebackers. It was the second time in his first four seasons that Hicks has found himself among the top-10 at the position. In 2016, he graded at 88.3, which put him behind only Luke Kuechly and Jerrell Freeman. His only two seasons that didn't end on Injured Reserve produced two campaigns where Hicks showed himself to be among the top-10 players at the position.
2018 OVERALL GRADE RANK: 19
Trevathan has earned an 80.0 overall grade across his 1,766 defensive snaps over the past two seasons (2017-18), which rankings ninth among the 77 off-ball linebackers with 800 or more defensive snaps played in the two-year span. He also ranks fifth in pass-rush grade (80.8) and 12th in coverage grade (78.6) among the same group of qualifiers.
[Editor's Note: Here are links to all of PFF's lists of the top-10 players by position entering the 2019 NFL season. For all of the advanced stats and grades we speak to in the articles, subscribe to PFF's ELITE subscription today!]
QB | RB | WR | TE | T | IOL | DI | EDGE | LB | CB | S
2018 OVERALL GRADE RANK: 7
While Leonard's raw tackle totals jumped off the page throughout his rookie season, they shouldn't take away from an incredibly promising performance in all facets of the game. He earned overall grades north of 70.0 as a run defender (70.8), a tackler (85.4), pass rusher (73.4) and as a coverage defender (84.8). He'll be a key component of Matt Eberflus' defense moving forward.
2018 OVERALL GRADE RANK: 6
A torn ACL and MCL in his junior year at Notre Dame pushed him from being a sure-fire first-round pick in the 2016 NFL draft to a question mark, but Smith overcame those questions emphatically this year. Among off-ball linebackers with 50 or more pass-rush snaps, his 27.8 win percentage as a pass rusher ranked first, while he was one of six off-ball linebackers with 500 or more coverage snaps to allow one or fewer touchdowns in coverage.
2018 OVERALL GRADE RANK: 4
Vander Esch ended his rookie season as one of only four linebackers who earned grades north of 80.0 in run defense and coverage, while his overall grade of 84.9 was good for fourth among all players at the position. The former Boise State Bronco's 54 total stops were the fifth-most among linebackers, and his five forced incompletions in coverage are good for fourth-most among rookies. It may only be one year, but the Cowboys seem to have secured the next great star at the linebacker position.
2018 OVERALL GRADE RANK: 12
From PFF's Connor Price on David:
"David saw 348 run-defense snaps and secured 33 run stops in 2018, earning a run-stop percentage of 9.4% that ranked 13th among the 94 linebackers with at least 100 run-defense snaps. He also recorded a run-defense grade of 72.5 that ranked 25th at his position.
However, gone are the days of the one-trick pony: David has adapted to the NFL's modern style of linebacker play a-la Deion Jones and has also been one of the league's best coverage linebackers. Over the last two years, only Demario Davis and (47) and Blake Martinez (43) have produced more coverage stops than David's 42, while David's 88.5 coverage grade ranks third among the 109 linebackers with at least 200 coverage snaps since 2017."
2018 OVERALL GRADE RANK: —
Jones' breakout season in 2017 was truly spectacular. The 2016 second-round pick turned in an elite 91.7 coverage grade across 719 coverage snaps in his sophomore season in the NFL, a single-season mark that ranks first among the 88 off-ball linebackers with 300 or more coverage snaps as second-year players in the PFF era (2006-18).
Injuries kept us from seeing Jones build on his impressive 2017 season, but we at PFF are confident he can return to form when healthy and should be valued as one of the NFL's top off-ball linebackers.
From PFF's Austin Gayle on why Atlanta should jump at extending Jones early:
"Jones didn't quite return to form when he came back from injury in Weeks 13-17, but that shouldn't keep the Falcons' brass from banking on him bouncing back. He's proved he can excel in coverage across a significant sample size, a sought-after but a rarely found trait in off-ball linebackers. The injury combined with the timing of the contract extension could very well have Atlanta rostering the league's best coverage linebacker on a bargain."
2018 OVERALL GRADE RANK: 2
Kuechly has earned 90.0-plus overall grades in each of the past five seasons, all while earning 85.0-plus coverage grades each year. He and Bobby Wagner share the NFL lead among off-ball linebackers in forced incompletions (32) since 2014, but it's Kuechly that owns the sole lead in coverage stops (129) in the five-year span.
2018 OVERALL GRADE RANK: 1
Wagner finished the year ranked first in overall grade (91.9), coverage grade (90.4) and run-defense grade (91.8) among qualifying off-ball linebackers in 2018. Only two off-ball linebackers in the PFF era (2006-18) have earned 90.0-plus marks in all three facets: Wagner in 2018 and Kuechly in 2015. Wagner also missed just one tackle across 140 attempts this past season.
Though Kuechly isn't too far off the Seahawks phenom, Wagner takes the cake for top off-ball linebacker in the NFL right now coming off one of the best seasons we've ever seen at the position.
[Editor's Note: Here are links to all of PFF's lists of the top-10 players by position entering the 2019 NFL season. For all of the advanced stats and grades we speak to in the articles, subscribe to PFF's ELITE subscription today!]