Last offseason, we introduced PFF's advanced quarterback charting data, which is an entirely new way of evaluating the game's most important position. While the QB Annual and the PFF Draft Guide are the best places to start for a broad overview of each NFL quarterback's advanced accuracy, you can also check out Monday's article on the NFL's most accurate quarterbacks by pass depth.
First, be sure to refamiliarize yourself with the overview of our process, and it's always nice to have the below image handy as a reference point for when you go through the data.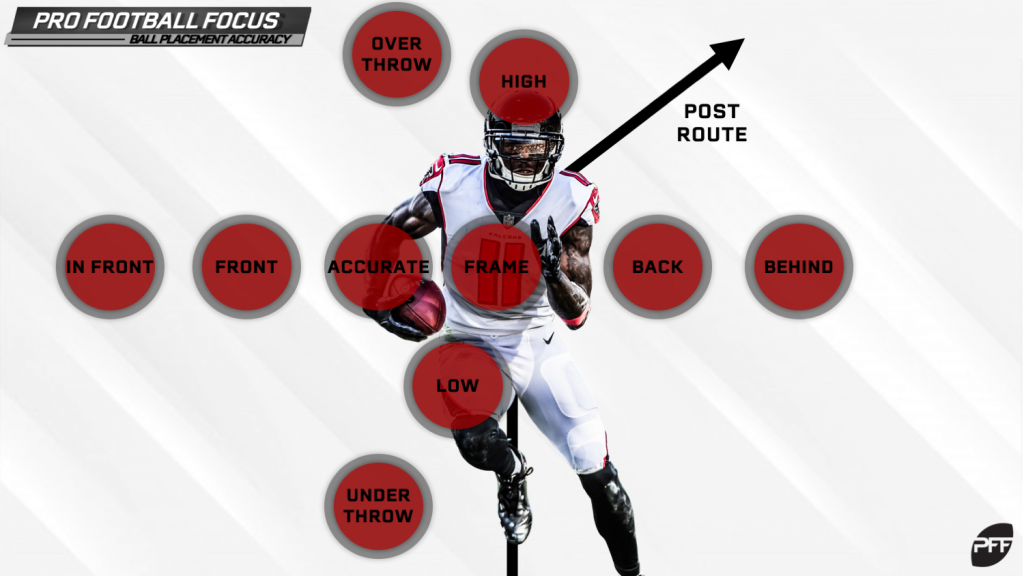 Today's focus is overall accuracy at various levels of separation. When it comes to separation, we are using three basic buckets: open, step/closing and tight. An "open" throw is generally two-plus steps of separation while "step/closing" is best described as a receiver having up to two steps of separation, either running away from a defender (step) or with a defender closing on a play (closing). Since "step" and "closing" are similar in terms of the level of separation, they have been placed in the same bucket. "Tight" throws are defined by a defender being within an arm's length of the receiver, or in the right spot in a passing window so as to discourage the throw.
Remember: This is all about the actual ball location of the pass, not just throwing a "catchable" pass. We've proven the importance of ball location with regard to yards after the catch and expected points added, so putting the ball in the right spot is crucial in order to optimize success.
Open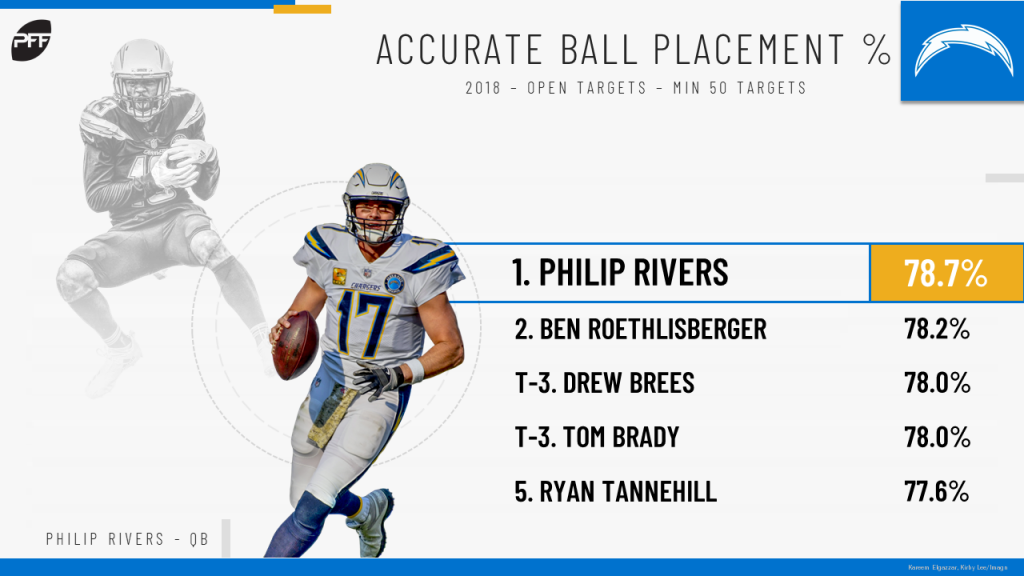 The Chargers' signal-caller ended the 2018 regular season with a 95.1 passing grade from his throws to open targets – fifth among qualifying quarterbacks. He led the league with a 78.7% accuracy rate on these throws, while he also led the league with a 22.6% "accuracy plus" percentage.
No quarterback threw more passes to open receivers last year than Big Ben, who completed 293-of-333 such passes for 3290 yards, 20 touchdowns and zero interceptions. A league second-best 78.2% of those passes earned the accurate tag.
Brees still owns the best accuracy rate ever recorded from passes to open targets thanks to his work from the 2017 season, and he followed that up with yet another excellent showing in 2018. His accuracy rate of 78.0% ranked tied for third among quarterbacks last year and his "accuracy plus" rate of 15.4% ranked second.
Last season, 17.6% of Brady's throws to open targets received the "accuracy plus" designation, which led all quarterbacks with at least 50 attempts. His 78.0% overall accuracy rate tied with Brees for third.
Tannehill didn't have the best of years in 2018, but he'll get to start afresh with the Titans next season. A strong facet of Tannehill's game last year was his work to open targets, where he fielded a 118.0 passer rating and a 77.6% accuracy rate.
Step/Closing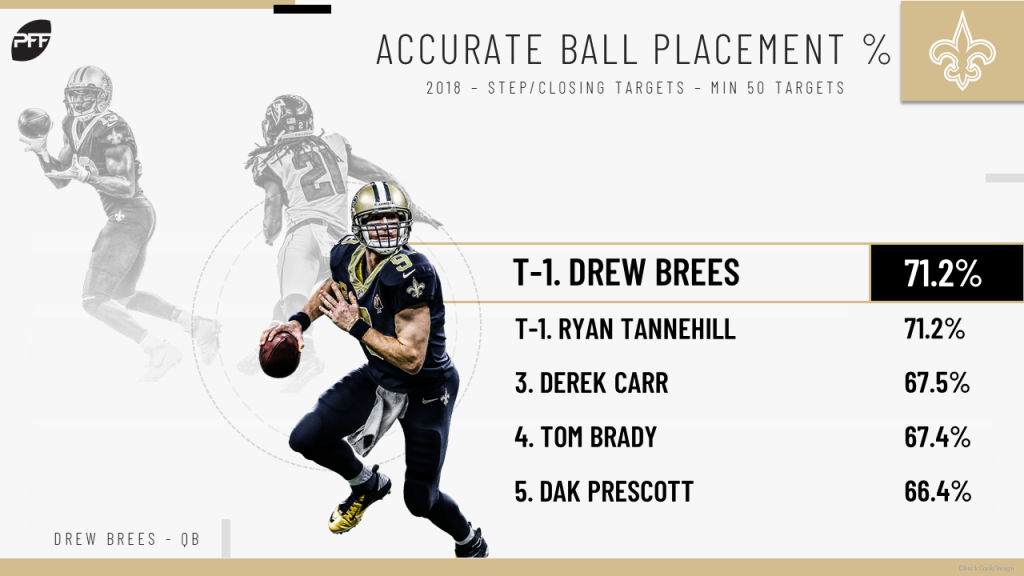 There was arguably no better quarterback than Drew Brees last year at passing to receivers with up to two steps of separation. On such throws, Brees posted the league's second-best passing grade (96.2) and the league's best passer rating (129.4), while 71.2% of his pass attempts earned the accurate designation.
Tying with Brees for the top spot, an impressive 71.2% of Tannehill's attempts to receivers with up to two steps of separation were deemed to be accurate. Tannehill completed 42-of-60 such attempts for 455 yards, five touchdowns and one interception last year.
Carr's deep-passing accuracy no doubt surprised many on Monday, but why stop there? Carr earned the league's seventh-best passing grade (94.0) on throws into step/closing coverage last year and 67.5% of those passes were categorized as accurate.
A year after he led the league in "accuracy plus" percentage to throws to step/closing coverage, Brady went ahead and did it again in 2018. Last year, 33.3% of Brady's step/closing attempts earned the "accuracy plus" tag, while 67.4% of his attempts earned the accurate tag.
Rounding out the top five is Dallas' fourth-year quarterback Dak Prescott. The former Mississippi State Bulldog completed 96-of-129 step/closing attempts for 943 yards, three touchdowns and three interceptions last year, while 66.4% of his throws earned the accurate mark in our system.
Tight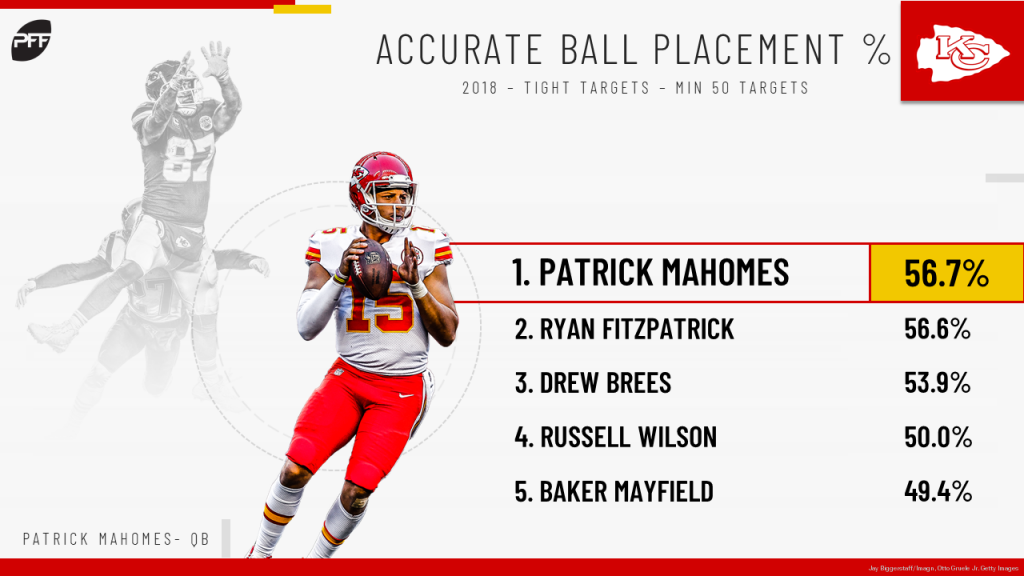 Mahomes, the league's MVP, only attempted 95 passes into tight coverage last year (19th-most among quarterbacks), but he was lights out when he decided to air it out and let his guy make a play. Mahomes led the league with a 56.7% accuracy rate and a 41.8% "accuracy plus" rate on throws into tight coverage — both of these marks are now the best ever recorded by a quarterback over a single season.
The Magic Man completed just 27 of his 66 attempts into tight coverage last season for 485 yards, four scores and six interceptions, but an impressive 56.6% of those pass attempts earned the accurate designation in our charting system.
As was the case in Monday's article, Brees is the only signal-caller who has appeared three times today — not that that should come as a surprise. The veteran passer completed 38-of-94 attempts into tight coverage last year, and 53.9% of those passes were considered to be accurate.
Among the 35 signal-callers who attempted 50 or more passes into tight coverage last season, Wilson was the only one who recorded a passing grade north of 65.0 and a passer rating north of 95.0. An impressive 50.0% of his attempts into tight coverage were classed as accurate last season.
Mayfield was among the league's best at throwing into tight windows in 2018; he ended the year with an impressive 49.4% accuracy rate on such throws and an even more impressive 37.3% "accuracy plus" rate that was second to only Patrick Mahomes.