Aaron Donald is not only the best at his position, but he's also the best player regardless of position in the NFL. Philadelphia Eagles' Fletcher Cox and Kansas City Chiefs' Chris Jones aren't too far off from him compared to the rest of the list, but it really is Donald's world; we're just living in it.
Here's a list of PFF's top-10 interior defensive linemen ahead of the 2019 NFL season — otherwise known as Donald & friends.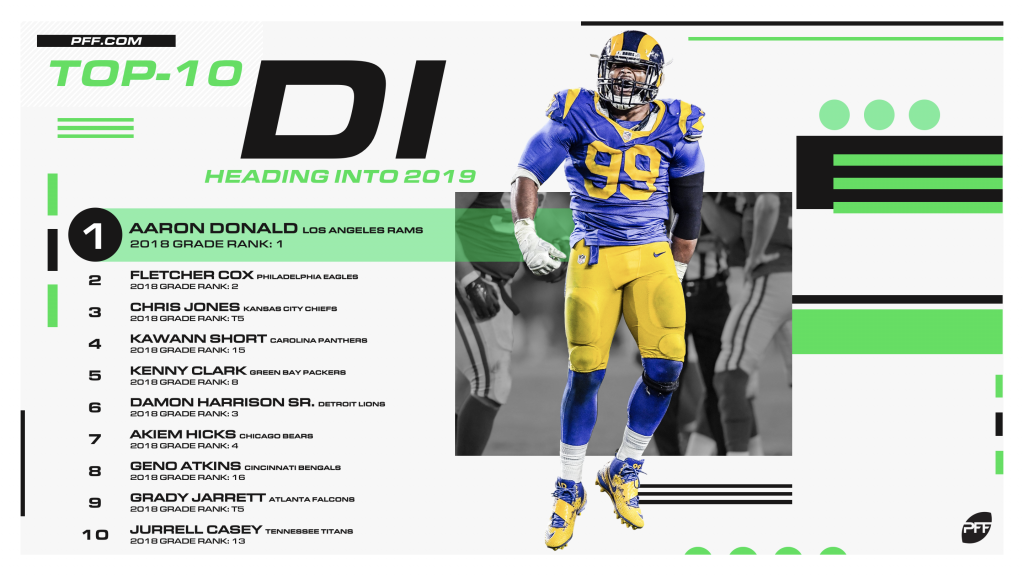 2018 OVERALL GRADE RANK: 13
Casey was once again a force in the middle of the Titans' defensive line, and he really made his mark as a run defender. He ended the year with 27 run stops – fifth-most among defensive tackles – and a run-defense grade of 91.1 that ranked seventh among all interior defenders. He's also earned a spot on PFF's top 101 list seven times in his career.
2018 OVERALL GRADE RANK: T-5
Jarrett finished what was his career-best season ranked tied for fifth in overall grade (91.0), 10th in run-defense grade (90.0) and fifth in pass-rush grade (86.7) among the 86 at his position with at least 400 defensive snaps played in 2018. He was also one of four interior defensive linemen to earn an overall grade above 90.0 and pass-rush and run-defense grades above 85.0 in 2018. Only Jarrett, Donald, Cox and Kenny Clark laid claim to the feat a year ago.
He also ranked inside the top-10 in run-stop percentage (9.7%), percentage of run-defense snaps where he was the first to make contact with the ball carrier (14.4%) and run-defense grade (90.0). He avoids blocks with the best of them largely because of his burst of the snap and violent hand technique.
2018 OVERALL GRADE RANK: 16
Even though Atkins earned the lowest overall grade (83.5) and pass-rush grade (85.1) we've seen from the big man in four years, the Cincinnati standout still finished 2018 ranked 16th in overall grade (83.5) and sixth in pass-rush grade (85.1) among qualifiers. He also finished the year ranked fifth in pass-rush win percentage (16.2%) among the 48 at his position with at least 300 pass-rush snaps in 2018.
For as long as Atkins is earning top-10 marks as a pass-rusher, he'll be in consideration for the PFF50. And though he enters 2019 at 31 years old, it's highly unlikely he dips outside the top 10 after earning 85.0-plus pass-rush grades in four consecutive seasons.
[Editor's Note: Here are links to all of PFF's lists of the top-10 players by position entering the 2019 NFL season. For all of the advanced stats and grades we speak to in the articles, subscribe to PFF's ELITE subscription today!]
QB | RB | WR | TE | T | IOL | DI | EDGE | LB | CB | S
2018 OVERALL GRADE RANK: 4
Hicks exploded onto the NFL scene in 2019, and that may even be an understatement. After earning sub-77.0 overall grades in each of his first six years in the NFL, the Bears defensive interior turned in a career-high 91.6 overall grade across 842 defensive snaps in 2018. He also earned career-high marks in run-defense grade (92.9) and pass-rush grade (78.0) on the year.
His improved run defense this past season was absurd. Hicks joined elite company in that regard, finishing the year ranked third among qualifying defensive linemen in run-stop percentage (13.3%) and fourth in run-defense grade (92.9).
Building on his career year will require Hicks to maintain his elite efficiency against the run while also improving his pass-rush grade even further. If he can do both of those things in his age-29 season, he's bound to land himself a spot on the 2020 PFF50.
2018 OVERALL GRADE RANK: 3
Snacks continued his reign over the NFL as the league's top run defender across what was a 17-game season for the seven-year veteran having played seven games with the New York Giants and another 10 with the Lions post-trade. He earned a 92.0 overall grade and a 93.8 run-defense grade across his 606 defensive snaps split between the two teams, ranking third and first, respectively, among qualifiers at his position. He's now earned an 89.9-plus overall grade and a 91.6-plus run-defense grade in four of his last five seasons in the league – utter dominance, if you will.
From PFF's Josh Liskiewitz:
"Trading for Harrison before the in-season deadline proved a brilliant move for the Lions this year, and considering his consistent track record of complete dominance against the run; the move should continue to pay dividends in 2019 and beyond."
2018 OVERALL GRADE RANK: 8
After earning an 87.8 overall grade and an 89.1 run-defense grade in his sophomore season in the NFL, Clark took a significant Year 3 leap as a pass-rusher. He went from 67.9 and 69.6 pass-rush grades in 2016 and 2017, respectively, to an astounding 88.8 pass-rush grade in 2018. He also finished the year ranked 11th in pass-rush win percentage (14.1%) and ninth in total pressure percentage (12.0%). Originally knocked for his undersized frame and short arms, Clark has risen above such critiques and now stands tall as one of the best defensive interiors in the NFL.
2018 OVERALL GRADE RANK: 15
Only Aaron Donald, Damon Harrison Sr. and Fletcher Cox have earned higher overall grades inside the tackles than Carolina Panthers' Kawann Short (92.1) over the past three seasons. Only Donald and Harrison have earned higher run-defense grades than Short (92.2) from such pre-snap alignments, and Short's 85.2 three-year pass-rush grade inside the tackles ranks seventh among qualifiers."
Short is right behind Donald, Cox and Kansas City Chiefs' Chris Jones in what has become a four-man race for top interior defensive linemen in the NFL. Though he's coming off a bit of a down year from a pass-rushing perspective, Short is still one of the league's feared interior pass-rushers and as consistent as they come in the run game.
2018 OVERALL GRADE RANK: T-5
Jones' three-year overall grade (90.8) and pass-rush grade (91.1) rank sixth and tied for third, respectively, among the 73 at his position with 1,200 or more defensive snaps played since 2016. He also ranks fourth among qualifiers in three-year pass-rush win percentage (15.7%) behind Aaron Donald, Fletcher Cox and Geno Atkins.
From PFF's Austin Gayle on his latest feature on Jones:
"Compare Jones' 2018 campaign to other third-year interior defensive linemen in the PFF era, and the numbers only become more impressive. Only Donald (93.3) and Atkins (92.8) earned higher pass-rush grades as third-year players than Jones did this past year. And while Donald's 21.4% pass-rush win percentage in 2016 takes the cake among third-year defensive interiors, Jones' 19.6% this past season ranks second."
2018 OVERALL GRADE RANK: 2
It's a shame that Cox plays in the same league as Donald; he'd be the unanimous decision for top defensive interior if it weren't for the Rams superstar. Cox's pass-rush win rate in 2018 (20.9%) is the fourth-best single-season mark of any defensive interior in the PFF era. And his 91.2 pass-rush grade this past season, another career-high for the big man, also ranks inside the top 10 among qualifiers since 2006.
From PFF's Austin Gayle in his latest feature on Cox comparing him and Donald:
"Among the 125 interior defensive linemen with 500 or more pass-rush snaps since 2015, Donald ranks first in pass-rush grade (95.9), total pressures (375) and pass-rush win percentage (22.1%). Cox ranks second behind Donald in all three metrics.
 And the trend continues, as Donald led all at his position in pass-rush grade in each of the past four seasons (2015-18). Cox ranked second two of the years (2017 & 2018) and third in another (2015)."
2018 OVERALL GRADE RANK: 1
Donald has single-handedly rewritten the PFF record books. He's led his position in overall grade and pass-rush grade in every year after his rookie campaign in 2014. And he still ranked second in overall grade and third pass-rush grade as a first-year player five years ago. Four of the five best single-season pass-rush win rates in the PFF era (2006-18) belong to Donald.
From PFF's Austin Gayle:
"We ran out of superlatives for Donald after last season, and now we're running out of records. He's now won PFF's Defensive Player of the Year in three of the last four years – soon enough we'll run out of awards, too."
[Editor's Note: Here are links to all of PFF's lists of the top-10 players by position entering the 2019 NFL season. For all of the advanced stats and grades we speak to in the articles, subscribe to PFF's ELITE subscription today!]