Chicago Bears' Khalil Mack edges out Denver Broncos' Von Miller at the top of the list while the rest of the league's edge defenders are a ways away from jumping ahead of either Mack or Miller.
Here's PFF's list of the top-10 edge defenders ahead of the 2019 NFL season.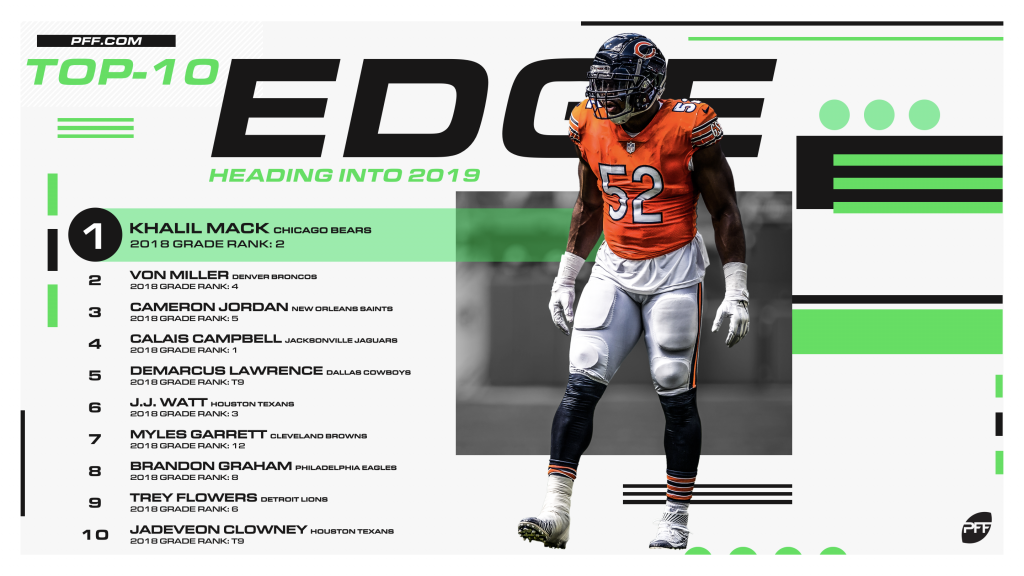 2018 OVERALL GRADE RANK: T-9
Clowney is coming off a year that saw him set career-high marks in overall grade, sacks and snaps played (including the postseason). The former first overall pick tallied 63 quarterback pressures a season ago — the second straight year that he's produced 60-plus quarterback pressures — and his career-high pass-rush grade of 78.8 was good for 13th among 111 qualifying players at the position. As promising as his career-high pass-rushing marks are, they pale in comparison to his performance against the run. Clowney has earned run-defense grades north of 75.0 in each of the last four seasons, and a staggering 47.2% of his career run tackles have been for a loss of yardage or no gain — second to only Michael Bennett (53.7%) among the 94 edge defenders with at least 500 run-defense snaps since 2014.
2018 OVERALL GRADE RANK: 6
Even though Bill Belichick & Co. were reluctant to pay him his due to stay in New England, Flowers is still a premier talent in this league and should very well live up to the expectations tied to his new five-year, $90 million deal with the Lions.
Improving steadily every year of his career, Flowers earned career-high marks in overall grade (89.7), run-defense grade (84.9) and pass-rush grade (79.9) a year ago. He also finished the 2018 season ranked tied for eighth in pass-rush win percentage (17.4%) and sixth in pressure percentage among the 61 NFL edge defenders with 300 or more pass-rush snaps played.
From PFF's Austin Gayle on Flowers pre-free agency:
"Flowers eats away at his good-not-great pass-rushing ability with his run defense and versatility, specifically his ability to rush the passer from ranging pre-snap alignments as mentioned above. He's a movable chess piece with consistent, high-end play in several areas over the years, a piece that teams should and will jump to move into their system if given the opportunity this offseason."
2018 OVERALL GRADE RANK: 8
Sacks don't tell the whole story for any player in the NFL, and no player epitomizes that more than Graham. He's only recorded double-digit sacks in PFF's system once (2017) but has been as consistent as they come from an overall pressure and pass-rush grade standpoint. He has recorded 45 or more pressures in six of his last seven seasons in the NFL and has earned 81.0-plus pass-rush grades in five of them.
[Editor's Note: Here are links to all of PFF's lists of the top-10 players by position entering the 2019 NFL season. For all of the advanced stats and grades we speak to in the articles, subscribe to PFF's ELITE subscription today!]
QB | RB | WR | TE | T | IOL | DI | EDGE | LB | CB | S
2018 OVERALL GRADE RANK: 12
No first- or second-year edge defender has a higher ceiling than Garrett right now. His two-year pass-rush grade (88.0) ranks eighth, and his 18.4% pass-rush win rate ranks seventh among the 56 NFL edge defenders with 600 or more pass-rush snaps since 2017.
Garrett's rare size and athleticism made him a monster at the collegiate level. He earned 90.0-plus pass-rush grades in each of his three seasons at Texas A&M, logging 46 or more pressures every year, as well. The shackles are off for Garrett in Year 3 with Gregg Williams no longer keeping him from using all the tools in his toolbox as a pass-rusher, making it all the more likely he finishes higher on this list in 2020.
2018 OVERALL GRADE RANK: 3
After injuries limited him to fewer than 250 defensive snaps in 2016 and 2017, Watt played 1,000-plus snaps for the first time since 2015 this past season. And while the results didn't mirror his four-year (2012-15) dominance that made him a household name, Watt still earned an impressive 90.6 overall grade, an 88.7 run-defense grade and an 89.7 pass-rush grade on the year.
Watt's efforts landed him the No. 19 spot on PFF's list of the top 101 players from the 2018 season:
"Watt was back to his utterly dominant self this year. He was once again named a PFF All-Pro, and his 78 pressures were the second-most among edge defenders. Watt ended the 2018 regular season with at least three quarterback pressures in 14 straight games, which is the longest active streak by four games."
2018 OVERALL GRADE RANK: T-9
Lawrence had a slow start to his career. The 2014 second-round pick earned sub-72.0 pass-rush grades in each of his first three seasons in the NFL before exploding in Year 4 (2017). He earned an impressive 91.6 overall grade and an even better 92.0 pass-rush grade in what was a contract year for the rising star.
Before committing to Lawrence long-term after just one breakout year, Dallas' brass asked him to prove it via the franchise tag. He played on the tag in 2018 and very much proved himself, earning an 88.0 overall grade and an 82.7 pass-rush grade on the year. Now, his two-year pass-rush grade (91.4) and two-year pass-rush win rate (19.4%) ranks fifth among the 60 NFL edge defenders with 500 or more pass-rush snaps since 2017.
2018 OVERALL GRADE RANK: 1
Campbell has earned an 85.0-plus run-defense grade in each of the past five seasons, all while playing at least 300 run-defense snaps every year. Most recently, he turned in a career-high 93.8 run-defense grade with Jacksonville in 2018, which was good for league-best among qualifying edge defenders.
Though Campbell's pass-rush grades have fallen off since his career-best 89.2 pass-rush grade in 2016, he's still proved more than capable of terrorizing quarterbacks in his own right. He's still kept his pass-rush grade above 70.0 in each of the past three seasons, and he's recorded at least 50 total pressures in five of the last six campaigns.
From PFF's Mike Johnson on Campbell's epic 2018 season:
"Over the latter stages of his 11-year NFL career, Campbell has blossomed into one of the very best players at his position, notably finishing among the top three in overall grade among his peers in each of the last three seasons. The Jaguars made the no-brainer decision to exercise their 2019 team option for Campbell in February, with plans of a contract extension in the future. Barring injury, expect more elite-level outings from Campbell next season with the likely possibility of one being the best performance at the edge position once again." 
2018 OVERALL GRADE RANK: 5
With the league's flashy (e.g. Khalil Mack, Demarcus Lawrence, Von Miller) edge defenders stealing the limelight, Jordan has very quietly earned 90.0-plus overall grades in each of the past three seasons. Calling him underrated is putting it lightly.
Jordan's three-year overall grade (92.1) ranks tied for third with Calais Campbell, another underrated edge defender on this list, among players at his position with 1,200 or more defensive snaps played since 2016. He also ranks fifth in run-defense grade (90.4) and fourth in pass-rush grade (90.8) among the same group of qualifiers.
2018 OVERALL GRADE RANK: 4
Miller has now earned a 90.0-plus overall grade every year of his eight-year NFL career, all while playing at least 540 defensive snaps each season. Also, his single-season pass-rush grades have never dipped below 85.6 (2014), and his lowest single-season run-defense grade in his career is 79.6 (2011).
Going into his age-30 season, Miller will fight against father time to keep his streak of single-season overall grades of 90.0 or higher in 2019, but he's still given no reason to doubt his excellence at this point in his career.
2018 OVERALL GRADE RANK: 2
Mack's transition from Oakland to Chicago went swimmingly. He kept his streak of 90.0-plus graded seasons alive in the Windy City, earning a 90.7 overall grade, 87.4 run-defense grade and an 86.0 pass-rush grade in his first year with the Bears. He's also recorded 70 or more pressures in four consecutive seasons while logging pass-rush win rates above 15% every single year. Entering his age-28 season and Year 2 with the Bears, Mack is the NFL's top edge defender in the game right now.
[Editor's Note: Here are links to all of PFF's lists of the top-10 players by position entering the 2019 NFL season. For all of the advanced stats and grades we speak to in the articles, subscribe to PFF's ELITE subscription today!]