Taking our preseason position rankings series to the trenches, we at PFF have put together a list of the top-10 interior offensive linemen ahead of the 2019 NFL season.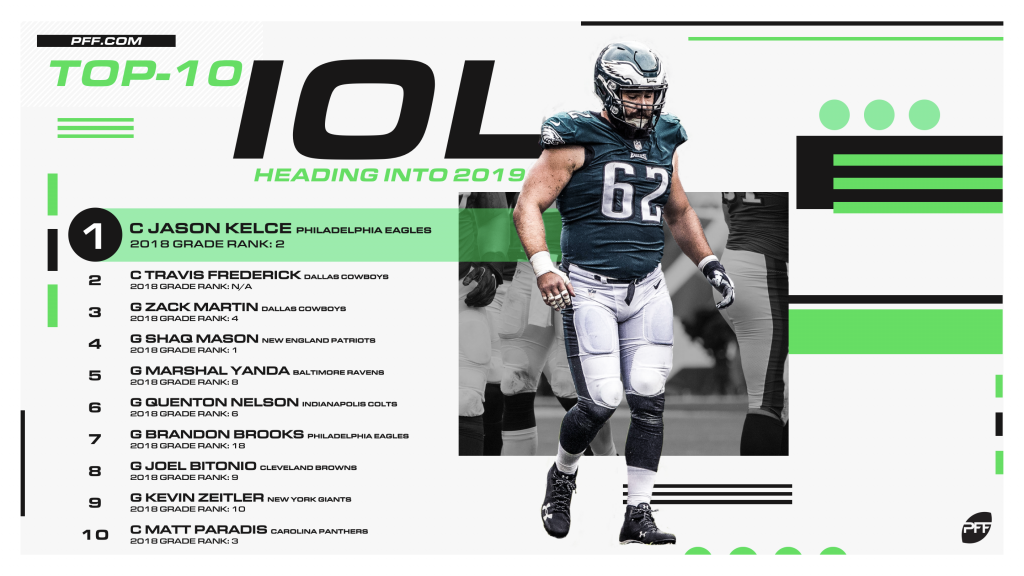 2018 OVERALL GRADE RANK: 3
From PFF's Austin Gayle on Paradis:
"Paradis' four-year grade (86.7) ranks fourth among the 29 centers with 2,000 or more snaps in the NFL since 2015. Only Travis Frederick (91.7), Alex Mack (91.7) and Jason Kelce (91.1) rank ahead of him in overall grade. Paradis also ranks fourth in run-blocking grade (85.0) and 10th in pass-blocking grade (82.3) on the list.
Looking at how his pass protection has improved in the last two years, Paradis' 98.7 pass-blocking efficiency and 2.4% pressure allowed rank sixth and tied-for-sixth, respectively, among the 29 centers with 1,000 pass-blocking snaps in the last three years."
2018 OVERALL GRADE RANK: 10
Zeitler earned a career-high 91.7 pass-blocking grade this past season and has now earned 80.0-plus pass-blocking grades in each of the past five seasons. He's easily one of the most underrated offensive linemen in the NFL and should be a welcome addition to the Giants' offensive line in 2019.
2018 OVERALL GRADE RANK: 9
After a preseason shakeup almost saw him slotted to start at left tackle, Bitonio kicked back into to his normal spot and had a career year. He didn't allow a sack or a hit until Week 15, and that would be the only one he allowed all season. He's now earned 80.0-plus pass-blocking grades in four of his five seasons in the NFL.
[Editor's Note: Here are links to all of PFF's lists of the top-10 players by position entering the 2019 NFL season. For all of the advanced stats and grades we speak to in the articles, subscribe to PFF's ELITE subscription today!]
QB | RB | WR | TE | T | IOL | DI | EDGE | LB | CB | S
2018 OVERALL GRADE RANK: 18
From PFF's Mike Renner on Brooks and his play along the Eagles' offensive line:
"It's been difficult for Brooks to get the respect he deserves playing on an offensive line with the likes of Jason Peters, Jason Kelce, and Lane Johnson. He's been as reliable as all three, though, in his tenure in Philadelphia. Brooks has had a pass-blocking grade above 85.0 every season in an Eagles uniform."
2018 OVERALL GRADE RANK: 6
The former Notre Dame standout allowed just 23 pressures on 730 pass-blocking snaps in 2018, and his resulting pressure percentage of 3.4% ranked 12th among guards with at least 200 snaps last year. Nelson finished a superb rookie season with an overall grade of 74.3 and a pass-blocking grade of 81.9, good for sixth and 13th among guards last year, respectively. He'll be a key cog in the ever-evolving Colts machine for years to come.
2018 OVERALL GRADE RANK: 8
Stellar in pass protection, Yanda hasn't allowed a sack since Week 7 of the 2015 season. He's played 1,767 pass-blocking snaps since Week 8 of that season and not once has his quarterback been sacked due to Yanda being beaten. In fact, in that same stretch, he has allowed just four quarterback hits, and just 29 total pressures, working out at a pressure once every 60.9 pass-blocking snaps and a hit once every 441.8. His span of starts since he last allowed a sack sits at 41 games, and in those 41 games, he's ended with a perfectly clean slate in pass protection 21 times.
2018 OVERALL GRADE RANK: 1
Mason has quietly developed into one of the NFL's top guards now just four years removed from going in the fourth round to the Pats in the 2015 NFL Draft. He has earned 75.0 or higher run-blocking grades every year of his career thus far, all while playing 300 or more run-blocking snaps each season dating back to his rookie campaign.
He did need time to develop as a pass blocker having played in Georgia Tech's triple-option at the collegiate level, but Mason seemingly put it all together in 2018. He earned career-high marks in pass-blocking grade (80.2) and overall grade (85.0) across his 1,202 offensive snaps this past season, and he also logged his third consecutive season with an 80.6 run-blocking grade. Not only did his impact run-block percentage (15.0%) lead all guards, but he also ranked tied for sixth in PFF's pass-blocking efficiency metric (98.3) and tied for eighth in pressure percentage allowed (3.2%).
2018 OVERALL GRADE RANK: 4
Martin's pass-blocking prowess has been among the league's best over the course of his five-year NFL career. He has earned 84.1 pass-blocking grades each and every season and his 92.7 career pass-blocking grade ranks fourth among the 54 NFL guards with 1,500 or more pass-blocking snaps played in the last five years.
Though his run-blocking grade fell to a career-low 70.0 mark in 2018, he has shown in previous years that it's far from his standard of play. He earned 82.0-plus run-blocking grades in the three years prior to the 2018 season, and his career run-blocking grade (91.2) ranks second only to the great Marshal Yanda (93.7) since 2014.
2018 OVERALL GRADE RANK: —
Prior to spending the entire 2018 season on the injured reserve list with Guillain-Barré syndrome, Frederick sat atop the NFL as the league's top center. He played 1,000 or more offensive snaps in each of his first five years in the league and earned 85.0-plus overall grades every year. Only former Houston Texans center Chris Myers and Frederick have at least five single-season overall grades above 85.0 across 600-plus offensive snaps in the PFF era (2006-18).
2018 OVERALL GRADE RANK: 2
Kelce's four-year overall grade (91.1) ranks fourth among the 94 interior offensive linemen with at least 2,000 offensive snaps played since 2015, and his 93.4 run-block grade ranks first among the same group of qualifiers. Most recently, Kelce earned a career-high 88.0 pass-blocking grade in addition to his 80.7 run-blocking grade in 2018. He also earned a 94.6 run-blocking grade throughout the Eagles' Super Bowl run in 2017, a single-season mark that ranks first in the PFF era (2006-18) among qualifying centers and one that landed him PFF's top run-blocker award in 2017.
From PFF's Mike Renner following Kelce's stellar 2017 campaign:
"A combination of Pederson scheming more to Kelce's strengths and Kelce getting stronger flipped the All-Pro switch once again inside the Eagles center. He's been dominant in the run game, from the first snap to the last, with only one sub-par graded game all season."
[Editor's Note: Here are links to all of PFF's lists of the top-10 players by position entering the 2019 NFL season. For all of the advanced stats and grades we speak to in the articles, subscribe to PFF's ELITE subscription today!]