As we at PFF have hammered nearly all offseason, the running back position is largely replaceable due to its dependence on other factors to be successful on the ground and the volatility of the position's receiving production year over year. However, the NFL is still chock full of talented running backs, including one that nearly ranked inside the top-50 in PFF's WAR metric and some others that made it inside the top-100.
Here is PFF's list of the top-10 running backs heading into the 2019 NFL season.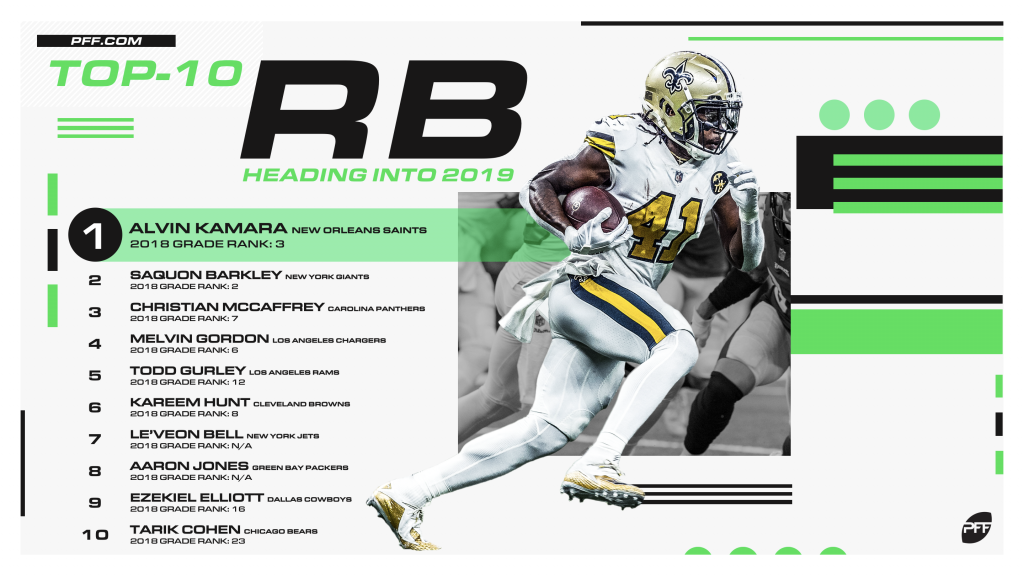 2018 OVERALL GRADE RANK: 23
Cohen is a threat out of the backfield in the passing game. In order to improve his quarterback's efficiency, he should be looked at early and often this season. He finished fourth among running backs by combining for 30 first downs and touchdowns through the air. He averaged 7.6 yards after the catch and forced 16 missed tackles on 71 receptions. With rookie David Montgomery the likely team leader in carries, Cohen's best usage should come via the passing game, which should help Trubisky.
Finishing as the second-most valuable running back per PFF's WAR metric, Cohen is a prime example of an NFL back with high-end successes across nearly all of our advanced receiving stats. He led all qualifying backs in yards per route run (2.37), logged just one drop and recorded an impressive 111.0 passer rating when targeted.
2018 OVERALL GRADE RANK: 16
There's no doubt that Elliott is one of the top players at his position, but it's hard to overlook the fact that his production is, in large part, thanks to the offense that Dallas has built around him. Over the last three years, Elliott ranks first in rushing attempts (868), rushing yards (4048), rushing yards after contact (2567) and first down conversions (219). However, his three-year rushing grade of 80.2 ranks ninth among the 36 backs with at least 300 attempts in that span, while his 0.119 missed tackles forced per attempt ranks tied for 27th among the same group.
Elliott is a premier talent at the running back position, one of the league's best. But all of his attempts, rushing yards and touchdowns aren't enough to push him any higher than No. 8 on this list; there are seven other more efficient, better backs heading into 2019.
2018 OVERALL GRADE RANK: —
Wrongfully stashed behind the likes of Jamaal Williams after serving a two-game suspension to start the season, Jones played just 376 offensive snaps in 2018, missing our threshold of 400 to earn a rank in overall grade on this list. However, if the threshold is dropped to 350 offensive snaps on the year, Jones ranked 11th in overall grade (81.2) and fourth in rushing grade (85.5) this past season.
Among the 63 NFL backs with 500-plus offensive snaps played over the past two years, Jones ranks tied for sixth in overall grade (85.6) and first in rushing grade (90.1). He's a machine when it comes to forcing missed tackles and picking up yards after contact; he just needs a primary role in the Packers' offense to put his value on display.
[Editor's Note: Here are links to all of PFF's lists of the top-10 players by position entering the 2019 NFL season. For all of the advanced stats and grades we speak to in the articles, subscribe to PFF's ELITE subscription today!]
QB | RB | WR | TE | T | IOL | DI | EDGE | LB | CB | S
2018 OVERALL GRADE RANK: —
Prior to sitting out the 2018 season, Bell earned 71.6-plus overall grades in every season since getting drafted in the second round in 2013. In three of the five seasons, Bell topped 1,300 yards and 70 combined first downs and touchdowns on the ground while also logging more than 600 receiving yards through the air.
In Bell's career-best season from a rushing production standpoint (2016), he forced 54 missed tackles and averaged 3.05 yards after contact per attempt en route to an 80.1 rushing grade. And in 2014, Bell's best season as a pass-catcher, he recorded career-high marks in forced missed tackles on receptions (29), passer rating when targeted (108.1), receiving first downs/touchdowns and total receiving yards (854).
[Editor's Note: A previous edition of this article ran with Le'Veon Bell omitted. This was an oversight by our analysis team and has since been rectified.]
2018 OVERALL GRADE RANK: 8
From PFF's Mark Chichester in our list of player that just missed our Top 25 Under 25 list:
"When he's on the field, there is arguably no better tackle-breaking back in the NFL than Kareem Hunt. He's forced 104 missed tackles over the last two seasons, which is the most among backs in that span, and he's averaged 0.22 missed tackles forced per rushing attempt which is tied for third among the backs with at least 100 attempts over the last two seasons."
2018 OVERALL GRADE RANK: 12
Gurley benefited significantly from the Rams' offensive scheme and the talent along the team's offensive line in 2018, leading to high box-score production and waves of support from Los Angeles' faithful. He, however, ranked just 12th in overall grade (77.3) and 11th in rushing grade (79.9) a year ago. He didn't add above expectation nearly as much as other backs ahead of him on this list did in 2018.
With question marks surrounding his health, Gurley will need to provide some worthwhile answers in 2019 to reserve a spot on this list next offseason, let alone keep his name inside the top-five. He's an unbelievable talent with elite athleticism and speed, but his seat among the league's best at his position remains in jeopardy until he can prove he's healthy and get back to forcing missed tackles at a similar rate to his peers.
2018 OVERALL GRADE RANK: 6
Gordon is really, really good, one of the best at his position in the NFL. In what was a career year for the Los Angeles Chargers veteran, Gordon rushed for 940 yards and 12 touchdowns en route to an 88.7 rushing grade that ranked second among qualifiers in 2018. He also ranked tied for seventh in forced missed tackles per attempt (0.20) and tied for fifth in percentage of carries resulting in a touchdown or first down (26%). Even against loaded boxes with eight-plus defenders, Gordon was the only qualifying back to record a rushing grade above 80.0.
All of that success doesn't make signing him to an expensive new contract a smart decision for the Bolts, but it does land him at No. 4 on this list.
2018 OVERALL GRADE RANK: 7
From PFF's Mike Renner in his article highlighting the league's most versatile players:
"Running back/wide receiver hybrids are becoming more and more valuable in today's NFL, and no one has bridged the gap quite as proficiently as McCaffrey. He ranked first in receiving grade and 13th in rushing grade among starting backs this past season. The Panthers back took 108 snaps lined up as a receiver this season and caught 17 more passes than the next closest back. He also barely came off the field, as his 966 snaps played were the second-most we've ever seen from a running back."
Christian McCaffrey finished 2018 as the best pass-catching running back in a league where catching the ball out of the backfield is as important as ever. Among running backs with at least 60 targets, McCaffrey's receiving grade of 89.3 ranked first in the NFL. He also gained an average of 1.79 yards per route run, good for sixth at the position.
2018 OVERALL GRADE RANK: 2
We've already seen enough from Barkley to slot him at No. 43 on this list. His 85.9 overall grade, 84.6 rushing grade and 86.4 receiving grade all rank inside the top-five among qualifying rookie running backs in the PFF era (2006-18). Looking specifically at his pass-catching ability, Barkley caught more passes (91), gained more yards after the catch (787) and forced more missed tackles on receptions than any rookie running back since 2006.
And all signs point to Barkley being much more than a one-year wonder. He earned 81.0-plus overall grades in all three years at Penn State (2015-17) and logged 80.0-plus receiving grade in his last two collegiate seasons.
2018 OVERALL GRADE RANK: 3
Turning in 91.3 and 89.4 receiving grades in Years 1 and 2 of his NFL career, Kamara has truly redefined the running back position. In addition to his elusiveness and overall efficiency on the ground, Kamara adds so much value in the passing game. He leads all NFL backs with at least 50 targets over the past two years in yards per route run (2.37), yards after the catch (1,528), yards after contact on receptions (593), forced missed tackles on receptions (46) and receptions of 15-plus yards (39).
[Editor's Note: Here are links to all of PFF's lists of the top-10 players by position entering the 2019 NFL season. For all of the advanced stats and grades we speak to in the articles, subscribe to PFF's ELITE subscription today!]