Quantifying value in the NFL has always been tricky. With 22 players on the field, isolating how much one part means compared to all the others is difficult. With all the grades and data we collect though at Pro Football Focus, we've created a Wins Above Replacement model that attacks that problem. WAR has been commonplace in baseball for quite a while now, but football has never had a comparable data point…until now.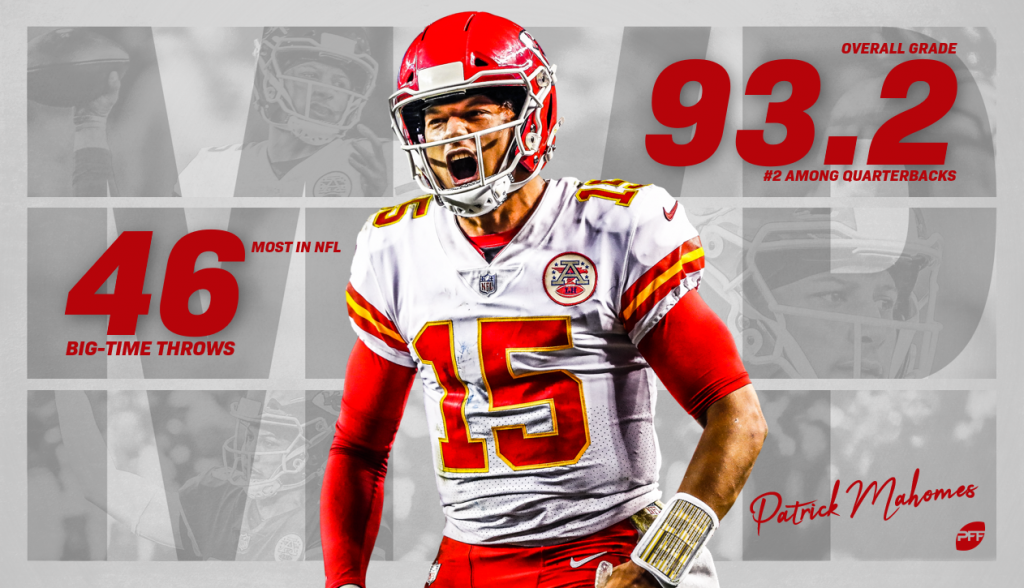 [Editor's Note: All quarterback stats in this story can be found in our QB Annual, released for PFF EDGE & ELITE subscribers. The QB Annual contains detailed profiles, exclusive signature stats, grades and much, much more. Not a member of PFF EDGE? Sign up now.]
All the data points to the quarterback position being by far the most valuable in football. In fact, 11 quarterbacks had a higher WAR than the most valuable position player (DeAndre Hopkins). However, topping them all with a whopping 7.49 wins above replacement this season, Patrick Mahomes is the 2018 recipient of PFF's Most Valuable Player.
It was a two-man race for the vast majority of the season. The big separator though between Mahomes and Drew Brees was consistency. Mahomes produced game in and game out in a high-volume passing offense. He didn't have a single-game grade below 60.0 all season long, and he only had three below 70.0. Brees, on the other hand, had one below 60.0 and four more below 70.0.
It wasn't merely consistency though; the high-end play was obviously there as well. His 46 big-time throws were three more than anyone else in the NFL. Mahomes broke PFF's single-season deep passing yardage record with 1,514 yards on passes of 20 or more yards downfield- and that's with three dropped deep balls on the year. In fact, Mahomes had 35 dropped passes from his receivers this season, the third-most of any quarterback in the NFL.
Maybe the most special thing about Mahomes though was his playmaking ability outside of the pocket. The Chiefs quarterback gained 1,156 of his passing yards on plays outside the pocket – 319 more yards than any other quarterback in the NFL. His 16 touchdown passes on such plays were twice as many as any other quarterback in the league. Even when the initial play call was shut down perfectly, Mahomes could still get the job done.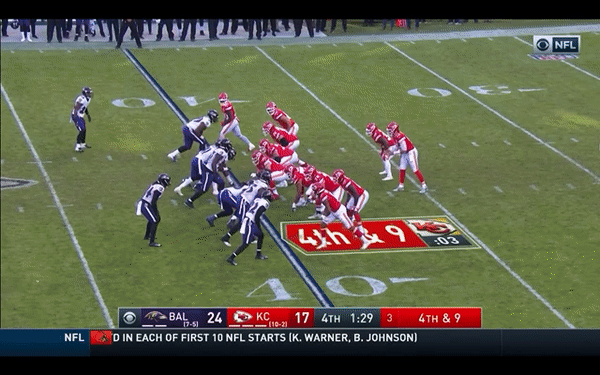 The superlatives for the second-year quarterback go on and on. In only his second year in the NFL, he's already the league's most valuable player. While the season didn't end the way he or Chiefs fans had hoped, the rest of the NFL should be scared for seasons to come.

Keep up to date with PFF's end of season awards:
Offensive Rookie of the Year | Defensive Rookie of the Year | Comeback Player of the Year | Offensive Player of the Year | Defensive Player of the Year | The Stephenson Award | PFF's Most Valuable Player | The Hutson Award for Best Wide Receiver | The Matthews Award for Best Offensive Lineman | The Reggie White Award for Best Pass Rusher | The Ted Washington Award for Best Run Defender | The Richard Lane Award for Best Coverage Defender | Breakout Player of the Year | Pass Blocker of the Year | The NFL's Best Offensive Line | Run Blocker of the Year | Passer of the Year | Special Teams Player of the Year