We're finally here – training camp has opened and preseason football is just days away. Along with the return of televised football, it's also time for our fantasy football power rankings – a PFF annual tradition.
Here's how it works: we're diving deep into our fantasy projections to measure the overall fantasy value of all 32 NFL teams. We've been presenting them to you in groups of four, working up towards the top-four most-valuable teams in the league (from a fantasy perspective). After already digging into the teams ranking 32-9, today we finally break into the top-eight (8-5).
Fantasy drafters who correctly predicted Kansas City as the team to break out in 2018 were handsomely rewarded, likely winning their fantasy leagues. Perhaps one of the teams we're looking at today can post similar returns.
These rankings are based on our 2019 player projections, which are accessible with a PFF Edge or PFF Elite membership.
Without further ado…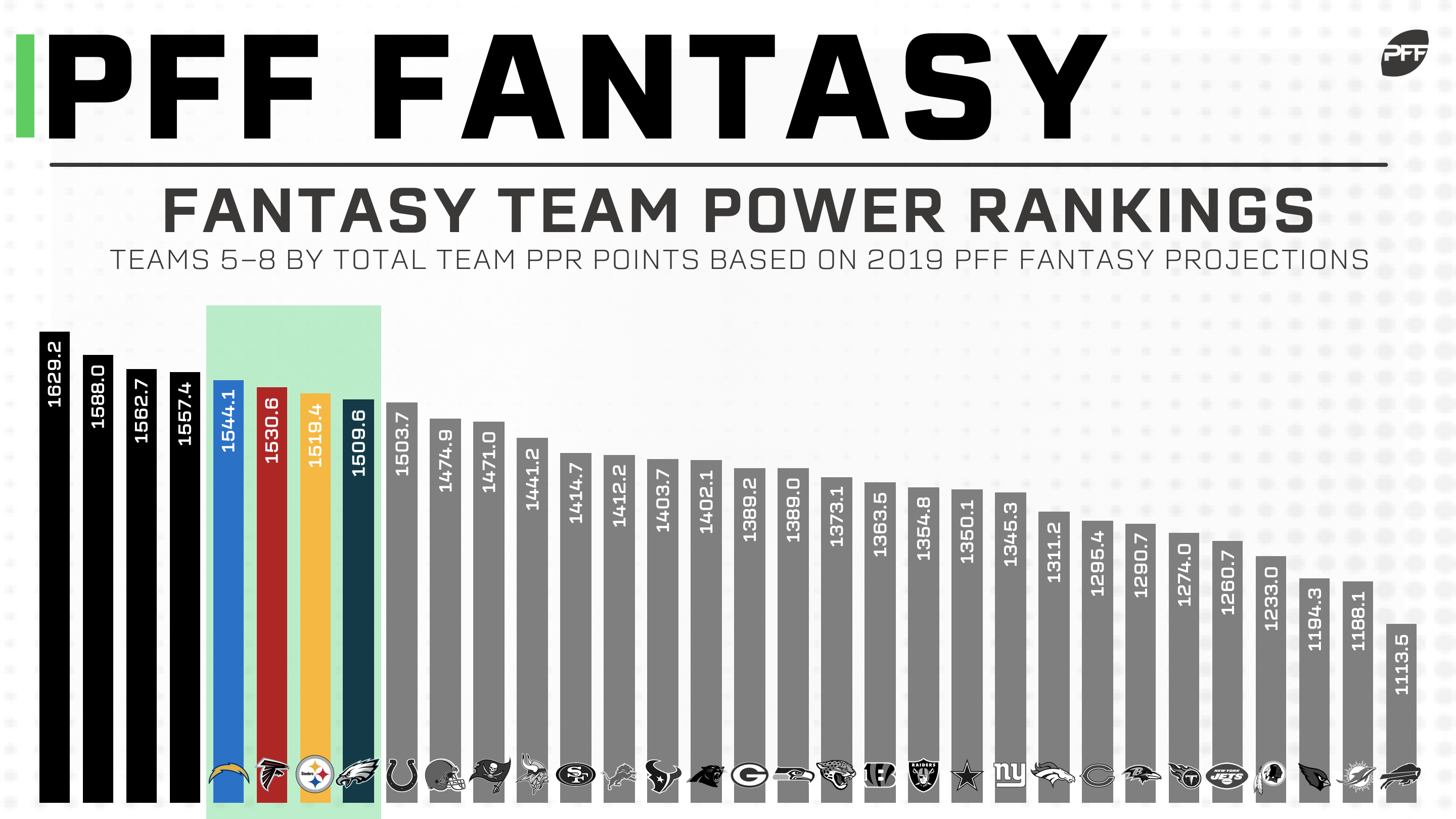 No. 1 Name to Know: Zach Ertz, TE
With Philadelphia, our projections are nearly perfectly in line with ADP. Ertz ranks second among tight ends, Carson Wentz ranks eighth among quarterbacks, Alshon Jeffery ranks 24th among wide receivers, and Miles Sanders ranks 28th among running backs. These numbers all just about match up perfectly with my own rankings.
I argued earlier this offseason why Zach Ertz should be a second-round pick and the second tight end drafted in most fantasy leagues, and also why we shouldn't be too concerned with Dallas Goedert's ascending role (TE26 in our projections) in the offense. Similarly, I argued why I felt Carson Wentz is an ADP value, and it's encouraging to see our projections agree.
Alshon Jeffery ranked 22nd and 24th in fantasy points per game over the past two seasons. His projection feels sound. DeSean Jackson (WR43 in our projections) should be productive but he's never been a true target-hog (102 projected targets for Jeffery, 74 for Jackson).
We're projecting Sanders to be the lead back in a three-way committee, commanding just a 46% market share. That's about in line with what Philadelphia's beat writers are predicting. Though that seems low, it's still enough to make him a value at current ADP (RB35).
No. 1 Name to Know: JuJu Smith-Schuster, WR
In 2019, we're again predicting the Steelers to lead the league in pass attempts, though we're projecting them to fall from 689 to 615. After losing Antonio Brown, Ben Roethlisberger falls to 13th in our projections, after finishing third in total fantasy points last year. I think this is right.
Picking up Brown's slack is Smith-Schuster (WR6 in our projections), James Conner (RB9), and Vance McDonald (TE11). In spite of Brown's departure, we're still predicting Smith-Schuster to see a target dropoff in 2019 (166 to 144). Based on our best historical examples, I think that's a mistake, and it's more likely Smith-Schuster climbs in volume but drops in efficiency. Either way, our projections sync up with my rankings (WR6) and Smith-Schuster's ADP (WR7).
Conner comes in at RB9, which is probably perfectly in the middle of his upside (as Pittsburgh's bell cow running back) and his floor (as the lead back in a committee). Last season, Conner saw a Le'Veon Bell-esque workload, recording 81.2% of the team's backfield volume (fourth-most), with better efficiency than Bell posted in his last season. However, since then, there have been whispers of the team employing more of a committee approach in 2019. Our projections see Conner losing the stranglehold over the backfield, falling to a market share of just 62.2%.
Roethlisberger has had a tight end finish top-10 in fantasy points per game only once over the past 10 seasons, but McDonald seems poised to buck that trend following the departures of Brown and Jesse James. He finished 10th in total fantasy points last year, despite ranking just 17th in target market share and playing on only 50% of the team's snaps. In that limited role, he stood out in efficiency, ranking fourth-best (of 35 qualifiers) in yards after the catch per reception (7.7), third-best in yards after contact per reception (4.3), and second-best in missed tackles forced per reception (0.29). With more volume and an every-down role incoming, he could be one of the best values at the position.
No. 1 Name to Know: Julio Jones, WR
The Falcons might be the most-slept-on team of the 2019 fantasy season.
Matt Ryan (QB7 in our projections) very quietly finished second at the position in total fantasy points for the second time in three years, with his 2018 season also ranking top-15 all-time.
Jones is about as dependable as they come, ranking fourth, seventh, sixth, second, and sixth in total fantasy points across his past five seasons. We have him at the high-end of this spectrum, coming in at No. 2-overall.
Devonta Freeman comes in at 17th among running backs in our projections and by ADP, despite the fact that he's finished 14th, sixth, and first in total fantasy points across his last three healthy seasons. Now, with Tevin Coleman out of the picture, he feels like an especially safe bet to beat ADP.
In new offensive coordinator Dirk Koetter's last three seasons with the Falcons, his wide receivers posted three WR1 seasons and two WR2 seasons. This should help highlight Calvin Ridley as a potential value. Ridley averaged 5.8 targets per game last year, but new Koetter's WR2 has averaged 7.0 targets per game across his last seven seasons in the league. Our projections have him at 5.8 targets per game, however, which feels low. Though he's also due for a massive touchdown regression, it shouldn't be enough to avoid taking him at WR30, which is where he ranks by both ADP and our projections.
No. 1 Name to Know: Melvin Gordon, RB
Los Angeles is ripe with fantasy potential. Keenan Allen (fourth), Hunter Henry (fifth), and Gordon (sixth) all rank top-six at their respective positions. Philip Rivers (10th), Mike Williams (23rd), and Austin Ekeler (30th) also standout as viable fantasy options.
One concern with how high we are on the passing game – we'll need them to be far less run-heavy than they were in 2018. Last season they ranked just 19th in pass percentage (57.8%) but our projections think they'll be the second-most pass-heavy team in the league (59.6%) next year. This is more in line with where the team ranked over their prior four seasons (61.1%) but this does feel like a stretch.
If true, perhaps it would be enough to lift Allen back up to formerly elite heights – across the last three seasons he played in at least eight games he's ranked 18th, third, and sixth in fantasy points per game. Still, there will be more competition for targets following Henry's healthy return. Henry's priced (ADP TE6) as though a 2019 breakout is inevitable, and I think that's right. In 2016-2017, Henry ranked first in passer rating when targeted (143.7), first in fantasy points per target (2.33), third in PFF grade (90.1), and third in yards per route run (2.02). Now, with Antonio Gates likely out of the picture, he should see enough volume to make a breakout inevitable. However, I'm far more bearish on Williams at ADP (WR26) than our projections, highlighting Mike Williams as one of my top fantasy fades of the season.
Gordon's projection feels justified if he does play all 16 games, but, currently, he's too risky to draft anywhere near that high – at least not until his contract situation gets resolved. If he sits out all of the 2019 season, Ekeler could be a league-winner, or at least a strong value. Ekeler was terrific last season (actually more efficient than Gordon by any number of important metrics) but struggled when gifted an every-down role when Gordon missed time. Even if he works in a two-way committee alongside Justin Jackson, he's a tremendous value at current ADP (RB36).