­­Every year in fantasy football, there are a few especially-buzzed-about players who catapult up draft boards.
You hear an encouraging quote on a player from their head coach. This causes you to move that player up your draft board. Then, you hear his offensive coordinator say the same thing. You move him up again. Now, it's training camp, and the beat writers start parroting the coaches. He gets moved up again. Only now, it's obvious everyone else has become of aware of the buzz and moved them up their draft boards as well. Everyone's talking about this player on social media. Although, really, you've just triple-counted one piece of information, if you want to draft this player, you'll have to bump him up even further. On draft day, F.O.M.O. sets in, and you reach an extra round to land him.
I suppose sometimes this works out. Typically, it doesn't — see: DeVante Parker, every year of his career.
The five most-buzzed-about quarterbacks this offseason have been Kyler Murray, Baker Mayfield, Jameis Winston, Carson Wentz, and Dak Prescott. Since mock drafts began in January, each quarterback has jumped multiple rounds by ADP.
Today, I wanted to take a look at each quarterback individually to determine whether or not they're deserving of such a lofty ADP jump.
ADP jump: QB26 (in February) vs. QB11 (in July)
Optimism
Earlier this offseason, I discussed how especially mobile quarterbacks are a borderline cheat code for fantasy football. Typically, when discussing these types of quarterbacks, they're well below average in passing efficiency. Even Cam Newton has only ever ranked inside the top-15 in PFF passing grade once, and it was when he led the position in fantasy points (by a whopping 2.8 fantasy points per game).
Murray, however, is the total package, and perhaps the closest thing to Russell Wilson since… well, Russell Wilson.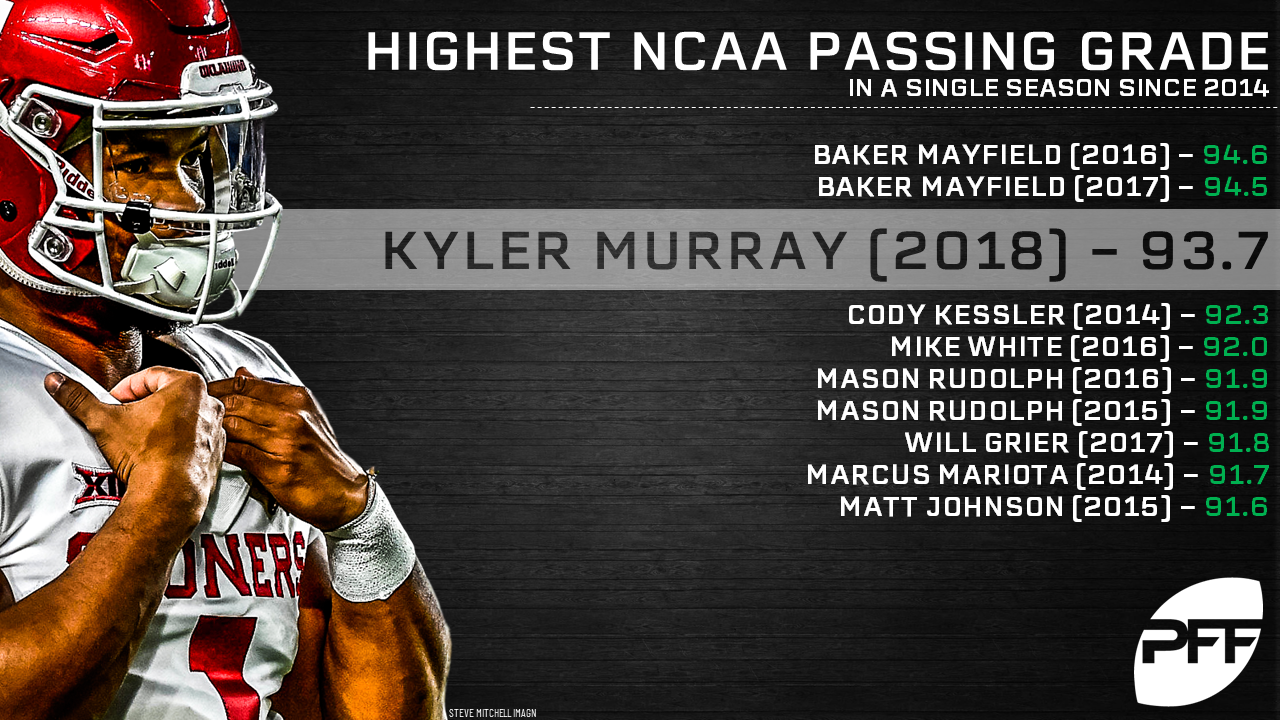 Last season in college, Murray recorded a passing grade of 93.7, which ranks best of any non-Mayfield quarterback in the PFF College era (2014-2018). His career rushing grade (83.2) ranks fourth-best of any quarterback over this span. Last year his passing stats were nearly identical to Mayfield's best season, while also adding 1,071 yards and 12 touchdowns on the ground. In fact, among all Division I quarterbacks with at least 1,000 rushing yards, he just totaled the most passing yards and most passing touchdowns ever.
Wilson is certainly a drool-inducing player comparison, but Murray might have even more upside this year and for however long Pete Carroll remains the coach of the Seahawks. Wilson has been the league's most efficient quarterback since entering the league, ranking top-four in fantasy points per dropback in six of seven seasons. However, he's struggled with volume, ranking inside the top-12 in dropbacks per game only once, and inside the top-20 only twice. But that shouldn't be a concern for Murray.
New head coach Kliff Kingsbury runs a potent hyper-fast-paced and high-powered offense. Over the past three seasons, Kingsbury's Red Raiders offense ranked second in Division I football in total dropbacks and pass attempts.
Pessimism
Although Murray's potential is sky-high as a dual-threat quarterback who is just as effective as a passer as he is a runner, there are two concerns:
First, Arizona's offensive line is still in shambles — we have them ranked third-worst entering 2019. The Cardinals' receiving corps looks vastly improved following the draft, but outside of Larry Fitzgerald is composed of mostly inexperienced and unproven prospects.
Second, rookie quarterbacks are typically a risky investment for fantasy. Last season, Wilson ranked 12th in fantasy points per game, averaging 18.7. Throughout the entire history of the NFL, only twice has a rookie quarterback played in at least eight games and averaged as many fantasy points. Basically, this implies Murray is a longshot to post QB1 numbers in his rookie year. I suppose it is important to note the two quarterbacks who crossed that threshold (Cam Newton in 2011 and Robert Griffin III in 2012) were also especially productive on the ground.
Conclusions
Murray is slightly overpriced. He sits at QB13 in my own rankings but is QB11 by current ADP. In dynasty leagues, however, he's appropriately priced, ranking QB7 in both my rankings and current ADP.
ADP jump: QB12 vs. QB5
Optimism
From Week 9 until the end of the regular season — once now-head coach Freddie Kitchens took over as offensive coordinator — Mayfield ranked 10th among quarterbacks in fantasy points per game (19.0). From that point on, he also ranked third in adjusted net yards per attempt (8.33), fifth in passer rating (106.2), and sixth in PFF pass grade (81.2).
He did all of this in spite of a receiving corps that ranked in the bottom half of the league by nearly every QB-adjusted measure. Last year, David Njoku ranked 25th among tight ends in PFF receiving grade (65.7), while Jarvis Landry ranked 46th (70.8) among wide receivers, and all other wide receivers ranked outside of the top-60. Mayfield also had the misfortune of leading the league in air yards lost to dropped passes (322).
Fast-forward to today, and the Browns have one of the league's best wide receiving tandems after adding Odell Beckham Jr. to the team. Beckham was our fourth-highest-graded wide receiver last season, and had long helped make Eli Manning look serviceable, rather than woefully bad. Since 2014, Manning averaged a passer rating of 108.7 when targeting Beckham, as opposed to only 90.1 the rest of the time. For reference, that would have been the difference between finishing fourth, rather than 25th in passer rating last year.
And, Mayfield's breakout didn't come out of nowhere. This time last year, I said, "Mayfield is QB16 in dynasty start-ups but he'll be in the top-five at some point in the next two years." He currently ranks fourth at the position in dynasty ADP.
Pessimism
Although it'd be foolish not to project an efficiency jump for Mayfield in Year 2, volume is a potential concern.
From Week 9 until the end of the regular season, Mayfield ranked seventh (of 30 qualifiers) in passing yards per game (281.8) but only 21st in dropbacks per game (34.9). This was despite the fact that Cleveland ranked below average in time spent leading in games (31.9%). After acquiring Kareem Hunt, Cleveland also probably has the best rushing corps in football, as well as an improved defense (partially at the expense of pass-blocking).
Conclusion
Like Murray, Mayfield is appropriately priced in dynasty leagues, but he's too expensive in redraft leagues. He ranks eighth in my rankings but fifth by redraft ADP.
ADP jump: QB17 vs. QB13
Optimism
Over the past two seasons, Winston has averaged 20.6 fantasy points per game (in 2018) and 17.8 fantasy points per game (in 2017) when playing on at least 75% of the team's snaps. For reference, those numbers would have ranked sixth-best (last year) and eighth-best (in 2017) at the position.
Now, Winston has a new head coach in the offensive-minded Bruce Arians. Arians has called plays for a fantasy QB1 in six of his last 12 seasons as a head coach or offensive coordinator. In his last two seasons in the league, both of these teams ranked top-six in total pass attempts.
Pessimism
In earnest, that was my best effort at trying to sell you on Winston. In actuality, the bad far outweighs the good.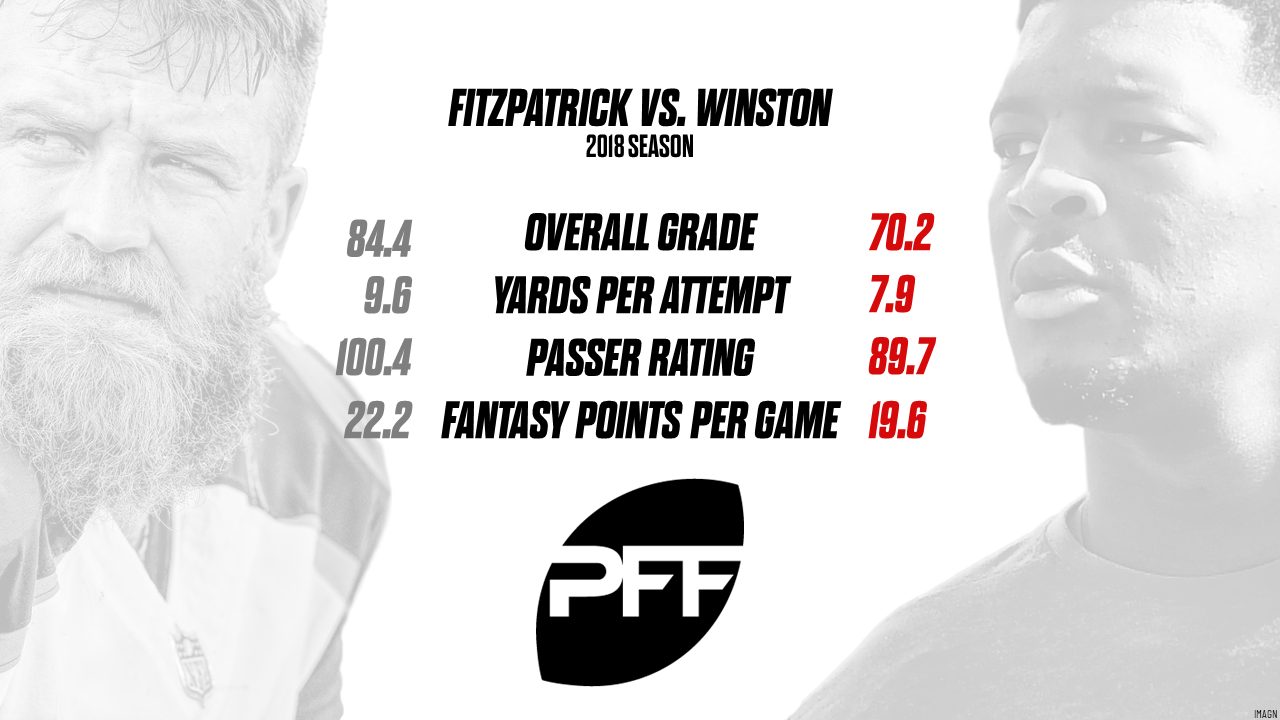 Yes, Winston's numbers look good in games he started and finished, but he was also benched in one of the games we stripped out, and deservingly so. Last season, Ryan Fitzpatrick ranked as our ninth-highest-graded quarterback last season, while Winston ranked 24th. Fitzpatrick also bested Winston in passer rating (ninth-best vs. 25th) and fantasy points per game (fourth-best vs. 15th).
For whatever reason, fantasy analysts see Bruce Arians' arrival as a net positive (even though he won't be calling the team's plays), but I don't see it that way. Last year, under Todd Monken (now in Cleveland with Mayfield) and Dirk Koetter, the Buccaneers totaled 5,125 passing yards — the fourth-most by any team in NFL history. It's hard to imagine any coach improving on those numbers.
Conclusion
Winston is grossly mispriced with an ADP of QB13, five spots higher than where I have him (QB18).
ADP jump: QB21 vs. QB16
Optimism
Here's the optimism on Prescott: Even after a recent ADP surge, he still ranks 16th at the position by current ADP. That's despite the fact that Prescott has ranked 10th, 10th, and sixth in fantasy points scored across his first three seasons in the NFL.
Pessimism
I'm not really sure there is any real pessimism worth discussing regarding Prescott, at least not relative to ADP. The prevailing narrative is that Prescott, though consistent, lacks upside. But that's also not really true.
Only five quarterbacks finished top-three at the position on a weekly basis more frequently than Prescott since he entered the league. Last season, from Week 10 (Amari Cooper's first game with Dallas) until the end of the regular season, Prescott ranked third at the position in total fantasy points. He's also coming off of a career high in rushing attempts per game, and has a new offensive coordinator (Kellen Moore) who promises to help bridge the gap between his lowly volume numbers (dropbacks per game) and impressive efficiency numbers (fantasy points per dropback).
Conclusion
Prescott is still a strong value, with an ADP (QB16) five spots lower than where I have him in my rankings (QB11).
ADP jump: QB17 vs. QB9
Optimism
Over the past two seasons, among all quarterbacks to play in at least 18 games, Wentz ranks behind only Deshaun Watson and Russell Wilson in fantasy points per game (19.8).
He now has the best supporting cast of his career, with DeSean Jackson and Dallas Goedert filling in for Nelson Agholor and Jordan Matthews. Matthews was just our 63rd-highest-graded wide receiver last year, while Agholor ranked 70th, and ranks worst in yards per route run over the past three seasons. Goedert just put together a highly impressive rookie season after an all-time great senior year in college. Jackson, meanwhile, has a long history of uplifting his quarterback play, no matter who that quarterback has been (well, maybe, except for Winston). On top of all that, the Eagles also have our top-ranking offensive line.
Pessimism
Wentz finished just 16th in fantasy points per game last season and is coming off his second-consecutive season-ending injury.
Conclusion
Wentz is coming off of another injury but seems to finally be back at full health. Although he finished 16th in fantasy points per game last year, he was less than 0.3 fantasy points per game away from another QB1 finish.
At ADP, he's still a strong value, going two spots after where I have him in my rankings (QB9 vs. QB7).