We're finally here – training camp has opened and preseason football is just days away. Along with the return of televised football, it's also time for our fantasy football power rankings – a PFF annual tradition.
Here's how it works: we're diving deep into our fantasy projections to measure the overall fantasy value of all 32 NFL teams. We'll be presenting them to you in groups of four, working up toward the top-four most-valuable teams in the league (from a fantasy perspective). Today, we move to the teams ranking Nos. 28-25.
Fantasy drafters who correctly predicted Kansas City as the team to break out in 2018 were handsomely rewarded, likely winning their fantasy leagues. Although we've started with the teams ranking lowest in our projections, which maybe isn't as exciting, this is no less useful for fantasy – knowing which players and teams to correctly avoid.
These rankings are based on our 2019 player projections, which are accessible with a PFF Edge or PFF Elite membership.
Without further ado…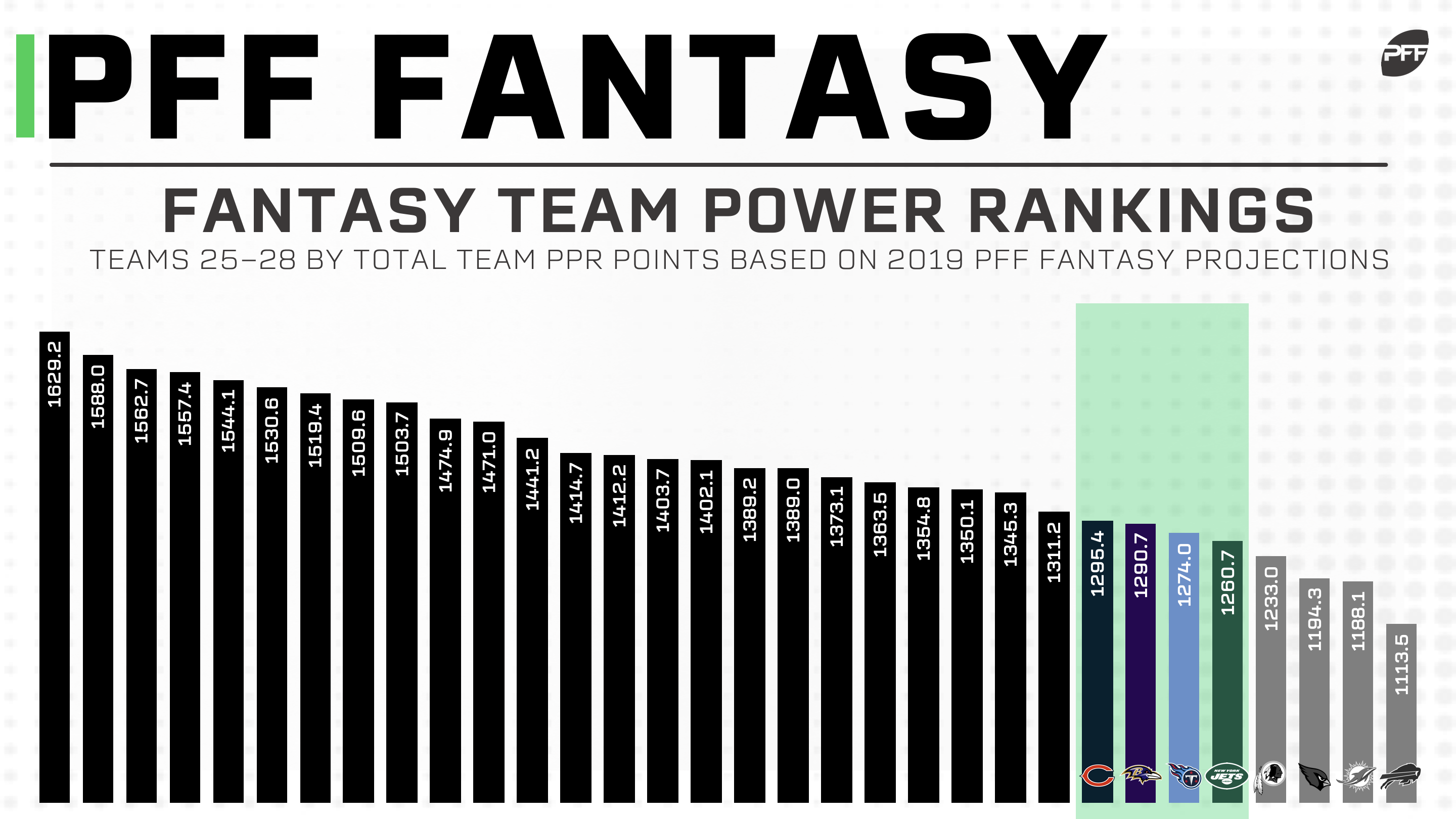 No. 1 Name to Know: Le'Veon Bell, RB
The Jets rank bottom-10 in our quarterback, wide receiver, and tight end projects, but 13th overall in our running back projections. Basically, as I'm sure you already assumed, the only Jets player you should be excited to draft is Bell.
Even then, you should be a little less excited than in years previous. Bell hasn't played football in a year and a half and now has a head coach who reportedly didn't even want to sign him. A head coach who wants to monitor Bell's usage, overly concerned Bell (who averaged 10.4 snaps per game more than any other running back from 2013-2017) doesn't get "fatigued" or "worn down." A head coach whose offense has ranked 31st, 29th, 31st, and 27th in pace of play in game-neutral situations over the past four years. A head coach who… Well, you get the picture.
Still, it's Le'Veon Bell we're talking about. He's still a top-seven pick at the position, per my rankings and our projections.
As far as everyone else on the team is concerned, everything is dependent on Sam Darnold's development. He ranked as just our 29th-graded passer last season (of 38 qualifiers) but also ranked second-best across the final four weeks of the season. Our projections are expecting more of the former than the latter in 2019.
No. 1 Name to Know: Delanie Walker, TE
Tennessee's projections are low everywhere except for total rushing fantasy points (third) and tight end fantasy points (eighth). However, even with all of those rushing fantasy points, Derrick Henry still ranks just 23rd among running backs in our projections. This speaks to my primary concern with Henry — his lack of usage as a pass-catcher, a problem for him that's dated back to college. Remember, for running backs, a target is worth 2.74 times as much as a carry in PPR leagues, and running backs who are non-factors in the passing game are far more inconsistent on a week-to-week basis.
Marcus Mariota might now have the best wide receiving corps of his career, but we're still bearish on him and all of his wide receivers. However, Walker stands out as a clear value (ranking eighth in our projections but 13th in ADP). In the four years prior to last season, Walker finished sixth, sixth, third, and seventh among tight ends in fantasy points per game.
No. 1 Name to Know: Lamar Jackson, QB
Similar to Buffalo's projections, we don't see much value in Baltimore's offense outside of Jackson. But boy, is there value with him! He ranks 19th at the position by current ADP but fourth overall in our projections. That might seem shocking to you, but it wasn't to me — I called him the best value in drafts back in May.
Jackson has legitimate league-winning upside due to his rushing ability. With rushing yards being worth 2.5 times as much as passing yards and rushing touchdowns being worth 1.5 times as much as passing touchdowns, an especially mobile quarterback is basically a cheat code for fantasy football. And perhaps no quarterback in NFL history has ever had Jackson's rushing upside. In 2018 he broke the PFF record for fantasy points per dropback (0.83). So, with just a little bit more volume, it's not hard to imagine a breakout season, even if he makes no improvement as a passer in his sophomore year.
Though we project Baltimore to lead the league in rushing, Mark Ingram still comes in at just RB26 in our projections. We're projecting a heavy timeshare among Baltimore's running backs. Though I don't entirely agree, it's still too early to know for sure. So, keep an eye on reports out of camp as the preseason progresses. Mark Andrews is a little more enticing at ADP, and far more enticing than any other Baltimore receiver, coming at No. 12 in our projections. Jackson might be a liability as a passer, but he flashed an impressive connection with Andrews last season — Andrews comprised a team-high 26% of Jackson's passing yards, and on just 12% of his throws.
No. 1 Name to Know: Mitchell Trubisky, QB
Like with Washington, no individual player really stands out in our projections for Chicago.
Trubisky ranks as a mid-range QB2, Tarik Cohen is a fringe RB2, David Montgomery is a mid-RB3, Allen Robinson is a mid-range WR3, and Trey Burton is a high-end TE2. So, basically, every player is almost perfectly priced at ADP — except for Montgomery, who is rather expensive, priced as a low-end RB2 by ADP.
If we're wrong, it's either because Montgomery assumes the bell cow workload the cost to acquire him seemed to imply. At the moment, though, that seems unlikely. Or, Trubisky takes a significant step forward in his second year in Matt Nagy's offense. Last season Trubisky ranked 11th at the position in fantasy points per game, despite ranking 33rd of 38 qualifiers in PFF grade. There was also little need for the team to go pass-heavy last year, ranking fourth-highest in point differential (+138). If Chicago goes more pass-heavy (they're projected to rank 30th in pass attempts this year) or Trubisky becomes more efficient as a passer, he and his pass-catchers would be much better bets to beat ADP.