We're finally here – training camp has opened and preseason football is just days away. Along with the return of televised football, it's also time for our fantasy football power rankings – a PFF annual tradition.
Here's how it works: we're diving deep into our fantasy projections to measure the overall fantasy value of all 32 NFL teams. We've been presenting them to you in groups of four, working our way up towards the top-four most-valuable teams in the league (from a fantasy perspective). After already uncovering the teams ranking No. 32-25, today we move to the teams ranking No. 24-21.
Fantasy drafters who correctly predicted Kansas City as the team to break out in 2018 were handsomely rewarded, likely winning their fantasy leagues. Although we've started with the teams ranking lowest in our projections, which maybe isn't as exciting, this is no less useful for fantasy – knowing which players and teams to correctly avoid.
These rankings are based on our 2019 player projections, which are accessible with a PFF Edge or PFF Elite membership.
Without further ado…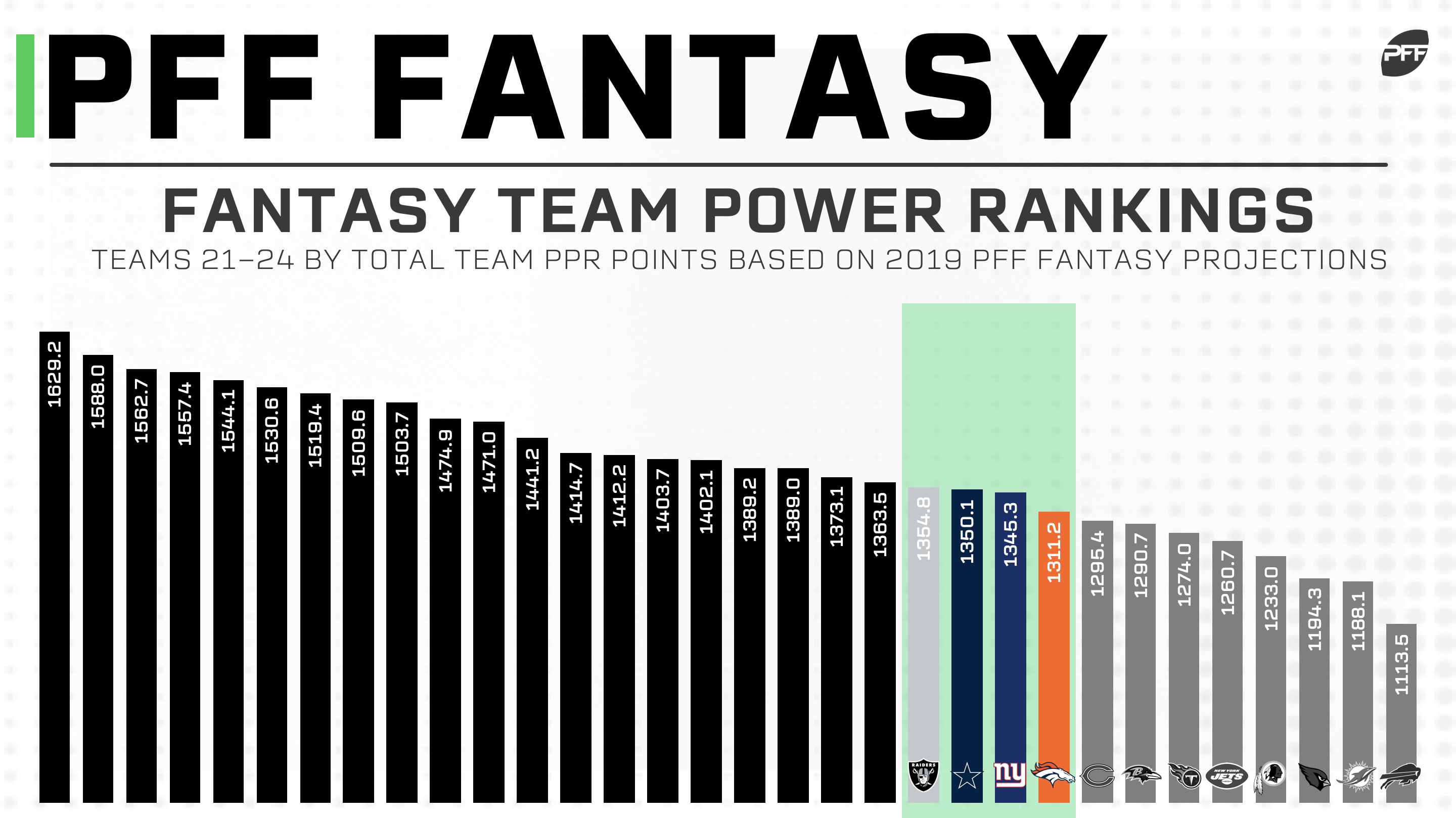 No. 1 Name to Know: Phillip Lindsay, RB
Somehow Denver ranks above Chicago in our projections, but they're even more hard pressed for fantasy-relevant options. Lindsay ranks 22nd among running backs in our projections and Courtland Sutton ranks 42nd among wide receivers, but, otherwise, no one comes close to fantasy-relevance. A guaranteed 100% healthy Emmanuel Sanders would obviously rank higher than where he sits right now (74th at the position), but the safer bet is against the 32-year-old receiver returning from a late-season Achilles injury and becoming a fantasy contributor.
No. 1 Name to Know: Saquon Barkley, RB
For a team many are predicting to again finish at the bottom of the league, New York seems ripe with fantasy potential. In our projections, Barkley ranks first among running backs, Evan Engram ranks fourth among tight ends, Sterling Shepard ranks 31st, and Golden Tate ranks 38th (with these projections compiled prior to Shepard's injury and Tate's still-being-appealed suspension. And all of this, in spite of Eli Manning ranking 30th among quarterbacks.
As a rookie, Barkley led all running backs in fantasy points last year, so that projection doesn't need too much defending. Engram may come as a surprise, but he should benefit immensely from Odell Beckham Jr.'s departure. Over the last two seasons, Engram averaged 8.9 fantasy points per game when Beckham Jr. was active and 13.3 fantasy points per game when he missed time. For perspective, 13.3 fantasy points per game would have ranked fifth-best at the position last year. There should also be enough leftover targets to make Shepard and Tate fantasy-viable. One of these two wide receivers will be playing out of position in 2019. Both Shepard (75%) and Tate (55%) have spent the majority of their careers running routes from the slot. Though I think Tate is the better talent, I'll be prioritizing whichever wide receiver earns starting slot duties.
No. 1 Name to Know: Ezekiel Elliott, RB
Our projections for Dallas are just about what you'd expect. Elliott is a top-three fantasy running back (he ranks third), Dak Prescott should again flirt with QB1 numbers (12th), and Amari Cooper is a high-end fantasy WR2 (16th).
Elliott has ranked sixth (21.9), third (20.3), and third (21.7) in fantasy points per game since entering the league, and saw by far the best volume of his career last year. So, his ranking makes sense. But we're actually predicting Prescott to have the worst fantasy season of his career. He's ranked 10th, 10th, and sixth in fantasy points since entering the league. Still, we're higher on him than ADP (QB17).
However, we're a bit lower on Cooper compared to ADP (WR13). I imagine we're rightfully putting less stock in Cooper's small-sample success in Dallas than current fantasy drafters. On top of lower projections than his ADP would imply, Cooper is also maddeningly inconsistent on a week-to-week basis, and that needs to be considered when drafting him in typical redraft leagues.
No. 1 Name to Know: Antonio Brown, WR
In Oakland, the only names that stand out are Antonio Brown and Josh Jacobs. Both rank higher in our projections (WR5, RB13) than by current ADP (WR8, RB19).
We should expect less efficiency from Brown this year, going from Ben Roethlisberger to Derek Carr, who has ranked just 19th and 18th in PFF grade over the past two seasons. Volume could also be a concern, as Pittsburgh ranked first in pass attempts per game last season (43.1), while Oakland ranked 16th (34.8). Still, Oakland has ranked top-12 in team wide receiver fantasy points in three of Carr's four seasons, and Antonio Brown is still Antonio Brown. Since 2013, Brown totals 9,145 yards — the most receiving yards by any player through any six-year stretch in NFL history. Over this span, he's ranked second, first, first, first, first, and fifth at the position in fantasy points scored.
Jacobs has never played an NFL snap, but is still deserving of near-RB1 expectations. He was our No. 1 running back from this year's draft class, and though he wasn't a workhorse in college, he flashed bell-cow upside, excelling both as a receiver and as a runner in short-yardage situations. Following the draft-day selection, he was referred to as a "three-down running back" and as a future "centerpiece" of the offense by GM Mike Mayock and head coach Jon Gruden.