We're finally here – training camp has opened and preseason football is just days away. Along with the return of televised football, it's also time for our fantasy football power rankings – a PFF annual tradition.
Here's how it works: we're diving deep into our fantasy projections to measure the overall fantasy value of all 32 NFL teams. We've been presenting them to you in groups of four, working up towards the top-four most-valuable teams in the league (from a fantasy perspective). After already digging into the teams ranking 32-13, today we finally break into the top-12 (12-9).
Fantasy drafters who correctly predicted Kansas City as the team to break out in 2018 were handsomely rewarded, likely winning their fantasy leagues. Perhaps one of the teams we're looking at today can post similar returns.
These rankings are based on our 2019 player projections, which are accessible with a PFF Edge or PFF Elite membership.
Without further ado…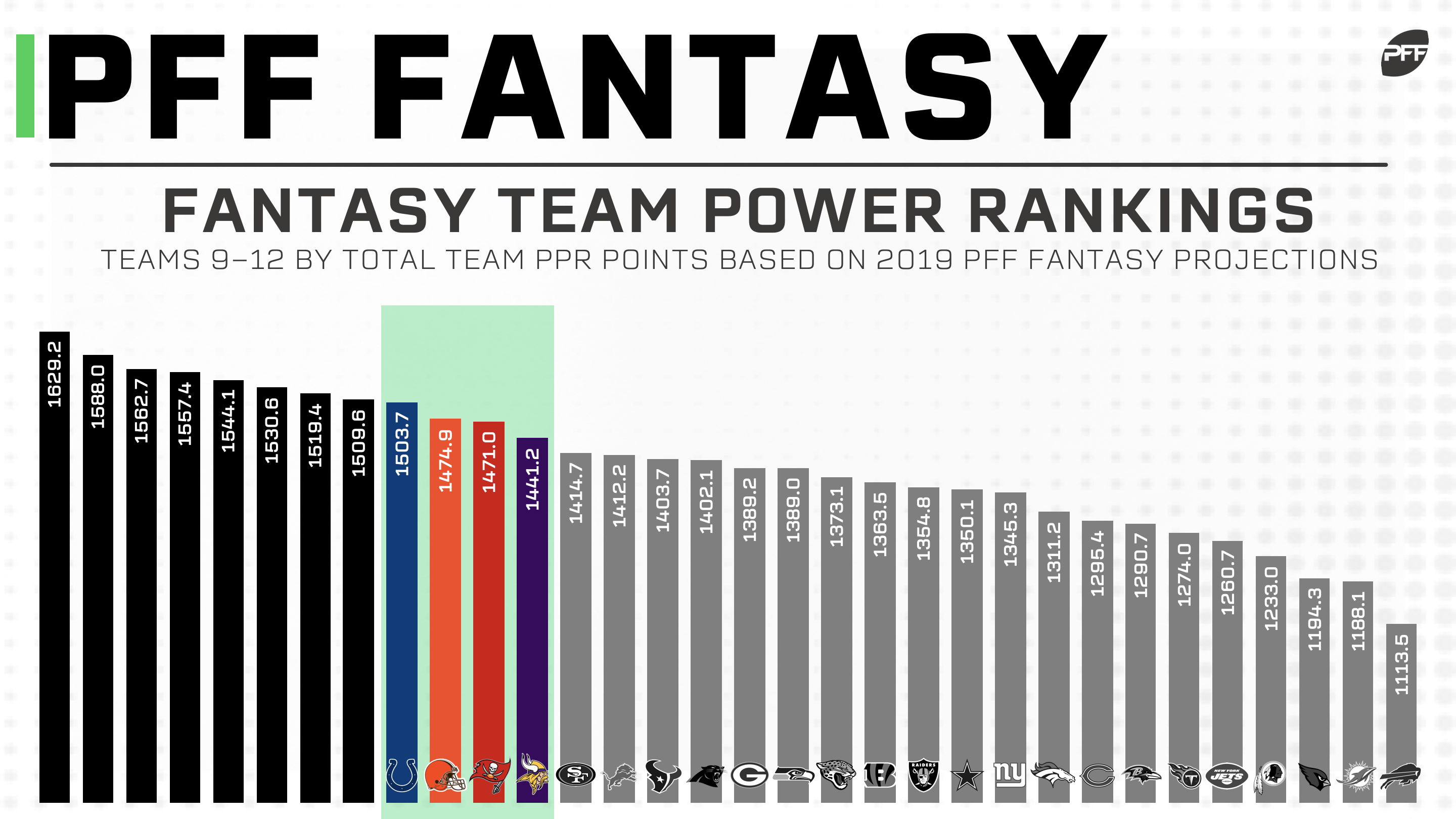 No. 1 Name to Know: Dalvin Cook, RB
Minnesota fell short of our expectations last year but we're projecting them to bounce-back in a big way in 2019. In our projections, all of Kirk Cousins (11th), Cook (12th), Stefon Diggs (12th), Adam Thielen (13th), and Kyle Rudolph (13th) rank just about top-12 at their respective positions.
Cousins ranked 12th in fantasy points last year, after finishes of sixth, fifth, and eighth over the prior three seasons. Somehow, he ranks 20th by ADP this year. Based primarily on his prior resume and terrific supporting class, he feels like one of the better values at the position.
Cook ranks 12th in our projections, but that still feels low. We're giving Cook a 65% market share of the team's running back fantasy points across 16 games, but Cook comprised 79% of the team's running back fantasy points across the team's final seven games last year. Gary Kubiak joining the Vikings' staff is another reason to get excited about Cook. In 12 seasons as an offensive coordinator, Kubiak's offense has ranked top-five in rushing yards nine times and top-12 12 times. In his last year in the NFL, his team led the league in outside zone runs and outside zone run percentage. Over the last two seasons and of 38 qualifying running backs, Cook ranks fourth-best in yards per carry when running in outside zone.
Diggs and Thielen rank neck-and-neck in our projections with less than 10 fantasy points separating the two receivers. Similarly, in my own rankings, I have no idea which wide receiver is going to outscore the other, so both again rank neck-and-neck and as low-end WR1s. Thielen dominated in production and volume early in the year, though those splits flipped in Diggs' favor across the team's final 10 games.
Rudolph's projection is exciting relative to his ADP (TE18). Following Irv Smith Jr.'s arrival and a more run-heavy approach in 2019, I'm not as high on Rudolph as our projectors but I do understand the thinking behind his lofty ranking. Over the past three seasons he's ranked seventh, eighth, and second in fantasy points scored.
No. 1 Name to Know: Mike Evans, WR
Despite the coaching change in Tampa Bay, we're predicting a 2019 season much like their historically prolific 2018 season, when they totaled 5,125 passing yards, or the fourth-most by any team in NFL history. As a team, this year, they again rank first in total passing yards in our projections but rank second-worst in running back fantasy points.
Basically, ignore the running backs and target the passing game — but you already knew that. Still, I think we're way too high on Jameis Winston. He checks in at No. 6 in our projections, far higher than where I have in my own rankings (QB18). I explained my reasoning for Winston's ranking earlier this offseason.
Still, I think we're on the money with Winston's receiving corps. In our projections, O.J. Howard ranks sixth among tight ends, Evans ranks 10th, and Chris Godwin ranks 20th. Just a week or so ago, I argued why I felt Godwin and Howard are rightfully two of the most-hyped-up players in fantasy this offseason. Evans, meanwhile, doesn't have the same buzz, but his projected ranking feels solid within the context of his historical production and he appears to be a good fit for Bruce Arians' offense. Evans has finished ninth, 17th, and third in total fantasy points over the past three seasons, while Arians has coached a fantasy WR1 in seven of his last nine seasons. Evans has also ranked top-five in total air yards in each of the past four seasons, while Arians' teams have ranked top-five in total air yards in each of his last four seasons in the NFL. Basically, he should again be productive while seeing a lot of volume and a lot of high-quality targets.
No. 1 Name to Know: Odell Beckham Jr., WR
Cleveland is perhaps the most-hyped team in fantasy football this year, but based on our projections, they're also probably the most over-hyped team in fantasy football. They rank top-10 overall, but nearly every player ranks lower in our projections than by ADP: Baker Mayfield (QB16), Nick Chubb (RB18), Beckham (WR8), Jarvis Landry (WR28), and David Njoku (TE14).
I explained earlier this offseason why I thought Mayfield's ADP is too high (QB5) but I also think our projections went a little too far with the pessimism. We have Mayfield projected to finish 19th in passer rating (90.9) despite the fact he ranked fifth (106.2) once new head coach Freddie Kitchens started calling the team's plays. To me, volume is the far bigger concern for Mayfield and the rest of the Browns' offense — Cleveland ranked fourth-lowest in plays per game once Kitchens took over play-calling duties.
We're also probably too bearish on Beckham, whose targets should be far more catchable this year, moving from Eli Manning to Mayfield. In spite of Manning's deficiencies, Beckham has ranked eighth, sixth, third, and first in fantasy points per game since entering the league. He ranks eighth in our projections but fifth by ADP. Landry's projection also feels a touch too low — he'll see a slight reduction in volume but an increase in efficiency due to Beckham's commanding presence. Compared to his prior career average, he was 19% less efficient (by fantasy points per target) in 2018.
Chubb's projection (RB18) is even lower in comparison to current ADP (RB13) but I find this more justifiable. Chubb just put together a historically great season in terms of rushing efficiency, which is bound to regress. Further, he averaged just 1.8 targets per game last season. Remember, for running backs, a target is worth 2.74 times as much as a carry in PPR leagues, and running backs who are non-factors in the passing game are far more inconsistent on a week-to-week basis. On top of ceding targets to Duke Johnson, he'll have to stave off Kareem Hunt (our second-highest-graded running back over the past two seasons) during your fantasy playoff weeks.
No. 1 Name to Know: T.Y. Hilton, WR
Like with Cleveland, it seems we're surprisingly low on a number of Indianapolis' top options, despite being high on the team as a whole.
Andrew Luck ranks 14th among quarterbacks, Hilton 14th among wide receivers, Marlon Mack 21st among running backs, and Eric Ebron 10th among tight ends. Again, this seems hard to justify. Across his last four full seasons, Luck has ranked sixth, fifth, second, and sixth in fantasy points per game. Similarly, in those seasons, Hilton has ranked 13th, seventh, 11th, and 21st in fantasy points per game. Hilton's ranking seems on the low end of the spectrum but about in line with his career averages. Still, I'm not sure what our projections are seeing with Luck that I'm not.
Mack's lower-than-expected projection, like Chubb, is likely related to a lack of receiving volume. (We're projecting Nyheim Hines to out-target Mack 53 to 33.) He's the team's primary early-down running back and should provide value in blowout victories but is going to be a lot more inconsistent in losses or when the game is close. In 11 full games last year, Mack averaged 23.9 fantasy points per game when Indianapolis won by 14 or more points, though he averaged just 9.0 the rest of the time.
We're also much lower on Ebron than consensus mock drafters (ADP: TE7) but this one is more defensible. In the six games both he and Jack Doyle were active last year, Doyle out-snapped him 331 to 164 and out-targeted him 32 to 22. Doyle checks in at TE18 in our rankings.