Every year in fantasy football, there are a few especially buzzed-about players who catapult up draft boards. This week, we're looking at some of those players and evaluating whether the rises are justified.
Monday, we took a look at the quarterbacks who jumped the most in ADP since February (either by BestBall10 ADP or FantasyFootballCalculator ADP), and tried to determine whether or not their ADP jump went too far or not far enough. Tuesday, we did the same exercise with running backs.
This time, we're zeroing-in on the wide receiver position — in order, looking at the wide receivers who have seen the largest relative ADP jump:
ADP jump: WR93 (in February) vs. WR55 (in July)
If Moncrief is the clear WR2 behind JuJu Smith-Schuster, he's an excellent pick at ADP. Based on his lackluster NFL resume and the meager contract he just signed, that doesn't feel like a given. However, that possibility looks much more likely since the start of OTAs. The Athletic's Mark Kaboly said Moncrief, "looks like a slam-dunk No. 2 receiver. This came shortly before Steelers WR coach Daryl Drake also hyped him up, and complimented his progress with the team's playbook. He'll need to beat out James Washington, Ryan Switzer, and Diontae Johnson, but if he can, he's a safe bet to return value.
My ranking: WR48
ADP jump: WR72 vs. WR50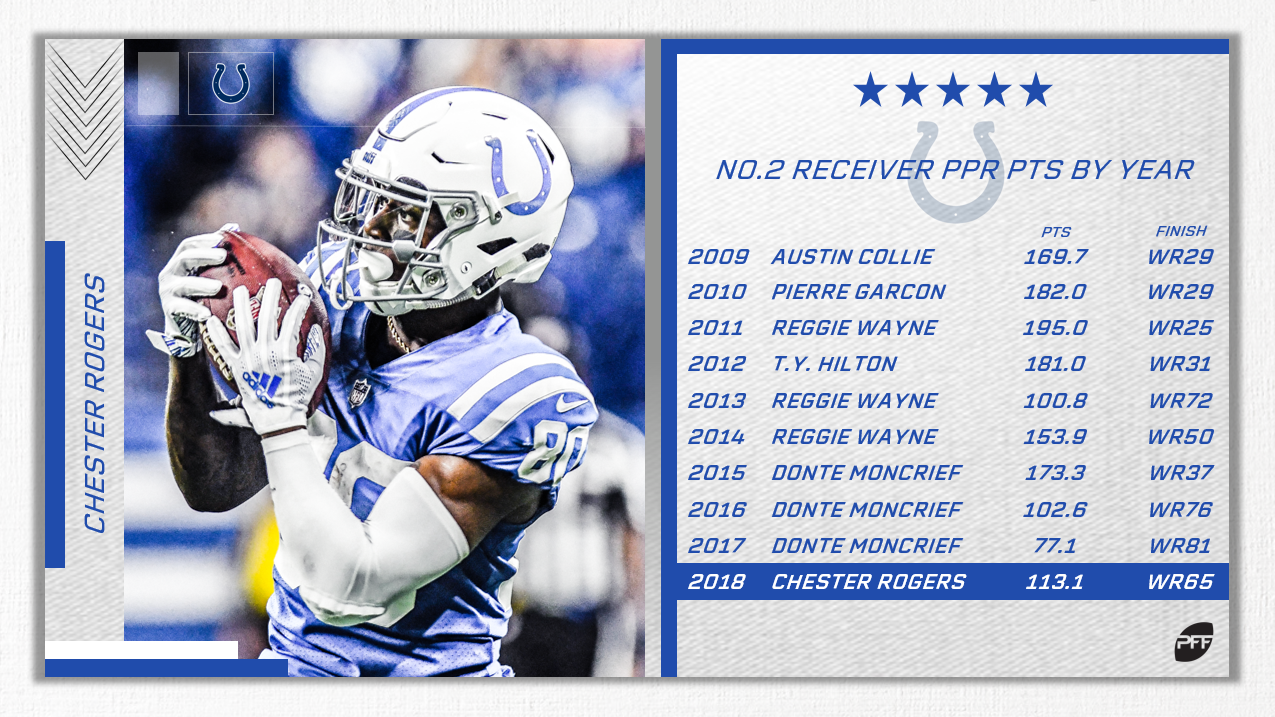 Like with Moncrief, Funchess is a fine pick if he assumes WR2 duties in Indianapolis, which seems likely, only needing to hold off rookie Parris Campbell. He signed a more lucrative deal than Moncrief, has a slightly more impressive NFL resume, and has also received high praise from his coaches. His upside as Andrew Luck's WR2 wouldn't be as high, however. Last year, T.Y. Hilton was the team's only wide receiver to exceed 9.0 fantasy points more than four times.
My ranking: WR52
ADP jump: WR69 vs. WR47
Like with our last two wide receivers, Allison has massive upside if he is his team's WR2. That seems likely given his usage last year, when he averaged 7.3 targets per game and 15.0 fantasy points per game across the only four games he started and finished. This should also be a very valuable role for fantasy. Since Aaron Rodgers was named the starter in 2008, Green Bay's WR2 (by total fantasy points) has yielded two WR1 seasons, four WR2 seasons, two WR3 seasons, and two WR4 seasons for fantasy. This makes him a glaring value at current ADP.
My ranking: WR41
ADP jump: WR31 vs. WR20
Godwin — one of fantasy's most-hyped and treasured darlings since entering the league — seems poised to finally receive the volume he deserves. Godwin ranked fourth of the wide receivers on his team in targets per game last year, but still finished the season 3.5 total fantasy points away from a WR2 finish. Keep in mind, he totaled just 59 receptions last year, though new head coach Bruce Arians said "he can be close to a 100-catch guy" in 2019. Like with every other player mentioned thus far, he's likely to be his team's WR2. In an Arians offense, that's a very valuable role. Over the past 10 seasons, Arians' WR2 has averaged 104.3 targets per season, or what would have ranked 25th-most last year. If we exclude 2017 (Jaron Brown) and 2016 (J.J. Nelson) that number jumps to 112.5, or what would have ranked 18th last year. Unfortunately, he's still a little overpriced for my liking.
My ranking: WR27
ADP jump: WR114 vs. WR90
After losing Rob Gronkowski (to retirement), Josh Gordon (to suspension), and Chris Hogan (to the Panthers in free agency), the Patriots now have 195 targets unaccounted for. Dorsett will compete with rookie N'Keal Harry (who reportedly struggled in minicamp) and Demaryius Thomas (31 years old and coming off of a late-season Achilles tear) for starting duties. He's a longshot for fantasy relevance but is probably worth a late-round dart-throw at his lowly ADP.
My ranking: WR86
ADP jump: WR38 vs. WR25
At the combine, head coach Ron Rivera referred to Moore as the team's WR1 and stated a desire to get the ball in his hands more consistently. This comes following a breakout rookie season that saw Moore rank first (of 79 qualifying wide receivers) in missed tackles forced per reception, second (of 93) in yards after the catch per reception (7.91), and fifth (of 47) in yards per target average. Over the final seven weeks of last season, with Funchess serving in a demoted role, Moore ranked 22nd in targets (45) and 12th in receiving yards (464). I suspect that's a good place to start (but maybe closer to his floor than his ceiling) for our 2019 expectations.
My ranking: WR22
ADP jump: WR54 vs. WR45
Jackson seems unfairly slept-on following a lackluster stint in Tampa Bay, catching passes from the only quarterback who's ever made him look anything less than stellar. Despite underwhelming fantasy numbers, Jackson still ranked ninth-best in yards per route run (2.27) last year and 18th at the position in PFF grade over the past two seasons. Now, in Philadelphia, saddled with a far more competent deep passer, it's safe to expect a bounce-back year from Jackson.
My ranking: WR42
ADP jump: UDFA vs. WR58
Yeah, I'm not falling for this again. If I'm targeting any wide receiver on Miami, it's going to be their slot wide receiver (either Kenny Stills or Albert Wilson).
My ranking: WR66
ADP jump: WR36 vs. WR26
Williams is one of my most-controversial fades of the offseason, but I feel good about it. Last season he scored 4.6 touchdowns above his expectation, which ranks as the 18th-largest positive differential this past decade. He ranked fifth in touchdowns (10) but just 19th in expected touchdowns (6.4), implying volume wasn't nearly as good as his production implied. On top of that, he was far too reliant on touchdowns for fantasy points. In total, 33% of his fantasy points came on touchdowns, which ranked third-most among wide receivers, and he averaged just 41.5 receiving yards per game (55th). Now, with Hunter Henry back in the fold, he seems like a longshot to make as big of a jump as his ADP seems to imply — ranking 26th in ADP after finishing 38th in fantasy points per game last year.
My ranking: WR40
ADP jump: WR27 vs. WR20
Like Williams, Ridley is a glaring regression candidate. He outscored his touchdown expectation by 5.0 in 2018, the 12th-largest positive differential this past decade. Unlike with Williams, I'm a little less worried about Ridley's looming efficiency regression. Instead, I think he can make up some ground via an increase in target volume. Ridley averaged 5.8 targets per game last year, but new offensive coordinator Dirk Koetter's WR2 has averaged 7.0 targets per game across his last seven seasons in the league.
My ranking: WR29
ADP jump: WR60 vs. WR30
Like Pettis, Moore also had an impressive rookie season, leading all wide receivers in yards after the catch per reception (7.93). He averaged a whopping 18.7 fantasy points per game across the last four games he started and finished. He might be worth an arbitrage play on Moore, but he does carry more risk, with added receiving competition and the return of Jimmy Garoppolo (who accounted for just 11% of Pettis' receptions last year).
My ranking: WR33