We're finally here – training camp has opened and preseason football is just days away. Along with the return of televised football, it's also time for our fantasy football power rankings – a PFF annual tradition.
Here's how it works: we're diving deep into our fantasy projections to measure the overall fantasy value of all 32 NFL teams. We'll be presenting these to you in groups of four, starting with the teams ranking No. 32-29 and then working our way up toward the four most valuable teams in the league from a fantasy perspective.
Fantasy drafters who correctly predicted Kansas City as the team to break out in 2018 were handsomely rewarded, likely winning their fantasy leagues. Although we're starting with the teams ranking lowest in our projections, which maybe isn't as exciting, this is no less useful for fantasy — knowing which players and teams to correctly avoid.
These rankings are based on our 2019 player projections, which are accessible with a PFF Edge or PFF Elite membership.
Without further ado…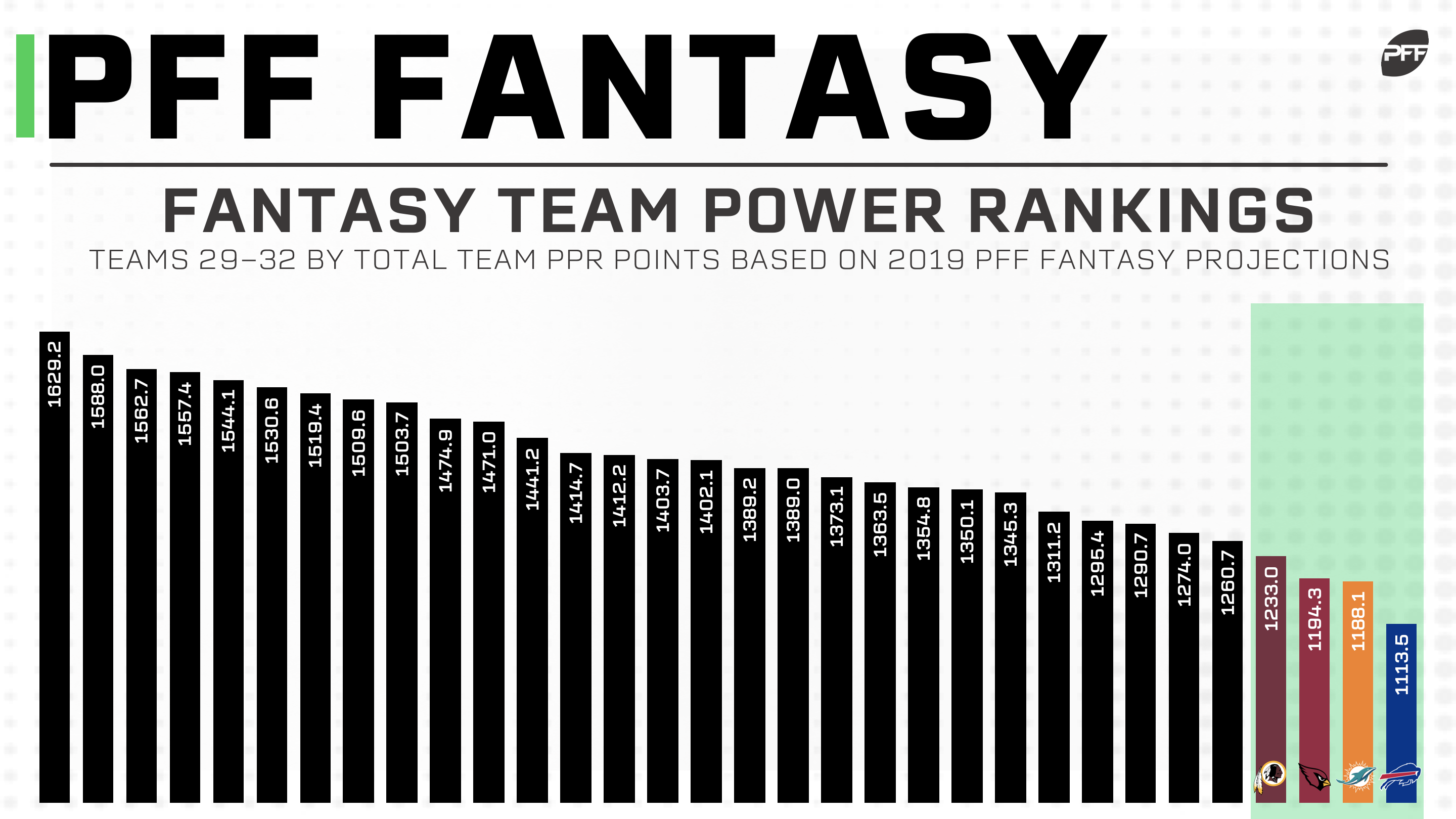 July 29: 32-29
July 30: 28-25
July 31: 24-21
August 1: 20-17
No. 32
Buffalo Bills
No. 28
No. 24
No. 20
No. 31
Miami Dolphins
No. 27
No. 23
No. 19
No. 30
Arizona Cardinals
No. 26
No. 22
No. 18
No. 29
Washington Redskins
No. 25
No. 21
No. 17
August 2: 16-13
August 3: 12-9
August 4: 8-5
August 5: 4-1
No. 16
No. 12
No. 8
No. 4
No. 15
No. 11
No. 7
No. 3
No. 14
No. 10
No. 6
No. 2
No. 13
No. 9
No. 5
No. 1
No. 1 Name to Know: Josh Allen, QB
Buffalo ranks dead-last in total projected fantasy points and bottom-three for running backs, wide receivers, and tight ends. It's not hard to see why.
Last season, a Josh Allen dropback was worth just 0.68 fantasy points to his receivers, which ranked second-worst of 31 qualifying quarterbacks. This is partly due to poor accuracy (a league-low adjusted completion percentage), a high sack rate (10th-highest), and a propensity to flee the pocket (ranking first in rushing attempts per dropback). All of this adds up, creating an unideal fantasy environment for Buffalo's receivers, and even their running backs. In games LeSean McCoy did not leave early due to injury, he averaged 8.9 fantasy points per game when Allen played, but 15.7 when he didn't. Now, it appears McCoy will also have to fight off Frank Gore, T.J. Yeldon, and Devin Singletary for touches.
Allen is still the most intriguing name on the team for fantasy, due to his rushing upside, though he ranks just 23rd in our projections.
No. 1 Name to Know: Kenyan Drake, RB
Miami, ranking last in projected wins (according to Vegas), is tough to get excited about. Still, there is some cause for optimism. The Dolphins ranked last in plays per game (54.9) under Adam Gase last season. If they're perfectly average in that department next season, we should expect their offense to run roughly 8.0 more plays per game, which can really add up for fantasy. Further, they ranked dead-last in PFF passing grade last season, while new free agent signee Ryan Fitzpatrick ranked ninth-best. Still, that's the best devil's advocate defense case I can make.
Drake is the only Miami player to crack the top-150 in ADP (ranking 50th overall). If he's the team's starter he seems like a good bet to beat his ADP (RB24), ranking 20th in our projections. He finished 14th at the position in fantasy points last year, with 63% of his fantasy points coming through the air. With more plays per game and more time spent trailing, his production should climb. That said, I'm not so sure we should be projecting him as the starter — Kalen Ballage, not Drake, has been working as the team's starter early in camp.
No. 1 Name to Know: David Johnson, RB
Arizona is one of the most buzzed-about teams of the offseason, in equal parts due to a near-perfect draft that included rookie phenom Kyler Murray and the implementation of new head coach Kliff Kingsbury's high-powered and fast-paced offense. Over the past three seasons, Kingsbury's Texas Tech Red Raiders offense ranked second in the Power-5 in total plays, averaging 139 more per season than the league-average rate. In contrast, the Cardinals ranked ahead of only Miami in plays per game (56.4) last season, despite spending the most time trailing and trailing in double digits. With more plays, there's more opportunities for fantasy points, and with improved quarterback play (Josh Rosen was our worst-graded quarterback last year), efficiency should improve as well.
Although the fantasy community has sky-high expectations for Arizona, their projections are far more sobering. Vegas gives Arizona the worst projected win total of any team (tied with Miami) and our projections have Arizona finishing third-worst in total fantasy points.
Johnson ranks fifth among running backs by current ADP and Murray ranks ninth among quarterbacks. In our projections, Johnson ranks eighth and Murray ranks 21st. However, I'm much higher on both players. I've made the cases for Johnson as a top-five pick and Murray to flirt with QB1 numbers earlier this offseason.
No. 1 Name to Know: Derrius Guice, RB
Yeesh… This one is just ugly all around. Who will be Washington's starting quarterback in 2019? Ideally Dwayne Haskins but who really knows. Who will be the team's starting running back? If everyone's healthy, could it be a three- or four-way committee among Guice, Adrian Peterson, Chris Thompson, and Bryce Love? Can Jordan Reed ever return to full form, or, have all the injuries finally added up, like his recent numbers seem to imply? Which wide receiver will lead the team in targets? Who knows? Should we even care? Josh Doctson led the position in fantasy points last year but still ranked just 66th overall.
Yeah, I'm pretty much just avoiding everyone on this team.