We're finally here – training camp has opened and preseason football is just days away. Along with the return of televised football, it's also time for our fantasy football power rankings – a PFF annual tradition.
Here's how it works: we're diving deep into our fantasy projections to measure the overall fantasy value of all 32 NFL teams. We've been presenting them to you in groups of four, working up towards the top-four most-valuable teams in the league (from a fantasy perspective). After already uncovering the teams ranking 32-21, today we move to the teams ranking 20-17.
Fantasy drafters who correctly predicted Kansas City as the team to break out in 2018 were handsomely rewarded, likely winning their fantasy leagues. Although we've started with the teams ranking lowest in our projections, which maybe isn't as exciting, this is no less useful for fantasy – knowing which players and teams to correctly avoid.
These rankings are based on our 2019 player projections, which are accessible with a PFF Edge or PFF Elite membership.
Without further ado…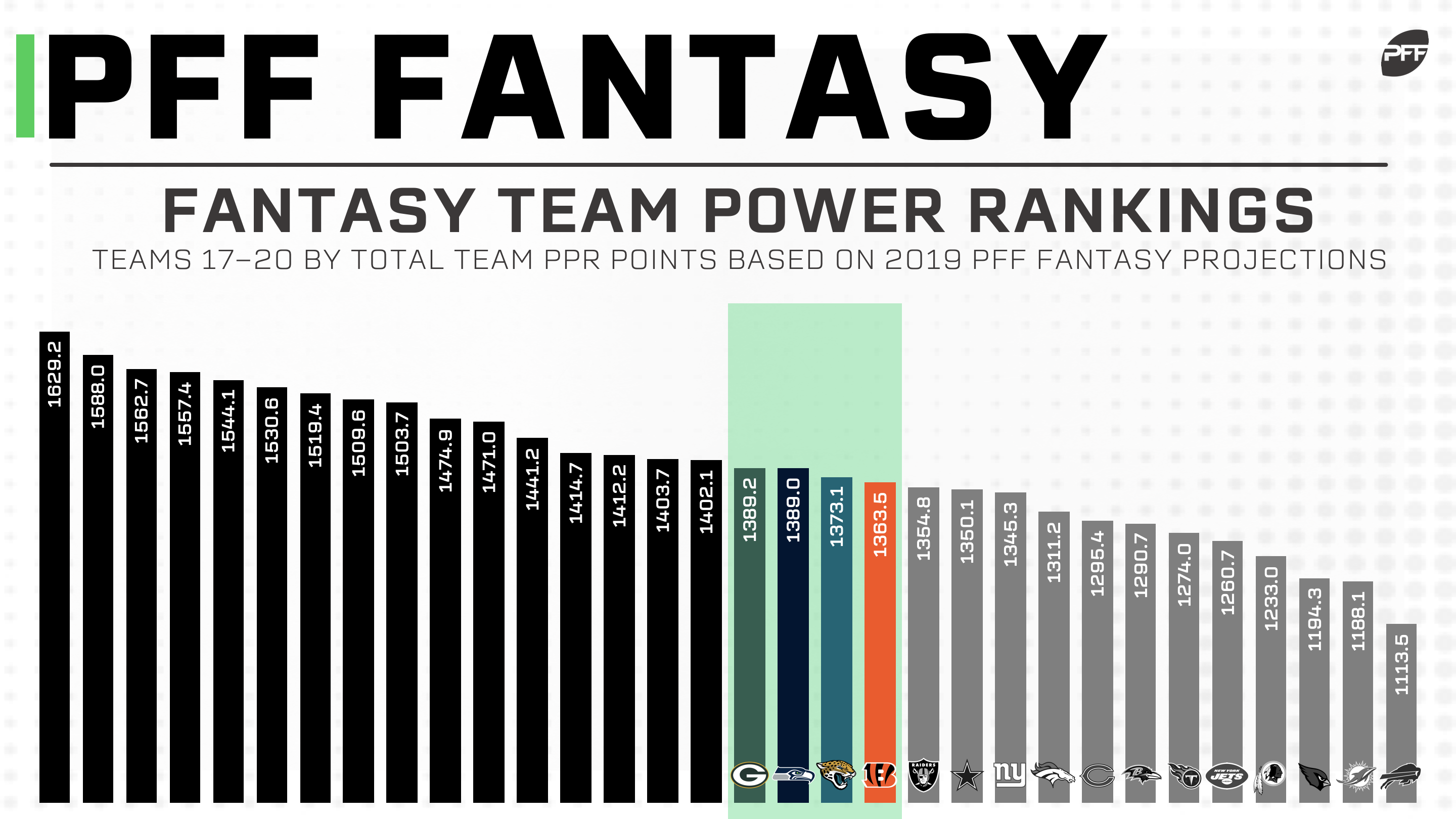 No. 1 Name to Know: Joe Mixon, RB
In Cincinnati, our standouts are exactly who you would expect — Mixon, A.J. Green, and Tyler Boyd.
Positionally, Mixon ranks 10th in our projections and ninth by ADP. That seems to be a fair assessment, after he finished ninth in fantasy points per game (17.4) last year. However, Mixon's upside should be a bit higher than that, given bell-cow potential. He came close last season but was more of a "workhorse" than a "bell cow" playing on just 66% of the team's snaps (ninth-most) and drawing only 56% of the team's running back targets (25th-most) in games Giovani Bernard was active. If given a larger share of the team's backfield targets, he has legitimate top-five upside. Mixon's pass-catching ability is an extremely underrated aspect of his game. In Mixon's final season of college he averaged 2.70 yards per route run, which ranks top-six of the PFF College era (since 2014).
New head coach Zac Taylor has never called plays at the NFL level, and neither has his offensive coordinator Brian Callahan. That in itself is a concern but also means it's harder to know what to expect from Cincinnati's playmakers this year. However, as a Sean McVay disciple, perhaps we should expect more outside-zone attempts for Mixon. Among all running backs with at least 100 outside-zone attempts since 2017, Mixon's 78.5 rushing grade on all such plays ranks third-best behind only Todd Gurley and Alvin Kamara.
Los Angeles had three wide receivers rank top-20 in fantasy points per game last year, but it's still a stretch to expect something similar from Cincinnati this year. Recent production implies both Green and Boyd are strong values. Over the past seven seasons, Green ranks 15th, 11th, fourth, 12th, 16th, fifth, and third in fantasy points per game. Before news of a recent injury sidelining him 6-8 weeks, he ranked 14th by ADP and 11th in our projections. The injury dings him, of course, but on a per-game basis Green will still be an interesting option. Similarly, Boyd ranked 14th in fantasy points per game last year (12.5), but ranks just 28th by ADP.
No. 1 Name to Know: Leonard Fournette, RB
In Jacksonville, Dede Westbrook flirts with low-end-WR3 upside in our projections (34th overall), as the team's projected WR1. He's the only Jacksonville player aside from Fournette worth mentioning. Among running backs, Fournette ranks 10th in our projections and 15th at ADP.
After a deeper dive into his 2018 numbers, it's not hard to see why we highlight him as a value.
In his rookie season (including the postseason), Fournette ranked sixth in fantasy points per game (18.1) and third in touches per game (23.8). Looking at Fournette's per-game output from last year, it looks as though he took a diminished role in the offense and suffered for fantasy because of it (15.1 fantasy points per game). Though that's played a major role in Fournette's plummeting ADP, it's not entirely true.
Fournette played in only eight games last year but saw the field in only 26 (of a potential 32) quarters, due to ejection and injury. Once adjusted for that, it becomes clear Fournette saw little dropoff in usage or production, averaging 23.8 touches and 18.5 fantasy points per four quarters (would have ranked ninth-best). And his usage might be even better this year, following the departures of T.J. Yeldon, Carlos Hyde, Corey Grant, and Jamaal Charles. Efficiency remains a concern for Fournette, but volume is far more important for fantasy running backs.
No. 1 Name to Know: Davante Adams, WR
Perhaps the most shocking development from my deep foray into our fantasy projections is just how low we are on the Green Bay offense. By ADP, Aaron Rodgers ranks third among quarterbacks and Adams ranks second among wide receivers. In our projections, Rodgers ranks 19th and Adams ranks ninth. It's hard to defend this but maybe our wise and benevolent projectors know something I don't, so let me do my best to explain why we should be bearish on Green Bay's passing game.
In two seasons as an offensive coordinator, new head coach Matt LaFleur's teams have ranked ninth and ninth in total rushing attempts but 24th and 31st in total pass attempts. Last season, Rodgers ranked just 22nd in fantasy points per dropback (0.46) – the worst finish of his career. Over the past four seasons, Rodgers has ranked 22nd (2018), eighth, 15th, and 25th in depth-adjusted completion percentage. Perhaps our projectors think Rodgers is in decline and his supporting cast (now without Randall Cobb) won't be doing him any favors. That said, I think it's far more likely both players justify their ADP in 2019.
I also think we're too low on Geronimo Allison (WR81), Green Bay's likely starting slot wide receiver. Over the past 10 seasons, Rodgers has targeted wide receivers out of the slot on 25.6% of his throws (fourth-most) with a 111.6 passer rating (best). Allison played in only four full games last season but averaged 7.3 targets and 15.0 fantasy points per game across this stretch. Since Rodgers was named the starter in 2008, Green Bay's WR2 has yielded two WR1 seasons, four WR2 seasons, two WR3 seasons, and two WR4 seasons for fantasy. Keep in mind, he's currently being drafted as a WR5 (WR52) for fantasy.
Aaron Jones, meanwhile, ranks 14th in our projections and by ADP. That's an appropriate valuation for Jones, given LaFleur's preference for a committee backfield, though he's surely deserving of a more robust workload. Over the past two seasons, Jones is our single highest-graded runner and leads all 87 qualifying running backs in yards per carry (5.50).
No. 1 Name to Know: Russell Wilson, QB
We're projecting Seattle to rank 29th in pass attempts but third in rushing attempts in 2019. That seems a fair assessment, given the fact that the Seahawks ranked 30th in plays per game (58.4) and 32nd in pass percentage (48%) last year. In spite of that, we're still predicting Wilson to finish fifth among quarterbacks, showing him to be a strong value at ADP (QB10).
Despite our run/pass projections and Wilson's ranking, we're much lower than the consensus on Seattle's running backs. We're projecting Chris Carson to lead the backfield, but still account for just 46% the fantasy production, good for only 27th-best at the position. Rashaad Penny ranks a bit lower in both accounts, with a 33% market share and a projected ranking of just 43rd overall. So, keep in mind, Seattle can lead the league in rushing volume next year, but it doesn't necessarily mean either running back is going to be a fantasy starter.
With Tyler Lockett, we're about in line with ADP (21st in projections, 23rd by ADP), projecting a jump in targets (by 20) but a steep decline in efficiency – which should be expected after his 2018 season ranked as one of the most efficient wide receiver seasons ever.