We're finally here – training camp has opened and preseason football is just days away. Along with the return of televised football, it's also time for our fantasy football power rankings – a PFF annual tradition.
Here's how it works: we're diving deep into our fantasy projections to measure the overall fantasy value of all 32 NFL teams. We've been presenting them to you in groups of four, working up towards the top-four most-valuable teams in the league (from a fantasy perspective). After already digging into the teams ranking in the bottom half of the league (32-17), today we move to the teams ranking 16-13.
Fantasy drafters who correctly predicted Kansas City as the team to break out in 2018 were handsomely rewarded, likely winning their fantasy leagues. Although we've started with the teams ranking lowest in our projections, which might not be as exciting, this is no less useful for fantasy – knowing which players and teams to correctly avoid.
These rankings are based on our 2019 player projections, which are accessible with a PFF Edge or PFF Elite membership.
Without further ado…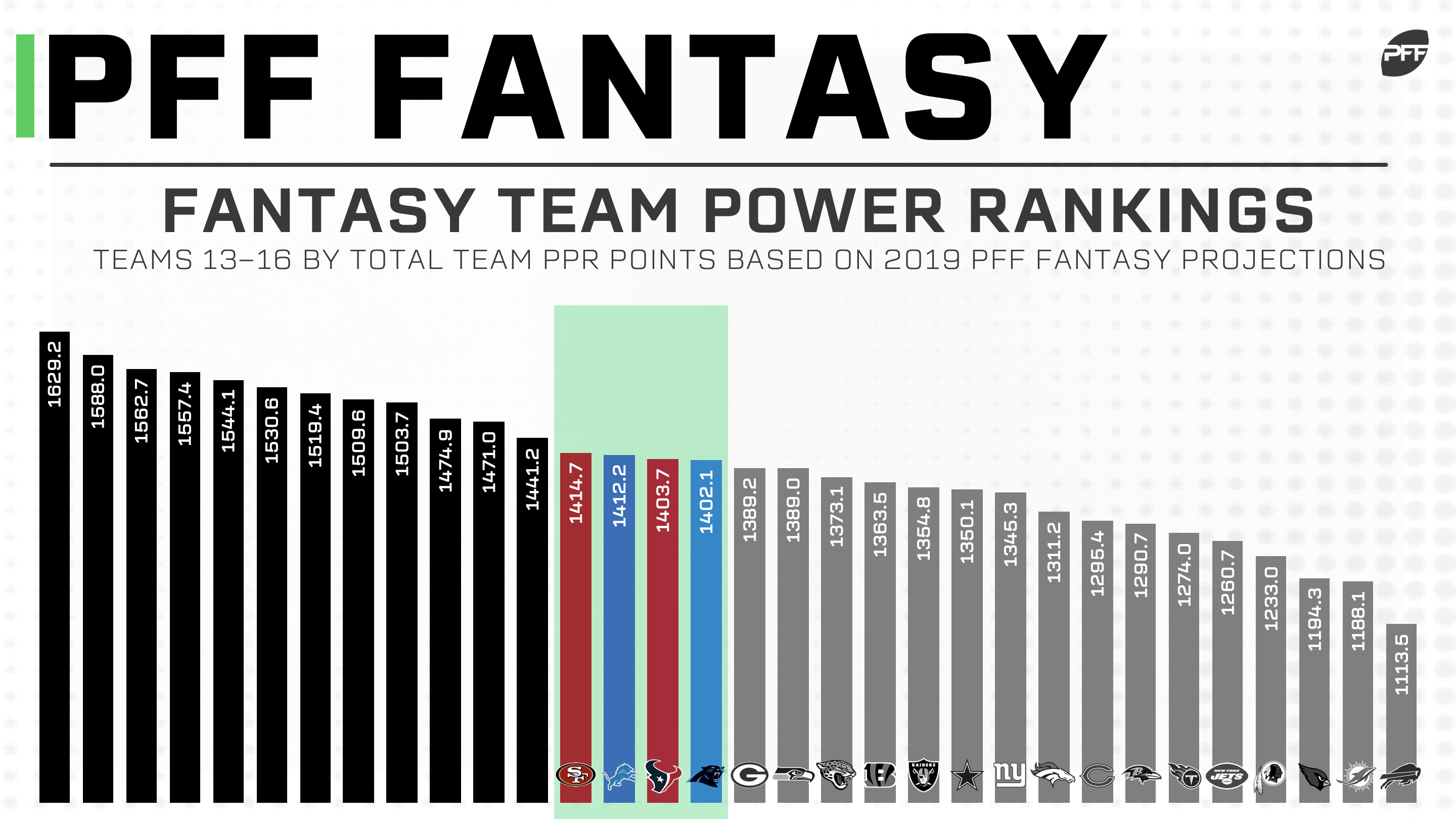 No. 1 Name to Know: Christian McCaffrey, RB
It seems current mock drafters are unfairly sleeping on Cam Newton, who ranks third among all quarterbacks in our projections. Since entering the league, Newton has ranked eighth (2018), fifth, 13th, first, seventh, fifth, fifth, and third in fantasy points per game. By ADP, he's priced well below his floor, as the QB11. 2018 was the second-worst finish of his career in fantasy points per game (eighth), and perhaps unsurprisingly, it was also his second-worst finish in rushing fantasy points per game (5.2). Our projections have him finishing closer to his career average with an average of 6.5 rushing fantasy points per game, justifying the lofty expectation.
McCaffrey ranks fourth in our projections, after ranking first in fantasy points scored in the 2018 fantasy season (Weeks 1-16). We're predicting he sees 31 fewer touches in 2019 and finishes 29.5 fantasy points behind Saquon Barkley. Though Barkley seems to be the better choice if you're drafting first in your league, McCaffrey is still an easy top-five pick in any draft.
D.J. Moore, meanwhile, is perfectly priced coming in at both WR25 in our rankings and by ADP. At the combine, head coach Ron Rivera referred to Moore as the team's WR1 and stated a desire to get the ball in his hands more consistently. This comes following a breakout rookie season that saw Moore rank first (of 79 qualifying wide receivers) in missed tackles forced per reception, second (of 93) in yards after the catch per reception (7.91), and fifth (of 47) in yards per target average. We're projecting 18 more targets for Moore in 2019 but a slight decline in efficiency.
Both Greg Olsen (TE16) and Curtis Samuel (WR40) are worth a pick on draft day, but neither one should be relied upon as fantasy starters.
No. 1 Name to Know: DeAndre Hopkins, WR
Deshaun Watson ranks second in our projections (behind only Patrick Mahomes) and Hopkins ranks third (behind only Michael Thomas and Julio Jones). Among all quarterbacks to play in at least 18 games over the past two seasons, Watson leads in fantasy points per game (by +1.5). Hopkins, meanwhile, has ranked second, second, 27th (thanks, Brock Osweiler), and fourth in fantasy points scored over the past four seasons. We're a bit lower than the consensus (ADP WR1), predicting Hopkins to fall by 11 targets and 42 fantasy points in 2019.
I thought, perhaps, Watson's lofty expectation and Hopkins' decline is due to a full 16-game projection for Will Fuller and Keke Coutee, but Fuller comes in at just 33rd, while Coutee ranks 53rd among wide receivers. To me, both projections seem low. Over the past two seasons, Fuller averages 14.0 fantasy points per game when he's played at least 50% of the team's snaps. For perspective, 14.0 fantasy points per game would have ranked 23rd last year. Last season, Including the postseason, Coutee played in only five full games (games in which he played on at least 50% of the team's snaps). Across those games, he averaged 9.4 targets per game and 17.2 fantasy points per game. For perspective, 17.2 fantasy points per game would have ranked 13th-best.
We're also fairly low on Lamar Miller (29th overall), projecting more of a committee alongside D'Onta Foreman, who we expect to earn a 34% fantasy point market share.
No. 1 Name to Know: Kenny Golladay, WR
Detroit ranks highly overall, but with few standout players. Only Golladay (17th), Kerryon Johnson (19th), and Marvin Jones (27th) stand out as fantasy-viable options, and only Jones standing out as a true value by ADP (WR38).
We're projecting Detroit to rank eighth overall in running back fantasy points and good efficiency from Johnson, but his just 51% market share highlights why he's isn't a priority pick come draft day. Mainly, he lacks bell cow potential, and Detroit's staff has made it clear they prefer a committee approach at the position.
Although we're projecting Golladay to improve on his 2018 season (when he finished 22nd in total fantasy points), it isn't the true breakout WR1 season many are expecting. We're actually projecting Golladay to see a slight target-decrease in 2019 (by six), which makes sense with the healthy return of Jones and new offensive coordinator Darrell Bevell's commitment to the running game. In Bevell's last 11 seasons in the NFL, his teams have ranked bottom-five in pass percentage six times and bottom-12 eight times. With Golladay now the team's WR1 (at least by our projections), Jones reprises the WR2 role that left him ranking 27th and 14th in fantasy points per game across the past two seasons, both numbers well above his current ADP.
No. 1 Name to Know: George Kittle, TE
The 49ers rank highly in our projections overall, but the fantasy points are so spread out as to make only Kittle a priority target.
In our projections, he ranks third among tight ends and would rank 16th among wide receivers (both numbers in line with his ADP), despite the fact that we're projecting a reduction of 19 targets and 32 fantasy points. That makes some sense, following a healthier wide receiving corps that includes two Day 2 rookie wideouts. Kittle also wasn't as productive with Jimmy Garoppolo as he was with Nick Mullens. Further, his efficiency was so good last year, it's hard to expect anything other than a regression to the mean. If that efficiency regression doesn't come, he really might be the closest thing we've seen to Rob Gronkowski in some time.
Dante Pettis is draftable (39th in our projections) but less so at ADP (WR29). Last season, he averaged a whopping 18.7 fantasy points per game across the last four games he started and finished, but like Kittle now has to deal increased target competition.
San Francisco's backfield ranks seventh in total fantasy points but in a three-way committee that doesn't leave much room for fantasy upside. With a 37% market share Tevin Coleman ranks just 32nd in our projections, slightly ahead of Jerick McKinnon (39th) and his 31% market share.