Editor's Note: This piece was originally published in June and was republished after news broke that Penei Sewell would be opting out of the 2020 college football season
When the dust had settled on the first round of the 2020 NFL Draft, six offensive tackle prospects had heard their name called by Roger Goodell. In my evaluation, it was easily the best offensive tackle class we have graded at the college level ever since we started in 2014. But even though we are still 10 months out from the 2021 draft, there's still a good chance it will take the second spot behind 2020 in terms of offensive tackle talent.
When the PFF 2021 NFL Draft Guide drops in August, four different offensive tackle prospects will already have first-round grades. That's quite the accomplishment this far out at a position that requires so much development.
Everyone knows about Oregon's Penei Sewell, and he truly is a once-in-a-decade talent, but there are some solid consolation prizes to be had in the 2021 tackle class, as well. Let's dive into what the top four has to offer.
Penei Sewell, Oregon (Junior)
There's no debate — and there will never be one — about who is OT1. In terms of talent, it will always be Sewell. He's truly a generational prospect at the position and has graded unlike any offensive tackle we've seen in our six years of grading college football. As a true sophomore last season, he was far and away the highest-graded offensive lineman in the country at 95.8 overall, earning a 91.1 pass-blocking grade and a 95.7 run-blocking grade. Sewell allowed all of seven pressures on 491 pass-blocking snaps last season, and he never allowed more than two in any single game.
Penei Sewell is a 6'6, 330lb LT that moves like a TE pic.twitter.com/QTy377jNbQ

— Connor Rogers (@ConnorJRogers) May 19, 2020
I was taken aback when I saw that he was listed at 330 pounds because the first thing you notice when watching his game tape is how fluid of an athlete he is. Offensive tackles with his movement skills are usually struggling to scratch 300 pounds. Even with a loaded group of tackles in college football last season, Sewell had the most big-time blocks (PFF's highest-graded blocks) in the country, with 13. At a position like offensive line, one that's so physicality- and strength-driven, that's not supposed to happen with a 19-year-old. And he'll even play half of next season at 19 years of age, as he doesn't even turn 20 until October. Sewell is truly a special tackle prospect.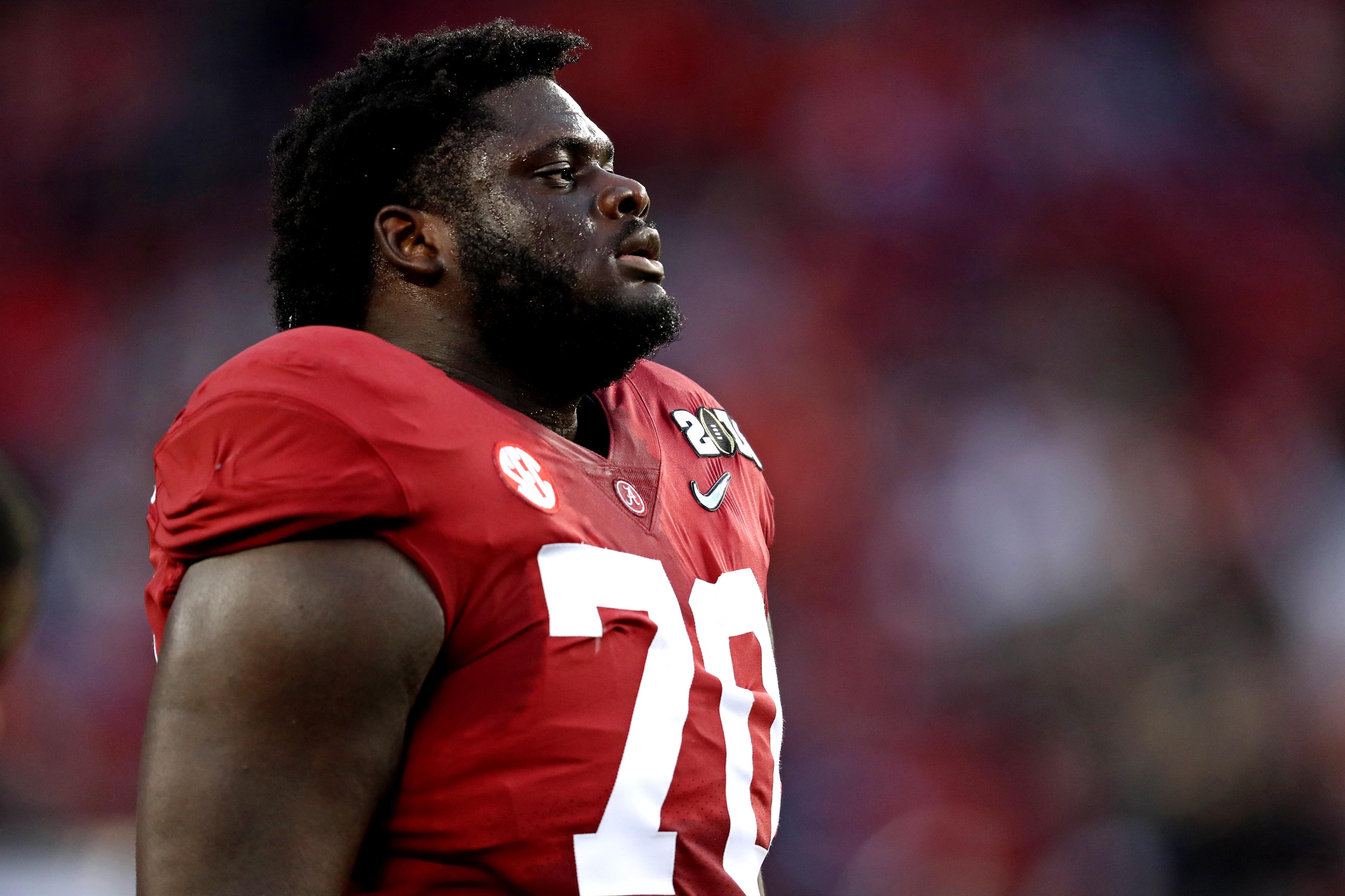 Alex Leatherwood, Alabama (Senior)
Leatherwood isn't nearly the kind of elite, explosive athlete as some of the top tackles on the board in the 2020 class, and that likely played a factor in his return to school. Don't let that make you think he isn't every bit a top tackle prospect, though. His game is reminiscent of Ronnie Stanley's coming out of Notre Dame in the sense that one singular rep may never "wow" you, but the consistency and totality of his work are elite. A good illustration of this is the fact that Leatherwood was credited with only three big-time blocks all last season yet still earned an 82.0 pass-blocking grade and allowed only nine pressures.
In the much-hyped 2017 recruiting class that featured Isaiah Wilson, Jedrick Wills Jr., Austin Jackson, Andrew Thomas, Tristan Wirfs and Mekhi Becton, it was actually Leatherwood who finished as 247's top offensive tackle prospect in their composite rankings. He filled in for Jonah Williams at left tackle as a true freshman before starting at right guard as a sophomore back in 2018 and then moving back to left tackle last year.
He's far more suited for the edge and has some of the smoothest pass sets in the class. When he does get himself into trouble, it is often due to his angles in his pass sets — he'd often set flat to the line of scrimmage, like a guard, and then found himself unable to flip his hips and push past the top of the pocket on outside moves. Much like Stanley returning for his senior year, if Leatherwood cleans up those issues and puts together a lights-out campaign, he could vault himself into the top 10.
Walker Little (Senior)
There were some who thought of Little as the top tackle in the possible 2020 class heading into last season. And in his lone outing against Northwestern last season, that looked accurate. He had taken the consistency in his pass sets to another level from his sophomore year to junior year and didn't allow a single pressure on 44 pass-blocking snaps against the Wildcats.
Unfortunately, he also suffered an undisclosed knee injury, and that was the last we saw of him in 2019. Little had been playing lights-out football down the stretch in 2018 and into last season, though, with only one pressure allowed in his last seven outings.
Little is another tackle prospect whose size creeps up on you. Listed at 6-foot-7, 320 pounds, Little holds that weight on his frame with ease and could almost pass for a tight end, proportionally speaking. The physical aspect of the position comes very easily to him. Little was a composite five-star prospect coming out in 2017 and earned the highest SPARQ score of any high school offensive lineman that year. There's so much to like about his game, but we just need to see that consistency over a larger sample size.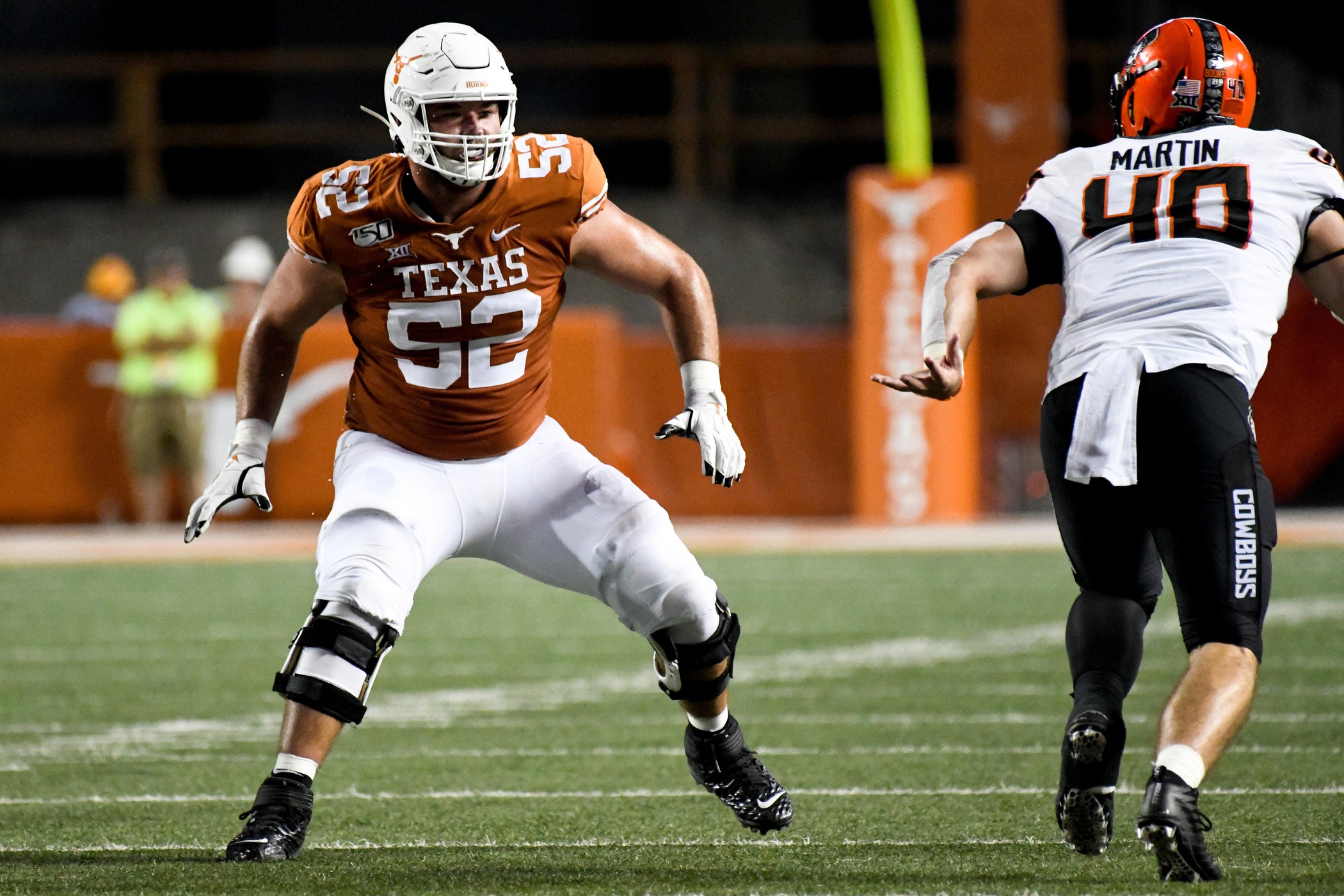 Samuel Cosmi (RS Junior)
With the physical aspect of the position being an afterthought for the tackles above, Cosmi is the one prospect on this list who still has something to prove in the weight room. You watch him "catch" a touchdown against West Virginia last season, and it becomes very obvious that he has all the athleticism in the world you could want for the position, but holding up to more powerful rushers was still an issue in 2019.
Not only did Samuel Cosmi just score a touchdown, he did it with authority.#Hookem #ThisHookem pic.twitter.com/UBG9J0RiH8

— Hookem Football (@hornsfootball) October 5, 2019
Cosmi first got on our radar with an impressive breakout campaign as a redshirt freshman at right tackle in 2018 that saw him earn an 82.8 pass-blocking grade. He switched to the left side last season and didn't miss a beat, earning an 86.0 pass-blocking grade with 14 pressures allowed on 595 pass-blocking snaps. Of those 14 pressures, though, six were via a bull rush (or variants). It's rare to see tackle prospects with play-strength issues sniff the top 10 of the draft, so Cosmi needs to prove that it's a thing of the past in 2020.