We are into March and NFL draft season is in full swing. PFF.com is going to be stuffed to the gills with content on all of your favorite draft prospects, as our draft guru Mike Renner has been grinding tape throughout the college football season. His work has already produced the second version of PFF's Draft Guide, available to grab with any PFF Edge or Elite subscription.
Compared to Mike, I'm late to the party when it comes to draft evaluation, but I come armed with PFF's database to help me watch tape of these guys, and I thought we could go through that journey together.
The first player I looked at was the Heisman Trophy winner, Alabama WR Devonta Smith. Next up was LSU's Ja'Marr Chase, followed by Jaylen Waddle,  Kyle Pitts, Rashod Bateman, Rondale Moore and Kadarius Toney. Then we switched things up by moving to the defensive side of the ball, beginning with Virginia Tech cornerback Caleb Farley. 
We are going to continue that theme by looking at Alabama's Patrick Surtain II, another top cornerback in the 2021 NFL Draft. We can go in a lot of different directions in terms of firing up his tape, but let's start with all of the targets he faced before we dive into more granular facets of play.
Even more so than for the wide receiver position, this is not a complete picture of Surtain's game, but it will give us a good idea of what happens with the ball in the air and how close his coverage is even when the quarterback thinks his man is worth targeting.
For a first impression, this method makes a lot of sense, and we can go back and fill in the blanks later.
Timeline
Here are my thoughts in chronological order as I sifted through Surtain's tape. I have labeled each takeaway with +/- (or double plus or minus for significantly good or bad things) and a ~ for neutral.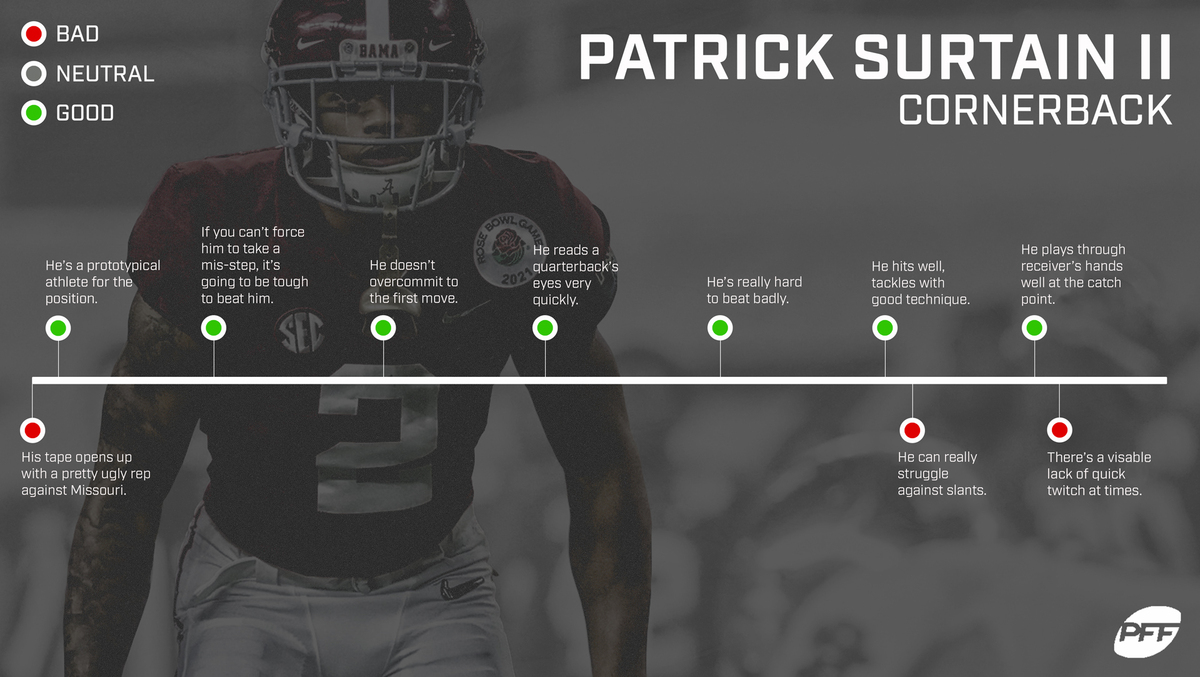 – His tape opens up with a pretty ugly rep against Missouri
The pass falls incomplete, but Surtain was in trouble right off the line. He failed to match the receiver's release and lost him down the sideline before the route tried to come back inside toward Surtain's leverage. The ball was thrown high and outside, assuming the receiver was going to continue straight and exploit his advantage off the line. Surtain got back in the receiver's hip pocket by the end of it, but he could have been in trouble if the receiver had been on the same page as his quarterback.
+ He's a prototypical athlete for the position
Surtain can't match Caleb Farley's freaky speed and burst, but he's big and fluid with his movements, and that puts him in a pretty good starting position most of the time. Cornerbacks with his dimensions and natural movement skills are just hard to get around, even with superior technique.
That physical advantage is very real, and it's why the NFL covets those larger bodies at the position as long as they can move to make it worthwhile.
+ If you can't force him to take a misstep, it's going to be tough to beat him
When Surtain has lost so far, it has been because the receiver won with his route, forcing Surtain to take a false step and lose ground. If a receiver can't get the Alabama corner to take that bad movement with their release, they're going to struggle to just beat him for speed and physicality down the sideline because of the aforementioned raw tools.
+ He doesn't overcommit to the first move
Surtain is actually more patient than most college cornerbacks I have seen. College corners typically jump all over the first move, and almost every one of them has a bad loss on a double-move somewhere in their tape.
Surtain plays the first move but doesn't overcommit to it, keeping his movements under control and putting himself in position to adjust to a potential second move. It will be interesting to see if he has that bad double-move loss coming or if this helped him avoid it.
Update: He has no bad double-move catch on his tape, but there was a dropped pass from back in 2018 when Auburn split Alabama's quarters coverage and Surtain couldn't get back to the ball in time.
+ He reads a quarterback's eyes very quickly
Most of this tape is man coverage, but on the few occasions Surtain does get a chance to sit in a zone and take his cues from the quarterback, he reads the signal-caller's intentions very quickly and trusts what he sees.
He takes off to make the play before the ball is in the air and gives himself a chance to challenge at the catch point or at least ensure the receiver doesn't have much of a chance to run after the catch.
+ He's really hard to beat badly
Even on plays where Surtain loses, he has such a high physical baseline that you're not going to put him on toast, which forces a high-degree of execution from the receiver and quarterback down the field. On underneath routes, he seems to allow a little more separation, which an accurate pass can exploit for a decent gain.
+ He hits well and tackles with good technique
For a player as big as Surtain, he can be a plus force in the run game, as well. In today's NFL, this falls into the category of "nice to have." The way the current game functions, business decisions at cornerback have never been more forgivable if the corner in question can cover to a really high level, but that's just not an issue for Surtain, who missed only two tackles in 2020 and earned PFF run-defense grades of at least 74.2 every year of his career, improving each campaign. He's a solid physical force in the run game and on short screen passes.
– He can really struggle against slants
This seems like a bizarre route to struggle with, but Surtain's lack of elite burst and first step show up when receivers are able to stall his feet coming off the line and then break inside on the slant.
Florida's Kyle Pitts was able to easily open up that inside release in the SEC Championship game this season. If Surtain doesn't take it away by alignment and leverage, he leaves the door too far open. His coverage grades against slants were in the 50.0s in all three of his college seasons. He allowed 14 catches on 22 targets (63.6%) and 10 catches on 14 targets over just the past two seasons, respectively. Those 14 catches went for 12 first downs.
If this is going to be an area where Surtain struggles, I'd like to see him trust his long speed a little more and ramp up his aggression with his inside leverage to stop that quick move inside.
+ He plays through a receiver's hands well at the catch point
This is an important thing for a player who may not always be in a perfect position. Surtain has the skills to play the ball and the receiver's arms, making it as hard as possible for them to actually come down with a pass, even when they have engineered the requisite separation. Surtain broke up a lot of viable, on-target passes where the receiver generated good separation.
– There's a visible lack of quick twitch at times
It's an awkward thing to describe because Surtain has excellent fluid movements, but sometimes you can see Surtain's lack of twitch — a common trait among players his size.
He can struggle to live with a quick, smaller receiver's change of direction or ability to stop on a dime, and that can open up some separation if he isn't in physical contact at the time.
The Bottom Line
Patrick Surtain II — as you might expect from the son of a player who was one of the best in the league at his position back in the day — is such a clean prospect; it's easy to see why people like him. He has been presumably learning the nuances of this position since he was a child, and that education will only have been furthered at Alabama under Nick Saban.
Even in college, you can see a constant progression to his game. He comes into the NFL as one of the most pro-ready cornerbacks you are ever going to see.
He plays with such calm control at all times that it's rare to see him beaten badly, and even when he is, he's beaten in the right places — underneath as opposed to over the top without any help.
He is the only top cornerback I can remember scouting who doesn't have a terrible loss on his tape on a double-move, a result of his ability to control himself in coverage and not jump too hard on the first move he sees. When you add in his prototypical size and athleticism, and the fact that he is a willing and effective player in run support, he is a player who cornerback-needy teams should be very attracted to in the first round.
That's not to say that he is perfect. Surtain has a relative lack of quick twitch and burst compared to PFF's No. 1 corner, Caleb Farley, and that does show up at times, particularly on short or intermediate targets where receivers can create separation in quick bursts that Surtain just can't match. But if I was going to create a weakness in an otherwise excellent corner, that's not a bad place to absorb it.
There may be corners out there with more upside, but Surtain has one of the highest floors we have seen in a while from a cornerback entering the NFL.
---
Courtesy of PFF's 2021 NFL Draft Guide, find PFF's top draft prospect, biggest riser and wild card to watch at each position here: